Destify has helped THOUSANDS of couples tie the knot in a tropical paradise. We know for many, the allure of a destination wedding is often trounced by a bevy of questions:
How expensive is it really?
If I have a specific budget, where is the best place to go to get the best experience for the money?
Who do I invite?
How do I keep it all organized?
With our Path to I Do, Destify is simplifying the destination wedding planning process — because we have the experience, and the passion to help our couples make the best memories possible!
So, where do you start?
Selecting Your Destination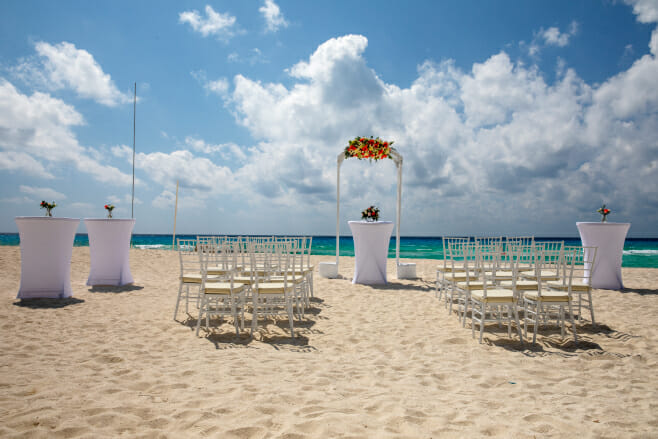 Let's play a game: get out your globe (or look one up on your phone), close your eyes, and pick anywhere in the Mexico-Caribbean. Congrats, you've found your perfect destination for your "I Do"! Almost. While you'll find a variety of incredible locations to host your I do's, Step 1 of PTID (as we like to call it) helps narrow down the selection of five-star options. Simply put, we get the cream to rise to the top.
So, where do you start? Well, before you start looking into specific hot-rock massage treatments at any one of our resorts, let's take a step back and discover what you want out of your hotel. Remember, there's more to consider than just, "That beach looks nice." Here are a few factors we recommend you consider to pinpoint the start on your destination wedding journey:
Resort aesthetic: The specific architecture and interior design style of your resort, both in and outside your suite. In need of contemporary architecture or even rock n' roll memorabilia? We'll find the spot for you. Why does it matter? Not only does it speak to your sensibilities as bride-and-groom… your hotel becomes the memorable backdrop for all those instagram-worthy photos!
Activity level: The amount of daily events and the overall "vibe" of your resort — from laidback tranquility to a nonstop-party action.
Wedding venues: The backdrop & location of your wedding ceremony and/or reception. Do you want to be wed on the beach with your toes in the sand… or on a contemporary rooftop overlooking the sunset over the ocean?
Property size: The size of the resort & the surrounding area. Choose from cozy resorts to expansive properties.
Room Price: Need a suite with that wedding? Discover the average room rates for your prospective resort with our Room Price Minimum and Maximum. These rates are averaged from the low and high rates throughout the year.
Wedding Package: Perhaps one of the most essential factors of your planning process, wedding package costs include a range of the most budget-friendly and expensive packages from your prospective resorts. From the decor to the dining options… it all gets built into your budget and package.
Distance from Airport: It's more important than you think. Your resort's distance from the closest international airport can impact your guests' travel experience. If you know for sure your wedding party won't mind the drive, widen your range. On the other hand, guests who either need to travel shorter distances or prefer getting from tarmac to tequila in less than 15 minutes, look for smaller travel times.
Weddings Per Day: How many weddings (ceremony, cocktail hour, or reception) a resort can host per day. Larger resorts tend to have the space and availability to those more weddings per day.
LGBTQ+: Destination weddings are for all lovebirds! Use this tag to filter where you can host an LGBTQ+ celebration.
These are all important factors to consider indeed. The best part? You will soon be able to filter available recommended resorts right on Destify to help find that perfect spot!
Finding the Perfect Day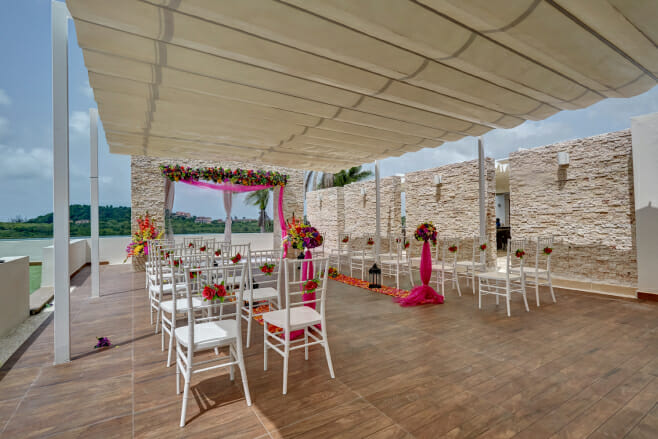 So, you found your wedding wonderland, what's next? The all-important wedding date! We've all heard the same advice: pick your first date anniversary, or even a combination of your favorite numbers. Which is fine and dandy, until you realize thousands of other couples just so happen to have the same first date anniversary, favorite numbers, or birthdays! Hey, stranger things have happened. That's why we recommend stepping outside of the general inspiration and thinking about your budget and your number preferences during the destination wedding planning process.
As you start planning your destination wedding, keep the high and low seasons in mind, as each season will affect:
Room block availability
Room rates
Resort traffic
Generally, High Season wedding dates tend to favor higher budgets, as resorts elevate room rates to accommodate the influx of tourists during the holiday season. On the other hand, Low Season rates are significantly lower compared to High Season rates; however, you might not score the best weather, as this time of the year includes more rainy weeks.
Destify's Specialist Tip:
According to Sales Rock Star Lauren Watson, "We like to give recommended dates based on what our couples are looking for. We also carefully consider their budget. Our team also tends to ask for multiple dates — in order to provide multiple options that all lead to the best experience possible."
Figuring Out Your Guest List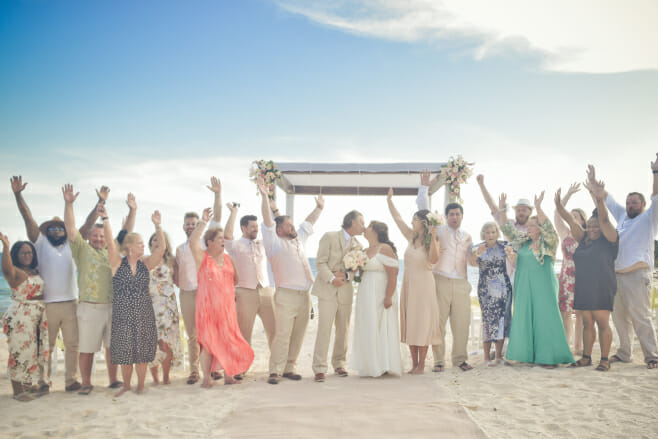 Let's face it: not all guest lists are created equal, especially when it comes to destination weddings. Most tropical celebrations nowadays garner 20 guests or up. After 1000s of weddings booked, Destify recommends seeking 20 or more guests — all within reason and budget.
Here's why: while we all would love to see every single one of our loved ones' faces nestled at either side of the aisle, you might not enjoy seeing that airfare bill rise. With around 20 guests, you can still host a reasonably sized celebration without breaking the bank! You can also capture a more intimate and personal atmosphere, making your wedding day truly unforgettable. We recommend following this order while building your guest list:
Immediate Family
Best Man
Maid of Honor
Bridal Party
Close friends
Putting it All Together
Take a deep breath. Yes, there's a lot to plan and quite a few things to juggle. But when it comes to destination wedding planning your forever-after on the golden shores of tropical luxury, PITD and Destify will be there every step of the way, especially that essential search. With everything above in mind… let's distill the biggest factors ahead:
Selecting Your Destination: other than location, keep other attributes in mind such as Activity Level and Resort Aesthetic to discover and book the right property.
Finding Your Perfect Day: think of your budget and the various destination wedding seasons while picking your wedding date.
Figuring Out Your Guest List: start with close family members and work outward.
Want to day-dream through your ideal wedding in paradise? Play around with our filters on the Destination page. Already ready to start planning your oceanfront "I Dos?" Connect with a Destify Booking Coordinator today via the form below — and secure your perfect resort and date before another bride swoops in!