A Jamaica destination wedding package under $3000 just can't be possible, right?
Wrong!
The truth is, Destination weddings are cheaper than local ceremonies!
We've sent thousands of couples to idyllic locales like Mexico, Jamaica, the Dominican Republic, and the Caribbean Islands.
We have the expertise, knowledge, and passion to make sure that we quench your 'champagne taste on a beer budget!'
Read on and get ready to save with our list of 5 Jamaica destination wedding packages under $3000!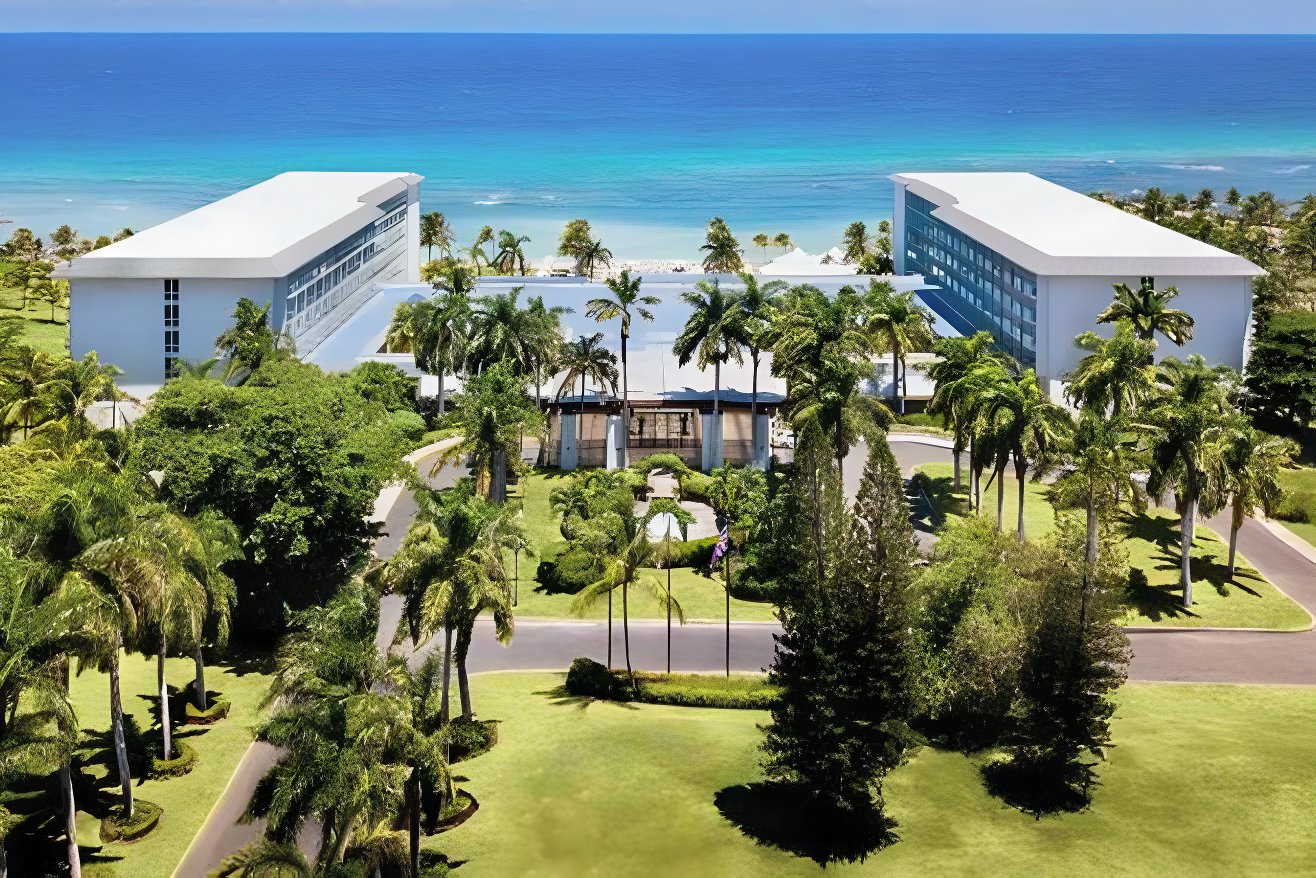 Stop and smell the roses at this first-class Jamaica resort!
Hilton Rose Hall has earned its title as one of 'Destify's Favorites' thanks to its affordable wedding packages, all-inclusive amenities, and gorgeous surroundings!
And speaking of surrounds, Hilton Rose Hall is built over 400 acres of lush paradise extending along Montego Bay's coastline, giving couples plenty of natural luxury to go with the decadent inclusions offered at the resort.
And what are some of the exciting amenities that Hilton Rose Hall offers?
11 gourmet restaurants and bars, with cuisines ranging from fresh seafood to barbecue.
An 18-hole golf course backdropped by the Caribbean Sea.
An on-property water park with live music and a lazy river.
Jamaica is known for its abundance of adults-only resorts, making it a destination mostly for younger couples and wedding parties without children. Luckily, Hilton Rose Hall is a family-friendly resort where children two and under stay free!
The cheap Jamaica wedding package under $3000 is the 'Intimate Elegance' package.
This affordable setup starts at $1,289 and offers couples extras like a sound system, an onsite wedding coordinator, and late checkout for the couple!
Resort Features:
24/7 room service
4 Bars
11 Restaurants
2 Pool
Spa
Watersports
Nightly Entertainment
'Intimate Elegance' Wedding Package 2023 Price: $1,289+
Wedding Package Inclusions:
Symbolic marriage ceremony, performed by a non-denominational officiant
Bridal bouquet
Groom's boutonniere
Wedding location
Sparkling wine toast after the ceremony
Wedding cake after the ceremony
Room decoration with flower petals & complimentary wine
Late checkout up to 3:00 PM subject to availability
Pre-planning and onsite services of a professional wedding specialist
Complimentary online bridal registry
Access to online wedding planning tool
Ceremony table with white linen and folding wedding chairs for 10 guests
Sound system for the ceremony
25-minute massage for wedding couple
Romantic dinner for the wedding couple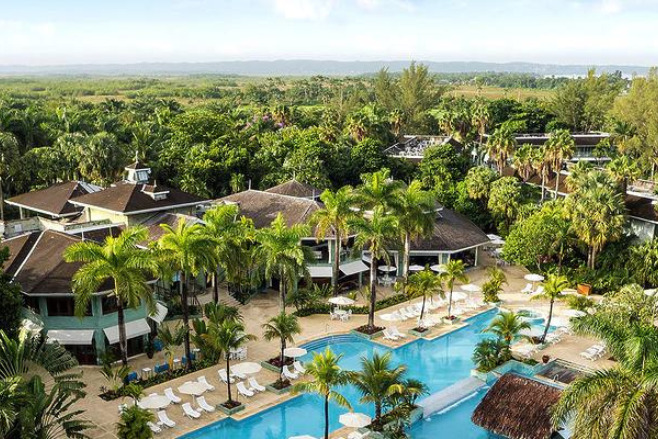 Negril is a lively Jamaican coastal town that is an excellent alternative to the higher-touristed Montego Bay/
This gorgeous part of the world is home to miles of shallow waters, sandy shores, and beaches lined with restaurants, bars, and world-class all-inclusive resorts — like the lovely Couples Negril.
Despite Negril being a tranquil getaway, Couples Negril offers couples activities like tennis tournaments, glass-bottomed catamaran cruises, and dance classes. For those looking for more R&R, try Couples Negril's meditation classes, yoga, or just a simple beachside stroll with a cocktail in hand.
Simply put, Couples Negril combines heart-racing fun and chilled-out atmospheres.
And the cherry on top of this destination wedding cake? Couples Negril offers some of the cheapest wedding packages in Jamaica.
The Tropical Wedding package is a highly affordable package with unique inclusions like a couples massage and a professional photo shoot!
And best of all, this Jamaica wedding package under $3000 starts at the highly affordable price of $750!
Resort Features:
24/7 room service
5 Bars
5 Restaurants
2 Pool
Beachfront location on Bloody Bay.
Chic pool, 2 Jacuzzis, and a swim-up bar.
All-inclusive rates include premium-brand liquor, unlimited golf, water sports (even scuba diving), off-site excursions, and airport transfers.
Fitness center, tennis courts, basketball courts, and aerobics studio.
Lagoon spa with tree house treatment rooms.
Modern rooms with free Wi-Fi, iPod docks, and flat-screen TVs.
No children under 18 allowed (a con for some).
'Tropical Wedding' Package 2023 Price: $750+
Wedding Package Inclusions:
Your choice of spectacular wedding locations on the beach or in the gardens
Signature Rum Punch or sparkling wine toast for up to 10 guests
Designer wedding cake or cupcakes decorated with tropical flowers for up to 10 guests
Lush tropical flower arrangements and gazebo decorations (several options available)
Fresh bridal bouquet and groom's boutonniere in bright tropical flowers (several options available)
Professional photo shoot: Twelve printed 5×7 photographs; One printed 8×10 photograph; CD of all purchased images
Exclusive Wedding/Honeymoon registry
25-min couples massage
Two Couples Resorts champagne flutes
Automated Online Wedding Calendar
On-Property Wedding Coordinator
Wedding officiant
Marriage certificate
Celebratory t-shirts for bride & groom
Sunset hour (available upon request for an additional fee)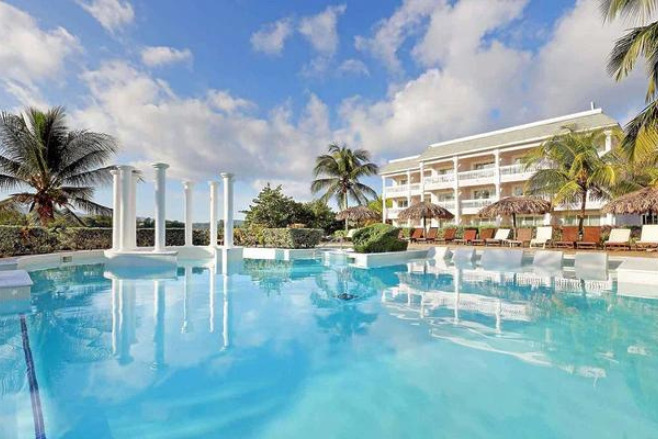 Grand Palladium Lady Hamilton is a vast, sweeping resort property that is ideal for families and couples with huge wedding parties!
For those without children, Grand Palladium Lady Hamilton offers unique adults-only villas. This exclusive section of the resort will ensure a peaceful stay for people on the wedding guest list without kiddos.
For your big day, Grand Palladium offers many dazzling venues. Some of the chic spaces include the lavish indoor Angels Atrium and the expansive outdoor Beach Pergola space.
Grand Palladium Lady Hamilton has become one of Destify's favorite resorts thanks to its fantastic and customizable wedding packages.
Award-winning party planner Karen Bussen curated these packages to create an excellent starting point for couples' destination weddings.
These luxury packages offer varying aesthetics, perks, and vibes, giving couples a wide variety to choose from.
Today we're highlighting the 'Timeless' package. This classic-themed offering starts at $2,690 and provides a classy decor setup with sheer curtains, 2 floral aisle arrangments of Lilies, Roses, and Greenery in Your Choice of Colors with Pearl and Crystal Accents, a 15% discount on spa treatments, and much more!
Resort Features:
24/7 room service
17 Bars
10 Restaurants
5 Pool
Zentropia Wellness Spa
Baby club (1–3 year olds), mini club (4–12 year olds) and Black and White Teen Club (13–18 year olds).
Adults-only, and family-friendly pools
Boogie Woogie Disco
'Timeless' Wedding Package 2023 Price: $2,690+
Wedding Package Inclusions:
25 guests included (additional guests can be included with extra cost)
Dedicated Wedding Coordinator
Private Check-In
Room upgrade (subject to availability)
Ceremony location
Ceremony sound system
Sparkling toast immediately following the ceremony
Late check-out
Wedding gift
Dinner reservation at one of the on-site restaurants
Special turn down service
Breakfast in bed for the wedding couple
Complimentary Access to the Hydrotherapy Area at Zentropia Palladium Spa & Wellness
15 % Discount on spa treatments
Honeymoon package
Sheer Curtains in any Color from the Collection
2 Timeless Floral Aisle Arrangements of Lilies, Roses, and Greenery in Your Choice of Colors with Pearl and Crystal Accents
Timeless Personal Flowers for the Couple
Signing Table Accent: Floating Lilies in Your Choice of Colors
White Folding Garden Chairs or Tiffany Chairs
Couture Chair Caps and/or Chair Scarves in Your Choice of Colors
Two-tiered Wedding Cake with 'Naked' or 'Buttersweet' Icing and Fresh Flowers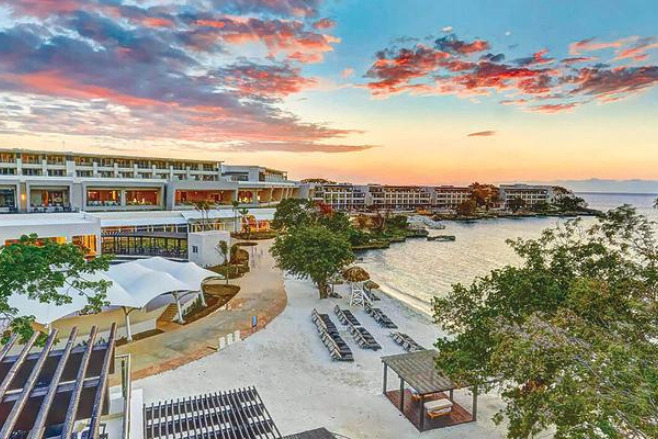 For soon-to-be newlyweds who want their destination wedding to be more about Rest and Relaxation," the adults-only "Hideaway" area of the larger Royalton Negril resort is the laid-back hideaway you've been looking for!
Hideaway at Royalton Negril ups the ante on intimate seclusion by offering visitors a remote section of the beach with bridal-gown-white sand. This small setting ensures that you and your guests will experience a fairytale beach wedding ceremony!
This hotel is ideal for newlyweds whose dream honeymoon includes quiet morning strolls along the shore, intimate meals at the vibrantly-flavored Dorado, and days spent sharing cocktails beneath the peaceful Jamaican skyline.
Hideaway at Royalton Negril's affordable wedding package prices results in delighted brides, satisfied grooms, and happy budgets!
Take for instance, the 'Luxury Wedding' destination wedding package under $3000. This inclusion starts at $999 and offers budget-minded couples amenities like Getting Ready" refreshments, personal onsite coordinator, personalized menu cards, and much more!
Resort Features:
24/7 room service
8 Bars
11 Restaurants
4 Pool
140 Suites
Personalized check-in/check-out in the Hideaway Lounge
Royalton Fit: a modern fitness center with instructor-led classes
The Royal Spa ($) with hydrotherapy
Unlimited reservation-free dining, international and local liquors
'Luxury Wedding' Package 2023 Price: $999+
Wedding Package Inclusions:
Personal wedding planner & onsite coordinator
VIP welcome & late checkout for bride & groom (based on availability)
Bride & groom room upgrade (based on availability)
"Getting Ready" refreshments & fruit platter for the bride & groom on the wedding day
10% discount on spa services for entire wedding group
Ceremony location
Symbolic ceremony
Chairs included
Sound system for ceremony
1 tropical bridal bouquet
1 tropical groom's boutonniere
Ceremony table with linen & tropical centerpiece
Sparkling wine toast
Semi-private dinner at one of our restaurants (2 hour)
Personalized menu cards
1-tier wedding cake
Book Your Cheap Jamaica Destination Wedding Package for 2023 Today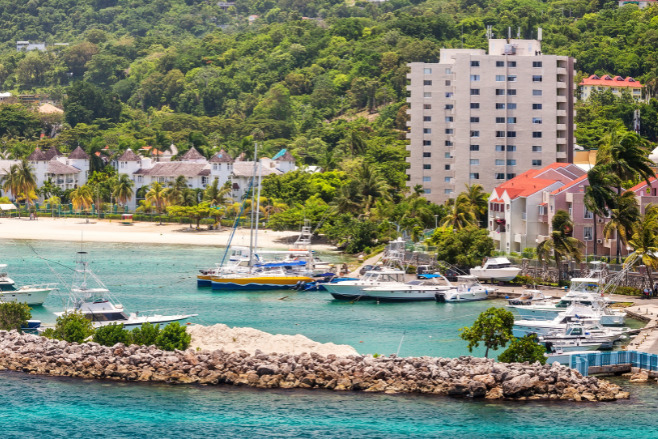 Want to learn more about weddings in Jamaica, and are excited to reserve your daydream-worthy destination wedding at one of our favorite cheap  Jamaica resort partners?
Amazing!
Make your dreams a reality in 2023 and talk to one of our wedding experts today