Thinking of hosting an unforgettable destination wedding in a sun-soaked oasis? Plot twist: so do a few hundred to-be newlyweds. This isn't a bad thing, however. While destination weddings have risen in popularity, you can still reserve your ideal resort and wedding date. With our top destinations residing in different parts of the Mexico-Caribbean, finding precise availability is a small, yet critical detail to figure out before saying bon voyage. This is where the High and Low seasons come into play.
Bookings at the most desired resorts that fill in quickly are referred to as the High Season — one of the most popular times of the year to tie the knot. On the other end of the spectrum, the closer you get to the Low Season, the more likely it is you'll be able to score a wedding date. No matter which season you choose, Destify wants to give you the edge to plan your perfect wedding on the perfect date. So, let's break open that calendar, and figure out how to navigate the high and low seasons of destination weddings:
What is Considered High Season for Destination Weddings?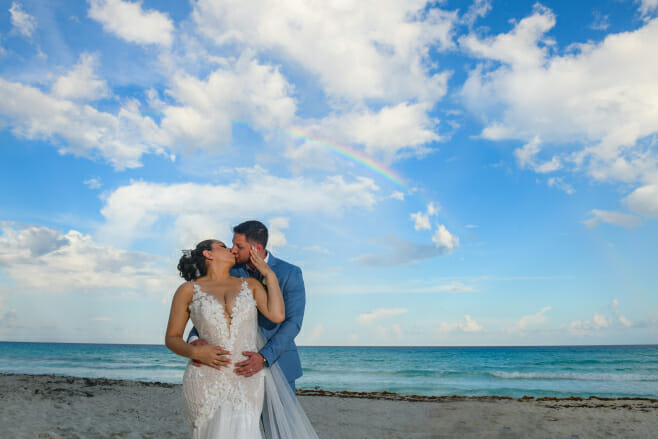 Considering booking your destination wedding during the High Season? Don't let the wording discourage you. While you are indeed eyeing one of the most popular seasons of the year, you can still (with the help of a Destify Booking Coordinator) find your preferred resort and picture-perfect venue to exchange vows. When it comes to most of our featured destinations, January through May is considered the High Season, where our top resorts are widely sought after by couples worldwide. Let's dig into the cost, pros, and cons of booking a destination wedding during this time:
Cost
High cost of 16-25% more compared to the Shoulder or Low Season. Simply put, more demand = higher costs. With more travelers gracing the shores of all-inclusive resorts, it's only reasonable that room rates inevitably skyrocket proportionally.
Pros
Tropical Destination + Best Weather of the Year = Wedding Perfection! You're tying the knot outside of hurricane season which gives you a better shot at that majestic azure-sky/golden-sun ceremony.
High Season occurs during a streak of school holiday breaks (President's Day weekend, Spring Break, and Memorial Day) meaning that more family and friends might be able to attend!
Due to its overlap with holiday seasons, some resorts will offer booking deals or even special themed events during your stay.
Cons
You will compete with a bevy of couples vying for the same wedding dates – meaning you have a lower chance of booking your preferred wedding day.
On that note, you might run into a crowd of spring breakers, as High Season also draws troves of college students ready for a mid-semester soireé.
The High Season inevitably affects suite reservations; you might not be able to group your room block in the same area of the resort.
When to Book: Book your stay 9+ months in advance — as resorts are most likely to sell out during this time. It's also important to note that spring break falls during this season between March and April – meaning overall elevated resort traffic.
What is Considered Low Season for Destination Weddings?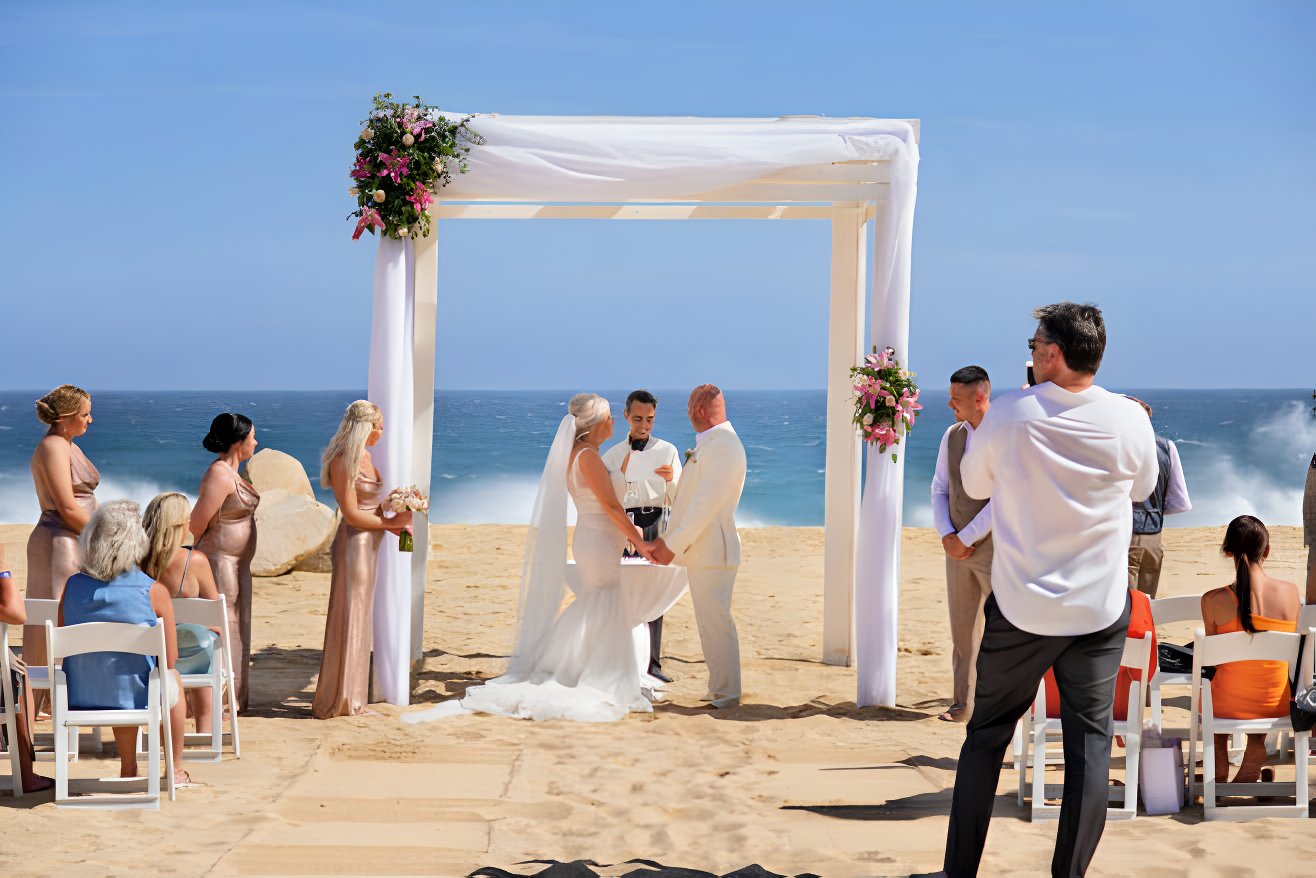 We understand that some couples don't want to take their chances competing with others for that magical springtime/early-summer tropical wedding date. The best part? You can still book an enchanting sun-soaked wedding celebration during the Low Season. Typically, this stretch of time encompasses August through October, where resorts are in less demand and in the middle of hurricane season. While we did just use the h-word… there's no reason to feel alarmed!
According to the National Hurricane Center, major hurricanes normally don't hit land until late August to early September – meaning you can still enjoy top-notch, hurricane-free weather from June to August. You can put away those homemade Doppler systems too, as resorts are continuously updated by local meteorologists regarding potential storm developments. Still worried about a wedding rain-out? If you happen to take on a few more guests in the form of rain clouds and droplets, many resorts have hybrid outdoor venue options with covered roofing that'll let the show go on while adding that same sense of wedding luxury.
Cost
Up to 25% savings compared to High Season and 12% savings when compared to Shoulder Season.
Pros
Less competition with other prospective couples to book your preferred wedding date.
Room reservations are typically easier to coordinate and more budget-friendly, as there are more vacancies during this resort season.
While you don't have the entire resort just to yourselves, you and your guests can enjoy more privacy and quiet when it comes to basking poolside or on the beach.
Cons
Hurricane Season: There's some risk involved with booking during hurricane season.
Disclaimer: Hurricane Season doesn't mean hurricanes occur every week – rather, there is a somewhat increased chance from June to November, with up-to-date weather reports refreshed hourly.
When to Book: Due to lower occupancy rates, it is recommended that you book your stay a minimum of 4-6+ months in advance during this season.
What is Considered Shoulder Season for Destination Weddings?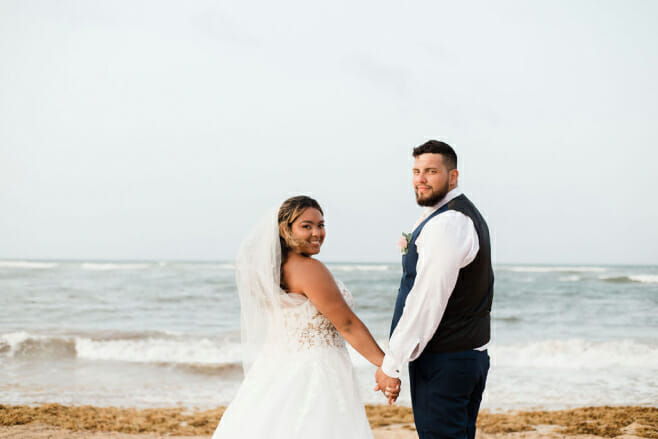 Between the peak and valley of destination wedding planning, the Shoulder Season says hello! Residing in the pockets of time from June to July and November to December, the Shoulder Season is the perfect option for couples seeking that middle-ground between resort occupancies. As we like to say, there's truly no "bad" time to tie the knot in the tropics. Smack dab in the heat of summer and the holiday season, you can take advantage of tourists traveling to other hot-weather destinations or more holiday-appropriate locations. Let's take a look at a few other perks and potential pitfalls of booking a Shoulder Season destination wedding:
Cost
Up to 16% savings compared to High Season and an average of 12% more compared to Low Season.
Pros
Similar to Low Season, booking your destination wedding during the summer's peak and holiday season guarantees the availability of loved ones traveling with younger guests, as schools will be on break.
Room rates are moderately priced, defining the middle ground between the two seasons.
Due to this moderate pricing, you should expect somewhat crowded spaces, but not as overwhelming as High Season traffic.
Cons
You still have to interact with other tourists (groan). While this isn't the worst thing to deal with during the Shoulder Season, you should still plan to be around a moderate amount of resort guests during your stay.
Crank up that AC in the suite, Mexico summers are no joke. While cloudless skies are valuable for that beachside "I Do," you can expect temperatures to reach seasonal averages of 85°F and hotter.
When to Book:
It is recommended to book your stay 6+ months in advance, but booking further in advance could provide you with more room category options and better rates. As far as dress code goes, June and July is perfect for all you SoCal couples looking for that ideal tan. For November and December, still expect hotter weather with some cloudy skies.
So, When Should I Book?
Our expert recommendation? Book your wedding when you want to! Just be sure your date meets your budget and checks all those sentimental boxes (anniversary, lucky numbers, etc.). Keep in mind how impactful weather can be during any of the seasons — and plan accordingly. According to our veteran Sales Specialists, they recommend avoiding anything on the Caribbean side during Hurricane and Low Season. They recommend instead to opt for Los Cabos or Puerto Vallarta on the Pacific Coast — where calmer waters and weather elevate year-round weddings.
No matter the season, our team is ready to book your destination wedding where you'll make memories to cherish for a lifetime. Our booking coordinators are ready to help you pick the perfect resort at the perfect time… connect with us here: