Destination weddings are getting so popular that they're set to become a $64+ billion worldwide industry by 2031! But with all of the worldwide options available to you, you might wonder which destination is the best place to have weddings.
Well, friend, you've come to the right place. We've sent thousands of happy couples to their happily-ever-afters in gorgeous locations like Mexico, Jamaica, the Dominican Republic, and many more!
With all of those 'I dos,' we've compiled a list of the best places to have weddings in 2023!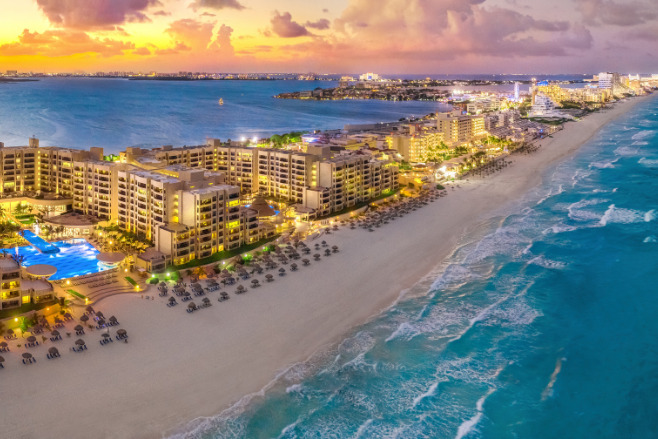 Cancun, Mexico, is one of the most popular locations for general travelers and destination weddings!
This exhilarating location is known for its crystal-clear turquoise waters, warm weather, and white sand beaches, which provide a stunning backdrop for a wedding ceremony. However, the beaches in Cancun tend to be narrow, meaning they can get overcrowded during busy hours.
Cancun is situated on the Yucatan Peninsula, providing a perfect blend of Caribbean and Mexican cultures. The region is also rich in Mayan history, with ancient ruins nearby, such as Chichen Itza, Tulum, and Coba.
Beyond the ancient world, Cancun is a modern wonderland! It's known for its lively nightlife, with various bars, clubs, and late-night restaurants. The hotel zone is particularly famous for its party scene, and many travelers come to Cancun for this reason alone.
Cancun is home to many all-inclusive resorts, which can make planning a wedding much easier and more affordable. These resorts that we at Destiy work with have wedding packages that include everything from the ceremony to the reception to even an onsite wedding coordinator!
And speaking of wedding coordinators, Cancun's popularity as a destination wedding location is a thriving wedding industry. The resorts have many professional wedding planners, photographers, and other vendors who can make your wedding day unforgettable and flawless. This dedication makes it one of the best places to have weddings!
If Cancun is your destination wedding locale choice, make sure you stop to see some of the one-of-a-kind cenotes.
These cenotes are caves whose ceilings have collapsed, exposing the lush plant life and water inside to the Caribbean sky. These caverns were thought by ancient Mayans to be entrances to the underworld.
Our favorite resort in Cancun: Royalton Splash Riviera Cancun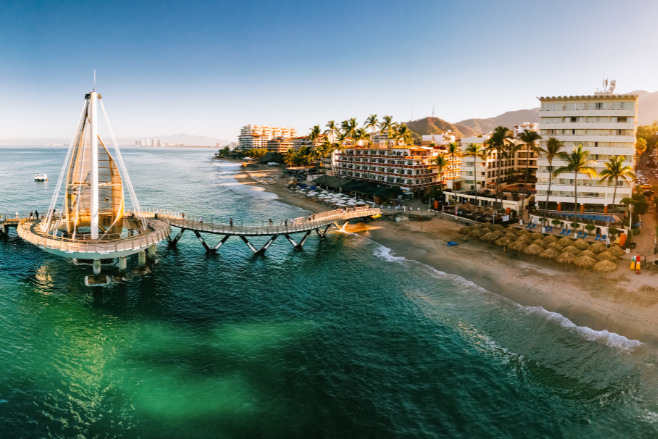 On the other side of Mexico from Cancun, we have Puerto Vallarta. Puerto Vallarta is known for its vibrant beaches, kaleidoscopic marine and plant life, and 5-star resorts.
Puerto Vallarta is a charming and historic city with a rich cultural heritage, making it an ideal destination for couples who want to incorporate traditional Mexican elements into their wedding.
One of the most unique features of Puerto Vallarta is its specific zones. These different zones offer different cultural slices for visitors. These zones include the tourist hotspot of downtown Puerto Vallarta, the Romantic Zone of Old Town that showcases cobblestone streets and restaurants, the all-inclusive Hotel Zone, the Marina Vallarta center that is home to bays and boardwalks, the culturally vibrant North Town, and the family-friendly South Zone.
Beyond the zones, there are many adventure activities available in Puerto Vallarta, making it an excellent destination for wedding couples and their guests. From snorkeling and scuba diving to horseback riding and ziplining, there is something for everyone in Puerto Vallarta, making it one of the best places to have weddings.
And just like Cancun, Puerto Vallarta is a highly sought-after spot for daydream-worthy destination weddings, meaning they are flush with excellent resorts and dedicated wedding coordinators.
Our favorite resort in Puerto Vallarta: Grand Palladium Vallarta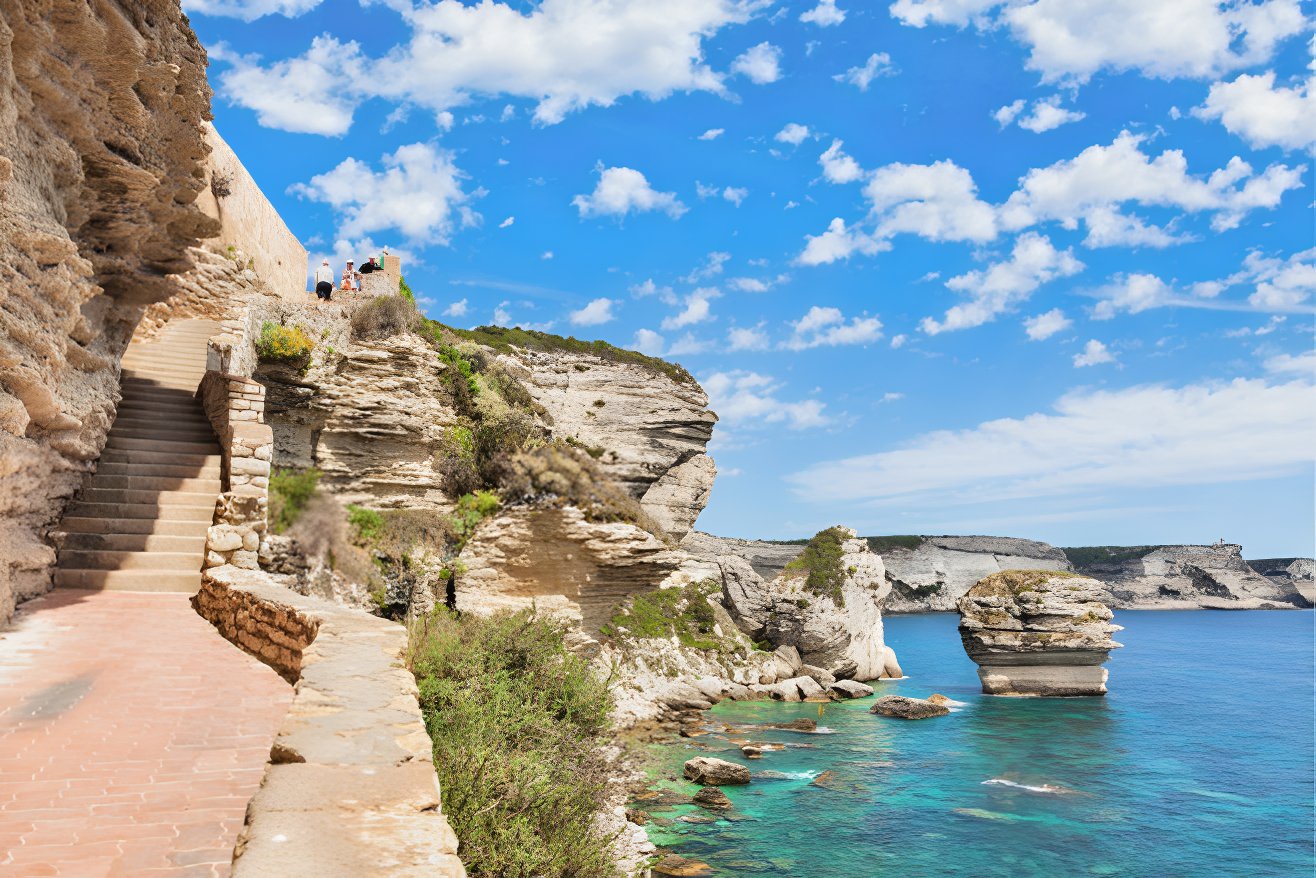 Los Cabos is where the desert meets the sea, where the cliffside deserts and gardens provide panoramic views and one-of-a-kind settings for dream destination weddings. From stunning desert sunsets to breathtaking beach vistas, Los Cabos is a truly unique and beautiful location for a wedding.
This Mexican hamlet is especially popular for its dynamic and fresh cuisine. From Italian to sushi, Los Cabos is famous for its numerous gourmet restaurants inside and outside the all-inclusive resort properties. More than anything, though, Los Cabos is home to fantastic and authentic seafood and Mexican cuisine, some of the best you'll get in the world.
After all that eating, Los Cabos provides plenty of opportunities to burn those calories with exciting activities. From whale watching and snorkeling to golfing, ziplining, and ATV tours, Los Cabos offers something for thrillseekers of all sorts.
Our favorite resort in Los Cabos: Hard Rock Los Cabos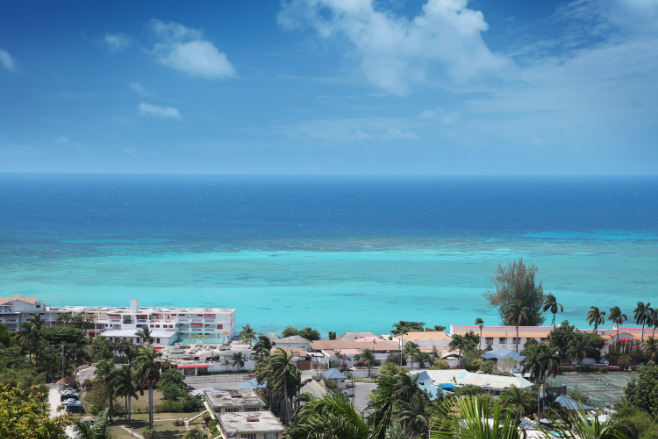 Montego Bay is a relaxed and gorgeous Caribbean paradise on the north shore of Jamaica. It is a vibrant and historic city with palm-lidden beaches and a rich cultural heritage, making it an ideal destination for couples who want to incorporate traditional Jamaican elements into their wedding.
More than anything, Montego Bay calls wedding couples and travelers to its shorelines with its pristine, sugar-white sands combined with translucent blue waters. Montego Bay's beaches hypnotize visitors into unwinding in tropical bliss, from the private Doctor's Cave to the locally famous Dump-Up Beach.
Beyond the beaches, Montego Bay is a haven of parties and festivities. Hip Strip is home to many exciting bars and clubs that make Montego Bay a one-stop shop for fun.
Montego Bay's all-inclusive resorts offer fantastic lodgings, gorgeous wedding venues, and professional wedding planners, photographers, and vendors who help make your special day go off without a hitch, making it one of the best places to have weddings.
Fun fact for you music fans: Bob Marley was born and later buried at Nine Mile, an area a short distance from Montego Bay.
Our favorite resort in Montego Bay: Grand Palladium Lady Hamilton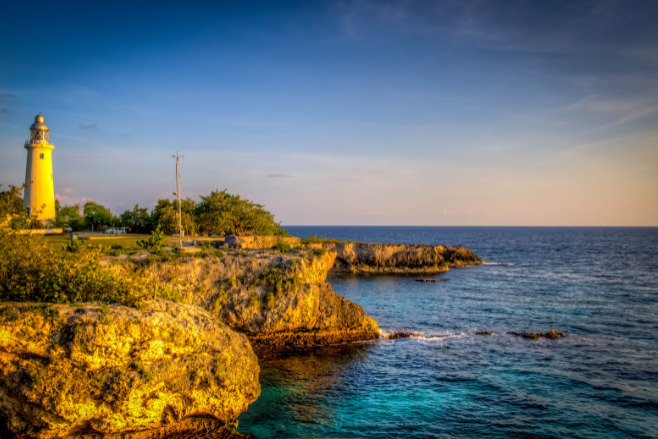 Negril is a stunning portrait of divine beaches, flowing waterfalls, towering cliffsides, orange sunsets, fiery jerk chicken, and a friendly, kicked-back atmosphere.
The relaxed atmosphere of Negril is alive and thriving in its natural beauty. Negril is surrounded by lush vegetation and breathtaking natural beauty, from its famous Seven Mile Beach to its towering cliffs and natural waterfalls.
Those waterfalls are well worth a trip for adventurous couples and guests, especially the local Mayfield and YS waterfalls. A little further away is Dunn's River Falls, Jamaica's most famous and majestic waterfall.
Leaving the natural world for the contemporary one, Negril is home to many luxury resorts which offer world-class amenities, services, and wedding packages that include everything from the ceremony to the reception and even the honeymoon. This makes Negril one of the best places to have weddings.
Our favorite resort in Negril: Couples Negril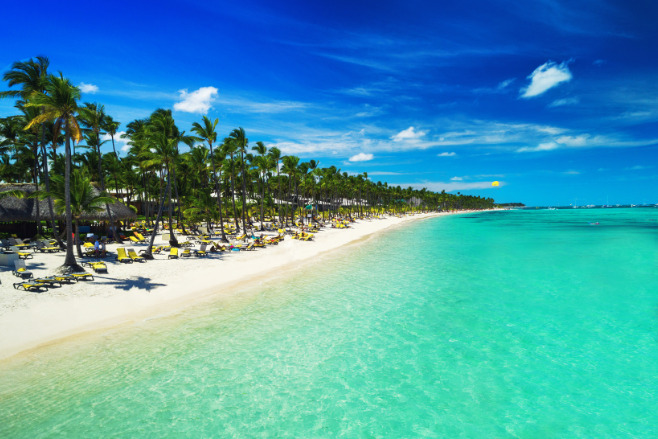 The Dominican Republic is a massively popular destination for guests looking for an affordable and luxurious destination wedding experience.
Punta Cana is one of the DR's most popular spots. It was built in the 1970s as a tourist mecca of stunning beaches, luxurious resorts, and exciting nightlife.
The beaches of Punta Cana are one of their star attractions. There are 10 separate beaches known for their stunning white sand beaches and turquoise waters. They provide a picturesque setting for a wedding ceremony and activities like scuba diving, snorkeling, or just strolling with a cocktail in hand.
After you're done sunbathing, make sure that you check out the lively nightlife downtown, like discos, dance floors, and lounges.
And like all of our the best places to have weddings, Punta Cana is home to some of the most unique and affluent all-inclusive resorts in the world!
Our favorite resort in Punta Cana: Majestic Elegance Punta Cana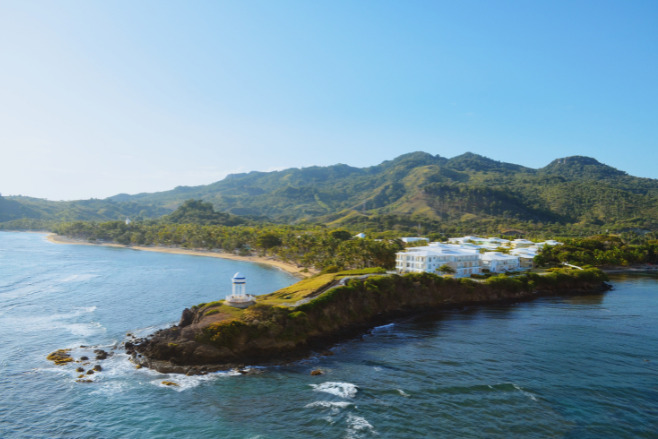 Puerto Plata is home to one of the most popular beaches in the Dominican Republic, Playa Dorado. Some of the most luxurious resorts dot the white sands of this beach, standing shoulder to shoulder with restaurants, malls, and even a golf course!
Compared to other of the best places to have weddings, Puerto Plata is relatively affordable, making it a great choice for couples on a budget. This means you can have a beautiful wedding without breaking the bank.
The Dominican Republic is rich in culture and history, and Puerto Plata offers a unique blend of both. From colonial architecture to vibrant street markets, there are plenty of opportunities to get up close and personal with the local culture.
Some of the incredible spots to visit include the Amber Museum, the 27 crashing falls of Damajaqua Waterfalls, the Ocean World Adventures waterpark, and the colonial Fort San Felipe.
Our favorite resort in Puerto Plata: Iberostar Costa Dorada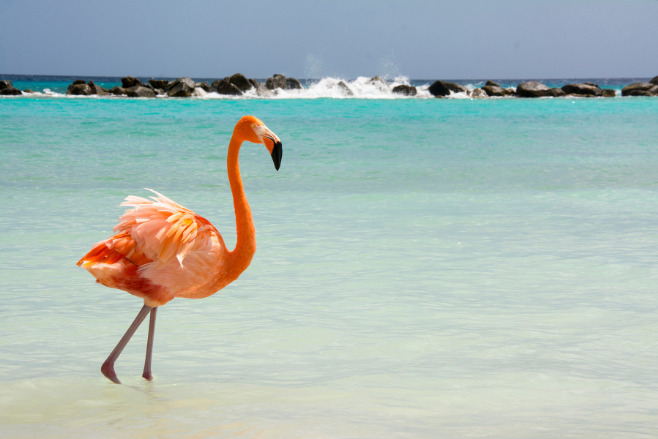 Aruba is one of the most beautiful and safe islands in the 700-isle chain of the Caribbean Islands. In fact, Aruba is such a warm destination that it has earned the motto of 'One Happy Island!'
Between the gorgeous beaches, sunny climates, and ease of access from the continental United States, we highly recommend Aruba as a destination wedding paradise.
Aruba provides a unique cocktail of cultures with influences from South America, Europe, and Africa. The island offers rich cultural experiences, cuisines, and shops.
Even if it's a tiny island, Aruba is bursting at the seams with things to do! Adventurous couples and their guests can go windsurfing, kayaking, snorkeling, horseback riding, or visit the one-of-a-kind Flamingo Beach, where dayglo-pink flamingos dip their branch-thin legs in the salty seafoam. It's gotta be seen to be believed!
Our favorite resort in Aruba: RIU Palace Aruba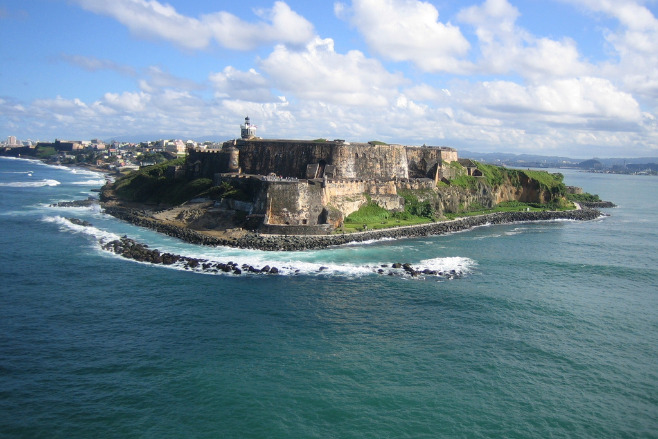 Puerto Rico has a rich cultural heritage, with a mix of Spanish, African, and Taíno influences. The island offers a vibrant tincture of cuisines, customs, architecture, and art, making it one of the best places to have weddings.
One of the most unique benefits of Puerto Rice is its ease of accessibility. Not only is it a quick plane ride away from most major US cities, but a U.S. territory, Puerto Rico, uses the U.S. dollar as its main currency. This makes it easy to plan and execute a wedding on the island without having to navigate a foreign currency or unfamiliar laws.
Rum fans look no further: 80% of the rum that the United States consumes comes from this vibrant island. What better excuse to grab a cocktail from the source and take a stroll in the sunshine?
And speaking of strolling, there's so much untamed nature and beautiful terrain to explore and soak up, from crystal-white sand beaches to lush rain forests and majestic mountains to dank caverns.
The most unique natural phenomenon in Puerto Rico has to be the three Bioluminescent Bays. These bodies of water literally glow and come to life, thanks to the plankton that light up in stunning shades of blue-green.
These neon waters are otherworldly and enchanting, a romantic locale perfect for spending time with your newly christened spouse!
Our favorite resort in Puerto Rico: El Conquistador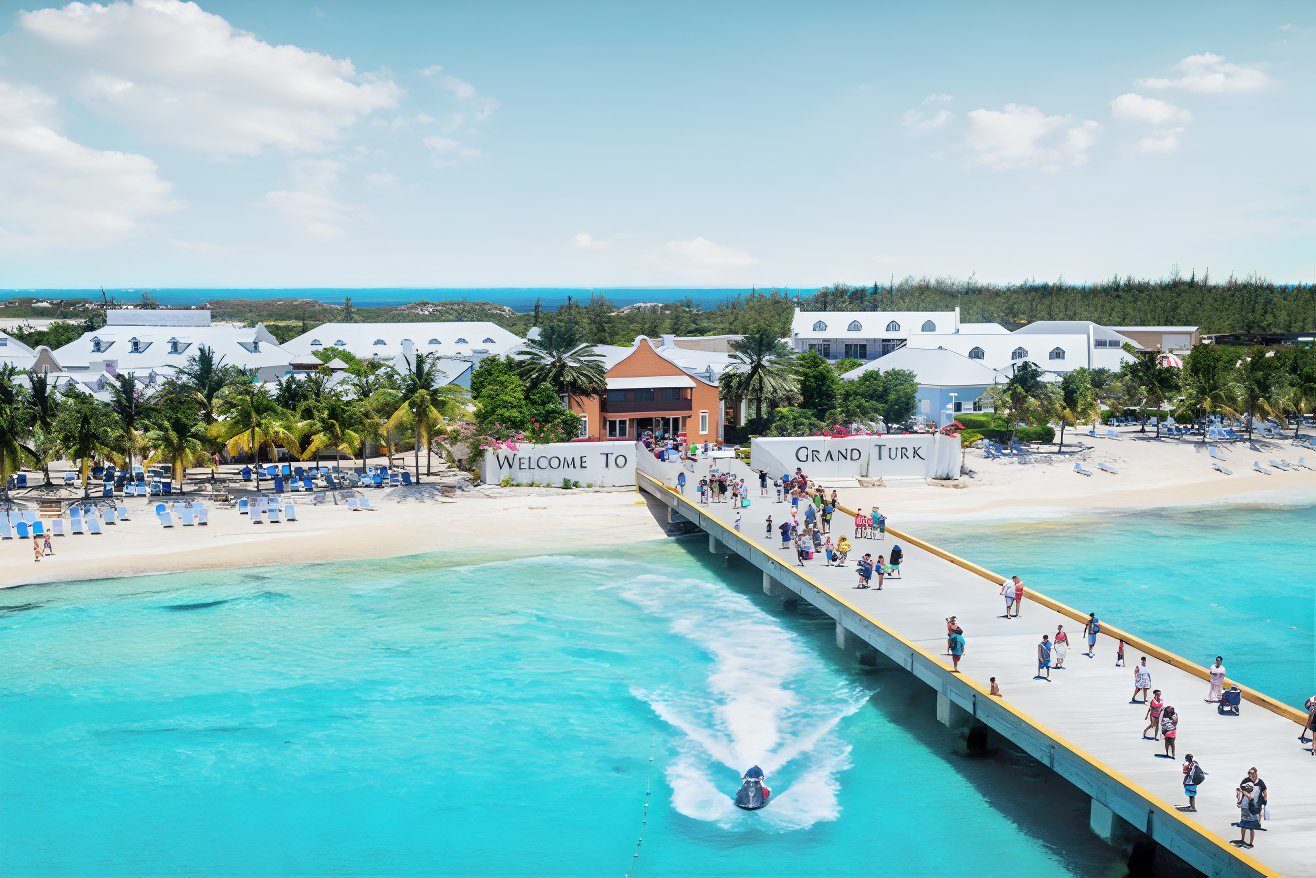 The Turks and Caicos Islands boast some of the most stunning beaches in the world, with crystal-clear waters and powdery sand. The Islands are surrounded by vibrant coral reefs that are home to kaleidoscopic-hued underwater animals and mysterious shipwrecks! It's no wonder Turks and Caicos is such a popular snorkeling spot!
The Islands are known for their relaxed, laid-back Caribbean lifestyle, where couples and their guests can unwind and escape daily life's stresses. The luxury resorts home to destination weddings offer state-of-the-art spa facilities, guaranteeing that couples and their guests leave their destination wedding experience less stressed than when they arrived.
Turks and Caicos have a rich cultural history, with a mixture of African, Caribbean, and British influences. Visitors can experience this unique blend of cultures through the local cuisine, music, and festivals.
The Islands are also home to various unique and fascinating wildlife, including flamingos, iguanas, and sea turtles.
Our favorite resort in Turks and Caicos: Beaches Turks and Caicos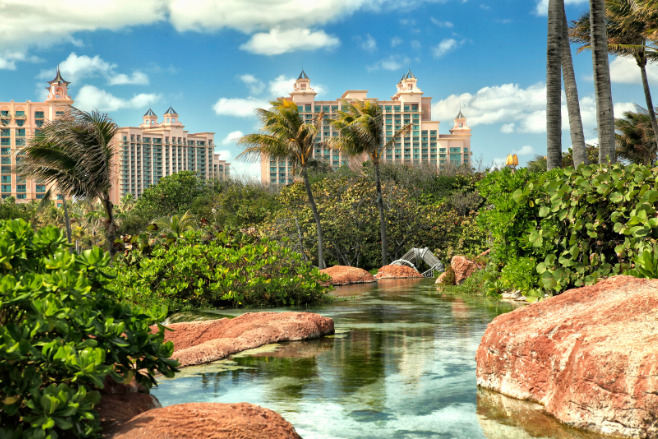 The Bahamas is an archipelago of 700 islands, cays, and islets in the Atlantic Ocean, located just southeast of Florida.
The Bahamas has a rich cultural heritage that blends African, European, and indigenous Taíno influences, giving couples and their guests unique cultural experiences through local festivals, music, dance, food, and art.
Historically, the Bahamas has a long and interesting past, from its days as a pirate haven in the 17th and 18th centuries to its role as a major hub of the slave trade in the 19th century. This distinctive past lives on through the various museums, forts, and historical sites throughout the country.
On the flip side of the culture is the vibrant nature. The Bahamas is home to unique flora and fauna, including the endemic Bahamian rock iguana, as well as many species of migratory birds, whales, dolphins, and other marine life.
The country also has several national parks and nature reserves where visitors can enjoy its natural beauty.
The Bahamas' unique and vibrant culture makes it one of the best places to have weddings!
Our favorite resort in the Bahamas: Breezes Bahamas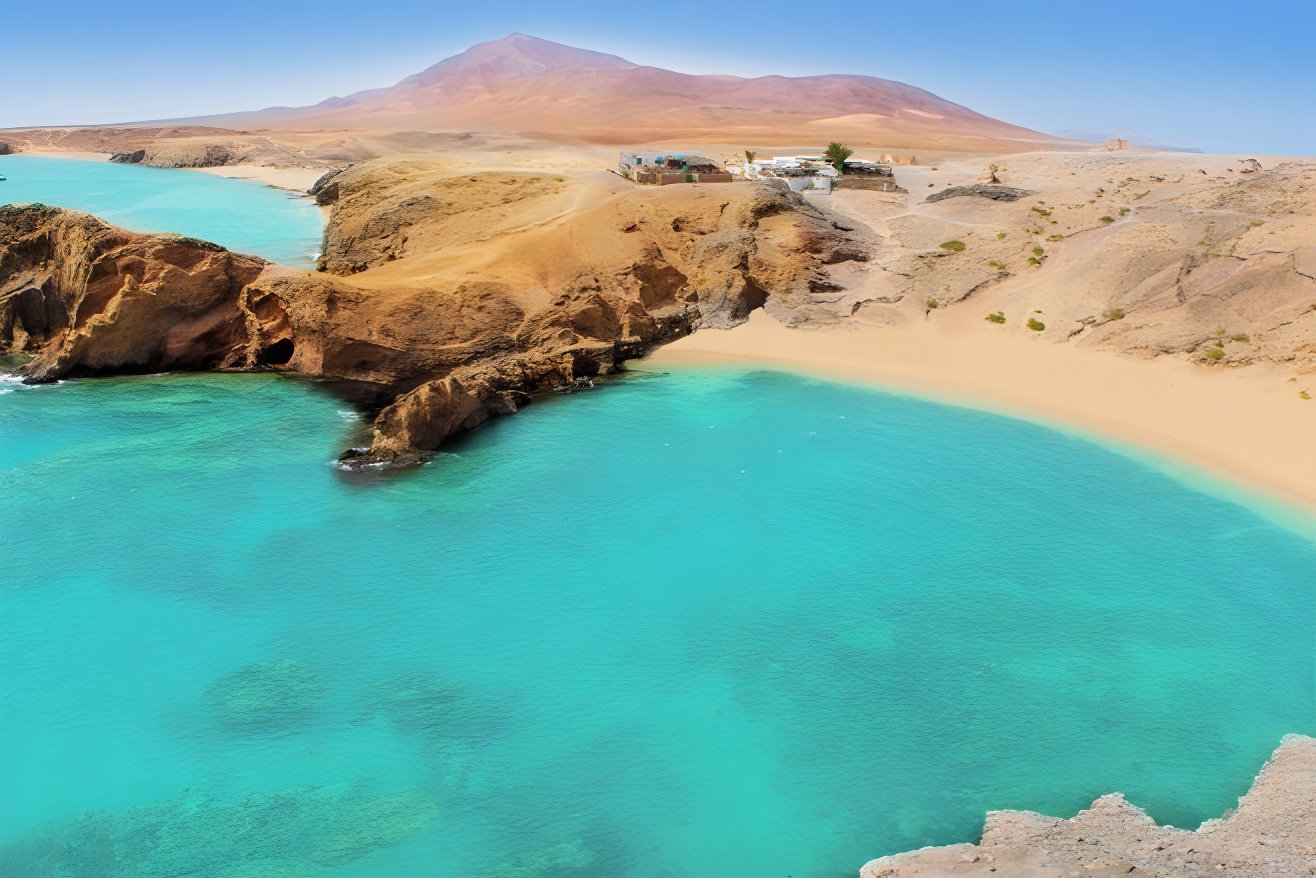 Papagayo is known for its stunning scenery, with lush tropical forests, rolling hills, and sparkling beaches. We love Papagayo for its status as a part of Costa Rica's sustainable tourism drive.
Sustainable tourism involves practices and accommodations that strive to educate tourists and minimize environmental damage.
Costa Rica s a leader in sustainable tourism, and Papagayo is no exception. The area is dedicated to preserving the natural beauty and biodiversity of the region, making it a responsible and eco-friendly choice for a destination wedding.
The beaches on the Papagayo Peninsula are secure, private, and peaceful. For those who enjoy spending time at the beach, the seas around the Papagayo Peninsula are pleasant throughout the year. While playing in the sand, you may engage in watersports, including kayaking, fishing, scuba diving, snorkeling, paddle boarding, and more!
Overall, the combination of beautiful scenery, adventure activities, sustainable tourism, cultural richness, and excellent wedding services makes Papagayo, Costa Rica, an ideal location for a destination wedding.
Our favorite resort in Papagayo: Planet Hollywood Costa Rica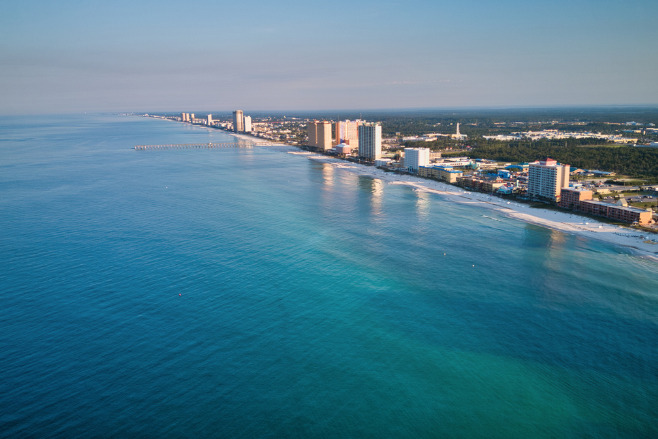 Panama is a melting pot of cultures with a rich history and diverse population from its Creoles, mestizos, European immigrants, Africans, and indigenous populations.
The country of Panama sits nestled between North and South America. It's an adventure lover's paradise, with plenty of lively activities such as scuba diving, snorkeling, cycling, and hiking in the dense mangrove jungles and pristine beaches.
Panama Bay is home to many luxury resorts and spas, making it a great choice for a 5-star destination wedding. With gourmet restaurants, striking venues, and dedicated onsite wedding coordinators, Panama Bay promises to be the home to the destination wedding of your dreams.
Fun fact: Panama is the only spot on the Earth where you can see the sunrise in the Pacific and then set in the Atlantic.
Our favorite resort in Panama Bay: Dreams Delight Playa Bonita
Book Your Destination Wedding in 2023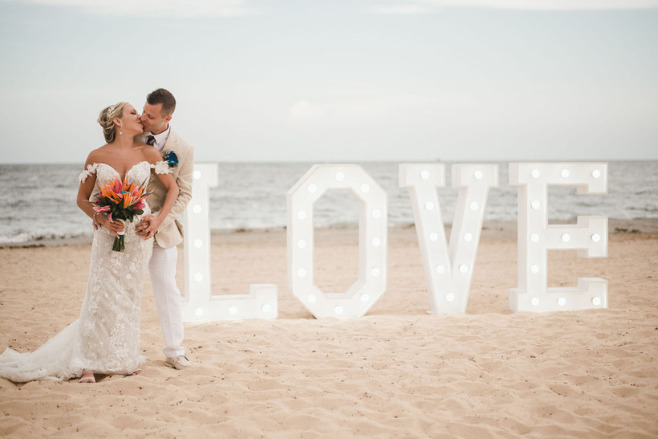 You've learned the best places to have weddings. Are you ready to pick your favorite and book your destination wedding?
We're here to take the stress and difficulty out of wedding planning so that you enjoy every moment of your destination wedding!