All Inclusive Destination Weddings
The all-inclusive market is quickly growing in the travel industry thanks to the popularity of destination weddings for 20+ guests. That's because having your all-inclusive destination wedding in paradise has never been easier!
All-inclusive resorts offer affordable packages and a hassle-free process. With Destify assisting with your all-inclusive destination wedding, you will have a dedicated team, who specializes in weddings and is committed to assisting your guests, so that you will have the perfect trip. You will get an entire vacation experience, not just for you, but also for your guests!
All Inclusive Destination Wedding Benefits for You
Dedicated on-site wedding coordinators provide one point of contact for planning at no additional cost.
Affordable wedding packages are structured so you can easily add al-la-carte features, only paying for what you need.
Earn free wedding events and exclusive perks based on the number of rooms booked.
Take advantage of hosting your wedding and staying for your honeymoon all in one trip!
It is more than just "one day". You get to enjoy an entire experience at the resort with your closest loved ones.
See below how the on-site vendors and amenities can help to provide an easy and unforgettable all inclusive destination wedding experience.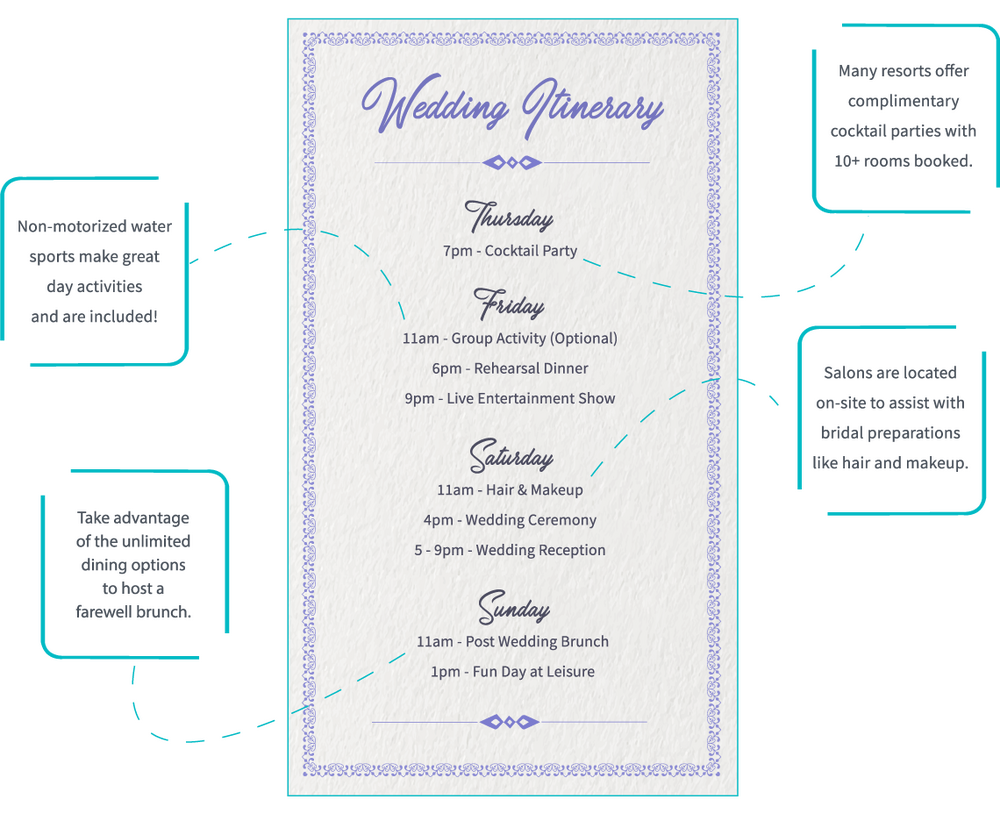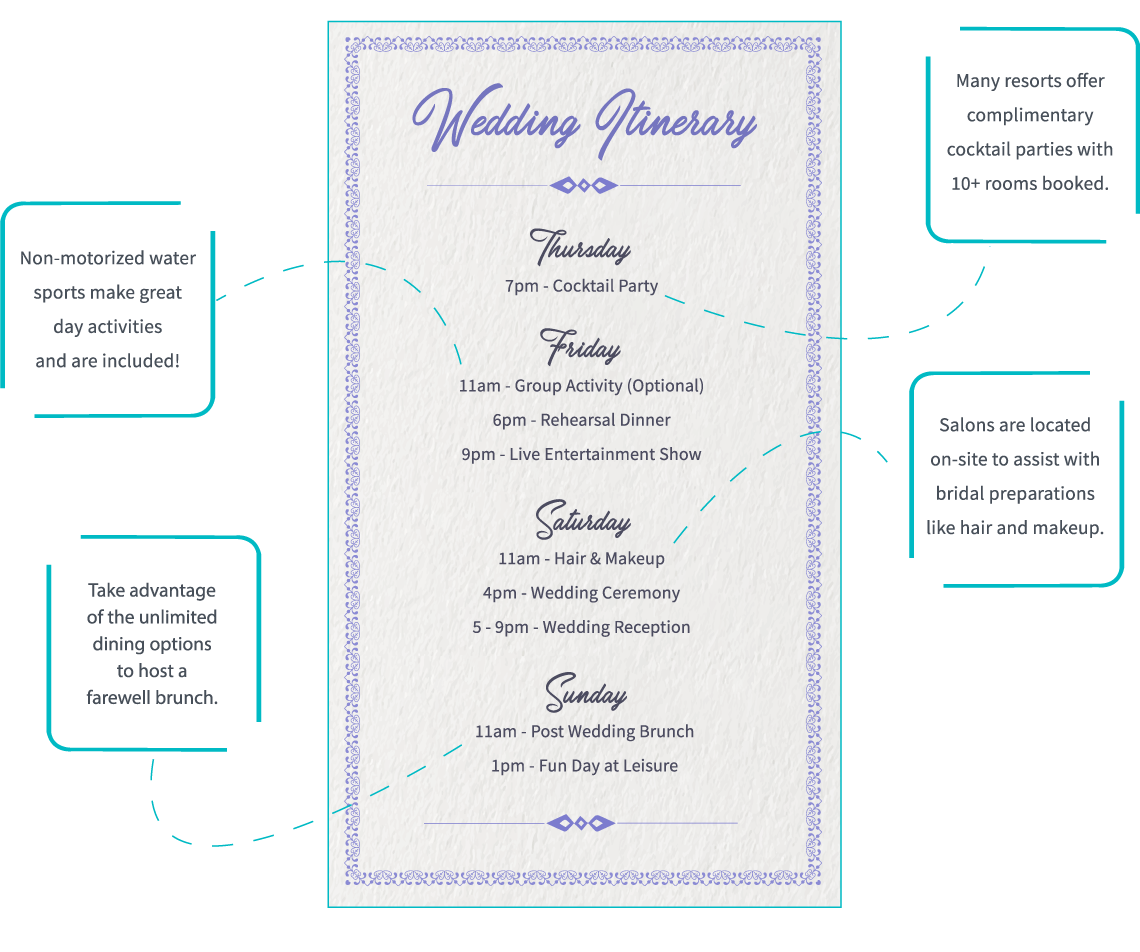 Benefits for Your Guests
One of the most common hesitations to hosting a destination wedding is how much it will cost your guests to travel. By choosing an all-inclusive resort, you are providing many benefits that will get them excited to travel!
Your guests get an easy, one-price vacation! No need to worry about budgeting throughout the trip.
There is flexibility for guests to stay for as little or as long as they would like. Most resorts only require a 3-night minimum stay.
Unlimited food and drinks are included at multiple themed restaurants and bars.
Activities can accommodate any age range, from kids' clubs to fitness centers, water parks to nightclubs.
They have had all of the tedious planning done for them!
Cost Comparison
| | All Inclusive | Non All Inclusive |
| --- | --- | --- |
| Hotel Room | $380 Night/Couple | $250 Night/Couple |
| 3 Daily Meals | Unlimited! | $100 Day/Couple |
| 3 Alcoholic Beverages | Unlimited! | $60 Day/Couple |
| Day Time Activity (Ex: Snorkel Equipment Rental) | Included | $50 Day/Couple |
| Nightly Live Entertainment | Included | $60 /Couple |
| Transportation to/from Activities | Everything is on site! | $40 Day/Couple |
| Total Daily Cost | $380/Couple | $560/Couple |
| Total Trip Cost | $1900/Couple | $2800/Couple |
*The example above is for a 5-night stay at a 4-star property in Riviera Maya during shoulder season.