Love stories begin here
Destify's Top Resorts
We're thrilled to proclaim these the cream of the wedding resort crop, with our Destify Top Resort showcase.
No matter which Destify Top Resort you choose, expect elevated accommodations, award-winning benefits, and a world-class experience. We've broken out each of our amazing destinations by location — allowing you to get better acquainted with the atmosphere and amenities of each. This list is cultivated and updated often; as our destination wedding experts are constantly ensuring that those all-inclusive resorts earn their spot on this list.
Where will 'Your path to I do' begin? Start your journey with…
All Inclusive Destination
Mexico Pacific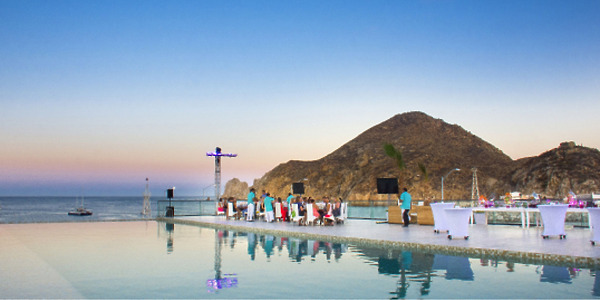 Let's take a trip across Mexico to the first breathtaking destination on our list: Los Cabos and the Mexico Pacific. Welcoming visitors and couples to a world of beautiful beaches and visually-striking deserts, this Pacific Coast gem radiates contemporary luxury. Bursting with tropical splendor, guests can enjoy unique experiences accentuated by their natural surroundings.
Ready to live it up? Los Cabos features the world's most exciting nightlife destination, with Michelin Star restaurants and world-famous clubs ready to please.
Los Cabos has the most representation among the top destination wedding resorts in 2022, ranging from modernist to traditional – and our Destify Couples have caught on. With more couples tying the knot on its resplendent shores, it's clear to see why Los Cabos should be at the top of your wedding planning list this year.
Los Cabos Weddings

Hard Rock Los Cabos is the hip indie band you knew before your friends did. It features a selection of customizable, rock-star wedding packages with gorgeous venue vistas and access to some of Mexico's top peninsula excursions.

Hard Rock Los Cabos:

Read more

Venues: 11
Family Friendly
45 Minutes

Package Costs:

INCLUDED –

$

5,000

Los Cabos Weddings

The pinnacle of Los Cabos luxury, this sun-soaked oasis is home to six nature infused wedding venues, all accompanied by all inclusive bliss and locally inspired entertainment.

Hyatt Ziva Los Cabos:

Read more

Venues: 6
Family Friendly
20 Minutes

Package Costs:

$

2,149

–

$

13,070

Los Cabos Weddings

The five-star haven of the Mexico-Pacific. This resort infuses every destination wedding it hosts with palatial architecture, gorgeous venues, and contemporary luxuries that will make your week of romance shine.

RIU Palace Cabo San Lucas:

Read more

Venues: 2
Family Friendly
35 Minutes

Package Costs:

$

1,199

–

$

7,999

Los Cabos Weddings

Sandos Finisterra is one of Cabo San Lucas' most well-known all-inclusive resorts, with a diverse range of rooms and suites. Stay in one of the architecturally sophisticated rooms or one of the huge ocean view suites that cantilever outwards from the rock face.

Sandos Finisterra Los Cabos:

Read more

Venues: 4
Family Friendly
40 Minutes

Package Costs:

$

3,150

–

$

4,750

All Inclusive Destination

Mexico Caribbean

Tie the knot at exhilarating locations like Cancun or Riviera Maya — teeming with world-famous beach resorts and breathtaking scenery. Stay on-site and be pampered 24 hours a day, or go out to Mayan sites, local culinary destinations, natural cenotes for swimming, or picturesque hiking excursions.

Cancun weddings are well-known for the globally-acclaimed Hotel Zone on the main strip. In addition to your Cancun wedding package, you'll get that downtown vibe with high-rise resorts.

The Riviera Maya is home to some of Mexico's most stunning beaches, including Maroma Beach, which has consistently been named as a top beach in the world. This region is also noted for its beautiful woods teeming with colorful fauna and species; peacocks, monkeys, iguanas, and the indigenous coati are all typical sightings. Resorts on this side of Mexico tend to be larger, and enjoy vast expanses of white sand beaches… all ready for you to walk down the aisle with clear blue waters dappling the shore while you exchange vows.

Tulum Weddings

Constructed near Mayan ruins, flanked on all sides by winding green foliage, and just minutes away from the breathtaking natural waterpark Xel-Há, this resort offers newlyweds and their guests the ideal setting to unplug and connect with the local culture — and with each other.

Dreams Tulum:

Read more

Venues: 12
Family Friendly
90-120 Minutes

Package Costs:

$

999

–

$

11,999

Playa Mujeres Weddings

Situated on the prosperous Playa Mujeres coast, this resort guarantees pure destination wedding serenity, far from the reaches of the Cancun Hotel Zone. Boasts both elevated venue architecture and day-of technology.

Majestic Elegance Costa Mujeres:

Read more

Venues: 3
Family Friendly
40 Minutes

Package Costs:

$

1,250

–

$

1,750

Riviera Maya Weddings

Sleek and contemporarily styled, this extravagant edifice has a slew of amenities and luxuries to offer guests of all kinds, from families on budgets, to couples seeking privacy and intimacy, to even those looking to upgrade their stay and indulge themselves in opulence.

Royalton Riviera Cancun:

Read more

Venues: 4
Family Friendly
18 Minutes

Package Costs:

$

999

–

$

11,199

Riviera Maya Weddings

Welcome to one of the most opulent Playa del Carmen oases on the Yucatán. Its distinctive setting, tucked away on a lengthy stretch of lovely, white sand beach, for a more private, small-scale beach wedding ceremony with breath-taking ocean views.

Sandos Playacar:

Read more

Venues: 3
Family Friendly
55 Minutes

Package Costs:

$

3,150

–

$

4,750

Cancun Weddings

Let the fun begin at this beachside family-friendly resort — featuring  a wide range of non-stop activities, as well as picturesque wedding venues that highlight the surrounding natural beauty.

Wyndham Alltra Cancun:

Read more

Venues: 7
Family Friendly
22 Minutes

Package Costs:

$

539

–

$

11,900

All Inclusive Destination

Dominican Republic

The Dominican Republic has emerged as the Caribbean's most affordable destination wedding location, with new construction and luxury resorts dotted across some of the world's most gorgeous beaches. Consider the newer resorts along Bavaro Beach, which are recognized for their beautiful ceremony sites and pristine white powdered beaches. With new properties comes outstanding service, and resorts compete for your business by offering low rates and individualized treatment that every couple will appreciate.

Below you'll find an interactive gallery of the top 2022 destination wedding resorts in the Dominican Republic. You have the option of staying in your resort, which may include everything necessary to keep guests entertained — such as full-service nightclubs and exciting casinos. For the more daring, go off-site for intriguing excursions such as snorkeling, rum tastings, or a visit to one of several world-class golf courses along the coastline.

Venues: 4
Family Friendly
35 Minutes

Package Costs:

$

999

–

$

3,799

Punta Cana Weddings

With over 800 suites — 300 of which are situated in a separate family-friendly section — this immense all-inclusive resort offers a beautiful, sweeping setting and a massive range of amenities, perks, and activities.

Dreams Onyx:

Read more

Venues: 6
Family Friendly
38 Minutes

Package Costs:

$

999

–

$

11,999

Punta Cana Weddings

Pump up the volume on your Punta Cana destination wedding at this award-winning Hard Rock diamond set on the crystalline sands of Macao Beach. From out-of-this-world amenities ranging from the interactive Music Lab to a whopping seven wedding venues, your beachfront matrimony will blow yours and your guests' minds.

Hard Rock Punta Cana:

Read more

Venues: 9
Family Friendly
30 Minutes

Package Costs:

INCLUDED –

$

5,000

Punta Cana Weddings

Offering budget-friendly packages meant to simplify the complexities of destination weddings, this ocean-side oasis is a sprawling, all-inclusive resort marrying affordability with decadence.

Majestic Elegance Punta Cana:

Read more

Venues: 6
Family Friendly