Planning a wedding can be an overwhelming and expensive endeavor, but it doesn't have to be. With the rise in popularity of destination weddings, couples have found a more affordable and unique way to tie the knot. Destination wedding packages offer all-inclusive options that can help you create your dream wedding without breaking the bank.
Whether you envision saying your vows on a pristine beach or in a charming Colonial gazebo, this guide will provide you with all the information you need to find and book affordable destination wedding packages for your special day.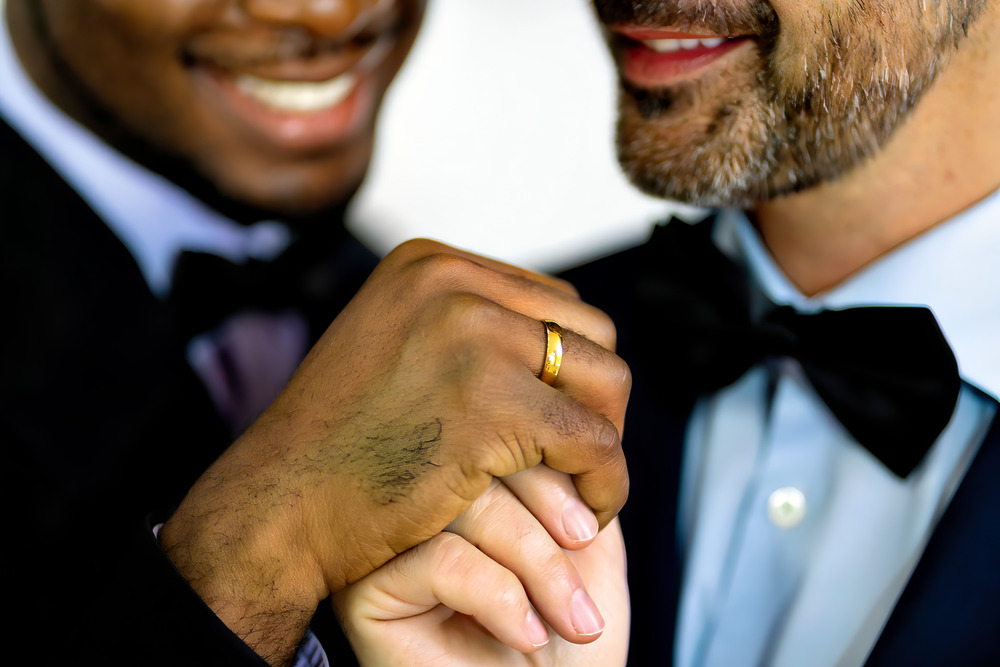 Yes, destination weddings are wonderful. But do you know what sounds even better? Affordable destination wedding packages that save money and elevate your celebration at the same time!
Calculating your destination wedding cost might seem intimidating, but we're happy to report that our favorite resorts offer packages that will keep you and your bank account very happy. Hop in, we're taking a tour around the Caribbean for the most luxurious and economical wedding resorts:
The Benefits of Choosing an Affordable Destination Wedding
Choosing an affordable destination wedding offers several advantages that can make your dream wedding a reality without breaking your budget.
First and foremost, cost savings are a major benefit. Traditional weddings can come with hefty price tags, from venue rentals to catering and decor expenses. In contrast, many destination wedding packages include everything you need for your big day, including accommodations, ceremony and reception venues, food and beverages, and even entertainment. By bundling these services together, you can often save a significant amount of money compared to traditional wedding costs.
Another advantage of a destination wedding is the intimate and unique experience it provides. By choosing a breathtaking location, you can create a memorable and picturesque backdrop for your wedding. Whether it's a white sandy beach, a tropical garden, or a historical cityscape, the destination itself becomes an integral part of your special day.
Additionally, a destination wedding allows you to combine your wedding and honeymoon into one unforgettable experience. After tying the knot, you and your guests can explore the local attractions, enjoy the local cuisine, and relax in the beautiful surroundings. This not only adds an element of adventure to your special day but also provides an opportunity for quality time with loved ones.
Lastly, a destination wedding often means a smaller guest list. This can be advantageous for those looking for a more intimate and relaxed celebration. With fewer people to accommodate, you can focus on creating a more personalized and meaningful experience for you and your closest friends and family.
In the next section, we will discuss the top destinations that offer affordable wedding packages, so stay tuned for more inspiration to help you plan your dream wedding!
Factors to Consider When Selecting A Destination Wedding Package
Now that we have established the benefits of choosing an affordable destination wedding, let's dive into the factors you should consider when selecting a destination wedding package.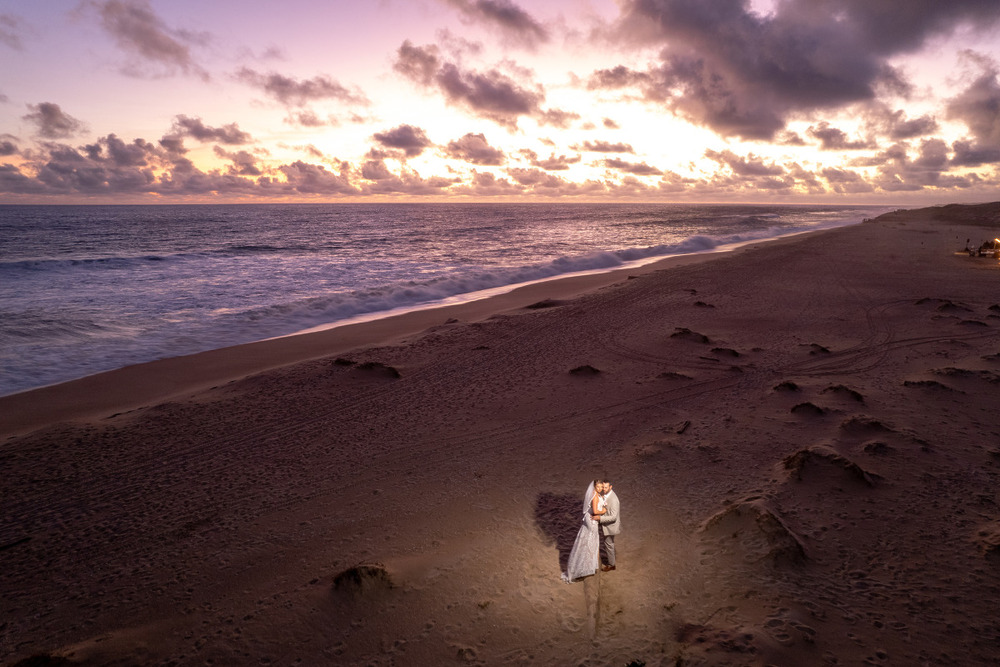 1. Budget: Determine your budget before you start looking at packages. This will help you narrow down your options and avoid overspending. Remember to consider all costs, including travel expenses for you and your guests.
2. Location: Research popular wedding destinations that fit your vision and preferences. Consider factors such as climate, accessibility, and local attractions. Keep in mind that some destinations may offer more affordable packages than others.
3. Package Inclusions: Carefully review what each package includes. Look for packages that offer a comprehensive range of services, such as ceremony and reception venues, wedding coordination, catering, photography, and accommodation. Compare the inclusions and ensure they align with your needs and preferences.
4. Guest Experience: Consider the experience your guests will have at the destination. Look for packages that provide options for group activities, excursions, and amenities that will keep your guests entertained and comfortable.
5. Vendor Flexibility: Check if the package allows you to bring your preferred vendors or if you are required to use the venue's recommended vendors. Ensure that the options available meet your expectations for quality and style.
6. Legal Requirements (for nonsymbolic ceremonies only): Familiarize yourself with the legal requirements for getting married in the chosen destination. Ensure that the package includes assistance with the necessary paperwork and documentation.
By considering these factors, you can confidently select a destination wedding package that fits your budget, and preferences, and ensures a memorable wedding experience. Stay tuned for the next section, where we will explore the top affordable destination wedding destinations.
Top Destination Wedding Locations with Affordable Packages
Now that you have a clear understanding of the factors to consider when planning, let's explore some of the top wedding locations that offer affordable destination wedding packages. These destinations not only provide beautiful backdrops for your special day but also cater to various budgets.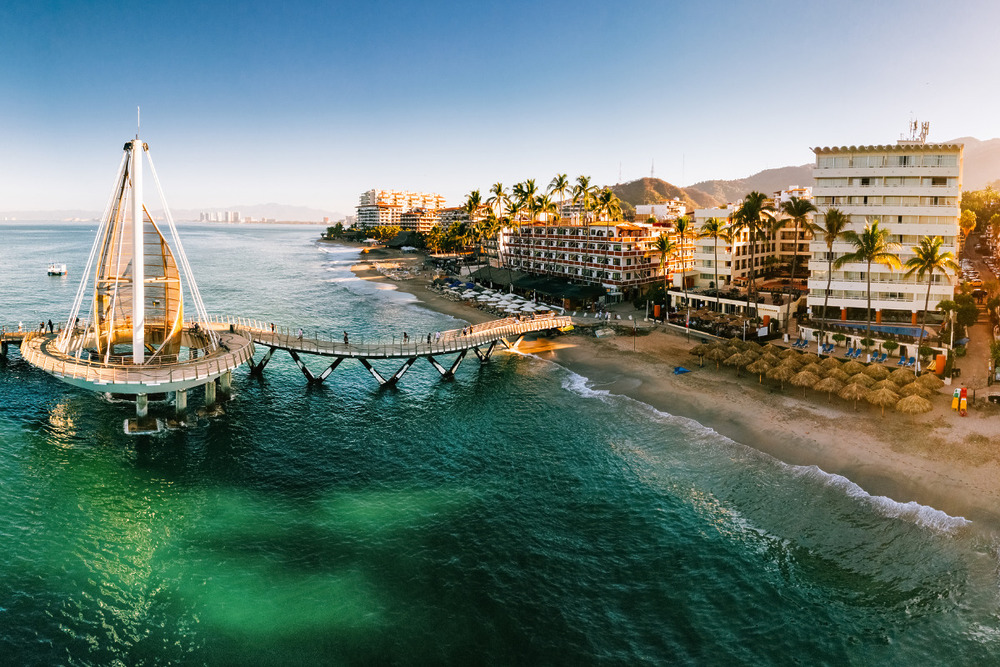 1. Mexico: With its stunning beaches and vibrant culture, Mexico is a popular choice for destination weddings. Resorts in cities like Cancun and Riviera Maya offer all-inclusive packages that include everything from ceremony venues to accommodation and dining options. Plus, the affordability of Mexican resorts makes it an attractive option for couples on a budget.
2. Dominican Republic: Known for its palm-fringed beaches and luxurious resorts, the Dominican Republic offers affordable wedding packages that include personalized wedding coordination, stunning ceremony venues, and entertainment options for your guests.
3. Jamaica: With its laid-back vibe and breathtaking landscapes, Jamaica is another great destination for an affordable wedding. The island offers a range of package options, including beachfront ceremonies, private villa weddings, and even packages that incorporate the local culture and traditions.
In the next section, we will delve deeper into each location and highlight the unique features and benefits they offer. Stay tuned for some wedding inspiration and tips on how to make the most of your chosen destination!
Understanding the Inclusions and Exclusions of A Destination Wedding Package
Now that you have an idea of some of the top destination wedding locations with affordable packages, it's important to understand the inclusions and exclusions of these packages. Each resort or destination may have different offerings, and it's crucial to know exactly what you are getting to avoid any surprises or hidden costs.
Most destination wedding packages will typically include the ceremony venue, basic decor, a wedding coordinator, and sometimes a small reception. However, it's essential to clarify whether the package covers additional services, such as photography, videography, or floral arrangements. These services might require additional fees or may not be part of the package at all.
Another factor to consider is accommodation. Some packages include a certain number of nights for the couple and maybe even some guests, while others require you to pay for accommodation separately. Be sure to check if the package includes any special honeymoon perks or upgrades.
It's also important to understand the exclusions of the package. This may include transportation to and from the destination, marriage license fees, government taxes, and gratuities that may or may not be included. Make sure to factor in these additional costs when planning your budget.
To avoid any misunderstandings, have a detailed conversation with the wedding coordinator or resort representative to get a clear understanding of what is included and what is not. This will ensure that there are no surprises or unexpected expenses later on.
In the next section, we will discuss some tips on how to negotiate and customize your destination wedding package to create the wedding of your dreams without breaking the bank. Stay tuned for some insider secrets on saving money and making the most of your destination wedding!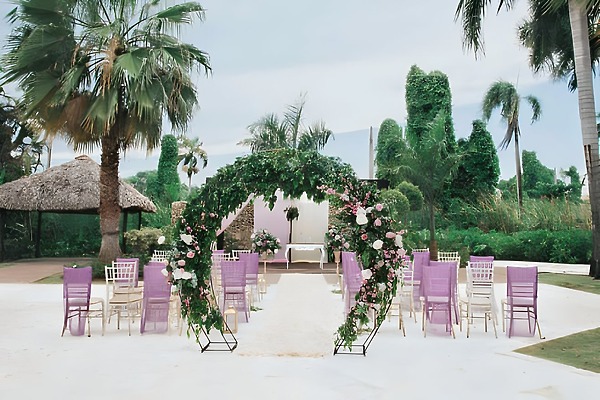 Tips for Planning the Perfect Budget-friendly Destination Wedding
Now that you understand the inclusions and exclusions of a destination wedding package, it's time to dive into some helpful tips for planning a budget-friendly wedding. Planning a destination wedding can be an exciting and cost-effective way to celebrate your special day, as long as you know how to navigate the process.
Firstly, be flexible with your wedding date. Timing is everything when it comes to saving money on a destination wedding. Consider getting married during the off-peak season or weekdays when prices are generally lower. Additionally, booking well in advance can often result in discounted rates and more availability.
Secondly, research and compare different resorts and wedding packages. It's essential to shop around and see what each destination offers in terms of affordability and value for money. Look for resorts offering all-inclusive options, as these can often provide significant savings on food, drinks, and even wedding services.
Another cost-saving tip is to limit your guest list. Keep in mind that while it may be tempting to invite everyone you know, a destination wedding is typically a more intimate affair. By keeping the guest list small, you can not only save on accommodation and food costs but also create a more personal and memorable experience for your loved ones.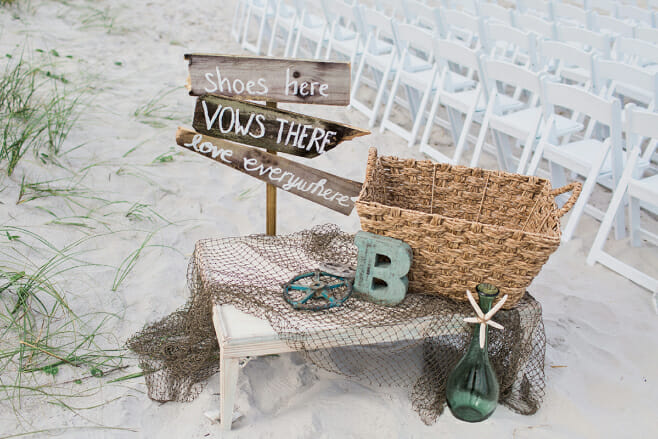 Consider DIY options for decorations and favors. Instead of relying on expensive wedding planners or overpriced vendor services, get creative and make your own centerpieces, party favors, and other decor items. Not only will DIY projects add a personal touch to your wedding, but they can also save you a significant amount of money.
Lastly, take advantage of any additional discounts or incentives offered by your chosen resort or destination. Some resorts may offer free room upgrades, spa credits, or even discounted rates for group bookings. Don't be afraid to negotiate or ask about any special offers available.
By following these tips, you can plan a beautiful and cost-effective destination wedding that fits within your budget. In the next section, we will discuss some unique and memorable destination wedding ideas to help you create a wedding experience that will be cherished for years to come. Stay tuned!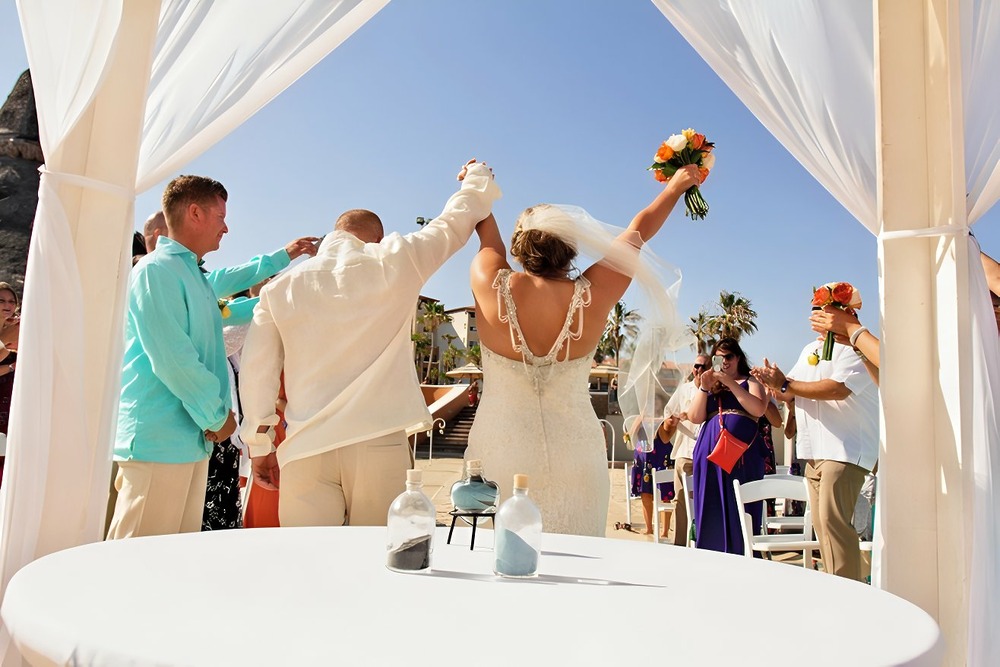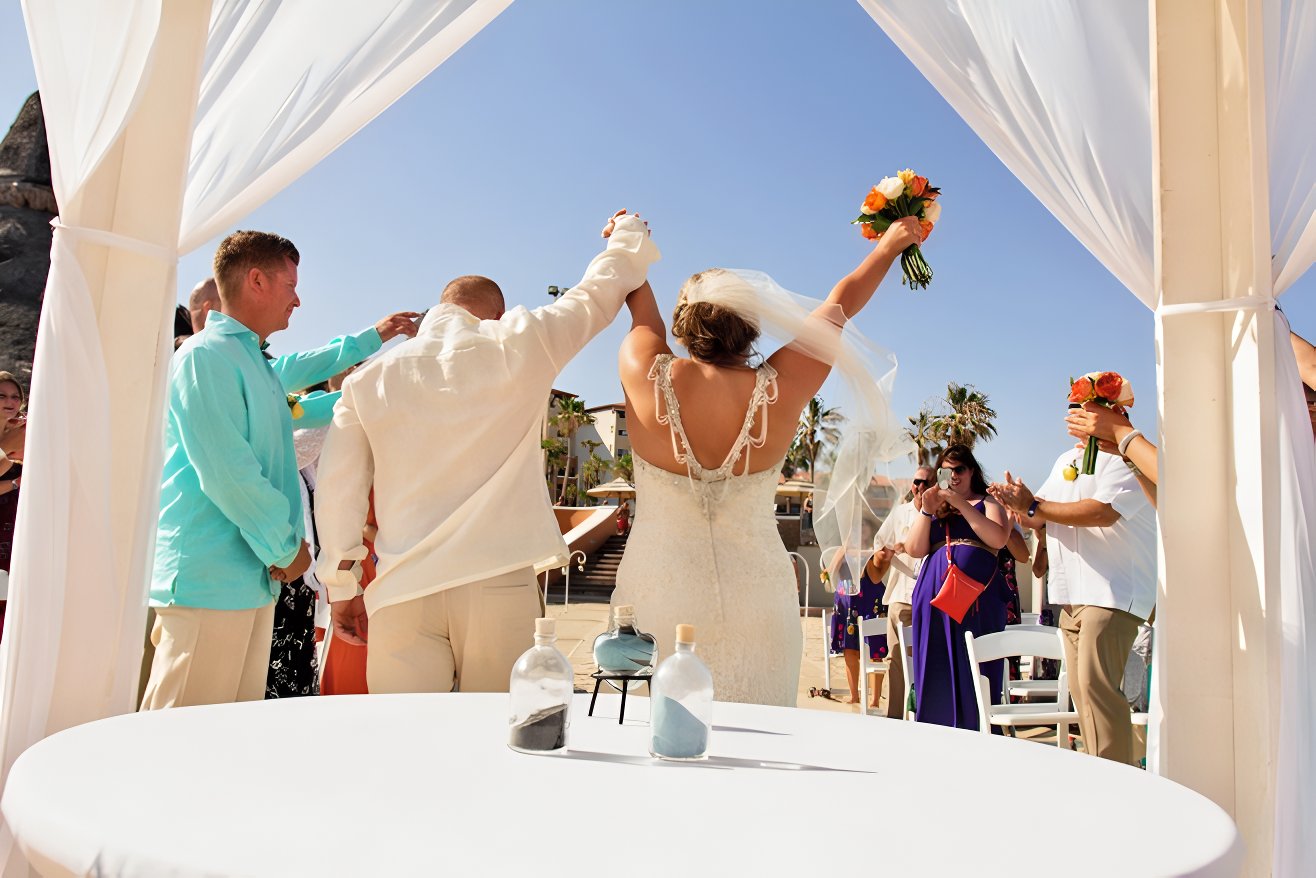 Making the Most of Your Affordable Destination Wedding Package
Now that you have successfully planned a budget-friendly destination wedding, it's time to make the most out of your chosen affordable destination wedding package. A well-designed and comprehensive package can offer you not only cost savings but also convenience and peace of mind.
One of the first things to do is to thoroughly review the details of your package. Make sure you understand every inclusion and exclusion, as well as any additional services that may come at an extra cost. This will help you avoid any surprises or unexpected expenses on your special day.
Take advantage of the services provided in your package. If your package includes a wedding planner, make sure to communicate your vision and preferences clearly to ensure everything goes smoothly. Utilize the expertise and knowledge of your wedding planner to help you with the logistics and coordination of your wedding day.
Explore all the amenities and activities offered by your chosen resort. Many destination wedding packages include access to various recreational facilities, such as pools, spas, and fitness centers. Take the time to relax, pamper yourself, and make the most out of these amenities to enhance your overall wedding experience.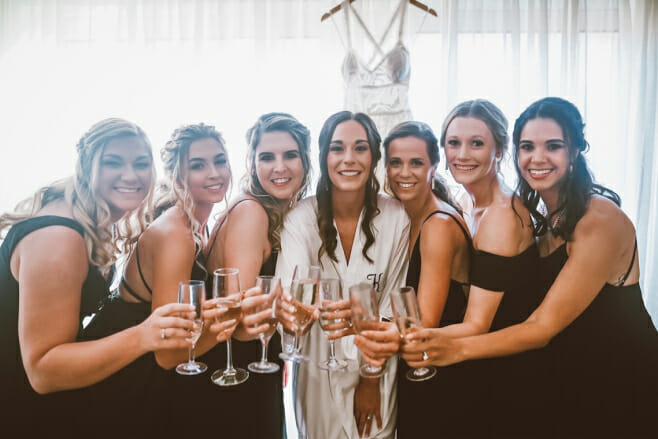 Consider customizing your package. Some resorts and wedding planners offer the option to add on or personalize certain aspects of your wedding. This could include extra decorations, upgraded accommodations, or additional services like photography or videography. While these additions may come at an extra cost, they can truly elevate your wedding and create lasting memories.
Lastly, make sure to capture every moment of your special day. Whether you choose to hire a professional photographer or rely on the skills of a talented friend or family member, having high-quality photos and videos to look back on will allow you to relive the magic of your destination wedding for years to come.
By making the most out of your affordable destination wedding package, you can ensure that your dream wedding becomes a reality without breaking the bank. In the next section, we will share some tips on how to navigate and overcome any challenges that may arise during the planning process. Stay tuned!
RIU Ocho Rios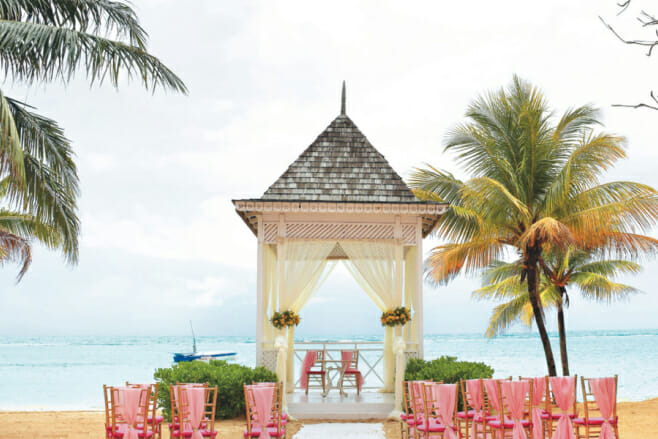 For wedding ceremonies, the remote location provides seclusion and breathtaking views. Whether you're completing your love story under the popular Beach Gazebo or walking the aisle near the lagoon, your RIU Ocho Rios retreat invites you to Jamaican wedding elegance at incredible rates.
Nearby excursions include Dunn's River Falls, Dolphin Cove, and Jamaican bobsledding for wedding guests who want to venture outside the resort during your RIU wedding at RIU Ocho Rios. The Deluxe Wing offers adult-centric food, including an ad hoc bar, for adults looking to get away from families and younger wedding guests.
Classic Wedding Package: $1199
Wedding coordinator
Decoration set up for the ceremony location
Bridal Bouquet
Matching boutonniere
Recorded music during the ceremony
Semiprivate dinner at one of our specialty restaurants (just for the couple)
Wedding cake (just for the couple)
Sparkling wine during the main toast (just for the couple)
Special decoration in the room
Witnesses if required
Minister/Judge service
Marriage Certificate
Spa Surprise gift
10% discount in all Spa treatments for the Wedding Couple
Majestic Elegance Punta Cana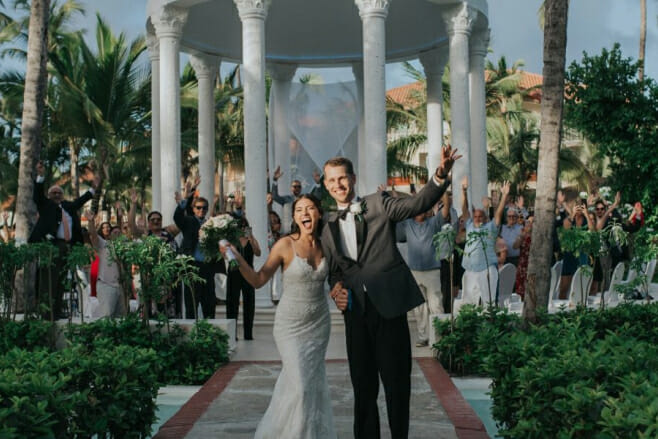 The Majestic Elegance, located on the pristine soft sands of Bavaro Beach, offers a true destination wedding. The wide pool and activities available at a Majestic Elegance wedding are ideal for couples seeking a vibrant atmosphere at night, complete with a variety of iconic ceremony venues.
From the dazzling beach to the lush Elegance Gazebo, Majestic Elegance showcases the pinnacle of Caribbean Wedding romance, all while offering an incredible Majestic Free Wedding Package. You might look at the complimentary price tag and think, "Well, are there any real benefits that come with it?" Oh yes, yes there are:
Majestic Free Wedding Package: Free
On-site wedding planners
Several ceremony locations
Room upgrade for the Bride & Groom
Early check-in & late checkout for the Bride and Groom
Special bracelet for the Bride and Groom with exclusive access to all 3 resorts
Services of a Civil Judge
Beautiful wedding cake
1 tropical flower table arrangement
Tropical bouquet for the Bride and boutonniere for the Groom
Ironing of Groom's tuxedo and Bride's gown
Sound system and simultaneous translation of the ceremony if needed
Marriage certificate in Spanish delivered by DHL
Champagne for the group after the ceremony
Romantic candlelight dinner with champagne for the couple
Romantic breakfast in your suite
Complimentary massage for the couple and use of water circuit
Basket of fruit in your room during your stay
Bottle of champagne in the room, twice during your stay
Room service included for the couple
Hyatt Ziva Cap Cana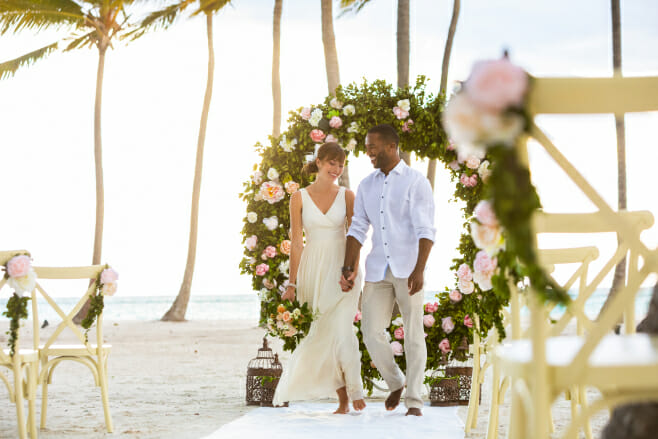 Get ready for the high-class Punta Cana wedding of a lifetime. Accompanied by a selection of breathtaking oceanfront affordable wedding venues, Hyatt Ziva Cap Cana delivers affordable destination wedding packages with a wide range of amenities.
All-inclusive and perfect for your wedding week, the resort offers a variety of thrilling infinity pools, swim-out condos, and a water park that are ideal for kids and big families. Families and other wedding guests will enjoy adrenaline-pumping outdoor activities and excursions such as jet skiing, kitesurfing, or nearby zip-lining courses thanks to its prime location on Juanillo Beach (off-site).
Intimate Elegance Wedding Package: Free
Symbolic marriage Ceremony and certificate, performed by a Secular Bilingual Wedding Officiant
Bridal floral Bouquet and Boutonnière for the Groom
Signature Wedding cake
Special decoration of the Couple's room
Complimentary wine delivered to the Couple's room
Late check-out for the couple up to 3:00 p.m. (applies for the Couple, subject to availability)
Onsite services of a professional Wedding Specialist
Complimentary online bridal registry and Wedding website
Ceremony table with white linen and folding Wedding chairs
Sound system for the Ceremony
Massage for the Wedding Couple (25-min each one)
Romantic dinner for the Couple
Dreams Riviera Cancun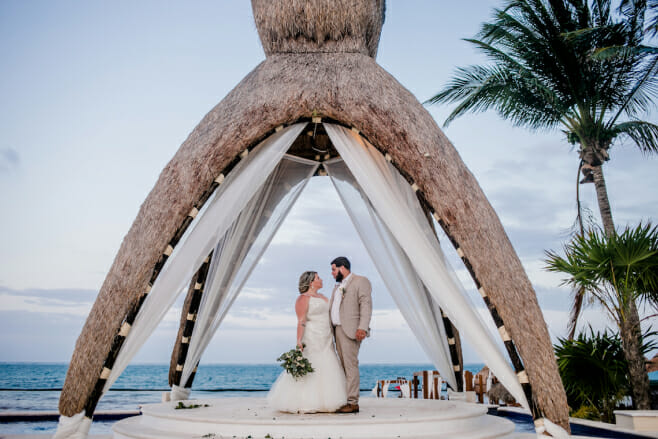 Dreams Riviera Cancun will ensure an endless day of paradise, whether you want a beach wedding or under a Mayan-inspired gazebo. Unique octagonal-shaped rooms and suites ensure spectacular views of the gardens and oceans from every room. For you and your Dreams Riviera Cancun wedding guests to enjoy together, the resort provides an exclusive wine cellar with foreign luxury brand wine offerings.
Weddings in Paradise Package: $999
Symbolic ceremony
Wedding organization and personal touch of on-site wedding coordinator
Preparation and ironing of couple's wedding day attire
Complimentary room for one member of the wedding couple the night before the wedding (based on availability and upon request)
Bouquet(s) and/or boutonniere(s) for the wedding couple
Wedding cake and sparkling wine toast (for up to ten guests)
Special turndown service the night of the wedding
15% discount on all spa treatments (Spa boutique purchases not included)
Newlywed Package
Welcome letter
Fresh fruit
Bottle of sparkling wine
Breakfast in bed with mimosas (reservations must be made in advance with concierge)
Late checkout for the couple (based on availability and upon request)
Free anniversary nights
Hard Rock Riviera Maya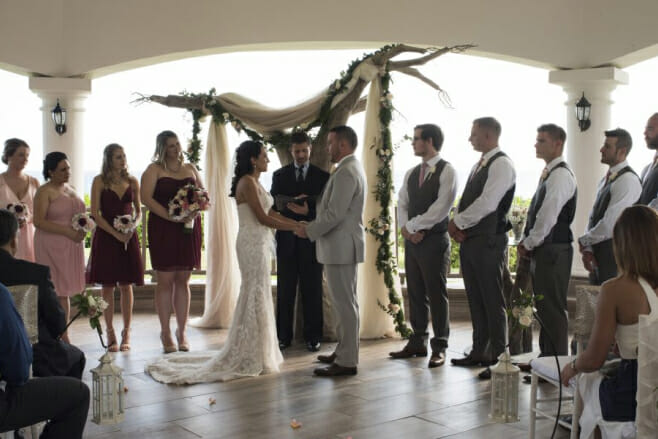 The winding main pool and linking bridges that cross over it will transport Hard Rock Riviera Maya wedding guests to a tropical oasis. There are a variety of wedding gazebos and beachside location choices, so wedding couples can really find their perfect ocean backdrop.
The grounds are divided into two sections: the Hacienda, which is open to both adults and children and the Heaven, which is only open to adults. Guests under the age of 18 are not permitted to attend a wedding ceremony or reception held on the Heaven side.
Complimentary Wedding Package: Free
Wedding ceremony location
White ceremony structure
White ceremony podium with a golden manzanita branch and a gold mirrored vase filled with white roses
32 white avant-garde chairs
Themed one-tier wedding cake for 32 persons
Bridal bouquet
Groom's boutonniere
Justice of the Peace or minister to perform legal, symbolic, or vow renewal ceremonies
Honeymoon Wishes wedding website and wedding registry
CD system available during the ceremony
Hard Rock Punta Cana wedding planner
Witnesses, if required
Complimentary Honeymoon Package
Creating Lasting Memories with An Affordable Dream Wedding

Planning an affordable destination wedding doesn't mean compromising on your dream wedding. With careful research, smart decision-making, and making the most out of your chosen wedding package, you can create an unforgettable experience without breaking the bank.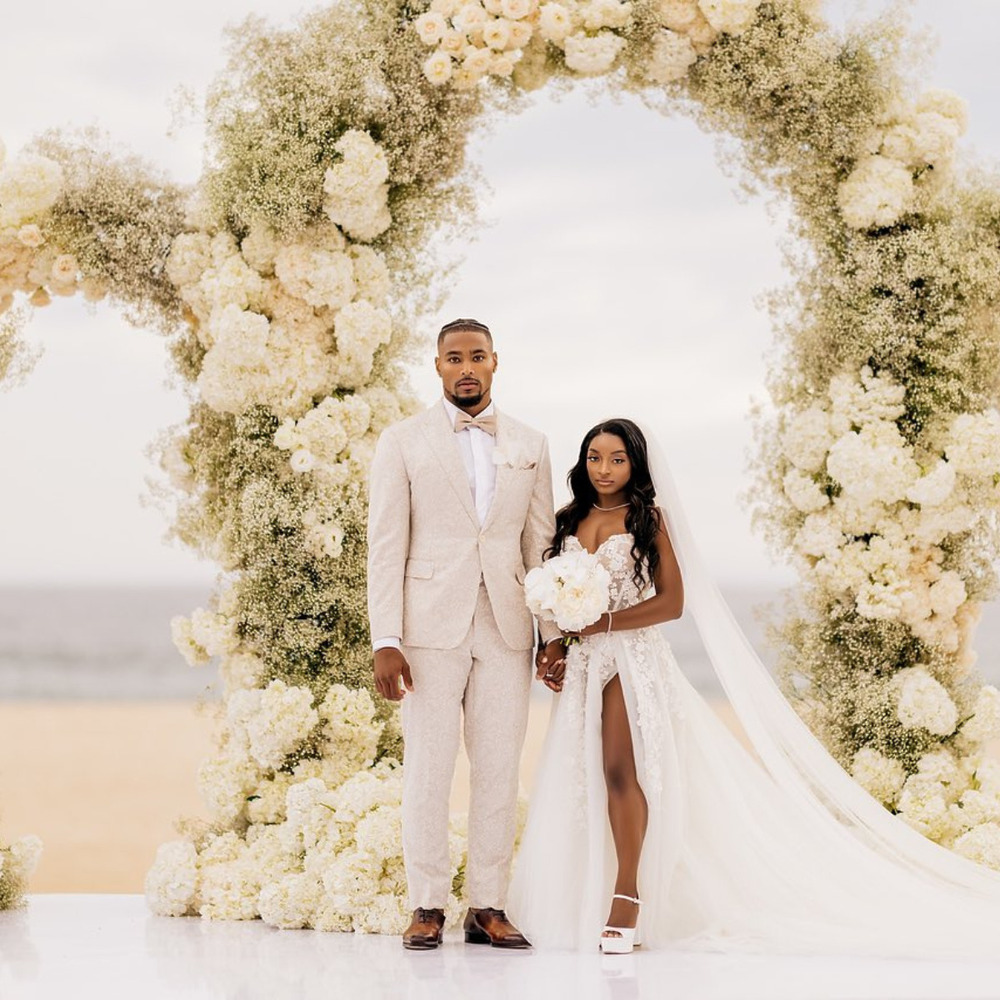 Remember to communicate clearly with your wedding planner and take advantage of their expertise to ensure a smooth and seamless wedding day. Explore the amenities and activities offered by your resort to enhance your overall experience. Don't be afraid to customize your package to add those special touches that will make your wedding truly unique.
Lastly, don't forget to capture every precious moment of your special day. Invest in high-quality photography and videography services or enlist a talented friend or family member to help you document the magic.
By following these tips and making the most of your affordable destination wedding package, you can create cherished memories that will last a lifetime. Happy planning, and may your dream wedding become a reality!
Searching for more resorts that fit your style and budget? Ready to book affordable destination wedding package? Follow the link below to view our full lexicon of Destify Top Resorts: