When it comes to destination weddings, many couples are looking for the all-inclusive package. They want one-stop shopping where they can get destination wedding packages that cover everything from food and drinks to lodging and transportation. But are these all-inclusive venues worth the price?
In this blog-post you will find out if an all-inclusive venue and its several destination wedding packages is right for your wedding, how much they cost on average, what you need to know before booking one – including tips for saving money when booking your dream retreat!
Pros of All-Inclusive Wedding Venues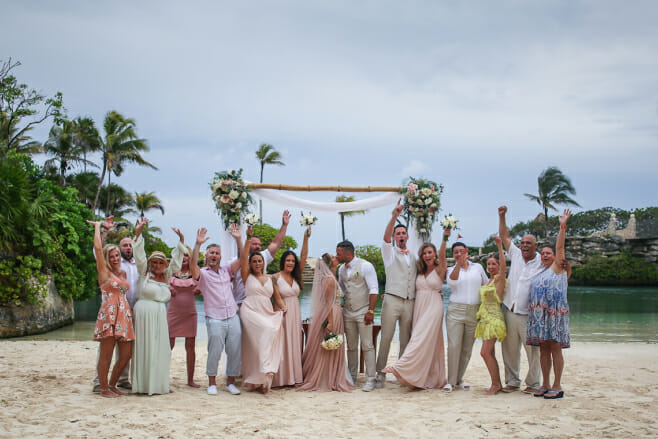 The main benefit of all-inclusive wedding venues is that they are typically very easy to plan with. Everything from the catering, decorating and even down to transportation is taken care of for you, so there's little work involved on your part.
You can also rest assured that you won't have to worry about hidden costs popping up. With an all-inclusive wedding venue, the price quoted is typically set in stone, so there are no surprises later on during your big day. Letting go of the stress and having one less thing to think about makes many couples fall head over heels for these types of destinations.
What to Consider Before Booking an All-Inclusive Venue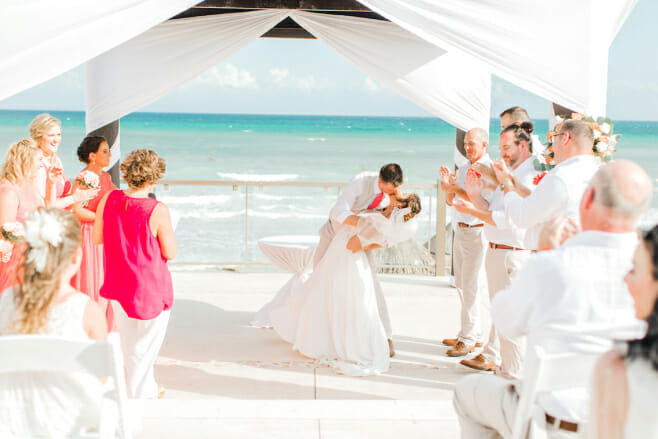 However, just because all-inclusive venues are very simple to plan with doesn't mean you should jump in before considering the following: Do You Know What's Included?
Before getting too far into planning your getaway it is important that both of you know what exactly is included in the various destination wedding packages available. It can vary from venue to venue but typically if it's an all-inclusive wedding venue, everything from catering and decorating is included, but if there are other things that may make a difference for the two of you (like having a particular photographer or DJ) then those need to be taken into consideration as well before leaving town.
Be sure to look at the fine print of what is included in each package and if there are any restrictions on how you can decorate or provide your own food. Once everything has been discussed, go over it with an attorney who specializes in destination weddings before signing anything.
How to Find the Perfect, All-Inclusive Venue for Your Budget and Needs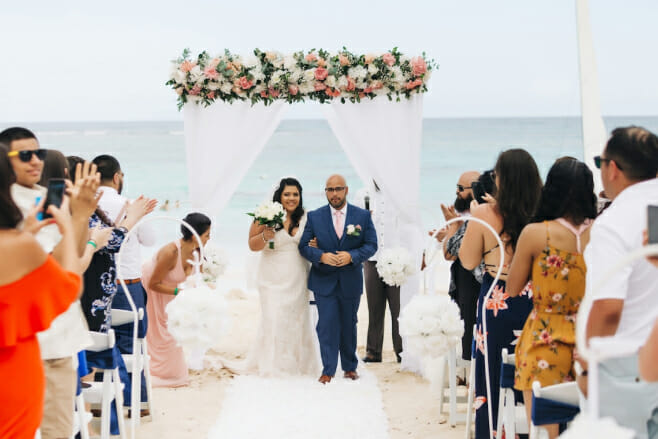 Many couples are starting to realize that spending their entire budget on one venue might not be the wisest idea. Here are some smart ways for how you can save money when booking your all-inclusive wedding destination:
Research and compare different venues in person (if possible) before committing – don't just choose a place because it sounds pretty online without seeing what it looks like in person.
Don't book until you get a guaranteed quote – if the venue doesn't have an online estimate request it in writing, so there are no surprises later on down the road when more charges show up unexpectedly.
Look into all-inclusive wedding packages that include services other than just catering and decorating, such as transportation or lodging.
Budget for additional costs like decorations, entertainment and other incidentals, so you don't go over budget. It's not very romantic to have two stressed out people on their big day!
Tip of the Day: If your all-inclusive wedding venue is not providing certain services then be sure that you are factoring those charges into your budget.
How about having your ceremony on a romantic secluded beach? How about exchanging vows in a garden filled with lush greenery? Or perhaps you want to say "I do" in front of a historic landmark that will definitely leave all your guests talking for months afterwards. You can even have the reception on-site at one location and then head over to another spot nearby for dinner, dancing and mingling!
Example All-Inclusive Wedding Packages
Here are just a few packages that our resorts offer. Teeming with luxury amenities and flawless add-ons, these packages are designed for each couple's dream destination wedding day.
UNICO 20°87° Riviera Maya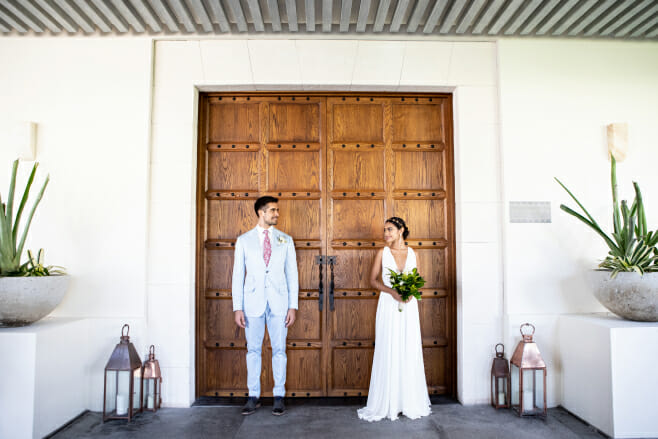 A wedding at UNICO 20°87° is more than just a lovely setting; it's a one-of-a-kind occasion with unique nuances and details inspired by the warmth of the surrounding area. UNICO's expert wedding planners will walk you through the whole planning process, from the large decisions like décor, food, venues, and entertainment to the minor details. With three immersive wedding packages to choose from, there's a wedding to fit every taste.
Compliments of UNICO 20°87° Wedding Package
Ceremony location
32 chocolate avant-garde chairs
One rose bouquet and one matching boutonniere OR two bouquets OR two boutonnières
Non-denominational minister to perform symbolic or vow renewal ceremony
Audio system for ceremony
1 tier wedding cake for 32 guests
Free wedding champagne toast for 32 guests after ceremony
Event Consultant and Onsite Wedding Specialists
Honeymoon wishes wedding website and registry
UNICO 20°87° Honeymoon Experience
Royalton Riviera Cancun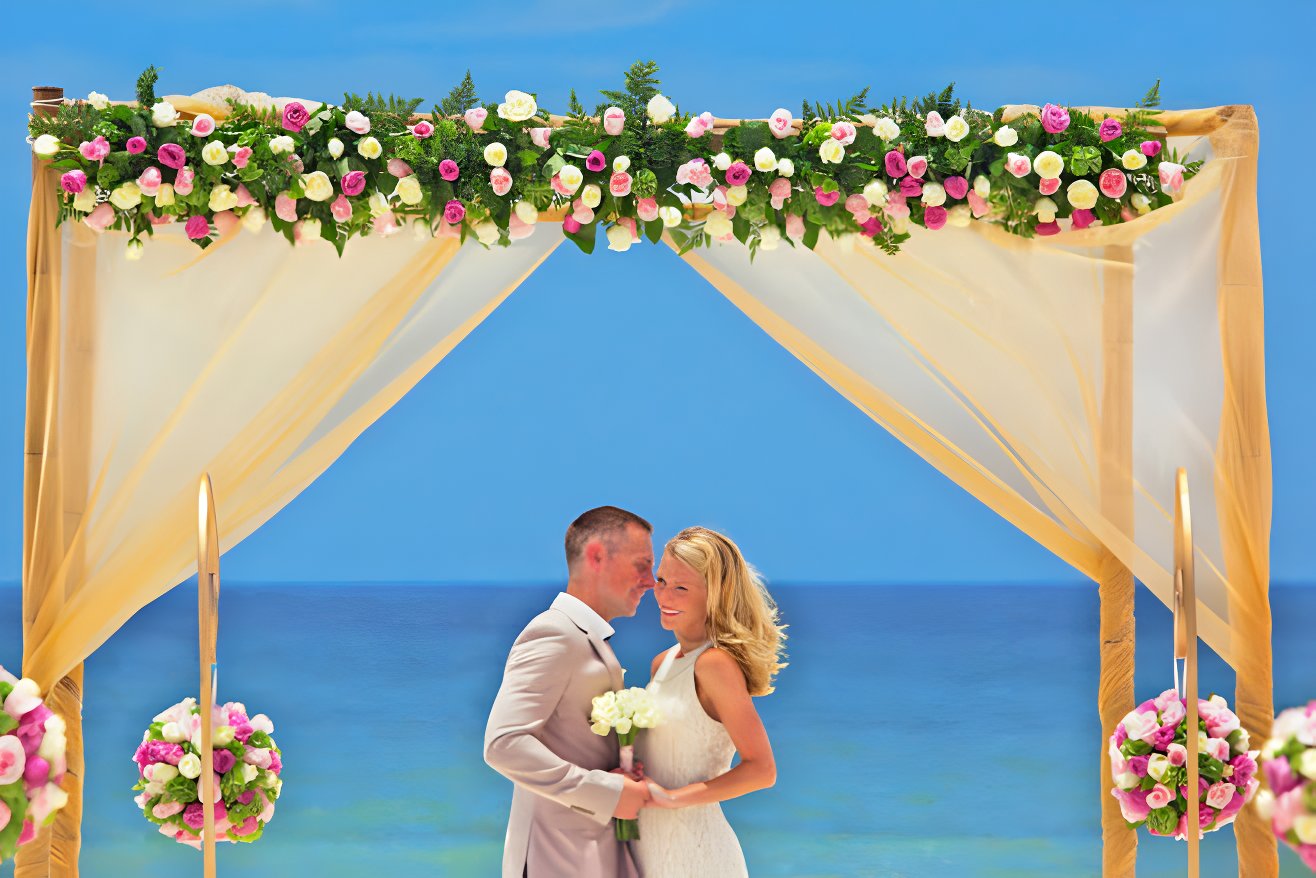 The all-inclusive Royalton Riviera Cancun resort and spa exudes modern elegance. This complex is located on the Mexican Riviera, where pastel sunsets sparkle on the crystal-blue ocean and light filters through the waving palm trees. Relax and celebrate with friends and family after you tie the knot and complete your love story, while a warm tropical breeze ruffles your hair, and you sip cocktails on the beach. Destination weddings at Royalton Riviera Cancun are guaranteed to deliver your stress free getaway with all the details taken care of.
Refined Wedding Package
Personal wedding planner & onsite coordinator
VIP welcome & late checkout for bride & groom (based on availability)
Bride & groom room upgrade (based on availability)
"Getting Ready" refreshments & fruit platter for the bride & groom on the wedding day
10% discount on spa services for entire wedding group
Breakfast in bed for the morning after the wedding
Ceremony location with pristine beaches
Symbolic ceremony
Chairs included
Sound system for ceremony
Ceremony table with linen & tropical centerpiece
1 tropical bridal bouquet
1 tropical bridesmaid bouquet
1 tropical groom's boutonniere
1 tropical groomsmen boutonniere
Sparkling wine toast
3 cocktail tables with white linen
3 appetizers from our signature cocktail menus
1 hour of standard open bar service
1 hour of sound system
3 hour private reception
Includes 3 hours of standard open bar
Round tables with white linens
2-tier wedding cake
Cake table dressed with white linen
Personalized menu cards
Dreams Punta Cana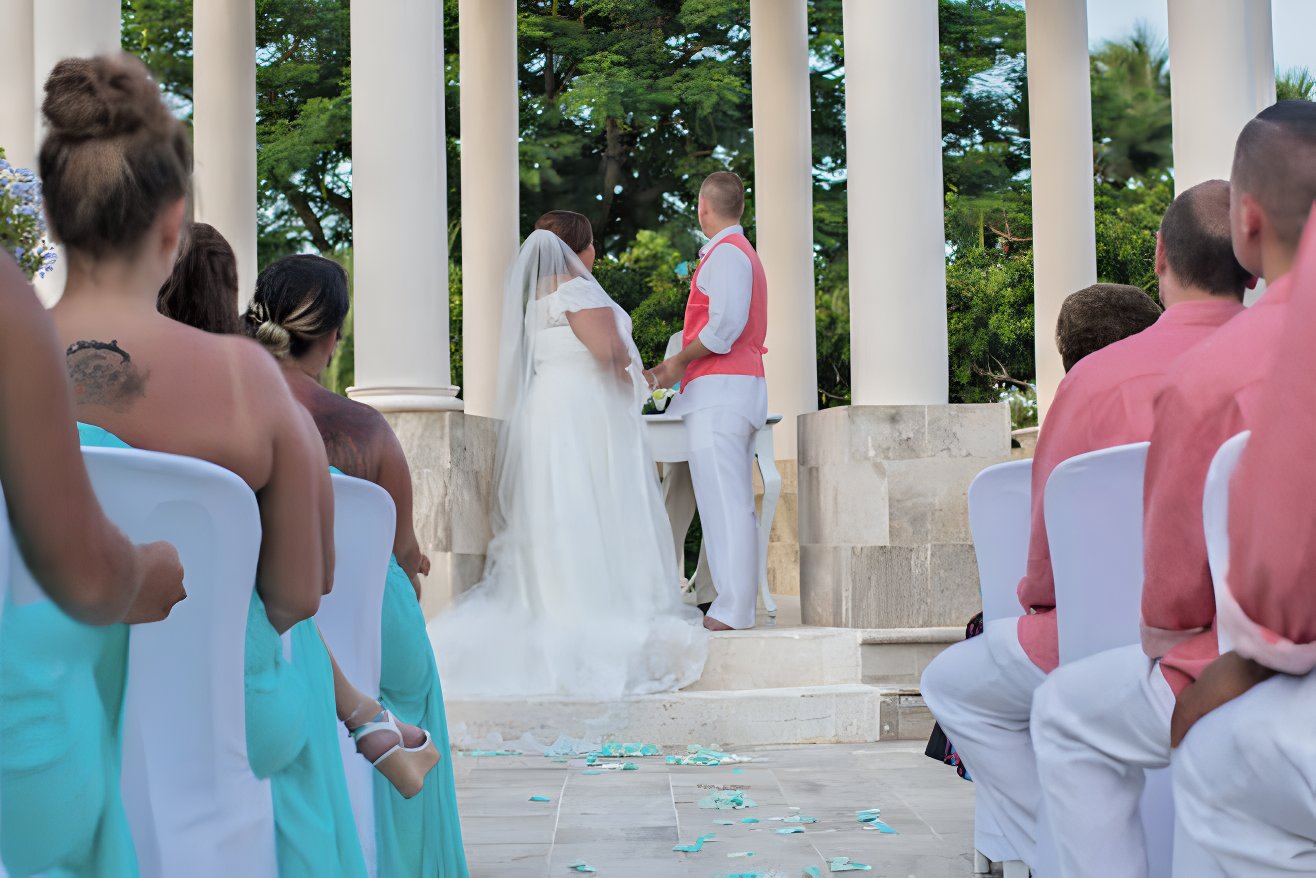 This all-inclusive resort, surrounded on one side by tropical scenery and on the other by the Caribbean Sea, provides an ideal setting and everything you need to plan the destination wedding of your dreams. Choose from one of the Dreams Punta Cana's magnificent gazebos or its pristine beach for your dream wedding, and then enjoy your important occasion in one of the resort's many beautiful settings. The resort's enormous Santa Domingo Ballroom provides an elegant backdrop for interior destination weddings, while four attractive terraces and a beach provide outstanding outside settings.
Dreams of Love Wedding Package
Service of judge or minister
Wedding organization and personal touch of on-site wedding specialists
Preparation and ironing of couple's wedding day attire
Complimentary room for one member of the wedding couple the night
before the wedding (based on availability and upon request)
Bouquet(s) and/or boutonniere(s) for wedding couple
Two boutonnieres and two corsages for wedding party
Sound system with speaker and microphones
Hairstyling and makeup application for one member of the wedding
couple for day of ceremony
Wedding cake and sparkling wine (up to 20 guests)
Private cocktail hour with hors d'oeuvres (Silver menu, up to 20 guests)
Private dinner reception (Silver menu, up to 20 guests)
One natural floral centerpiece for the sweetheart table (one)
36 full color photos and wedding album
Special turndown service night of the wedding
15% discount on all spa treatments (Spa boutique purchases not included)
Newlywed Package
Welcome letter
Fresh fruit
Bottle of champagne
Breakfast in bed with mimosas (reservations must be made in advance with concierge)
Late checkout for the couple (based on availability and upon request)
Free anniversary nights
Hilton Rose Hall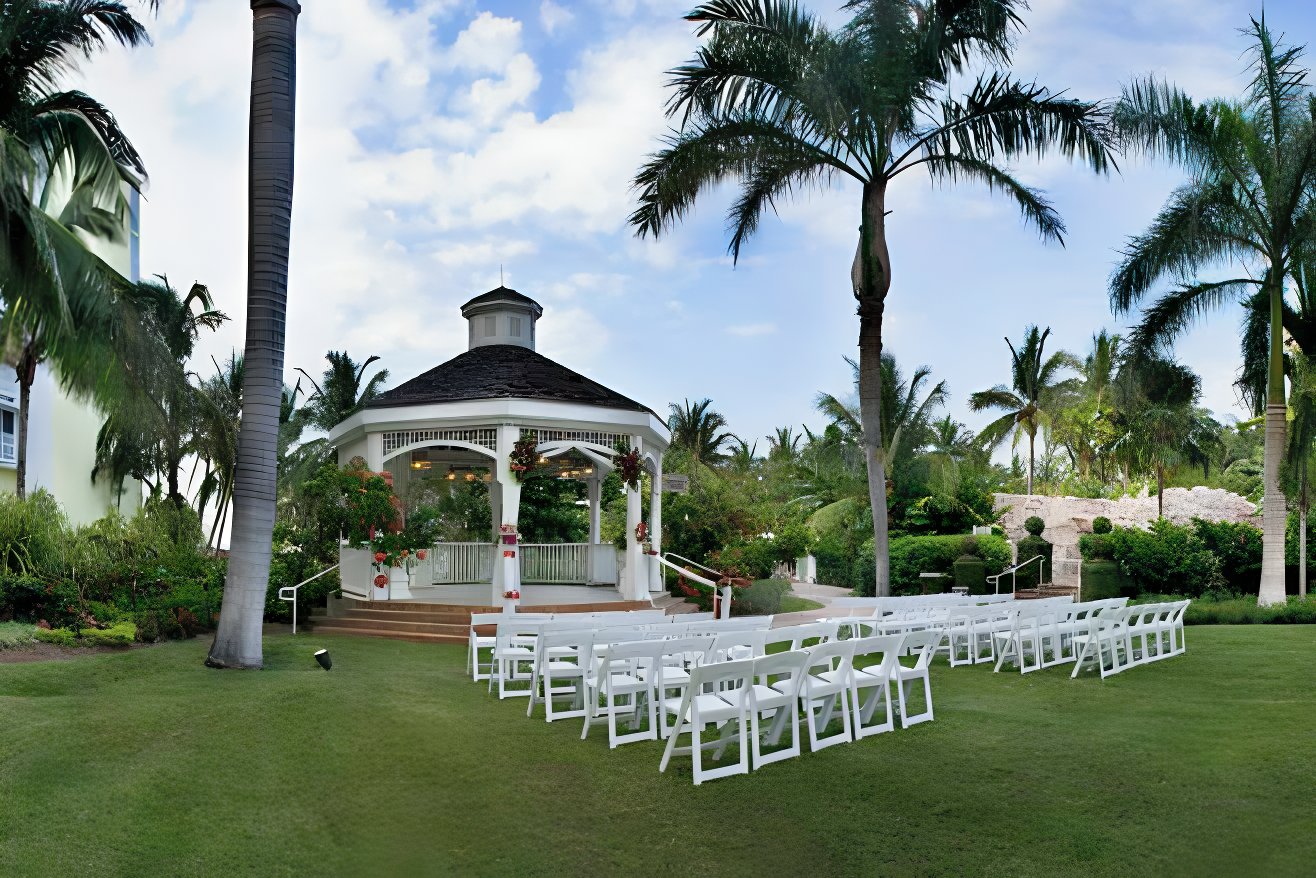 The Hilton Rose Hall Resort & Spa, set between lush mountains and the Caribbean Sea's deep blue waves, provides a range of stunning locations for your special day. You can exchange your vows on the beach in front of a stunning Caribbean sunset, leaving you and your guests speechless.
The Hilton Rose Hall Resort & Spa provides a variety of services to help you plan your once-in-a-lifetime occasion. This wedding venue has an on-site wedding coordinator who will assist you with the planning process and ensure that all of the details are flawlessly completed on your big day. All of the setup and cleanup will be done for you, so all you have to do is show there on the big day. Additionally, for your and your guests' catering needs, Hilton Rose Hall Resort & Spa will provide tables, chairs, linens, flatware, cutlery, and barware.
Deluxe Rose Hall Bliss Wedding Package
Symbolic marriage ceremony, performed by a non-denominational officiant
Premium bridal bouquet
Premium groom's boutonniere
Dream wedding location
2-tier wedding cake
Room decoration with flower petals, chocolate covered fruits & complimentary wine
Late checkout up to 3:00 PM subject to availability
Pre-planning and onsite services of a professional wedding specialist
Complimentary online bridal registry
Access to online wedding planning tool and dedicated wedding team
Ceremony table with white linen and folding wedding chairs for 30 guests
Sound system for the ceremony
40-minute massage for wedding couple
Romantic dinner for the wedding couple
Wedding gazebo or arch draped in white sheer fabric with (3) floral arrangements
Hair-styling and makeup for the bride in resort spa
Manicure and pedicure for the bride in resort spa
15% discount on spa services for the wedding couple
10% discount on spa services for the wedding guests
Welcome in-room amenity for wedding couple
Basics wedding photography package
Private (1) hour cocktail party after the ceremony: includes standard set up, premium open bar and (4) hors d'oeuvres, live music (steel pan soloist or violinist)
Private (3) hour wedding reception after the cocktail: includes standard set up, 3 course plated or buffet menu, premium open bar, waiter staff, resort's preferred DJ
Selection of (4) centerpieces from package catalog
Grand Palladium Lady Hamilton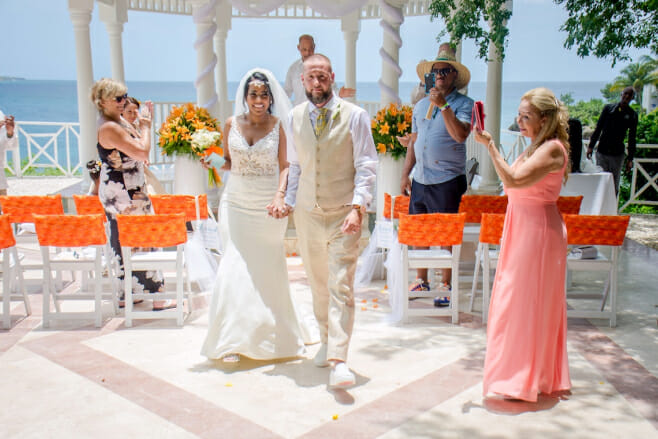 The Grand Palladium Lady Hamilton Resort and Spa is located on a magnificent beach on Jamaica's northern coast, about 40 minutes from Montego Bay International Airport. This all-inclusive resort is the ideal spot to combine your destination wedding and honeymoon into one unforgettable event, with spacious, luxury accommodations and unparalleled service. Hold your wedding beneath the gazebo, which is bordered by white sand and exotic gardens, or under an elegant arbor on the stunning Caribbean beach; both will give a spectacular backdrop while you say "I do." Plan a more lavish event in one of the resort's gourmet restaurants, or celebrate with cake and sparkling wine. At the Grand Palladium Lady Hamilton Resort and Spa, your wedding in paradise will be a dream come true!
Timeless Wedding Package
Dedicated Wedding Coordinator
Private Check-In
Room upgrade (subject to availability)
Ceremony location
Ceremony sound system
Sparkling toast immediately following the ceremony
Late check-out
Wedding gift
Dinner reservation at one of the on-site restaurants
Special turn down service
Breakfast in bed for the wedding couple
Complimentary Access to the Hydrotherapy Area at Zentropia Palladium Spa & Wellness
15 % Discount on spa treatments
Honeymoon package
Sheer Curtains in any Color from the Collection
2 Timeless Floral Aisle Arrangements of Lilies, Roses, and Greenery in Your Choice of Colors with Pearl and Crystal Accents
Timeless Personal Flowers for the Couple
Signing Table Accent: Floating Lilies in Your Choice of Colors
White Folding Garden Chairs or Tiffany Chairs
Couture Chair Caps and/or Chair Scarves in Your Choice of Colors
Two-tiered Wedding Cake with 'Naked' or 'Buttersweet' Icing and Fresh Flowers
Want to explore more all-inclusive properties? Follow the button below and view our Destify Top Resorts: