Let's get down to brass tacks and discuss the prices of destination weddings.
These days, money matters more than ever. One of the highest contributing factors when planning a wedding is the cost. Between the venue space, food rental, reception, and more, the costs of a wedding can skyrocket quickly.
But will a destination wedding give you a once-in-a-lifetime journey and be more cost-effective? Let's find out!
Table of Contents
How Much Does a Stateside Wedding Cost?
The cost of a wedding in the United States can vary greatly depending on location, number of guests, time of year, and overall extravagance. However, on average, a stateside wedding can cost around $30,000.
This figure includes expenses such as venue rental, catering, wedding dress and attire, photography and videography, flowers and decorations, entertainment, and wedding planning services. However, it's important to note that this is just an average, and some couples may spend much less or much more depending on their preferences and budget.
What Factors Impact the Cost of a Stateside Ceremony
Location: The cost of a wedding can vary greatly depending on where it takes place. For example, a wedding in a major city like New York or Los Angeles will typically be more expensive than one in a smaller town or rural area.
Number of guests: The more you have, the more it will cost to feed, entertain, and accommodate them. Larger venues may also be necessary to accommodate a more extensive guest list, which can add to the overall cost.
Time of year: Weddings during peak season (typically spring and summer) may be more expensive than those during off-peak times. This is because venues and vendors may charge more for their services during busy times.
Venue: The type of venue you choose can also significantly impact the cost of your wedding. A traditional wedding venue like a hotel or banquet hall may be more expensive than a more unconventional location like a barn or backyard.
Food and drink: The catering cost can vary greatly depending on the menu and the number of guests. Serving alcohol can also add to the price, especially if you opt for an open bar.
Wedding dress and attire: The cost of the wedding dress, tuxedos or suits, and bridesmaid dresses or groomsmen attire can also add up quickly.
Photography and videography: Capturing the memories of your wedding day can also come at a cost. Professional photographers and videographers typically charge a significant amount for their services.
Flowers and decorations: Flowers and decorations can add to the overall ambiance of the wedding, but they can also be expensive, especially if you opt for elaborate arrangements.
Entertainment: Whether you choose a live band, a DJ, or other forms of entertainment, this can also add to the cost of your wedding.
Wedding planning services: If you hire a wedding planner to help with the logistics of your big day, this can also add to the overall cost.
What is a Destination Wedding Package, and What Does it Cover?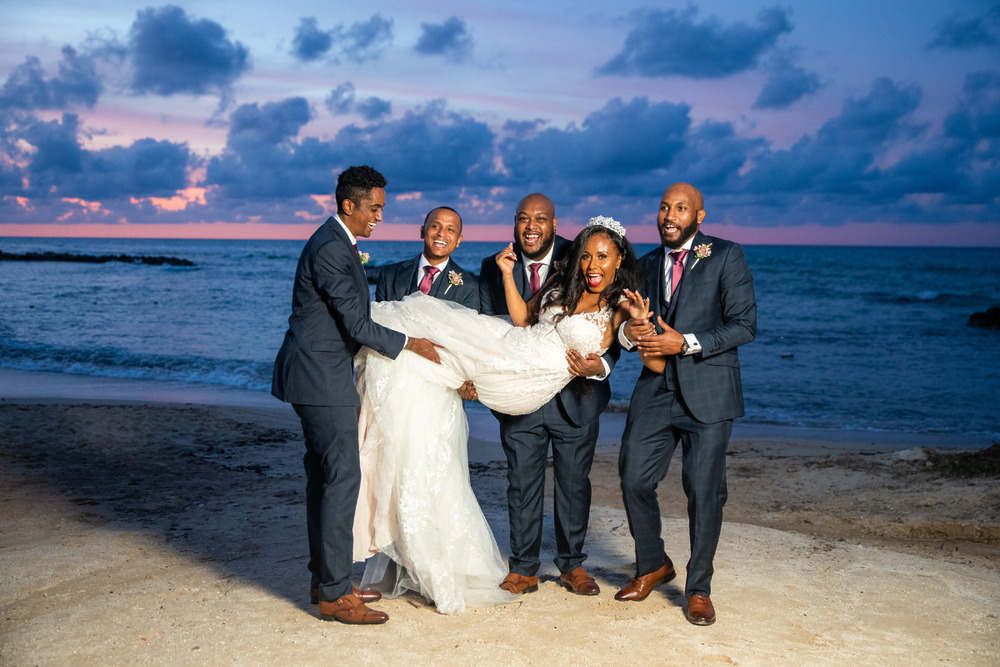 A destination wedding package is a comprehensive offering of services and amenities a resort, hotel, or wedding planner provides at a specific destination. The package includes a range of services designed to simplify the planning process and provide an all-in-one solution for couples wanting a destination wedding.
The services offered in a destination wedding package can vary but typically include the following:
Venue rental: The package will include the rental fee for the wedding ceremony and reception venue, often a beachfront location, garden, another outdoor setting, or an indoor banquet hall.
Accommodations: The package may include a certain number of nights of accommodation for the couple and guests at the resort or hotel where the wedding occurs. This can also have room upgrades, welcome amenities, and other perks.
Catering: The package will typically include food and beverage services for the wedding reception, such as a buffet, plated dinner, or hors d'oeuvres.
Wedding coordination: A wedding coordinator will be included in the package to assist with planning, from choosing the venue to coordinating the day-of logistics. They will typically support the couple before, during, and after the wedding.
Decorations: The package may include floral arrangements, lighting, and other décor elements that will be used to decorate the wedding venue.
Photography and videography: A destination wedding package may include professional photography and videography services to capture the ceremony and reception.
Entertainment: The package may include a DJ, live band, or other entertainment for the wedding reception.
Transportation: The package may include transportation services for the couple and guests, such as airport transfers, shuttle service to the wedding venue, and transportation for pre-wedding events.
Destination Wedding Package Examples
Punta Cana Weddings

Discover your dream Caribbean seascape wedding at the new and contemporary Dreams Macao Beach, located in picturesque Punta Cana.

Dreams Macao Beach:

Read more

Venues: 7
Family Friendly
35 Minutes

Package Costs:

$

999

–

$

3,799
Dreams Macao Beach is an all-inclusive luxury resort in Punta Cana, Dominican Republic. The resort offers a unique experience to its guests in many ways. Here are some of the things that make Dreams Macao Beach unique:
The resort is located on one of the most beautiful beaches in the Dominican Republic, Macao Beach. The beach offers stunning views of the turquoise waters and is known for its pristine white sand.
Dreams Macao Beach is an all-inclusive resort, which means that all meals, drinks, and activities are included in the price of the stay. This makes it easier for guests to plan and budget their vacation without having to worry about additional expenses.
The resort offers luxurious accommodations in the form of spacious suites, each with a private balcony or terrace. The rooms are well-appointed with modern amenities such as flat-screen TVs, minibars, and high-speed internet.
Dreams Macao Beach is a family-friendly resort, offering activities and amenities for guests of all ages. The resort has a kids' club, a teens' club, and a water park, making it an ideal destination for families with children.
The resort offers a diverse culinary experience with 11 dining options ranging from international cuisine to local specialties. Guests can choose from a variety of dining options, including an authentic Dominican restaurant, a seafood restaurant, and a gourmet French restaurant.
The resort offers a wide range of activities and entertainment options, including water sports, dance classes, live music, and nightly shows. The resort also has a spa and a fitness center, providing guests with ample opportunities to relax and stay active during their stay.
Package Costs: $999- $11,999
Example Package: Wedding in Paradise Package
Package Price: $999+ (Free with Booking Requirements)
Symbolic ceremony
Wedding organization and personal touch of on-site wedding coordinator
Preparation and ironing of couple's wedding day attire
Free room for one member of the wedding couple the night before the wedding (based on availability and upon request)
Bouquet(s) and/or boutonniere(s) for the wedding couple
Wedding cake and sparkling wine toast (for up to ten guests)
Special turndown service the night of the wedding
15% discount on all spa treatments (Spa boutique purchases not included)
Newlywed Package
Welcome letter
Fresh fruit
Bottle of sparkling wine
Breakfast in bed with mimosas (reservations must be made in advance with concierge)
Late checkout for the couple (based on availability and upon request)
Free anniversary nights at Mexico wedding destination
Punta Cana Weddings

Pump up the volume on your Punta Cana destination wedding at this award-winning Hard Rock diamond set on the crystalline sands of Macao Beach. From out-of-this-world amenities ranging from the interactive Music Lab to a whopping seven wedding venues, your beachfront matrimony will blow yours and your guests' minds.

Hard Rock Punta Cana:

Read more

Venues: 9
Family Friendly
30 Minutes

Package Costs:

Included –

$

5,000
Hard Rock Punta Cana is a luxury resort located in the Dominican Republic that offers a unique blend of rock and roll attitude and Caribbean charm. Here are some of the key features that make Hard Rock Punta Cana stand out:
The resort is adorned with music memorabilia, including guitars, costumes, and other items from famous musicians, making it a paradise for music lovers.
Hard Rock Punta Cana boasts a sprawling 121-acre property, featuring 13 swimming pools, a private beach, and 10 restaurants.
The resort is all-inclusive, meaning that guests have access to unlimited food, drinks, and activities, making it an excellent choice for travelers who want a hassle-free vacation.
The resort offers luxurious rockstar suites equipped with music-themed amenities like in-room guitars and turntables, making for a unique experience.
Hard Rock Punta Cana has a wide range of activities and amenities, including a casino, golf course, spa, and numerous water sports, ensuring that guests will never be bored during their stay.
The resort is family-friendly and offers a variety of activities for children, including a kids' club and a water park.
Package Costs: Free – $5,000
Example Package: Free Spirit Package
Package Cost: $3,500+
Wedding ceremony location
Triangular wooden arch with mixed greenery, roses and pampas
Ceremony seating for 32 guests
Wooden column and gold pedestal with mixed roses and greenery
Two vases with pampas lining the back of the aisle
Natural wooden aisle runner
Themed bridal bouquet with mixed roses and greenery
Blush rose colored boutonniere
Themed 2-tier wedding cake for up to 32 persons
Nondenominational Minister to perform symbolic or vow renewal ceremonies
Soloist for wedding ceremony (Violin, Saxophone, Guitar)
Sparkling wine for 32 persons following ceremony
Honeymoon Wishes Website and Bridal Registry
Audio system available for ceremony
Event Consultant and Onsite Wedding Coordinator
Witnesses if required
Complimentary Honeymoon Package
Los Cabos Weddings

The pinnacle of Los Cabos luxury, this sun-soaked oasis is home to six nature infused wedding venues, all accompanied by all inclusive bliss and locally inspired entertainment.

Hyatt Ziva Los Cabos:

Read more

Venues: 6
Family Friendly
20 Minutes

Package Costs:

$

2,149

–

$

13,070
Hyatt Ziva Los Cabos is a luxurious, all-inclusive resort located in Mexico's heart of the Baja California Peninsula. What makes Hyatt Ziva Los Cabos unique is its stunning location, exceptional service, and array of amenities and activities for guests of all ages.
The resort sits on the edge of the Sea of Cortez, offering breathtaking views of the ocean and surrounding mountains. The property boasts multiple swimming pools, including an adults-only pool, a children's pool with a water park, and a large infinity pool overlooking the beach.
One of the standout features of the resort is its dining options. Guests can enjoy a variety of cuisines, from traditional Mexican dishes to Asian fusion cuisine, in one of the resort's seven restaurants. The resort also has several bars, including a swim-up bar, a rooftop bar, and a tequila bar.
For guests looking to relax and unwind, the resort has a full-service spa offering a range of treatments and therapies. A fitness center and yoga classes are also available for those who want to stay active during their stay.
Families traveling with children will appreciate the resort's Kids Club, which offers supervised activities and entertainment for children ages 4 to 12. There is also a Teen Club for older children and teenagers.
Package Costs: $2,039-$11,700
Example Package: Lavish & Opulent
Package Price: $6,409
Symbolic marriage
20 guests included (additional guests can be included with extra cost)
Ceremony and certificate, performed by a Secular Bilingual Wedding Officiant
Bridal floral Bouquet and Boutonnière for the Groom
Signature Wedding Day Cake
Sparkling wine toast after the Ceremony
Special decoration of the couple's room, free sparkling wine and chocolate dipped strawberries the night of the Wedding
Massage for the Wedding Couple (25-min each one)
Romantic dinner for the Couple
Late check-out up to 3:00 p.m.
Onsite services of a professional Wedding Specialist
Free online bridal registry and Wedding website
Ceremony table with white linen and folding Wedding chairs
Sound system for the Ceremony
Natural floral centerpiece for the altar at the Ceremony
Updo, makeup, wedding dress prep, manicure and pedicure for the Bride
15% discount on spa services for the Couple
10% discount on spa services for the Wedding guests
Private one-hour cocktail party after the Ceremony, which includes standard set-up, open bar and 3 hors d'oeuvres
A private three-hour Wedding reception, which includes a three-course meal, open bar, tables, chairs, white linens, white place setting, and waiting staff
Is a Destination Wedding More Expensive than a Stateside Ceremony?
The short answer? Absolutely!
Between cheaper venue costs, all-inclusive food and drinks, and smaller guest lists, destination weddings tend to be much less expensive than a traditional, stateside ceremony.