You and your fiancé have agreed to have your wedding far away from home, in an exotic location. As a result, understanding destination wedding photography and choosing the right photographer to capture these once-in-a-lifetime moments is essential. Here are tips and inspiration to keep in mind when looking for a photographer to capture your destination wedding.
Destination Wedding Photography Tips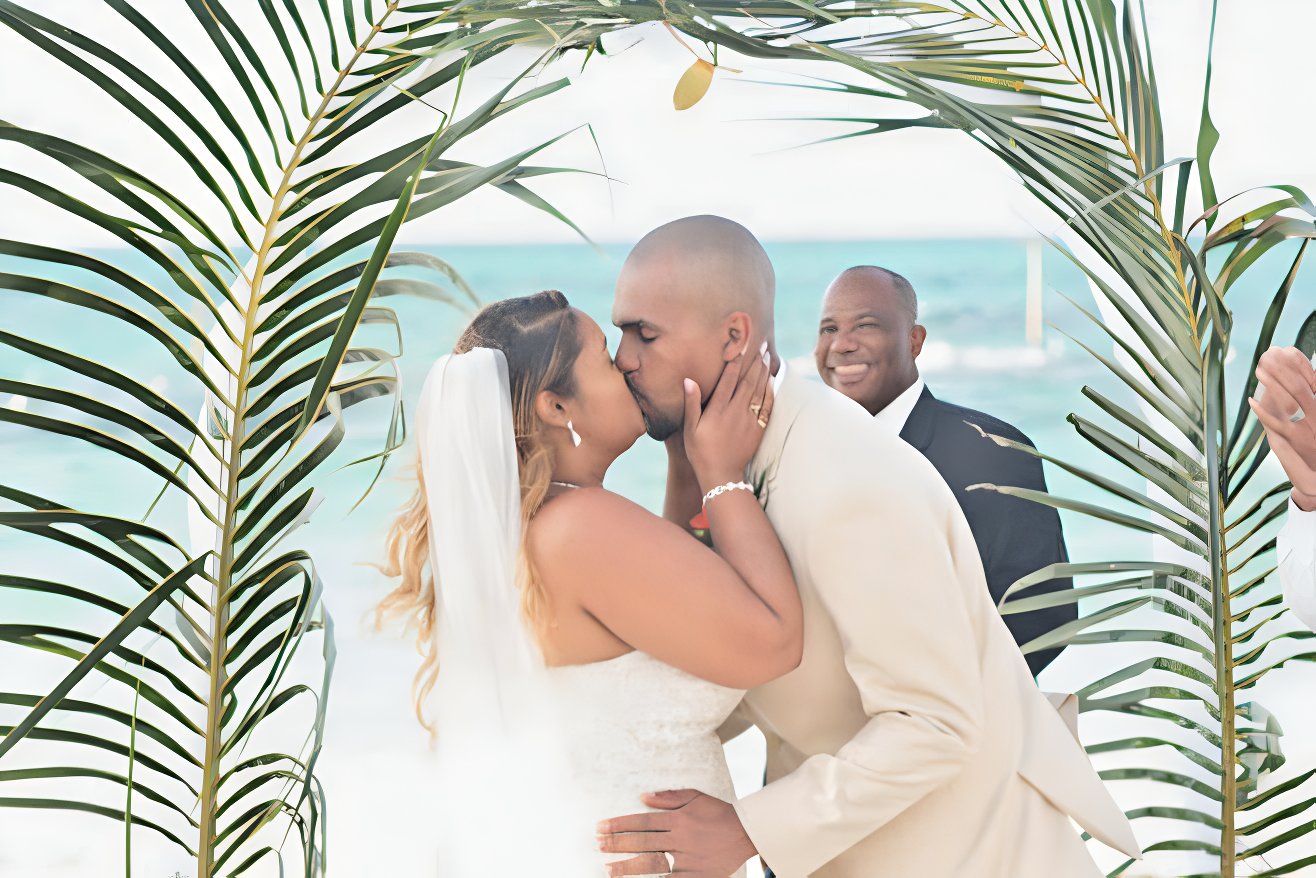 When it comes to selecting a wedding photographer, it's important to choose someone whose:
Work you respect
Personality you'll get along with during the day
Taking it a step further, many modern couples are planning destination weddings. So, finding the right photographer is particularly important if you'll be saying "I do" from afar.
No rookies.
Many photographers seek the prospect of shooting in a beautiful, faraway place. Regardless of the "nice deal" they're giving you, don't let your wedding be their first.
Spell it out in the contract.
Since destination weddings aren't available in some wedding photography packages, it's important to know what to expect hours and photo quantity-wise. Our advice: look for photographers who specialize in destination weddings and who can share a total cost. They will have a better understanding of what a proper contract should look like.
It's work, not play!
If you get the impression from an applicant that they're more interested in practicing cannonballs, move on and search for a more committed photographer.
What is their back-up plan?
Inquire about the photographer's file security and backup procedures, as well as the backup equipment they employ. When something goes wrong in a remote area, there are no second chances. Will they require an assistant? Time to charge their devices? Get a better understanding of their workflow.
Who pays for travel expenses?
Most respectable wedding photographers would request that the client cover the costs of airfare, accommodation, transfers, and a regular per diem for meals. Prior to finalizing the deal, discuss this and apply it to the final agreement.
Destination Wedding Photography Inspiration
Now that you know how to search for a destination wedding photographer, let's get a better idea of what to look for image-wise. From the Mexico's lush shores to the Dominican Republic's shimmering isles, here are the best locations to build a long-lasting album.
Bavaro Beach – Punta Cana, Dominican Republic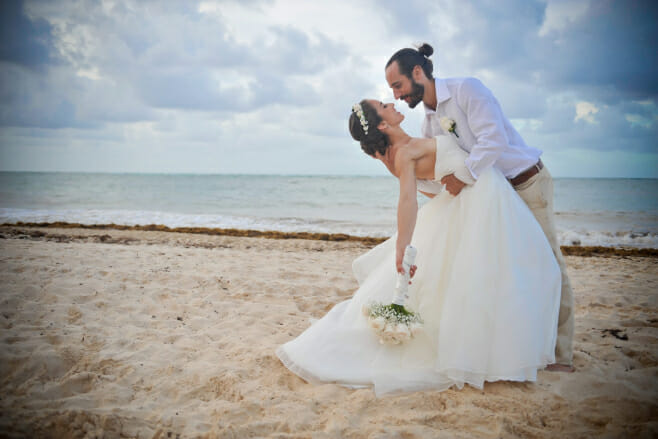 With its sweeping stretches of pure white sand, Bavaro Beach is one of Punta Cana's top wedding venues. Bavaro Beach features a picturesque seascape of calm waters and sturdy palm trees filled with coconuts.
Despite the fact that many hotels share the town, this enchanting part of Punta Cana is very exclusive, with some areas implementing adults-only policies. When it comes to destination wedding photography locations in Punta Cana, Bavaro Beach should be your first preference.
Recommended Resorts: Royalton Bavaro, Majestic Elegance
Cenotes – Riviera Maya, Mexico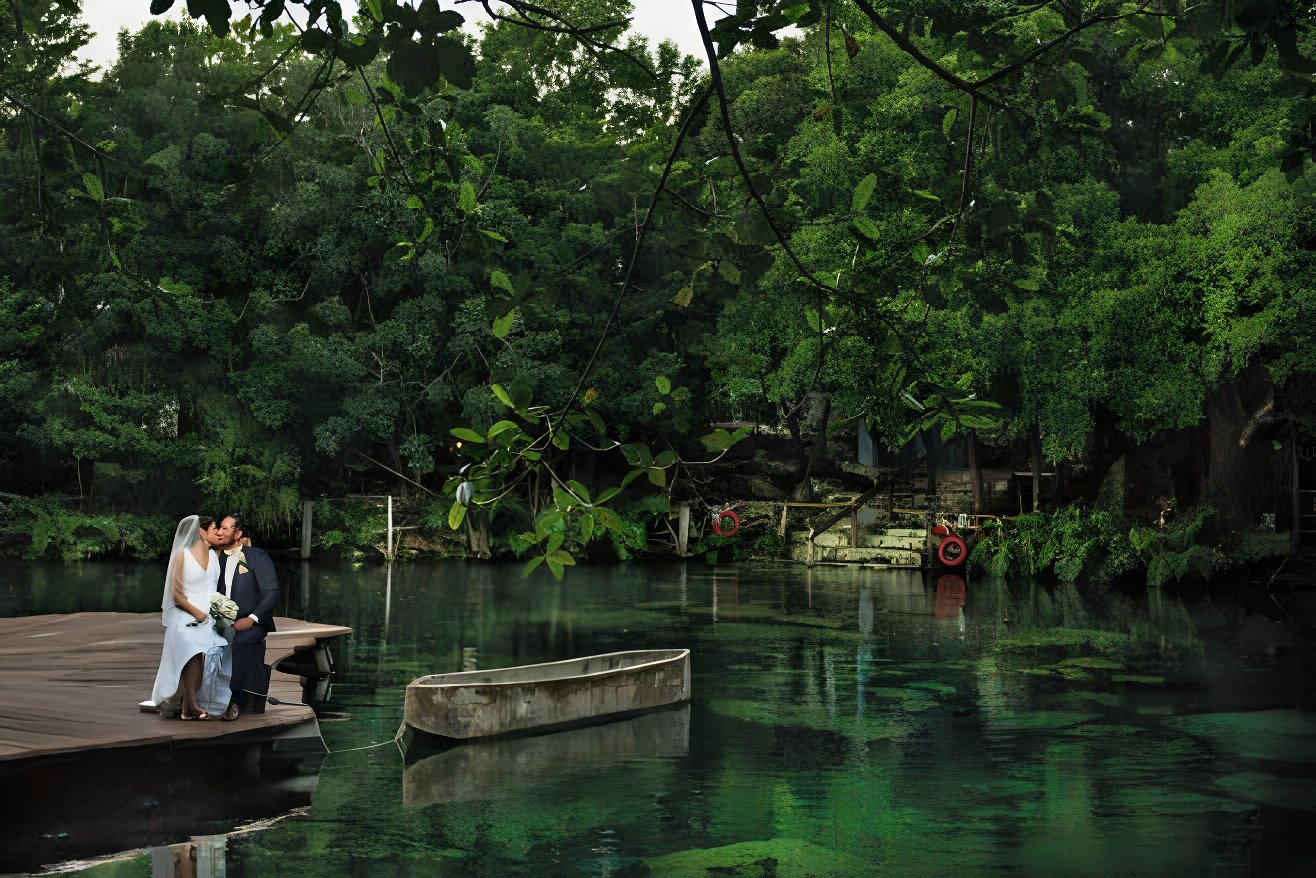 Just 30 minutes from Riviera Maya, dip your toes in a variety of soothing cenotes while posing with your spouse. Cenotes are natural pits formed when limestone bedrock collapses, exposing groundwater underneath. They are ideal for couples seeking a serene setting surrounded by emerald foliage, turquoise waters, and, in some cases, exceptional limestone caverns.
Cenotes, which flow all over Yucatan and Quintana Roo, include secluded areas where you can take pictures undisturbed. Some of our resorts even feature cenotes on the property which double as ceremony locations. Schedule your session with your photographer ahead of time.
Recommended Resorts: Dreams Tulum, Hard Rock Riviera Maya
Playa Delfines – Cancun, Mexico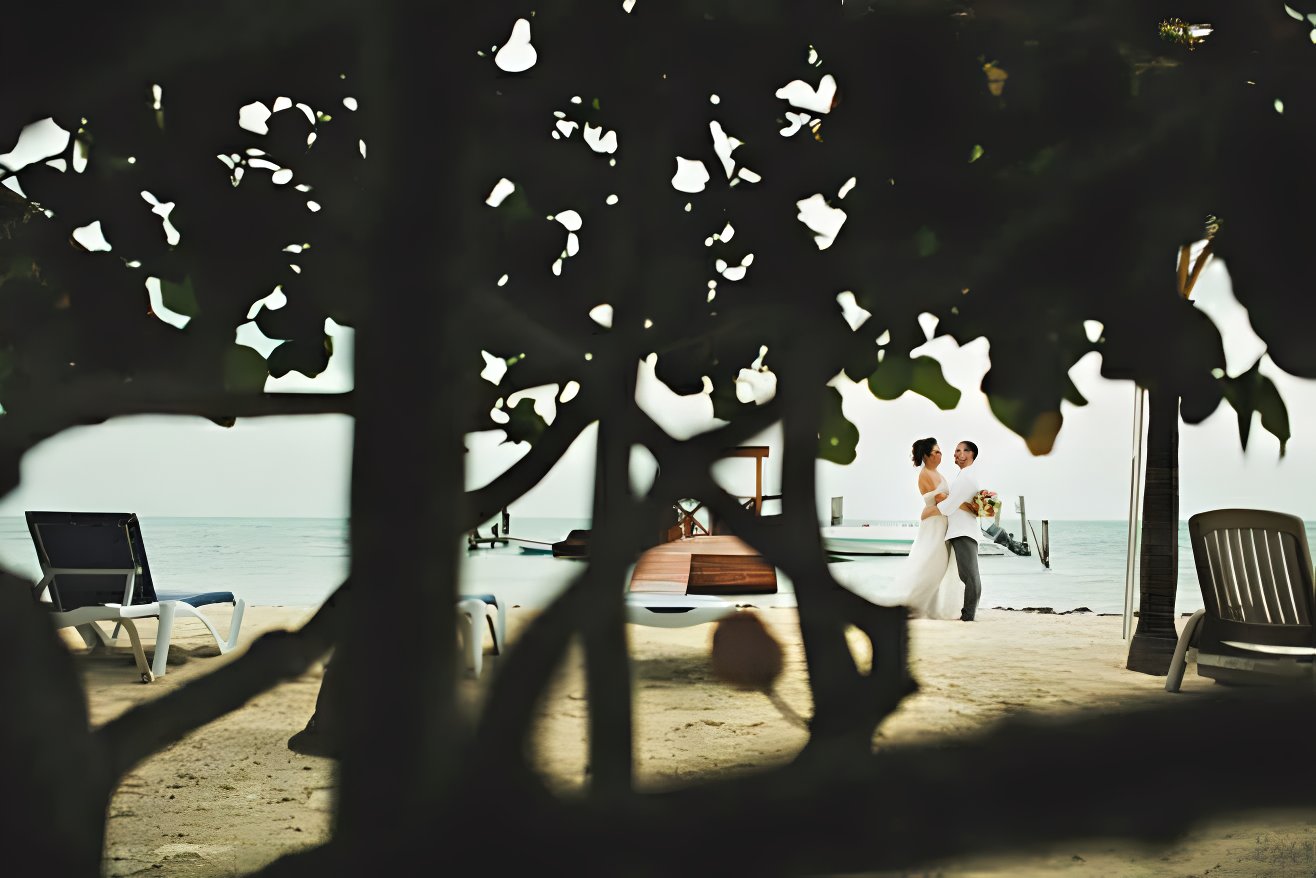 Are you tired of the Hotel Zone's crowds? This is a wonderful place to spend an afternoon, just bring your own drinks and snacks with you. This is the best beach to capture stunning sunsets, making it ideal for Cancun photo shoots in the early afternoon.
The colorful "Cancun" sign, which has become the official Instagram spot for Cancun, is also present. Since many hotels do not allow local photographers on-site without paying an additional fee, many local Cancun photographers recommend this beach. It's also the best public beach in Cancun's hotel-zone.
Recommended Resorts: Hyatt Ziva Cancun, Panama Jack Cancun
Blue Lagoon – Montego Bay, Jamaica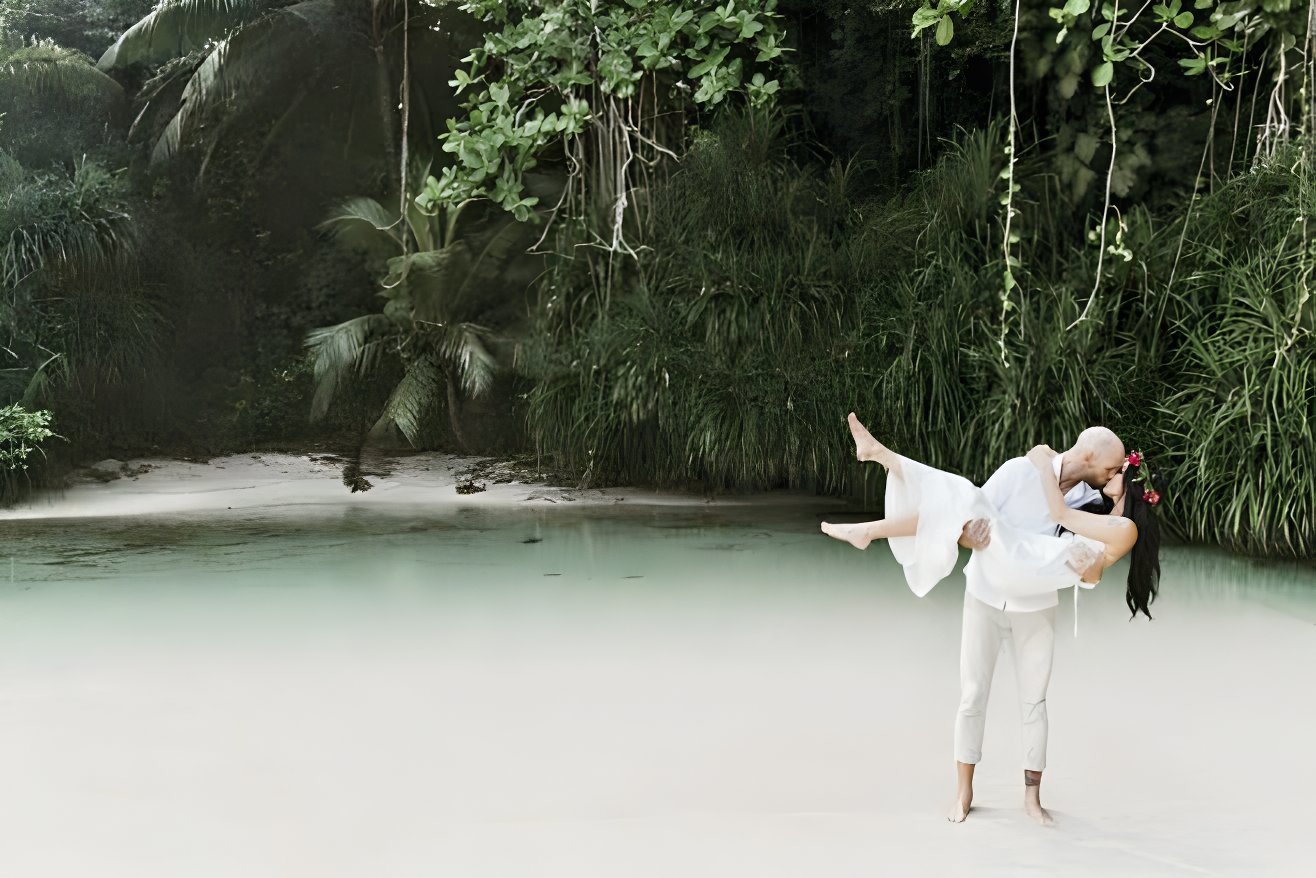 Close to Montego Bay's elegant properties, the Blue Lagoon is without a doubt one of Jamaica's most photogenic locations. The tiny lagoon, which contains both salt and fresh water, is one of the most incredible island locations, known for its changing colors. The colors of the water are affected by the setting sun and reflections throughout a given day. Make a point of staying a while to take in the lagoon's many hues. It would almost be a crime not to include it in your collection of wedding photos.
Recommended Resorts: Hyatt Ziva Rose Hall, Grand Palladium Jamaica
Rick's Café – Negril, Jamaica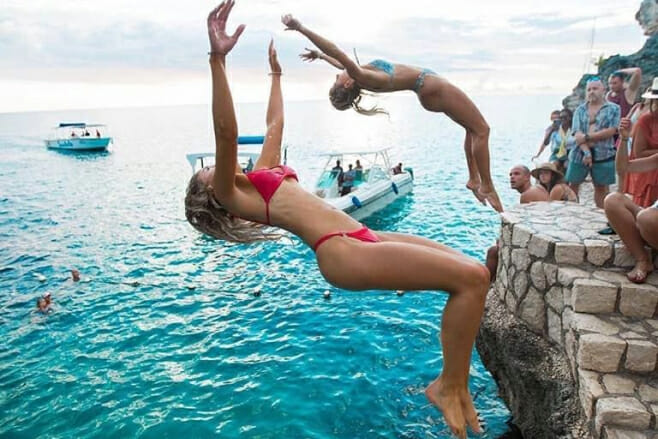 Without the iconic Rick's Café, no list of top photography locations in Jamaica would be complete! At this cliffside café, there are many photo opportunities. Visit Rick's Café at sunset and witness the golden sun melting into the Caribbean Sea. Or for a real treat, visit the cliffside where brave souls leap 35 feet into the waters below. To top it off, after taking incredible photos, you and your loved one should indulge in some of Jamaica's finest jerk chicken.
Recommended Resorts: Royalton Negril
Want to learn more about how to hire the perfect destination wedding photographer? Follow the button below and explore Professional and Creative Destination Wedding Photography: