Weddings can be expensive, no matter where they take place. People might assume destination weddings are more expensive than traditional weddings, but that's not necessarily the case. Many destination wedding locations offer affordable destination wedding packages, all-inclusive deals, or even free weddings with booking accommodations.
The chosen destination will have a great impact on the overall cost, but it is possible to have a dream destination wedding on a budget. In fact, depending on the number of guests and where the event takes place, a destination wedding can actually be a cheaper option for many couples. How can you have your dream destination wedding and stick to your budget? We'll break it down for you.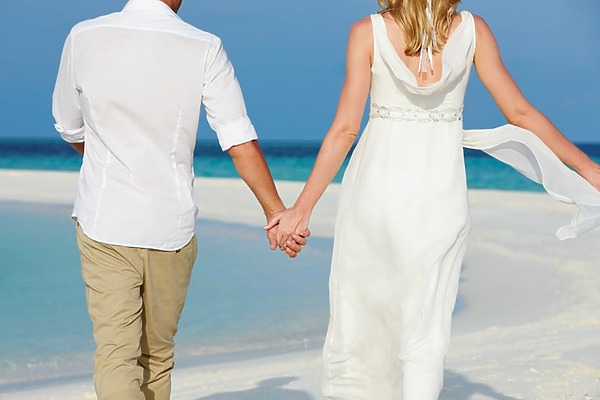 Benefits of Destination Weddings
Destination weddings are a way to make your special day even more unique. First and foremost, you will you have a moment in paradise to remember forever. You're guaranteed to have stunning views that stand out from your typical day-to-day. Beyond your own experience, you're able to give your guests the travel opportunity of a lifetime. You and your entire party get a vacation and a wedding all wrapped up in one.
Destination Wedding Budget Breakdown
The average destination wedding costs between $12,000 and $17,000. Compared to the average traditional American wedding, which can be around double that amount, a destination wedding sounds like a great deal.
What is taken into consideration for a destination wedding budget? What is included in affordable destination wedding packages?
Venue
Catering
Officiant
DJ/Music
Photographer and Videographer
Hotel
Transportation, including flights
Dresses, suits, outfits, and accessories
One of the main factors that goes into a wedding budget, whether it be a destination wedding or a traditional ceremony, is the number of guests. Obviously, the more guests you have, the higher the overall cost. Destination weddings tend to be more intimate, averaging around only twenty or so guests. Traditional weddings average over one hundred guests. Many wedding packages are priced based on the number of guests, or at least a range of guests.
Other aspects of a wedding budget include the location and the venue. For traditional weddings, some types of venues are more budget-friendly. With destination weddings, certain destinations are cheaper. Even the most luxurious resorts can be budget-friendly with the right planning. Some of our favorite resorts offer free wedding packages with the right booking requirements. Unlike traditional weddings where the venue, catering, ceremony, hotel, and anything else are booked separately, destination weddings are often booked under an all-inclusive package. The venue, ceremony, food, flowers, cake, and complimentary upgrades and special additions can be included.
For a destination wedding, catering, photography, an officiant, and even a venue can all be included with the right room bookings. The total cost of a destination wedding can be less than the cost of the venue alone for a traditional wedding in the United States.
If you're looking for an incredibly simple ceremony on the beach, with a few of your closest family and friends, with simple outfits and decor, you can have your dream destination wedding on a budget. Even if your dream involves a more elaborate ceremony, Destify can work within your budget to find the perfect destination, the perfect hotel or resort, and create your perfect wedding.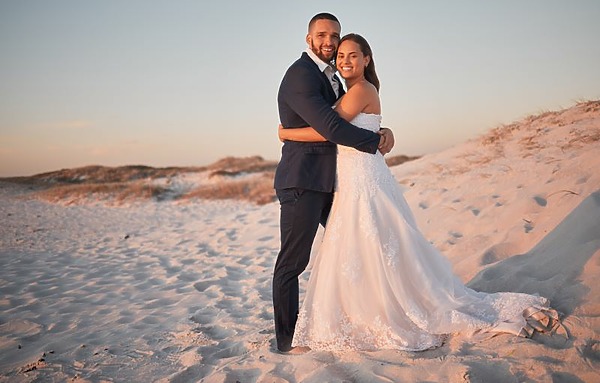 Destination Wedding Locations
If you're looking for a cheap destination wedding or a more affordable destination wedding package, focus on the location. Not only are certain locations more affordable, but flights and travel to certain locations can be more affordable depending on where you're traveling from.
Jamaica, Costa Rica, and different areas in Mexico can be some of the best areas for a destination wedding on a budget. Different destinations have different benefits as well. Some areas are known for their world-class luxury resorts. Other destinations are known for their local culture and cuisine.
Mexico is a great cheap destination wedding location, given the country's proximity to the United States. Flights from New York to Cancun are under five hours and have an average cost between $250-$450. If you don't have a specific destination in mind when you start planning your wedding, Destify can share the most budget-friendly locations to start from.
Other tips for keeping your destination wedding within your budget include checking into airline points or hotel points. You can skip out on the $2,000 wedding dress or expensive tux and go with a classy, yet simple attire, perfect for a beachfront ceremony. Generally speaking, any destination wedding location is going to be naturally beautiful, so unlike traditional venues, there's less of a need to budget for decor and set up.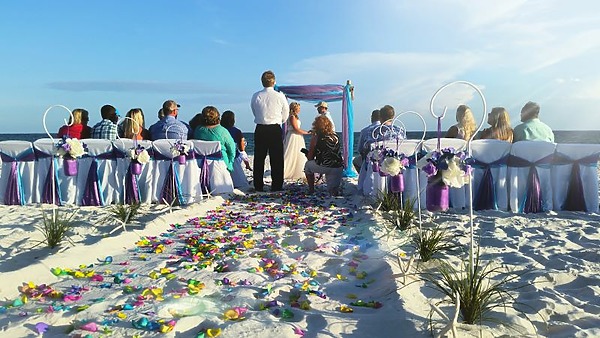 Destify's Budget Destination Weddings
One of the most important aspects of having a budget-friendly destination wedding is sticking to your budget. While there should be some contingency for emergencies, setting and abiding by your budget will relieve some of the financial stress that can come with weddings of any kind. Keeping track of all of the wedding-related expenses will help. Luckily, there are apps and spreadsheets that can take some of the manual thought process out of budgeting. Destify will work to make sure your plan is well within your budget.
Couples can spend tens of thousands of dollars and more on a destination wedding. They could also spend that much and more on a traditional wedding. But they don't have to. One of the best things about destination weddings is how flexible they can be. Destify works with couples, our resort partners, and the resort's wedding coordinators, to create something magical. We'll combine the ideas from your Pinterest board, and the budget from your bank account, to create an incredible celebration.