Many think the best destination weddings happen at golden beach venues. Well, they're mostly right. Yes, choosing a beach location in Mexico or the Dominican Republic is a great start. But the best destination weddings are actually the ones that fit your budget. We get it. The money talk can get uncomfortable, but it's a subject that, once addressed, can save you thousands of dollars.
How Can Your Budget Destination Wedding Still Be Luxurious?
A budget destination wedding can still be luxurious by being creative with how to spend the budget. Instead of having a larger, more expensive wedding, couples can focus their budget on a quality honeymoon or multiple mini-honeymoons. Although you might be surprised, many of our all-inclusive resorts feature budget-friendly wedding packages that will still welcome more guests than you would imagine!
Research is the key to a luxurious budget destination wedding, and we're here to help. Additionally, couples can book their wedding venues with luxury facilities that offer an all-inclusive approach that minimizes costs. There are also many luxurious destination wedding venues that specialize in high-end services that are all included in the upfront costs.
Couples can also focus their budget on decorations, thoughtful details, and customization of their wedding with details that perfectly reflect their style and personalities. Many wedding packages include decor options built in, which means you've saved a ton of money by avoiding outside vendors.
Dreams Macao Beach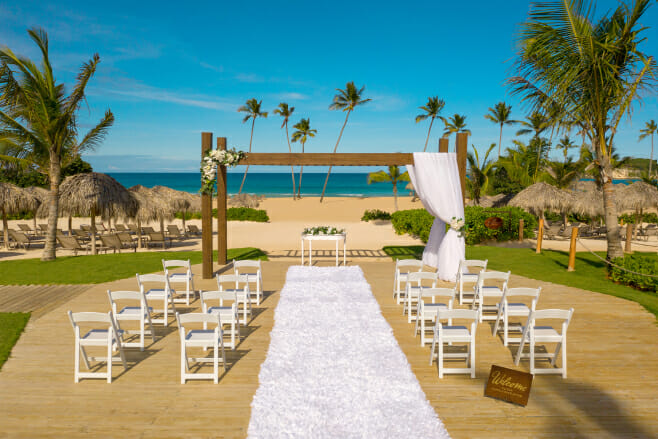 The new Dreams Macao Beach Punta Cana is an exquisite retreat where families and couples may enjoy an all-inclusive ceremony amid the grandeur of Playa Macao. This private setting, located 40 minutes from Punta Cana International Airport, will exceed any expectations. Discover tranquility and adventure at Macao Beach's first and only all-inclusive, family-friendly resort. Macao, a Punta Cana paradise with pure golden sand and magnificent turquoise water, has been named one of the Caribbean's greatest beaches.
Room Rate: $280-$320
Package Costs: Free – $11,999
Venues: 5
Cheapest Wedding Package: Wedding in Paradise Package ($999, Free with Booking Requirements)
Symbolic ceremony
Wedding organization and personal touch of on-site wedding coordinator
Preparation and ironing of couple's wedding day attire
Complimentary room for one member of the wedding couple the night
before the wedding (based on availability and upon request)
Bouquet(s) and/or boutonniere(s) for the wedding couple
Wedding cake and sparkling wine toast (for up to ten guests)
Special turndown service the night of the wedding
15% discount on all spa treatments (Spa boutique purchases not included)
Newlywed Package
Welcome letter
Fresh fruit
Bottle of sparkling wine
Breakfast in bed with mimosas (reservations must be made in
advance with concierge)
Late checkout for the couple (based on availability and upon request)
Free anniversary nights
RIU Reggae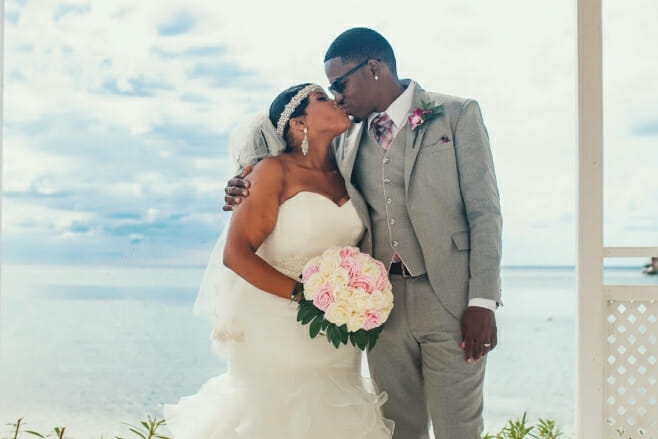 You can participate in an endless amount of activities and sports at the RIU Reggae, making this resort a prime option for family-heavy guest lists, and all are included in your price paid upfront before you ever travel to your budget destination wedding.
Choose from a variety of exciting daytime and nighttime activities, ranging from refreshing water sports to live music. The Renova Spa is the place to go if you want to unwind. The Renova Spa is a fantastic facility where you can relax and rejuvenate in the sauna, jacuzzi, gym, and a variety of body and cosmetic treatments, ensuring that you return from your trip feeling completely rejuvenated.
Room Rate: $110-$225
Package Costs: Free – $3,099
Venues: 3
Cheapest Wedding Package: Free Wedding Package
RIU Reggae wedding planner
Decoration set up for the ceremony location
Bouquet and Matching Boutonniere
Recorded music during the ceremony
Semi-private dinner at one of RIU Reggae's specialty restaurants
RIU Reggae wedding cake
Sparkling wine (during the main toast only)
Romantic decoration in the room for the wedding couple
Surprise gift for wedding couple
Majestic Elegance Costa Mujeres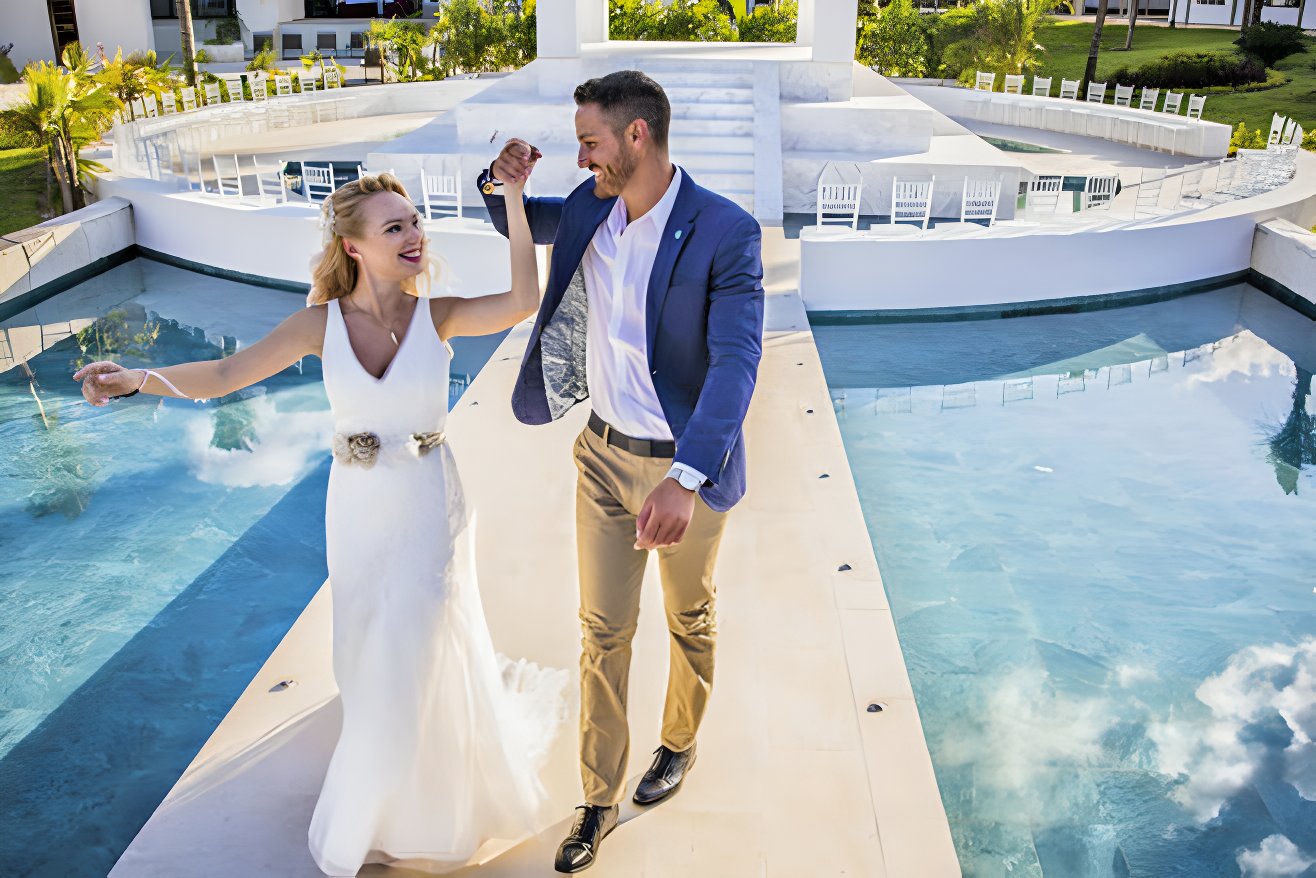 Welcome to learning all about what a budget destination wedding can be in Cancun. Choose Majestic Elegance Costa Mujeres to host the wedding of your dreams, where a dedicated team of Wedding Professionals delivers pristine service and day-of coordination. Ushering in the new age of wedding venue design, the resort features a set of breathtaking venues designed to optimize the intimacy and romance of your ceremony.
This magnificent 5-star resort offers a variety of spacious rooms and stunning ocean view suites, as well as exceptional quality service, as part of one of Mexico's best all-inclusive resort programs, which includes unlimited visits to world-class restaurants, unlimited premium liquor, infinity pools with an ocean view, and attentive butler service.
Room Rate: $150-$240
Package Costs: Free – $1,750
Venues: 2
Cheapest Wedding Package: Majestic Free Wedding Package
Majestic Elegance Costa Mujeres wedding planners
Ceremony venue
Room upgrade
Early check-in and late check-out
Services of a civil judge or priest
Wedding cake
Tropical bouquet and boutonniere
Bag of rose petals
Ironing of bride's dress and groom's tuxedo
Sound system and ceremony translation
Marriage certificate
Champagne toast
10% discount on hair and makeup
Handcrafted welcome sweets
Bridal boudoir refreshments
Semi-private dinner in a specialty restaurant
Romantic breakfast in bed for the couple
Romantic candlelight dinner for the couple
Complimentary couples massage
Two bottles of champagne in room during stay
Royalton Riviera Cancun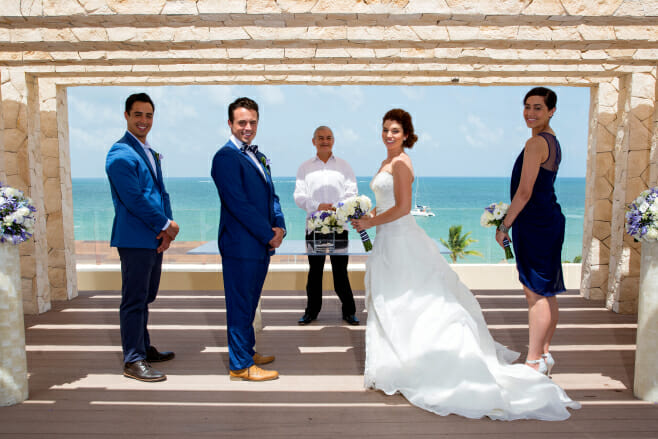 Everyone involved in a Royalton wedding in Mexico will have an incredible romantic experience. Royalton Riviera Cancun cultivates your love for one another and symbolizes it in the ultimate event. Choose from a variety of settings, such as exchanging vows under a superbly built ocean view gazebo, uniting in front of the calm of the Cancun tide, or elevating the occasion to new heights on the sky terrace.
Room Rate: $150-$270
Package Costs: Free – $10,999
Venues: 6
Cheapest Wedding Package: Luxury Wedding Package ($999; Free with Booking Requirements)
Personal wedding planner & onsite coordinator
VIP welcome & late checkout for bride & groom (based on availability)
Bride & groom room upgrade (based on availability)
"Getting Ready" refreshments & fruit platter for the bride & groom on the wedding day
10% discount on spa services for entire wedding group
Ceremony location
Symbolic ceremony
Chairs included
Sound system for ceremony
1 tropical bridal bouquet
1 tropical groom's boutonniere
Ceremony table with linen & tropical centerpiece
Sparkling wine toast
Semi-private dinner at one of our restaurants (2 hour)
Personalized menu cards
1-tier wedding cake
Some Final Thoughts
Having a budget destination wedding doesn't mean skimping out on luxury or an amazing experience. There are still plenty of ways to make your destination wedding feel special, even on a smaller budget.
1. Choose an Affordable Destination: First and foremost, selecting a destination for your wedding with lower prices can make a real difference. Consider more affordable locations, such as Mexico and Central America, instead of the more expensive islands in the Caribbean, like the Bahamas. Consider all-inclusive resorts that can offer more personalized services but lower prices.
2. Choose an Inexpensive Venue: When it comes to venue costs, there are plenty of alternatives that can save you money. Many of our resorts feature stunning venues included in the wedding package price, including garden and beachfront options. Other more unique venues, such as rooftops, could cost extra.
3. Be Selective with Décor: Instead of spending too much on elaborate details, use a few special touches to create an unforgettable atmosphere. Stick with classic items like candles and glass, skip the expensive flower arrangements, and decorate with twinkle lights and lanterns. Your wedding team will run you through the different decor items included in your selected packages.
Want to view more economical luxury resorts? Follow the button below and explore our Destify Top Resorts: