Planning a destination wedding isn't quite the same as planning your local wedding in the States. There are pros and cons to hosting a gorgeous destination wedding, of course, but one of the great things about working with us is we've built destination wedding planning into a science. Timelines for destination weddings in Mexico and the Caribbean vary from the United States, but in many ways, it's much easier.
In today's article, we'll first break down some common destination wedding planning myths in relation to logistics and calendars. Next, we will provide some expert tips on when to book your resort and ceremony date. Lastly, we'll then provide what you can expect for a common timeline for planning your own destination wedding.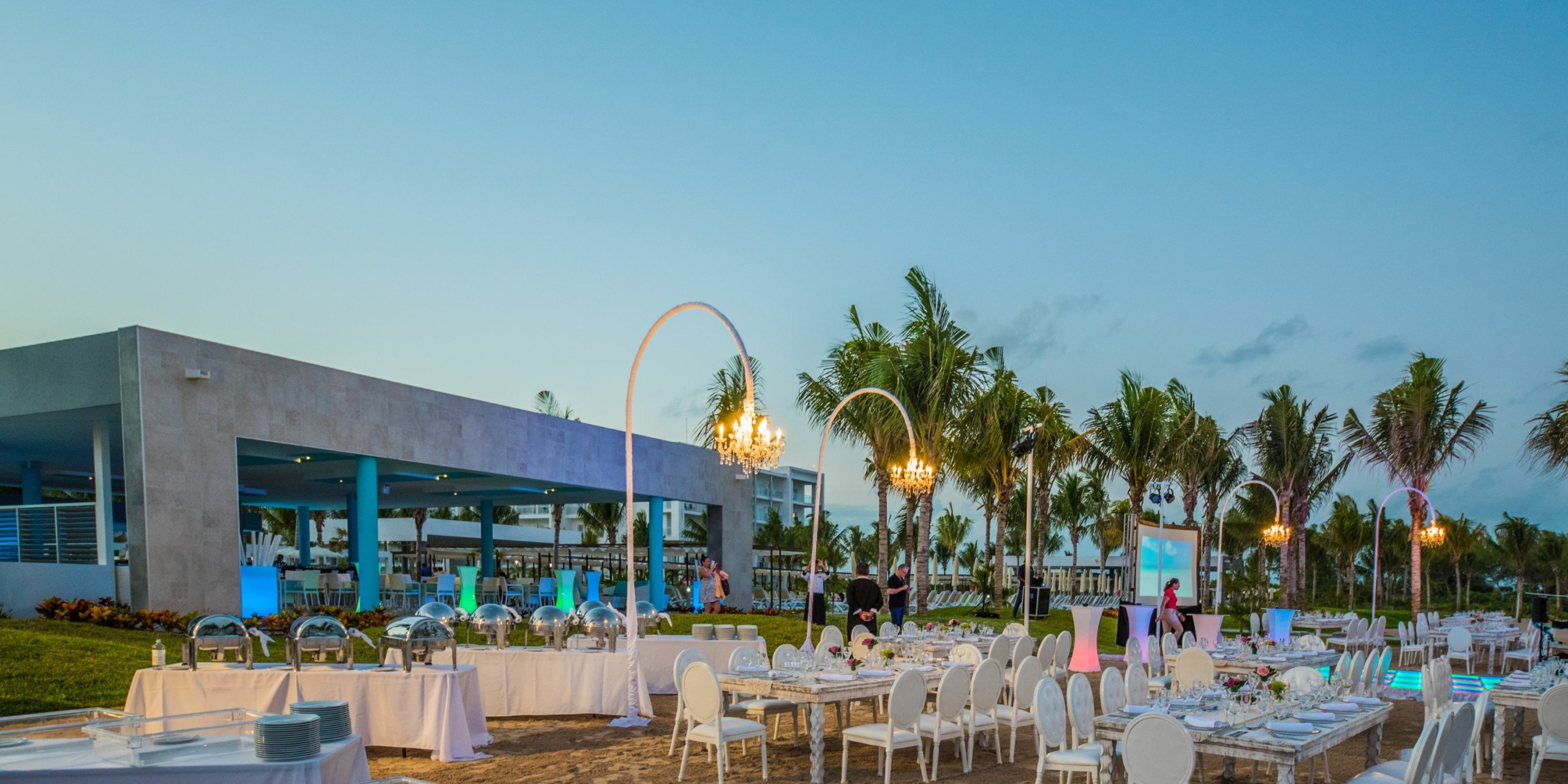 Destination Wedding Myth #1: You Have to Coordinate Everything Yourself
Myth: First and foremost, destination weddings typically involve more logistical planning than a local wedding when it comes to travel. Not only do you have to coordinate the ceremony and reception details, but you also have to account for travel arrangements for yourself and your guests, including flights, accommodations, transportation, and possibly even visas or other legal requirements.
This is actually not true if you use a service like ours. We help you throughout every step of the booking process. We'll help you coordinate your entire group's stay at your chosen all-inclusive wedding resort. We'll even offer payment plans, shuttle transfers to and from the airport, and advice on any other questions your guests may have like legal requirements and the best times to book flights.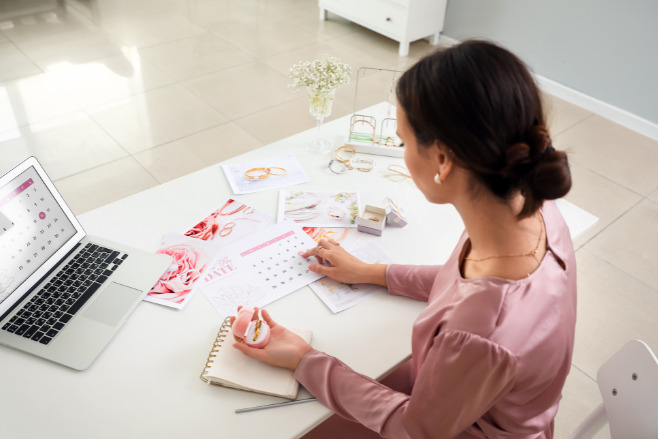 Destination Wedding Myth #2: You Have to Work with Many Vendors and Partners
Myth: Additionally, destination weddings often have a smaller guest list than traditional weddings, which can make it easier to plan and organize the event. However, this also means that you have to work harder to create a personalized experience for your guests, particularly when you're not able to rely on local connections.
This isn't true either by utilizing one of our partner resorts. Our resorts feature dedicated wedding departments and coordinators, who will assist you online, and during your stay in person. They'll help you select everything, from ceremony decor to reception food and entertainment, and everything in between.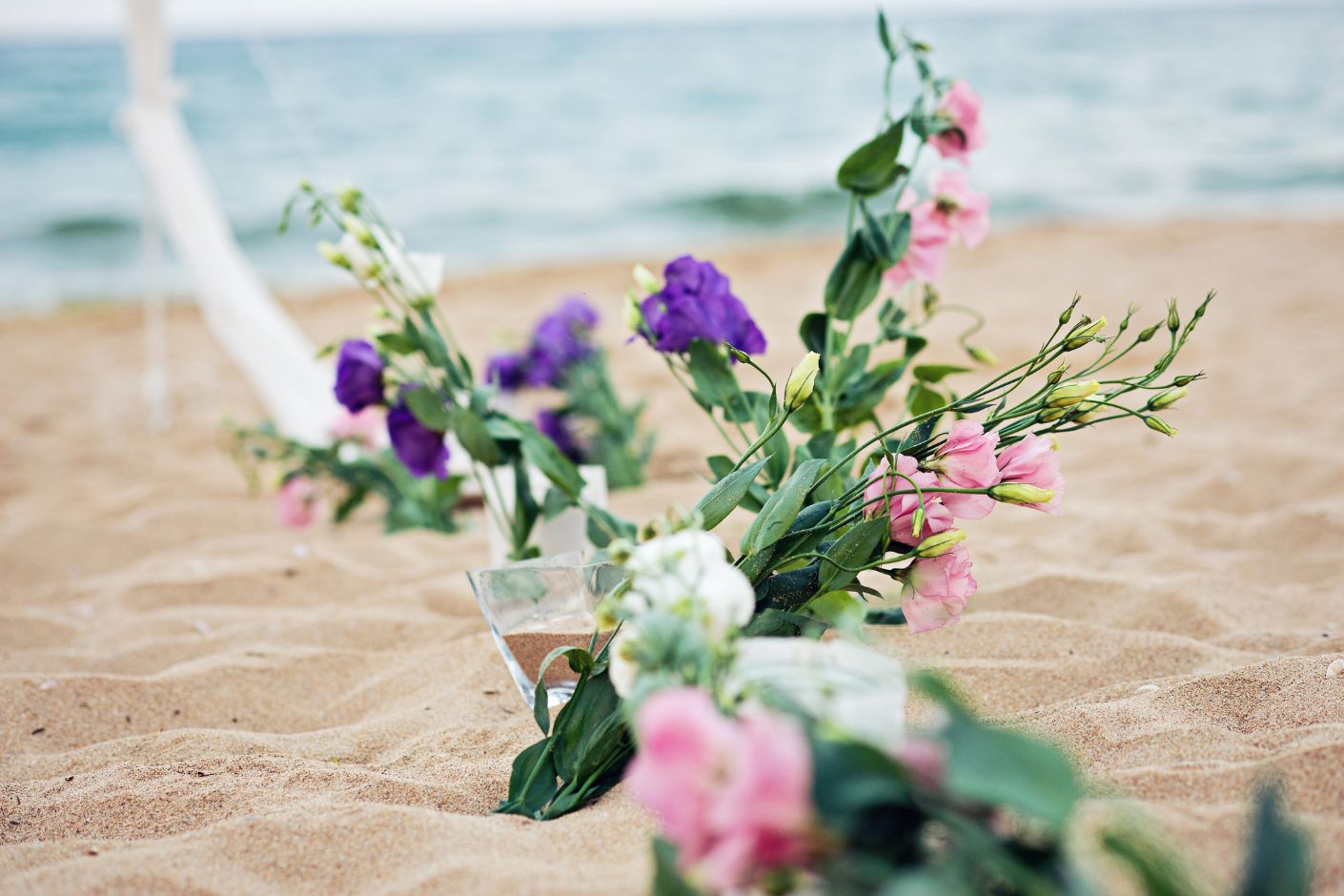 When to Book Your Resort and Wedding
Destination weddings are becoming increasingly popular over the years and for good reasons. However, planning a destination wedding requires a bit more time and effort than planning a conventional wedding. But on the other hand, you can't plan too far in advance either. Here, let's explain:
One crucial aspect of planning any wedding is choosing the right date, and for destination weddings, it is essential to book well in advance. Typically, destination weddings are usually booked 12-18 months before the wedding date. In contrast, US-based weddings are usually booked 18-24 months before the wedding date. This disparity in the booking time is because of the logistics involved in destination weddings, where the planning process is more challenging and time-consuming.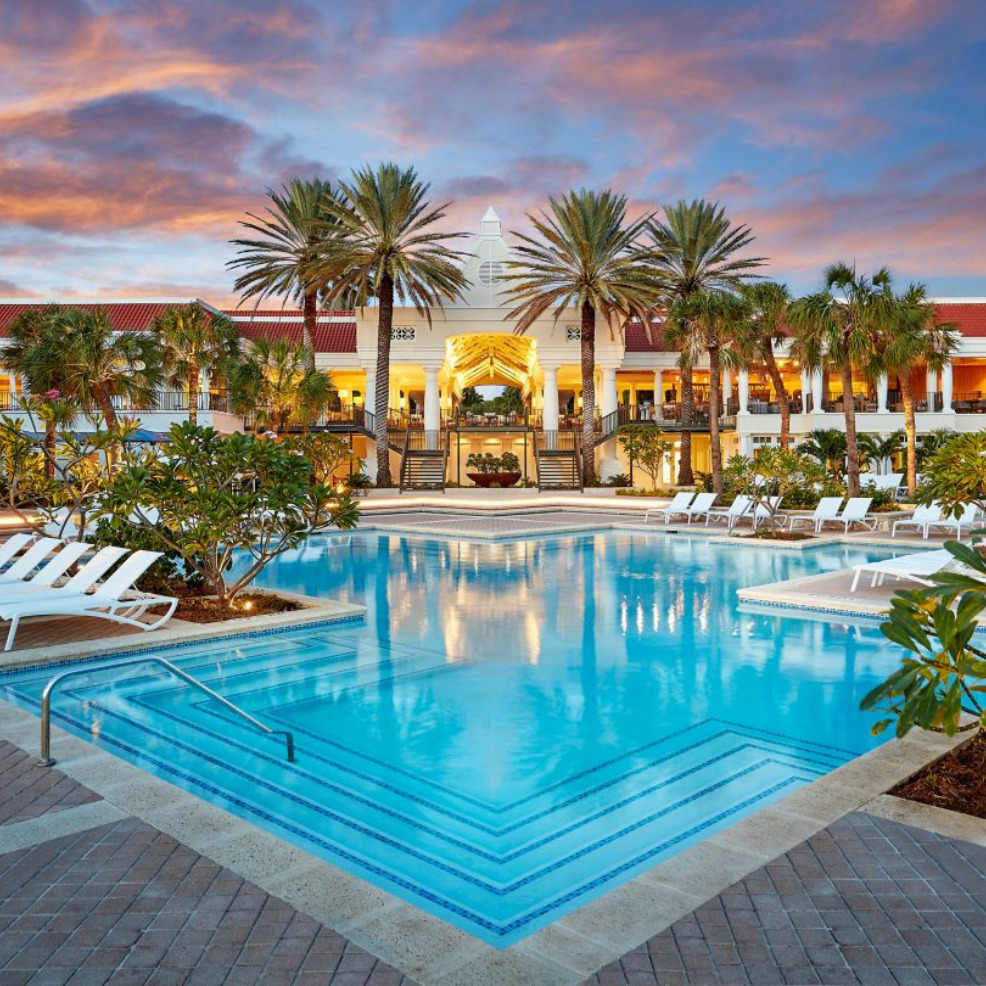 When it comes to planning a destination wedding, several factors need to be considered, such as finding the perfect location, securing the wedding date, and ensuring everything is coordinated smoothly. The booking process for the venue and vendors has to be done well ahead of time to secure availability, especially during peak wedding seasons. Additionally, flights and accommodations for wedding guests also need to be reserved in advance to get the best deals and avoid the inconvenience of overbooked hotels or long travel times.
Moreover, destination weddings require more time for the couple to plan and organize for their wedding guests. Destination weddings are long-term events that might require guests to take out considerable time off work, so it is crucial to give them enough time to plan and prepare accordingly. Most couples prefer to send out their 'Save the Dates' six months+ before the wedding to assist guests.
But the most important reason you can't book a destination wedding multiple years in advance is also due to these booking factors above, along with how these reservation systems work. Destination weddings at all-inclusive resorts rely on the capacities of available rooms, airline calendars, and wedding venue capacities. Just as you can't typically reserve a hotel or flight 3 years from now for a vacation, the same can be said about your destination wedding at your chosen resort.
A Common Destination Wedding Timeline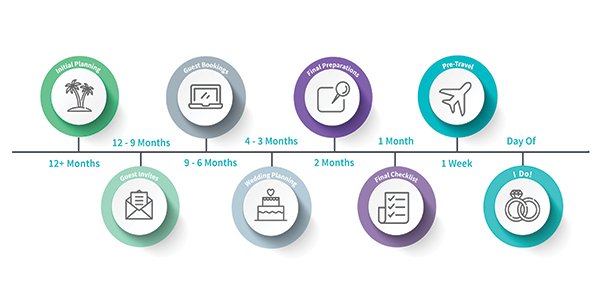 A destination wedding at an all-inclusive resort is a popular choice for couples who want to combine their wedding and honeymoon in one seamless event. Most resorts offer comprehensive wedding packages with everything needed for the big day.
Here is a common wedding timeline for a destination wedding at an all-inclusive resort:
12-18 months before the wedding:
Choose the resort and confirm the wedding package
Send out save-the-dates to your guests
Book your flights and accommodations
Meet and work with your wedding team
Begin selecting your wedding attire and accessories
3 months before the wedding:
Plan the ceremony and reception details with the resort coordinator
Choose the decorations, flower arrangements, and music
Decide on the menu and cake
Order wedding favors or welcome bags for guests
Finalize the guest list and RSVPs
1 month before the wedding:
Confirm all details with the resort coordinator and vendors
Schedule hair and makeup appointments for the wedding day
Prepare the necessary documents and paperwork for the wedding
Pack for the trip and transport wedding items to the resort (should anything need mailed or not brought with you)
Wedding day:
Get ready with hair and makeup
Hold the ceremony at a designated location on the resort property
Take wedding photos with the photographer
Enjoy the reception with food, drinks, and dancing
Cut the cake and have the first dance
End the night with a send-off celebration or fireworks
Of course, your wedding day may differ from the above, but these are just a few of our suggestions!
After the wedding:
Relax and enjoy the honeymoon activities at the resort
Return home and send out thank-you notes to guests
Receive wedding photos and videos from the photographer
Overall, a destination wedding at an all-inclusive resort can be a beautiful and stress-free experience for the couple and their guests. By following this common wedding timeline and working closely with the resort coordinator, the wedding day can be a completely stress-free experience.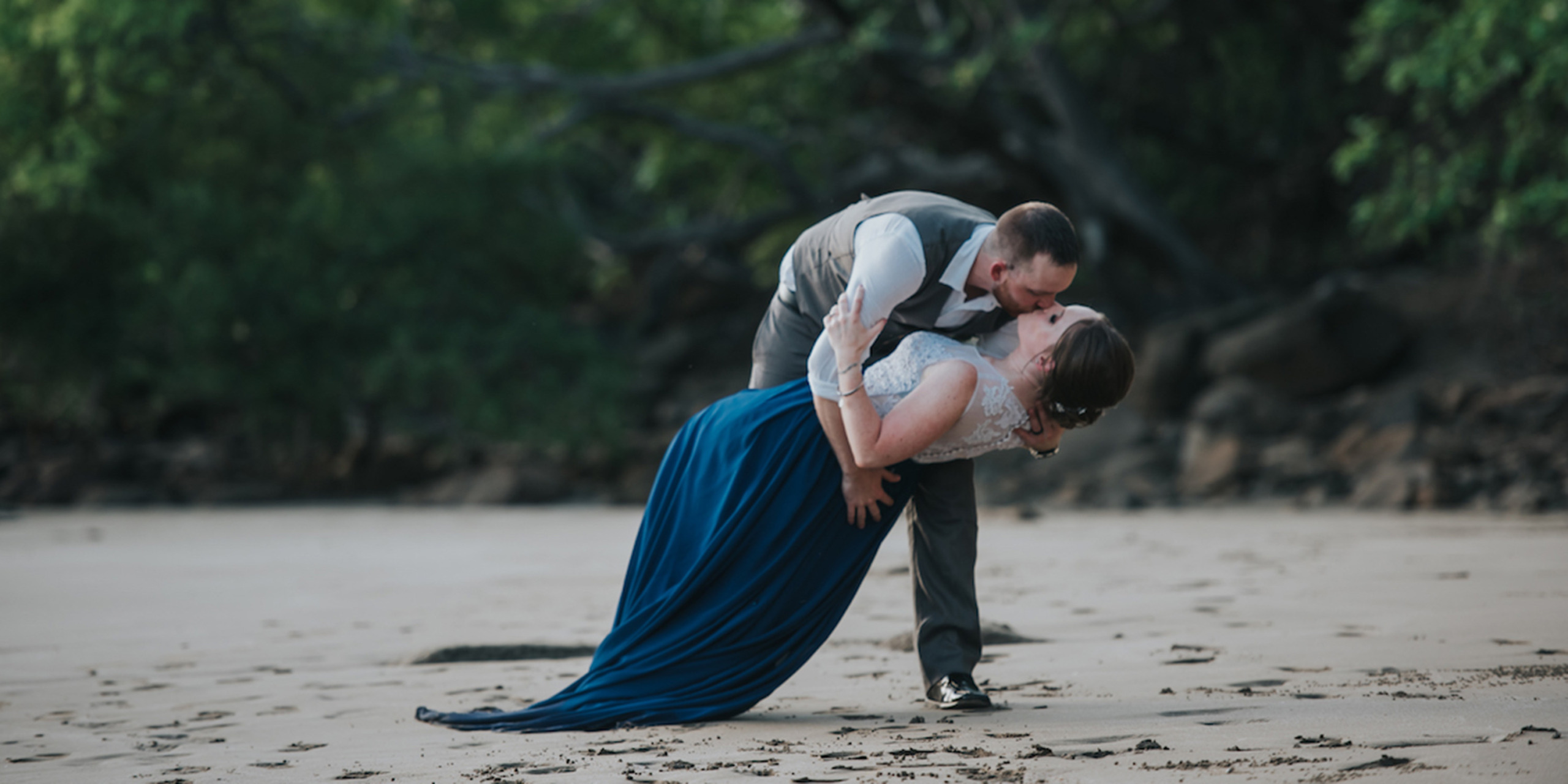 Additional Wedding Timeline Tips
Finally, factors such as seasonality, weather, and availability can all impact your destination wedding planning timeline. If you have your heart set on a specific location or date, it may take longer to secure the necessary reservations and arrangements.
Here are some additional tips for planning a destination wedding:
Start planning early. The earlier you start planning, the more time you'll have to research your destination, book vendors, and get everything in order.
Be flexible. Things don't always go according to plan, so it's important to be flexible and adaptable.
Communicate with your guests. Keep your guests updated on your plans and let them know what they need to do to prepare for the wedding.
Relax and enjoy the process. Planning a destination wedding can be a lot of work, but it's also a lot of fun. So relax, take your time, and enjoy the journey.
Overall, it's important to give yourself plenty of time to plan a destination wedding. Depending on the location and complexity of the event, it may need to be several months, or even a year or more, before you can finalize all the details and create an unforgettable celebration.