Historically, weddings ranged from community events to small, simple ceremonies. The concept of wedding planning did not really emerge until the 1950s and 1960s, and even then it was a relatively informal role. Wedding and bridal magazines began to develop, and the wedding industry became a huge business.
Now, weddings in the United States are a $70.3 billion industry. Over the last fifty years, weddings have become increasingly more complex, with more moving parts, and more vendors to coordinate. Wedding planning has become a recognized profession with formal training programs and certificates.
When you add all the aspects of a destination wedding to the plan, there can be even more need for a wedding planner. What exactly are some of the benefits of a destination wedding planner? How do you hire a wedding planner?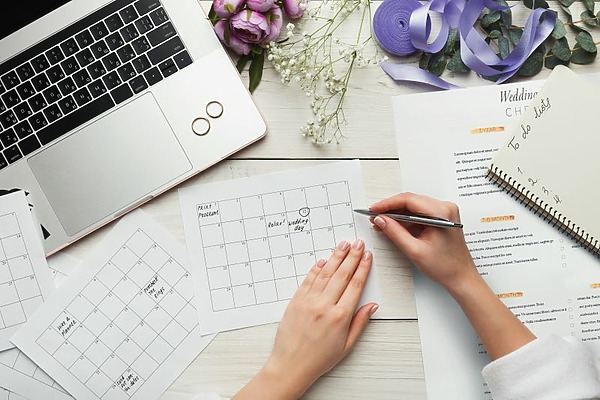 Benefits of a Wedding Planner
Hiring a wedding planner comes with many benefits. Overall, having a wedding coordinator on your team will eliminate some of the stress and some of the to-dos.
One of the biggest benefits of a wedding planner is being able to tap into their knowledge and expertise. Wedding planners have the experience and professional guidance necessary to make your wedding the very best.
Part of that experience includes relationships and connections with vendors and venues, which can be even more valuable for a destination wedding. Some specific benefits of hiring a wedding planner include the following.
Research and Coordination: Wedding coordinators handle the tasks of researching vendors, scheduling appointments, and coordinating logistics. This gives you, the couple, more time to focus on other pre-wedding tasks and on enjoying your engagement.
Budget Planning: Wedding planners understand the industry and can assist in creating a realistic budget and help you stick to it. Not only can they keep track of wedding expenses to ensure you are within budget, but they can also negotiate with vendors to get the best price possible.
Creativity: Wedding planners are creative professionals. In addition to the logistical knowledge, they also have the expertise needed to design a unique and personalized celebration, no matter the location.
Day-of Coordination: On the wedding day, or in the case of a destination wedding, the wedding planner ensures everything runs smoothly. While the wedding planner might not be present at a destination wedding, on-site wedding coordinators will serve as the boots on the ground. They are experienced professionals, with quick problem-solving skills. They'll handle the hard stuff while the couple and their guests enjoy the celebration without worry.
Overall, the number one benefit of hiring a wedding planner is reducing stress for you and your future spouse. Taking some of the logistics work, coordination, and working with the budget removes much of the stress of wedding planning. Rather than having to coordinate and communicate with many vendors yourself, you'll focus on communicating with your wedding planner.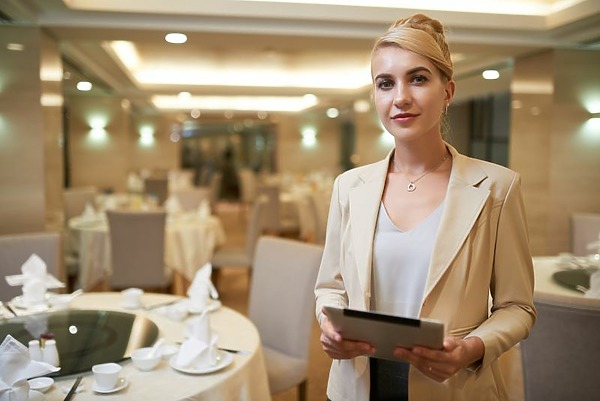 Wedding Coordinators for Destination Weddings
Wedding planners can play an important role in any wedding. When it comes to destination weddings, the role of a wedding planner is combined with a travel agent, and boots-on-the-ground wedding coordinator of the chosen venue. This team deals with the specific demands of a destination wedding.
One of the benefits of a destination wedding is that they tend to be smaller and more intimate, have simpler decor, and may have fewer options for vendors. That doesn't mean less work for the wedding planning team. In addition to the tasks assisted by stateside wedding planners, wedding planners for a destination wedding provide a level of local expertise and assistance needed for a destination.
Destination wedding planners have connections with a network of hotels and resorts in various countries, and an expanded network of local vendors including florists, photographers, musicians, DJs, and off-site caterers when needed. Their local connections make it easier for the couple to choose a venue and vendors, especially when they can't be at the destination in person.
The logistics of a destination wedding involve specific travel and planning. Destination wedding travel agents assist with travel planning, booking rooms for the couple and guests, and any transportation. Destination wedding planning also deals with legal requirements. Helping the couple navigate any legal requirements for marriage in their chosen destination, or opting for the symbolic ceremony, is an important role of the destination wedding team.
A benefit of destination weddings is that they last more than just one day. Usually, the wedding celebration includes a welcoming, and other pre and post-wedding activities with the couple and their guests. The wedding coordinator helps to plan these activities.
Destination wedding planning teams have experience with weddings across different countries, which means they have experience understanding and respecting local culture. Sharing this information with the wedding party can ensure cultural sensitivity for everyone involved.
Destify Destination Weddings
Destify's team is more than just destination wedding planners or wedding coordinators. All of our couples are supported by a true team of experts: travel planners, wedding experts, and guest services experts who all work together to make meaningful memories.
We're with couples every step of the way, with support available 24/7, ensuring your perfect day is perfect. We've got the wedding planning tools, including custom wedding websites, to provide even more logistical support, all while keeping you in control of your dream day.
We're not just a travel agency or a wedding planner, we're the destination wedding specialists. We're ready to share all the benefits of destination weddings, and none of the stress. If you're newly engaged and considering a destination wedding, or you're ready to book, Destify is ready to help your wedding dreams become reality.