One of the most common questions a couple asks our travel experts is to share the difference between ceremony types. A legal ceremony is a civil or religious ceremony that is recognized by a country or government. A symbolic ceremony is a ceremony that is not legally binding but is significant to the couple getting married.
The purpose of a legal ceremony is to make the marriage official in the eyes of the law. The couple must obtain a marriage license from the government and the officiant must be authorized to perform marriages in the state in which the ceremony is taking place.
Some couples choose a symbolic ceremony because they want to have a more personal and intimate ceremony that is not regulated by the government.
When planning a symbolic ceremony, it is important to consider what the ceremony will mean to the couple and what they want to include in it. It is also important to choose an officiant who is willing to customize the ceremony to the couple's preferences.
We find the majority of our couples prefer legal ceremonies at home and then hosting a symbolic ceremony on site. Technically speaking symbolic ceremonies have much fewer loopholes to jump through in order to have your destination wedding, and can be much more cost-effective too. Follow below as we break down the two ceremony types: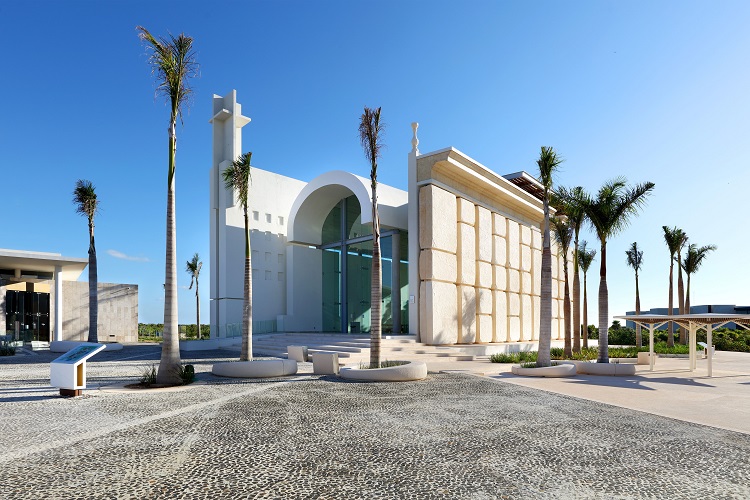 The Chapel at Grand Palladium Costa Mujeres
Symbolic Ceremonies
Symbolic ceremonies allow couples a more affordable and hassle-free experience. Most often, couples get married in the U.S. state they reside in, like at the courthouse, and then simply bring proof of their marriage to their resort in order to have their wedding ceremony. Your wedding party won't notice the difference, whether your ceremony is legal or symbolic either way unless it's essential you sign your legal papers after you say, "I do".
Symbolic Ceremonies are:
– More affordable
– Most popular
– Same-sex friendly
– Have the same ceremony
– Use a non-denominational minister
There are a number of reasons why couples choose to have a symbolic ceremony as part of their destination wedding. Firstly, many couples like that they can keep costs down as they don't have to go through the process of a legally binding marriage in a different country. Additionally, it gives the couple more freedom to focus on other aspects of the wedding, such as creating a unique ceremony with varying elements of culture and tradition.
Symbolic ceremonies also give couples a chance to be truly creative, picking and choosing elements of their personal faiths, cultural backgrounds, and lifestyle. Finally, the symbolic nature of the ceremony means you can plan and execute it the way you want to, and the setting of the wedding can be more easily tailored to the couple's wishes.
Legal Ceremonies
Legal (or sometimes called Civil) ceremonies are less common when it comes to destination weddings. That's because it means they are legally binding on the country you choose to get married in. They are necessary for Catholic weddings. Legal ceremonies have additional fees and requirements. For example, you may have to get bloodwork completed in your chosen destination and arrive a certain period of time before your ceremony.
– Legal Ceremonies are:
– Legally binding and require notary fees
– Require extra legal fees
– May require documentation translation
– Performed by a judge
Top reasons, why couples may choose to opt for a legal marriage ceremony when they are planning a destination wedding, may include that couples want their ceremony documented, as well as ensuring full legal protection and compliance with laws in the destination country or state.
Getting officially married also ensures that couples have all the required legal paperwork for their marriage to be recognized globally. Additionally, for the bride and groom-to-be, it eliminates the potential stress of having multiple marriage ceremonies in the destination country and allows them to focus on celebrating and enjoying their special day.
We don't typically recommend a legal ceremony unless you have national ties to the destination you're getting wed in.
Symbolic vs. Legal Ceremonies
Either way, couples will need to arrive early at their chosen destination. For a symbolic ceremony, they may have to arrive a day or 2 before their ceremony. A legal ceremony may require 4+ days in advance.
For a legal ceremony, you may have to provide bloodwork, birth certificates, and additional paperwork. There is yet to be a destination of ours that allows for same-sex legal ceremonies, but this may change with upcoming laws that are being passed in Mexico.
The choice to have either a legal or a symbolic ceremony is a personal one and couples should consider their beliefs, preferences, and budget when making their decision. A legal ceremony is required for the marriage to be legally recognized, while a symbolic ceremony is not legally binding but provides the couple with a more personalized experience.
To see more about ceremony types, visit our useful chart tool by clicking the button below: