In this day and age, destination weddings provide couples with a cost-effective choice for their big day without sacrificing quality for the ceremony, as well as the added benefit of providing your guests a holiday. Each destination wedding is unique; sometimes the couple covers the majority of the fees, while other times the couple's parents follow tradition and cover a large portion of the costs.
One of the main advantages of a destination wedding over a local wedding is that you may organize it precisely how you want it, and you are not bound by any laws. In this blog post, we'll go over the most typical "who pays for what" scenarios for an all-inclusive wedding. These aren't rules or recommendations; they're just the most prevalent instances that our destination wedding experts encounter.
The Couple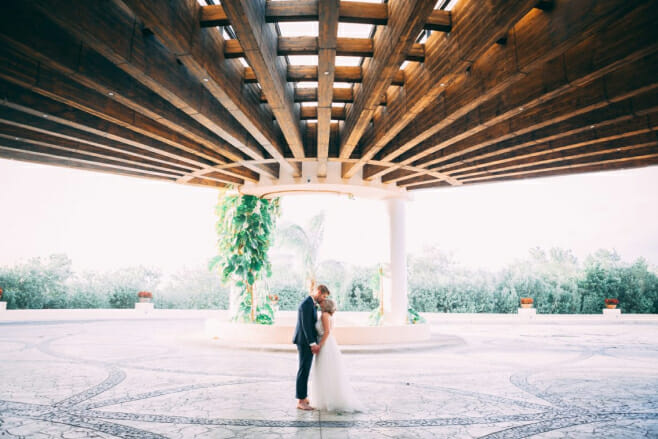 Typically, couples pay for the wedding package and reception as the hosts of the destination wedding. On the blog, we've gone over everything that might be included in a wedding package, and you can easily locate a single rate that includes your ceremony, cocktail hour, and dinner reception. When you pay for your own wedding package, you can also include whatever additional decor you choose, whether it's included in the resort's wedding menu or you hire outside vendors. This includes floral arrangements, centerpieces, and other such items. Added features for your reception, such as lighting dance floors or DJs, are also an additional fee.
Despite the fact that you will be given a wedding specialist, you can still use your resort to organize additional events for your guests while on vacation. If your budget allows, consider paying for welcome receptions or shuttle service from the airport to the all-inclusive resort for your guests. If you're footing the bill for your wedding and reception, and do not have the ability to request financial assistance from either set of parents, then you should also know you'll be paying for your travel and room accommodations too.
Using your all-inclusive resort's restaurants, which range from breakfast buffets to steakhouses, you can usually hold rehearsal dinners or farewell brunches at no cost. Hair and makeup professionals are available at all couples resorts and can be included in a package or paid individually. Lastly consider the gifts you would like to purchase for your attendees, from cute gift packages upon their arrival or special mementos for the parents and your party.
Example Destination Wedding Packages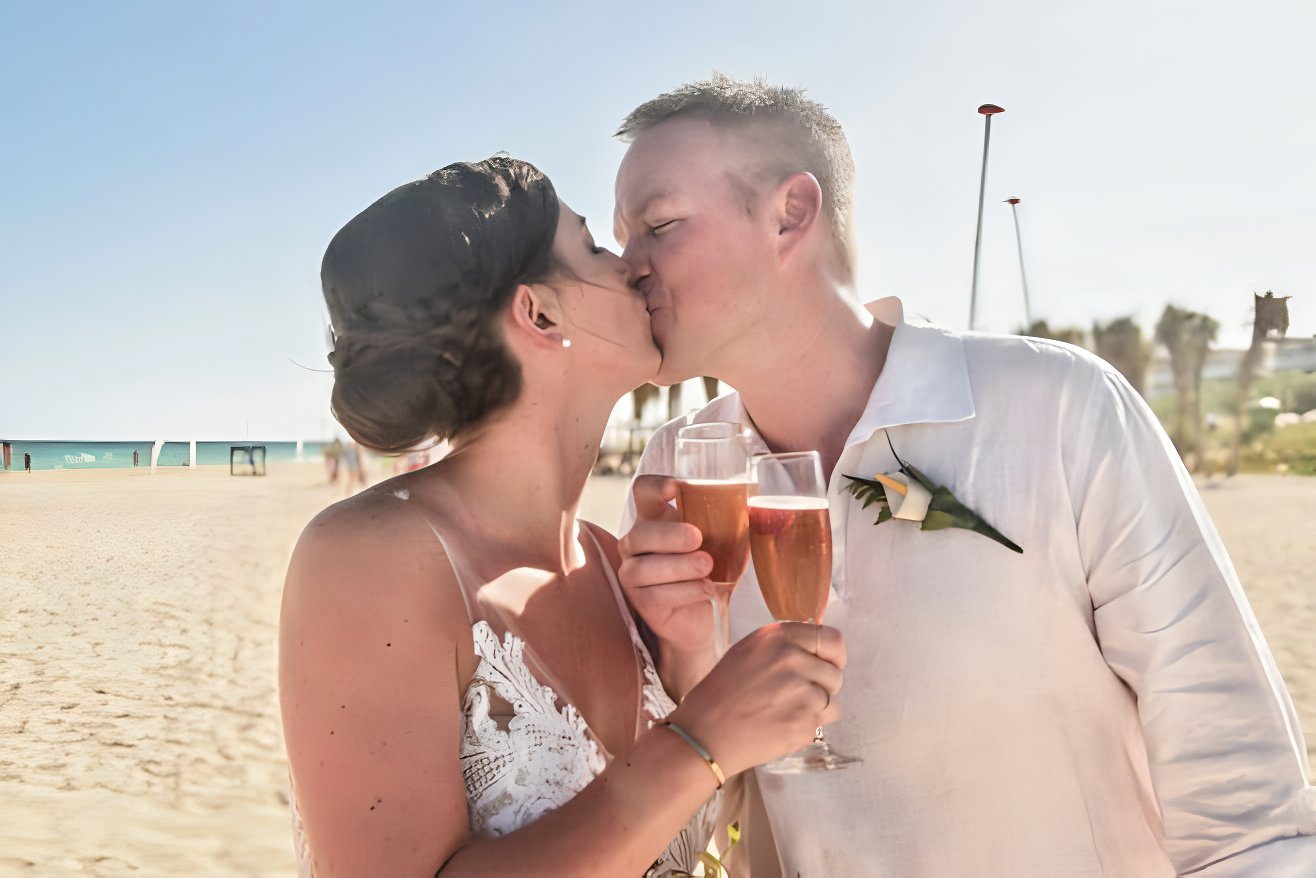 When it comes to what you'll pay for as a couple, we have a bevy of destination wedding packages to choose from. Sample rates for couples include the following. If you are looking to head somewhere warmer, then check out these customizable wedding options for your special day!
Royalton's Luxury Wedding Package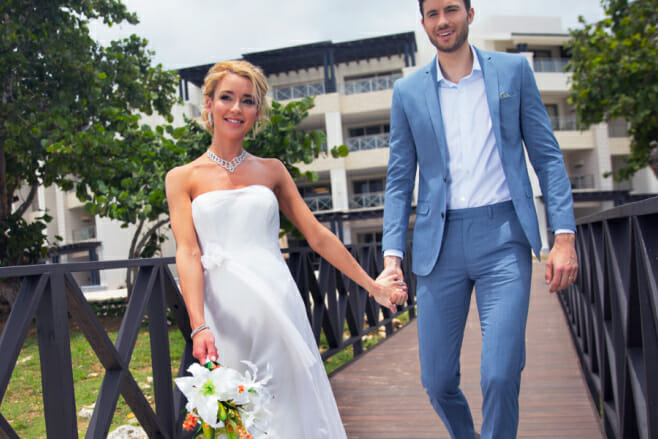 With individualized attention and wedding packages starting at free, Royalton helps you create your dream wedding that is as unique and special as the two of you. Wedding organizer, ceremony and dinner, wedding cake, and spa discount are all included in the complimentary packages. Royalton's skilled wedding concierges will take the stress out of preparing, allowing you to relax and enjoy this unique day with your loved ones.
Personal wedding planner & onsite coordinator
VIP welcome & late checkout for wedding couple (based on availability)
Wedding couple room upgrade (based on availability)
"Getting Ready" refreshments & fruit platter for the wedding couple on the wedding day
10% discount on spa services for entire wedding party
Ideal setting for your ceremony
Symbolic ceremony
Chairs included
Sound system for ceremony
1 tropical bouquet
1 tropical boutonniere
Ceremony table with linen & tropical centerpiece
Champagne toast
Semi-private dinner at one of our restaurants (2 hour)
Personalized menu cards
1-tier wedding cake
Hard Rock's Free Spirit Wedding Package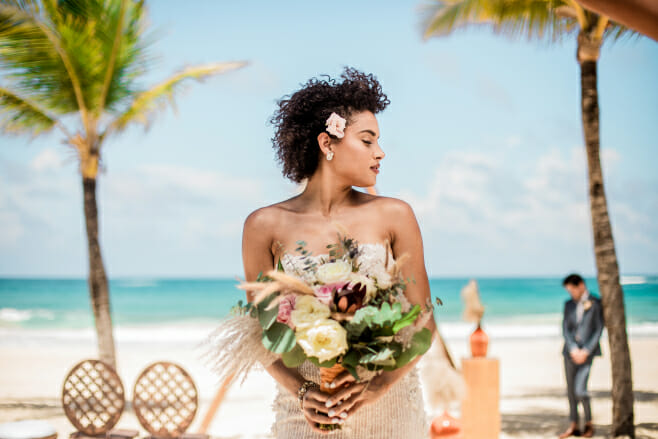 In music, life, and love, Hard Rock is about going all the way. You can find your balance however or with whomever you like. There's no wrong way to celebrate here, whether it's loud or quiet, barefoot in the beach or stilettos in the ballroom. Hard Rock will set the tone for your family and friends to commemorate you, from personal to wild. Whatever way you choose to express your love, give it your all.
Wedding ceremony location
Triangular wooden arch with mixed greenery, roses and pampas
Ceremony seating for 32 guests
Wooden column and gold pedestal with mixed roses and greenery
Two vases with pampas lining the back of the aisle
Natural wooden aisle runner
Themed bouquet with mixed roses and greenery
Blush rose colored boutonniere
Themed 2-tier wedding cake for up to 32 persons
Nondenominational Minister to perform symbolic or vow renewal ceremonies
Soloist for wedding ceremony (Violin, Saxophone, Guitar)
Champagne for 32 persons following ceremony
Honeymoon Wishes Website and Registry
Audio system available for ceremony
Event Consultant and Onsite Dedicated Wedding Team
Witnesses if required
Complimentary Honeymoon Package
Hyatt Ziva-Zilara's Lavish & Opulent Wedding Package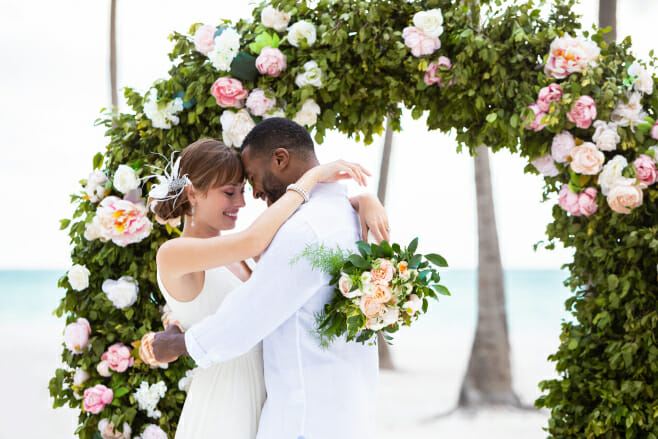 Hyatt Ziva-Zilara specializes in all-inclusive experiences that prioritize value and simplicity, ensuring that your wedding will thrill both your families and guests, with no hidden costs. With years of experience, Hyatt Ziva-Zilara wedding specialists put together a number of wedding packages that allow you to personalize practically every aspect of your big day.
In addition, the Hyatt Ziva offers complimentary honeymoon packages that include a sweetheart cake for two and sparkling wine in your suite upon arrival. To make the most of your stay, bring your recent marriage certificate and say that you're on your honeymoon.
Symbolic marriage Ceremony and certificate, performed by a Secular Bilingual Wedding Officiant
Floral Bouquet and Boutonnière
Signature Wedding Cake
Sparkling wine toast after the Ceremony
Special decoration of the couple's room, complimentary sparkling wine and chocolate dipped strawberries the night of the Wedding
Massage for the Wedding Couple (25-min each one)
Romantic dinner for the Couple
Late check-out up to 3:00 p.m.
Onsite services of a professional Wedding Specialist
Complimentary online registry and Wedding website
Ceremony table with white linen and folding Wedding chairs
Sound system for the Ceremony
Natural floral centerpiece for the altar at the Ceremony
Updo, makeup, manicure and pedicure
15% discount on spa services for the Couple
10% discount on spa services for the Wedding guests
Private one-hour cocktail party after the Ceremony, which includes standard set-up, open bar and 3 hors d'oeuvres
A private three-hour Wedding reception, which includes a three-course meal, open bar, tables, chairs, white linens, white place setting and waiting staff
Majestic's Free Wedding Package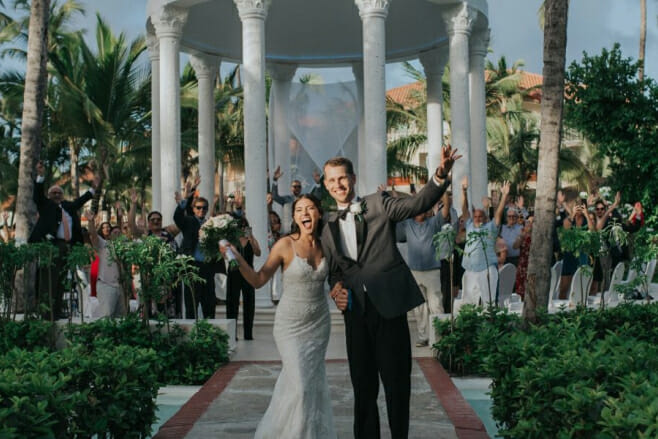 Majestic Resorts' incredible 5-star resorts give you with one of the most experienced wedding planning teams in Punta Cana and Costa Mujeres, who are highly professional but most importantly, passionate about their work and dedicated to planning your special day as if it were their own.
On-site wedding planners
Several ceremony locations
Room upgrade for the wedding couple
Early check-in & late checkout for the wedding couple
Special bracelet for the wedding couple with exclusive access to all 3 resorts
Services of a Civil Judge
Beautiful wedding cake
1 tropical flower table arrangement
Tropical bouquet and boutonniere
Ironing of couple's wedding attire
Sound system and simultaneous translation of the ceremony if needed
Marriage certificate in Spanish delivered by DHL
Champagne for the wedding party after the ceremony
Romantic candlelight dinner with champagne for the couple
Romantic breakfast in your suite
Complimentary massage for the couple and use of water circuit
Basket of fruit in your room during your stay
Bottle of champagne in the room, twice during your stay
Room service included for the couple
Sandos' Sweet Romance Wedding Package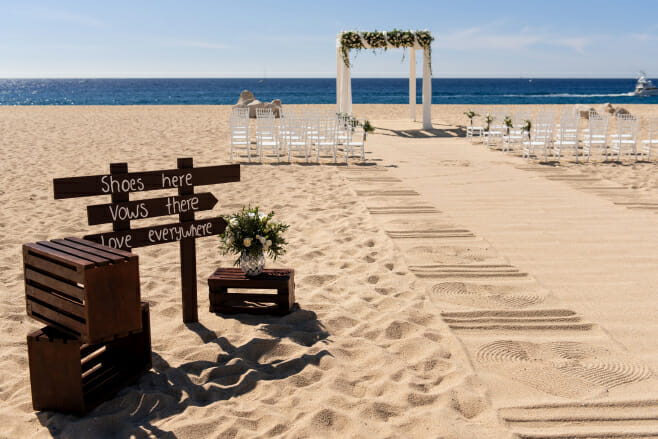 Sandos Resorts' excellent wedding staff is included in the wedding package and will ensure that your wedding day not only meets but exceeds your expectations. Whatever you have in mind for your event, every Sandos wedding resort will be able to help you make it a reality. Take a look at the example wedding package below, which covers everything from the wedding cake to the wedding flowers, so you don't have to worry about anything.
Symbolic ceremony
Ceremony setup as per resort location
Wedding locations of choice
1 medium-sized flower medallion
Sound system and a microphone during the ceremony
1 bouquet and 1 boutonnière, or 2 bouquets, or 2 boutonnières
Private cocktail hour with open bar (duration: 1 hour)
Private dinner reception with open bar (duration: 3 hours)
Basic setup and ambient lighting
Sparkling wine for the wedding toast
2 tier custom made wedding cake
2 centerpieces
Sound system with microphone during dinner
(duration: 3 hours)
Wedding organization and personalized service from our wedding coordinator
1 make-up and 1 hairstyle (excludes trial) at the Sandos Spa
Commemorative certificate in the form of the "Sandos Wedding Tree"
Couple's massage at the Sandos Spa (duration: 25 minutes)
Upgrade to the next available room category for the couple
Complimentary honeymoon amenities
The Couple's Parents
If the couple's parents are covering a majority of the fees for their destination wedding, they typically (if not always) cover all the related expenses. This means that accommodation and travel costs will be covered by them as well; this type of destination wedding is referred to as an "all-inclusive" package because it covers everything you need for your big day. If neither side can agree on how much money each should contribute (or if only one set wants to pay), then it might help to take out a joint or family loan, so everyone can share in paying back what has been contributed after receiving payment from guests. Sometimes families also want couples' parents to pay more than half, often due to cultural customs. It's up to you and your family to decide how much they should pay, but it might be helpful for wedding couples who are planning on paying towards their parents' expenses.
The Wedding Party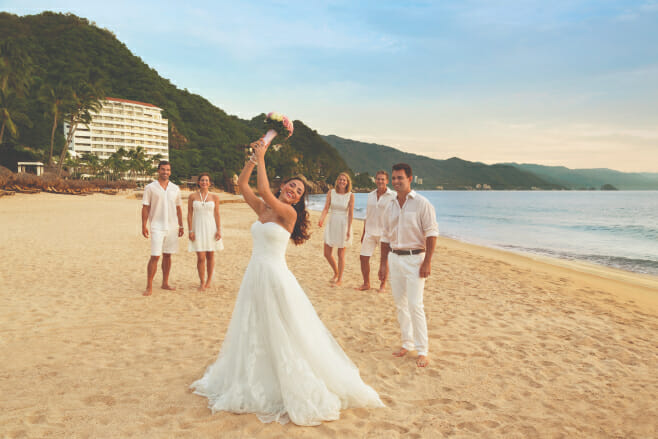 Despite the fact that destination weddings aren't as stringent or traditional as local weddings, your wedding party might expect to pay for a number of items at your wedding. To begin, it's usual for your wedding party to pay for their own flights and hotel accommodations when organizing a destination wedding. They must also cover their wedding attire, accessories, and hair and make-up (unless the bride chooses so). Each wedding has its own dress code, with some couples opting for formal attire and others opting for more relaxed attire. It's critical to think about the budget of your wedding party.
It's also a good idea to carry any additional cash in case your wedding party wants to shop, eat, or go on any excursions outside from the resort. If any family members on either side of the couple are arranging a bachelorette/bachelor party or bridal shower before the wedding, they will frequently pool their resources to cover the costs, but if travel is necessary, the wedding couple are not uncommon to pitch in a bit. Think about what your wedding party is spending to fill some of the most crucial roles at your special day!
The Guests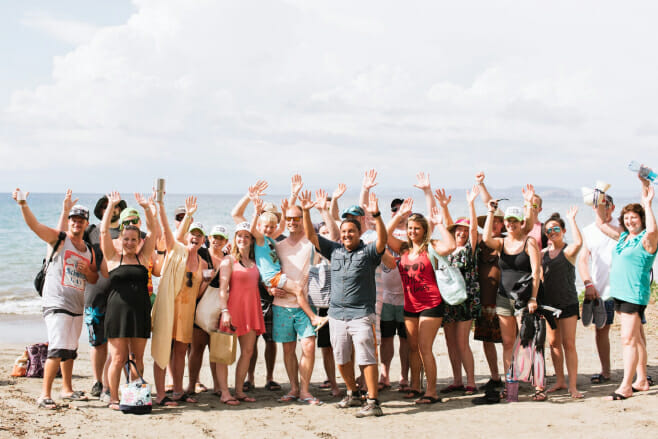 It's likely that some of your invited guests will be unable to attend a destination wedding. This can be an advantage or a con depending on the couple, since some couples opt to host a destination wedding in order to reduce enormous guest lists and make their wedding more private. There's already a preconceived sense among guests that it's perfectly fine if they can't make it.
Your visitors are responsible for their own travel and lodging expenses. Working with a destination wedding expert at Destify allows you to set aside small deposits that guarantee rooms for your clients once they are paid. All-inclusive resorts are fantastic since their accommodation categories are tiered for different budgets, and our wedding specialists can help you choose your destination with your guests' budgets in mind from the start. Your guests should also anticipate to pay for anything they want to do to make this trip their own vacation, from resort excursions to nightlife excursions.
Wedding Party Excursions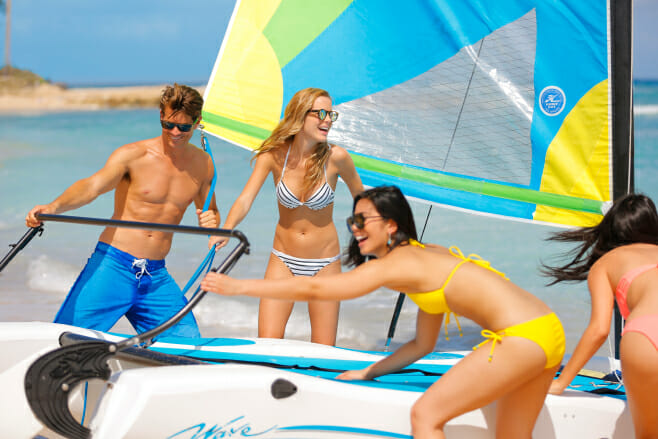 The last point to consider when it comes to "who pays what" for a destination wedding is that it may be a lot of fun! If you wish to host any wedding party excursions or events for your entire wedding party, this is the issue to discuss. From catamaran cruises to snorkeling tours, your all-inclusive resort or an outside company would be pleased to organize a wedding party activity for you. Some couples prefer to buy the excursion for their guests as a thank you for coming; an excellent example is a celebration sailing trip, which allows everyone to enjoy the ocean while also serving as a welcoming reception.
Wedding party tours are also a terrific optional activity to add to your wedding agenda; you may book one for yourself and inform your wedding guests about it. Then, if they're interested, they may sign up and pay for themselves; just make sure you send out the invitation before your excursion sells out.
You and your partner have been in this together for a long time, so when it comes to the planning of that destination wedding you've always dreamed about, we know everyone is going to want their say. From what you pay for with the resort package to flights and accommodation, every detail counts. We can help by providing an all-inclusive resort plan with our experts already on site – so no matter where in the world you two dream of getting married, there will be someone waiting there ready to make it happen! Click below if you want more information about how we can take care of everything from A-Z!