As the fight for equality extends across the world, the popularity of same-sex weddings grows every day. As more countries pass legalization, same-sex couples are finding the ability to host ceremonies in more fun and exciting places.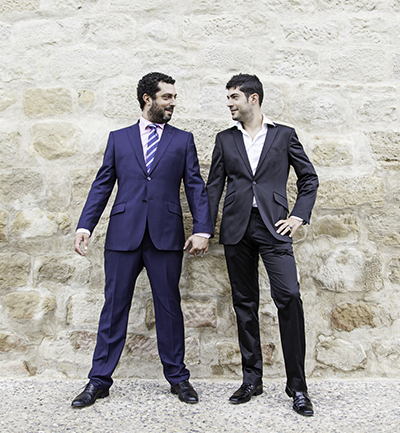 Couples are no longer stuck traveling to a small handful of countries to tie the knot. Since the possibilities are growing, so is the opportunity to host destination weddings where a couple can invite a larger guest list filled with more of their loved ones.
The Caribbean and Mexico have emerged as the perfect destinations for all-inclusive same-sex weddings, offering breathtaking scenery, luxurious accommodations, and a supportive atmosphere. In this blog, we will explore why the Caribbean and Mexico are the ideal choices for couples who want to celebrate their love and commitment in a destination that truly embraces diversity and equality.
The Importance of Inclusive Destinations for Same-sex, Queer, and Gay Weddings
In a world that is becoming more tolerant and accepting, it is imperative for same-sex couples to choose destinations that support their love and commitment. Planning a same-sex wedding can already be a challenge, and the last thing couples need is to worry about potential discrimination or lack of understanding from the destination they choose.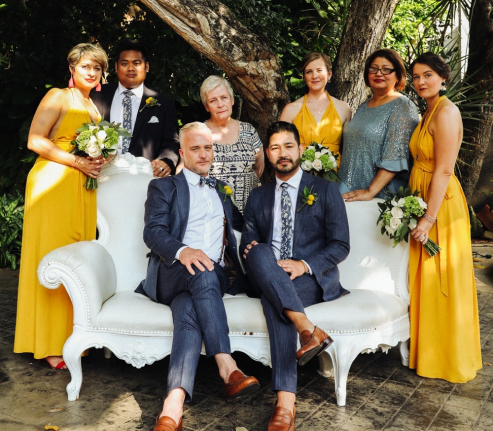 That's why the Caribbean and Mexico are shining beacons of hope for same-sex couples. These destinations have made significant strides in creating inclusive environments for all couples, regardless of their sexual orientation. The warmth and hospitality that the locals offer are truly remarkable, embracing every couple with open arms.
Choosing an inclusive destination not only ensures a stress-free planning experience but also sends a powerful message of acceptance and love. It allows same-sex couples to celebrate their union in an environment where love knows no boundaries.
The Many Features of the Caribbean and Mexico for Same-Sex Ceremonies
The Caribbean and Mexico have become the go-to destinations for same-sex weddings, and for good reason. Not only do they provide an inclusive and accepting environment, but they also offer a plethora of features that make them the perfect choice for couples looking to tie the knot.
One of the most appealing aspects of these destinations is their natural beauty. The crystal-clear turquoise waters, white sandy beaches, and lush tropical landscapes create a picturesque backdrop for any wedding ceremony. Whether you dream of exchanging vows by the ocean, under a palm tree, or at a charming beachside gazebo, the Caribbean and Mexico have it all.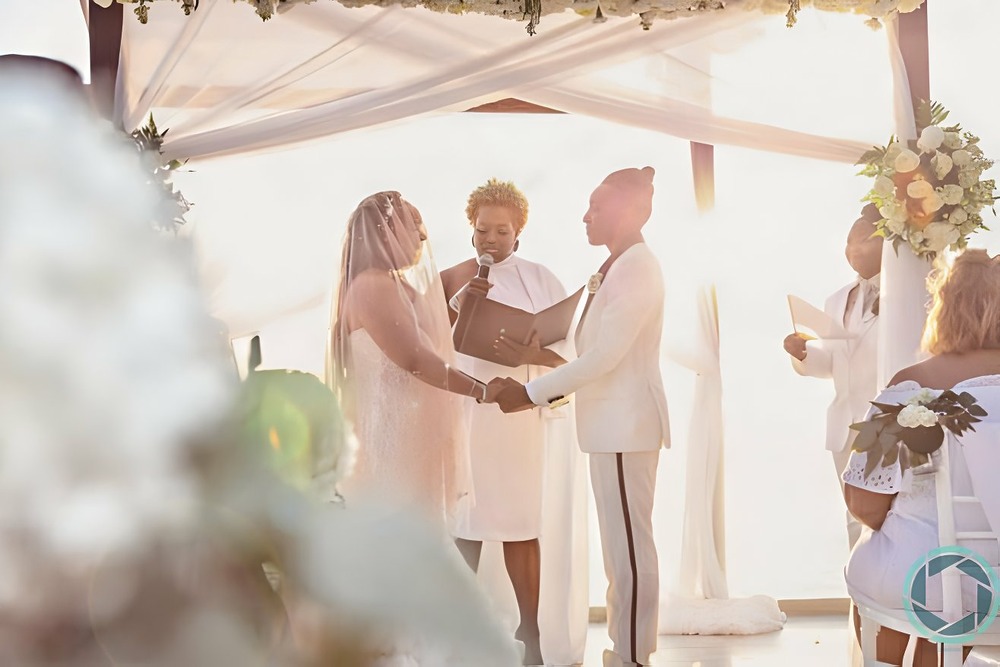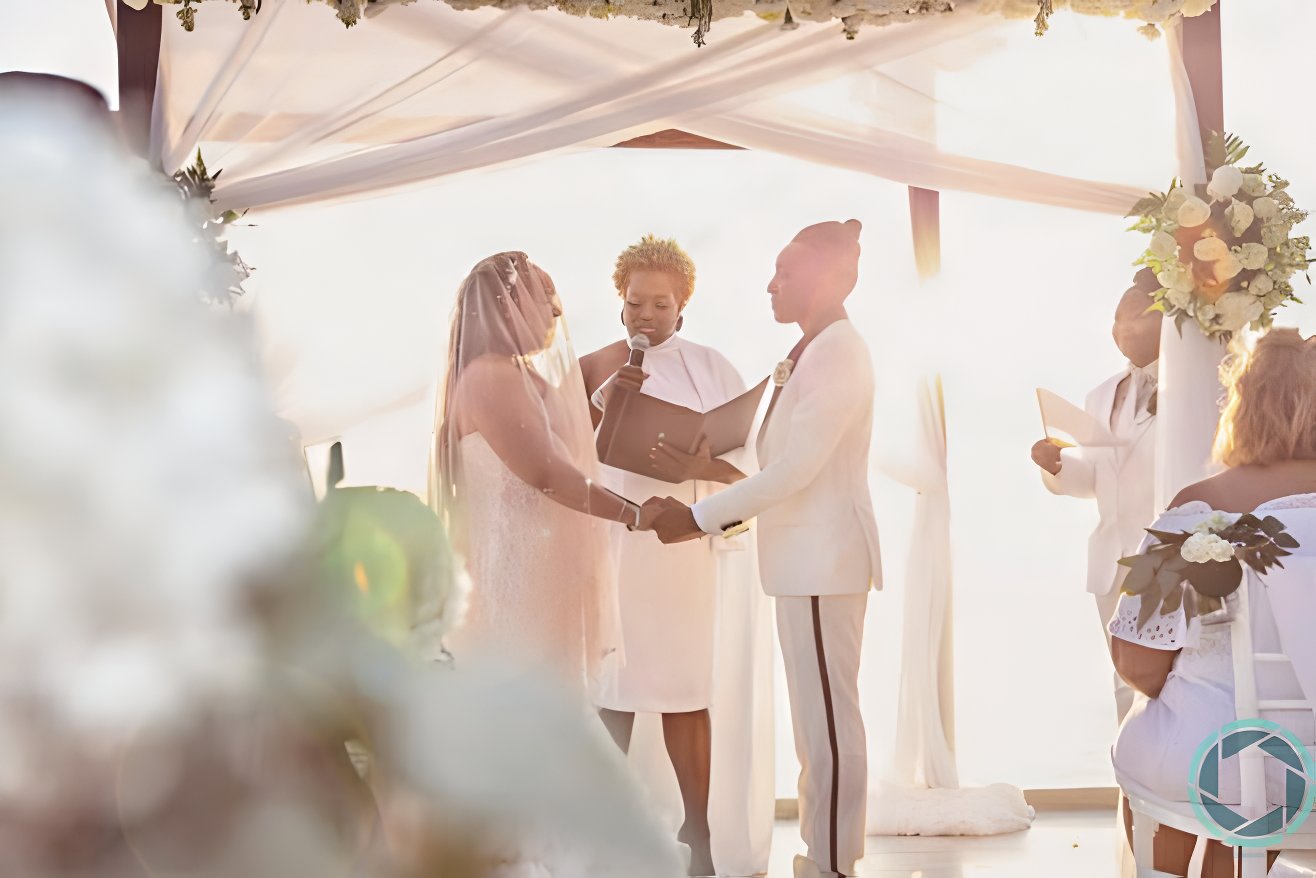 In addition to the breathtaking scenery, these destinations also offer a wide range of luxurious accommodations. From boutique hotels to all-inclusive resorts, you'll find something to suit every taste and budget. Imagine relaxing in a private suite with panoramic ocean views or indulging in world-class amenities at an exclusive adults-only beachfront resort. The possibilities are endless.
Furthermore, the Caribbean and Mexico are known for their vibrant and diverse cultures. From the colorful celebrations of Carnival to the mouthwatering flavors of the local cuisine, there is no shortage of cultural experiences to enrich your wedding festivities. You and your guests can immerse yourselves in the traditions and customs of the region.
Last but not least, these destinations offer a wide array of activities and excursions for you and your guests to enjoy. From snorkeling and diving in the vibrant coral reefs to exploring ancient Mayan ruins, there is something for everyone. You can even choose to have a destination wedding that combines the thrill of adventure with the romance of your special day.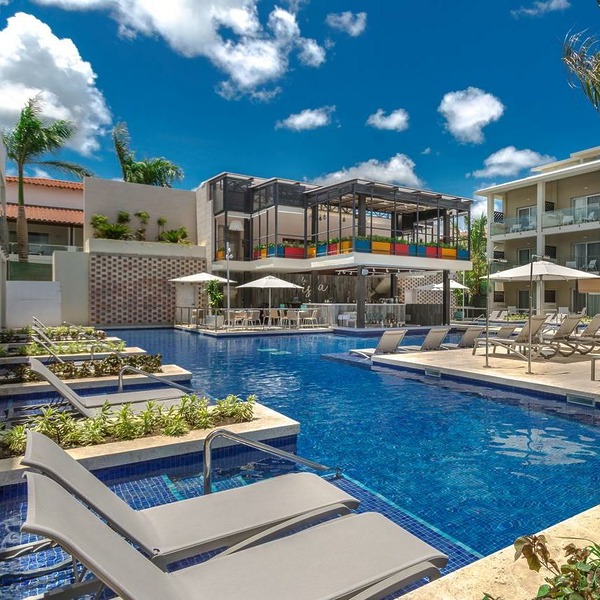 Finding the Ideal All-inclusive Resort
When it comes to planning a wedding in the Caribbean or Mexico, choosing the perfect all-inclusive resort can make all the difference. These resorts offer a convenient and hassle-free experience, ensuring that you and your guests have everything you need for a memorable celebration.
One of the key advantages of all-inclusive resorts is the wide range of amenities they provide. From multiple pools and spas to gourmet restaurants and bars, you'll have plenty of options to keep everyone entertained. Many resorts also offer special packages and services tailored specifically to same-sex weddings, including on-site wedding coordinators and customizable menus.
When selecting an all-inclusive resort, it's important to consider the size and layout of the property. Some resorts cater specifically to adults, creating a more intimate and romantic atmosphere. Others are family-friendly, with activities and facilities designed to accommodate guests of all ages. Keep in mind the preferences of you and your guests to ensure that everyone feels comfortable and catered to.
Another crucial factor to consider is the resort's level of inclusivity and acceptance towards same-sex couples. Do some research and read reviews online to gauge the resort's reputation in this regard. Of course, we're happy to recommend top choices from the get-go, that will be super welcoming. Look for resorts that have a history of hosting same-sex weddings and providing an inclusive experience for all couples. This will ensure that you and your partner feel respected and celebrated during your stay.
Finally, don't forget to consider the location of the resort itself. Would you prefer a secluded beachfront escape or a resort located in the heart of a vibrant city or town? Think about the atmosphere you want to create for your wedding celebrations and choose a resort that aligns with your vision.
Selecting from the Best Ceremony and Reception Locations in the Caribbean and Mexico
Now that you know what makes the perfect all-inclusive resort for your same-sex wedding in the Caribbean or Mexico, it's time to explore the stunning locations available for your ceremony and reception. These destinations boast breathtaking backdrops that will make your special day even more memorable.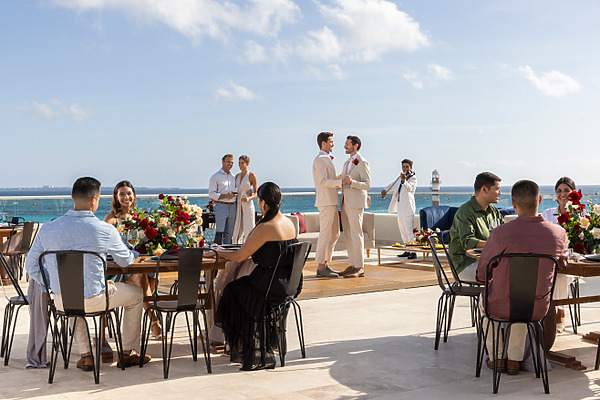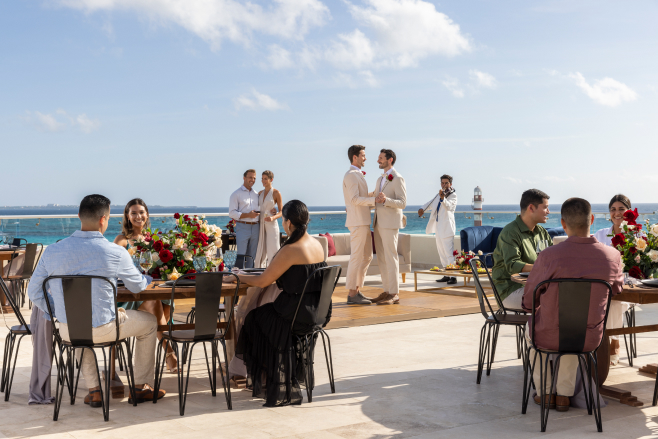 Imagine exchanging vows with the crystal-clear turquoise waters as your backdrop, or surrounded by vibrant tropical flowers and palm trees swaying in the gentle breeze. Whether you dream of an intimate beach ceremony or a glamorous garden affair, the Caribbean has it all.
Mexico is equally charming, with its diverse landscapes and rich cultural heritage. For a truly romantic wedding, consider the stunning Riviera Maya, home to ancient Mayan ruins and pristine beaches. The vibrant city of Puerto Vallarta (which we'll discuss more of later) is another popular choice, offering a blend of picturesque beaches, vibrant nightlife, and colonial charm. No matter which destination you choose, Mexico's warm hospitality and breathtaking scenery will complement your same-sex wedding perfectly.
When selecting your ceremony and reception locations, it's important to consider the logistics. When planning a wedding in Mexico ask if the venue is easily accessible for your guests. Can they comfortably move from the ceremony to the reception area? Additionally, take into account the time of year and weather conditions in your chosen destination, as this can impact outdoor weddings. All-inclusive resorts make all this so easy!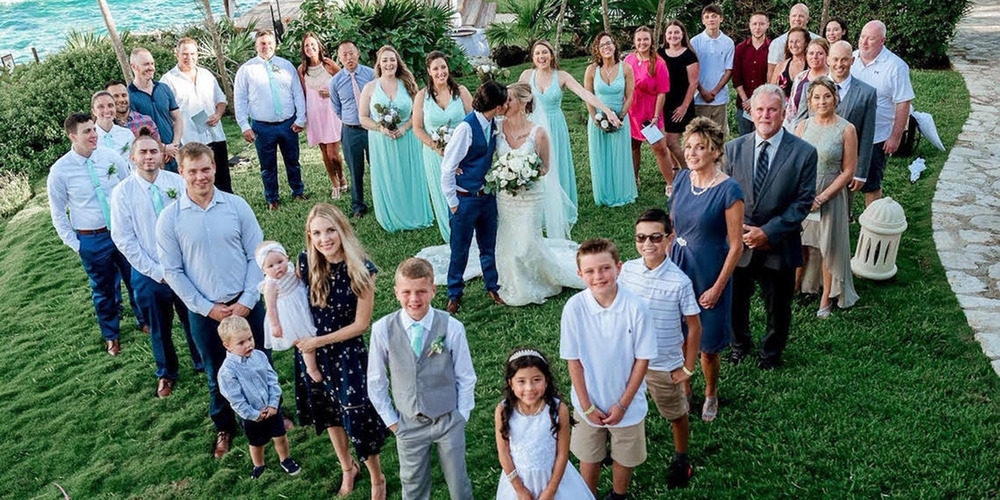 The Great Benefits of Wedding Packages
In addition to the planning benefits, the all-inclusive packages our resorts have also offer exceptional value for money. By bundling services together, resorts are able to offer competitive rates while still providing top-notch amenities and services. This means that you can have the wedding of your dreams without breaking the bank.
Another advantage of all-inclusive packages is the opportunity for customization. Many resorts offer a wide range of wedding packages that can be tailored to your preferences and budget. Whether you're envisioning an intimate ceremony for close friends and family or a grand celebration with all the trimmings, you can find a package that suits your needs. This flexibility allows you to create a truly unique and personalized wedding experience.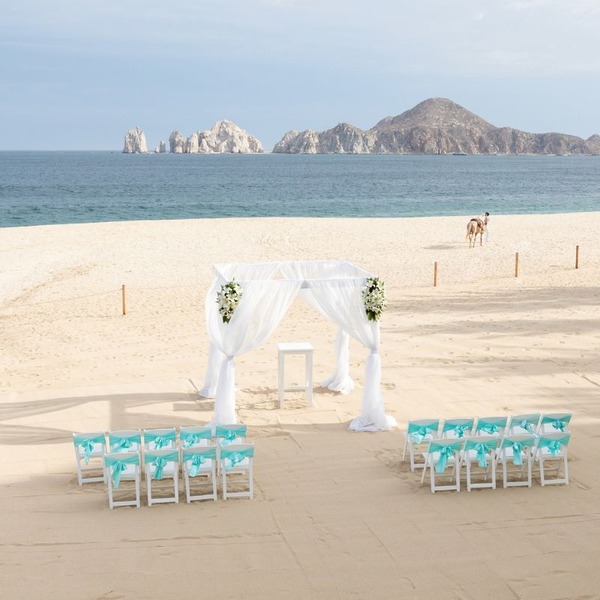 All-inclusive packages often come with added perks for the wedding couple. These can include complimentary room upgrades, spa treatments, and romantic dinners, among other special indulgences. These extras are designed to make your wedding experience extra special and create lasting memories. At Destify, we'll work with you to get all the bells and whistles while adhering to your budget, guidelines, vision, and more.
When considering the benefits of all-inclusive packages, it's easy to see why they are an attractive option for same-sex weddings in the Caribbean and Mexico. From the convenience and value for money to the customization options and added perks, these packages make planning and enjoying your wedding a breeze.
Growing Possibilities for Queer Couples
A major milestone for the United States was the legalization of gay marriage in late June of 2015, where celebration spilled out into the streets nationwide. Now more than ever couples are looking into wedding event planning to host their special day, along with travel agencies to help coordinate groups should they marry away from home. Before, many couples spent much of their research and resources on traveling to a country that would allow it.
Many same-sex and gay weddings happened thanks in part to our friendly neighbors of the north in Canada. For members of the U.S. LGBT community looking into destination weddings, they can now get married in their home state legally, and then host a symbolic ceremony in any country that will allow it.
Most married couples will agree it's not where you signed the paperwork but it is where you hosted the ceremony that makes everything so special. It makes perfect sense that the most popular destination wedding locations, the Caribbean and Mexico, are also the most popular for same-sex couples too.
Many Caribbean locations offer symbolic ceremonies in tropical locations, and the LGBT community has long been welcomed at the Dutch island of St. Martin and the "gay capital of the Caribbean" in Curacao. For couples who absolutely require a legal ceremony, they can choose Puerto Rico or the U.S. Virgin Islands. These tropical locations offer endless opportunities for romance and leisure beyond the ceremony.
Let's explore more of the best details for same-sex weddings in detail: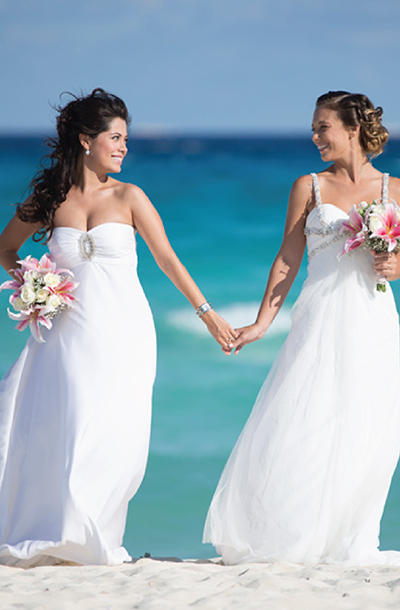 Jamaica and the Dominican Republic
Admittedly, Jamaica and the Dominican Republic are not quite as friendly when it comes to same-sex marriage, legally or symbolically. In the Dominican Republic, symbolic ceremonies are only allowed on privately owned beaches, which are hard to come by. Or at least used to be, as now many of our favorite Punta Cana resorts can offer this for same-sex couples, which is a huge win for our LGBT couples and queer destination weddings.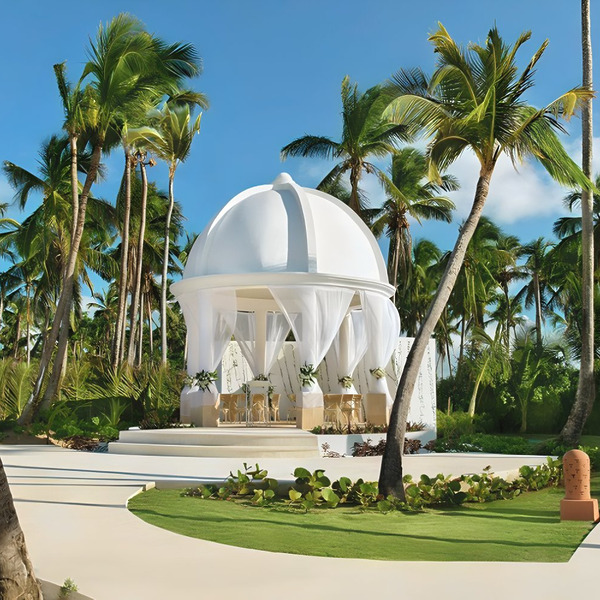 Symbolic ceremonies can be held on resort grounds which include garden or gazebo venues, and are common to every all-inclusive property across the country. Jamaica does not allow same-sex ceremonies at all. It can be said the conversation has been cracked open thanks to legalization in other countries, but it could be quite some time before either of the countries follow suit themselves. Both of these beautiful countries still make pleasant locations for romantic getaways amongst the white sandy beaches though.
Mexico
One beach-clad location that does do same-sex weddings, and does them well, is Mexico. The LGBT community is welcomed with open arms to the various resort communities from Los Cabos to Tulum. Mexico has passed legalization, and although the battle isn't completely won for acceptance, the gay community and their list of allies and welcoming gay-friendly destinations grow every day.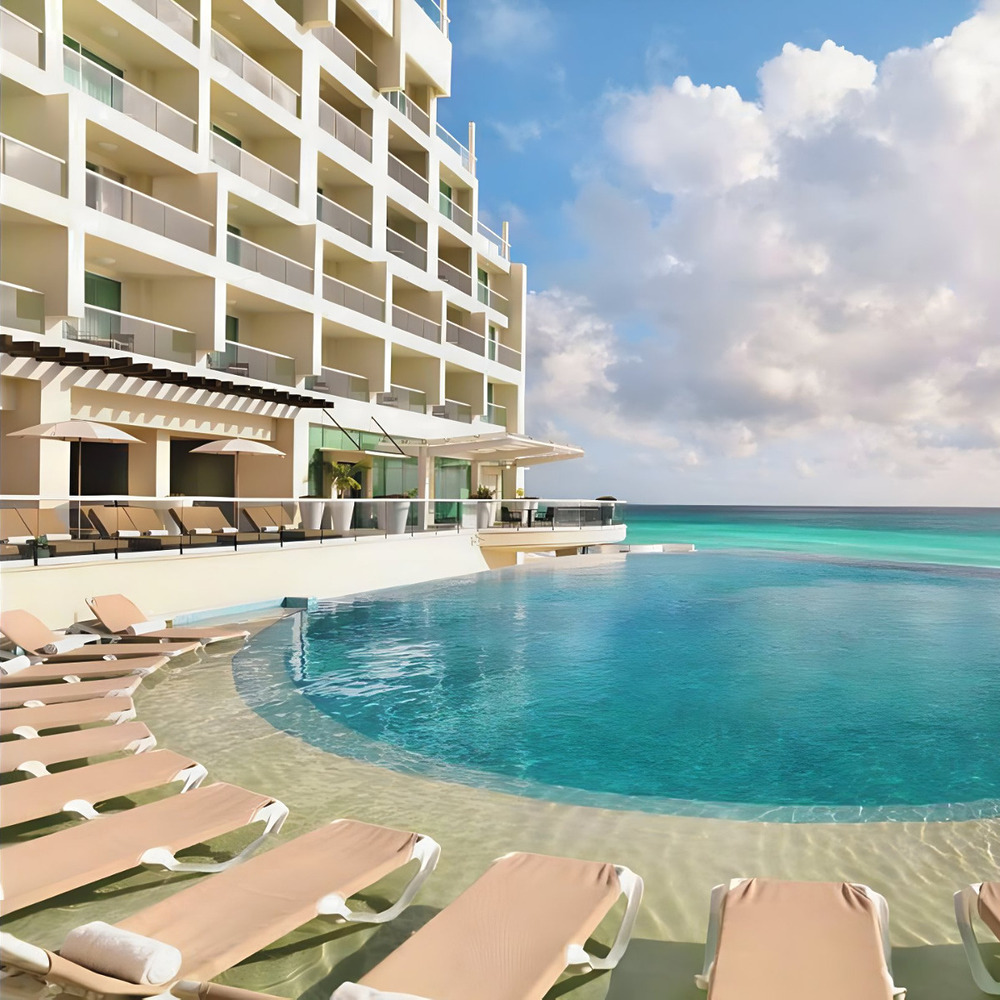 For stateside couples looking to wed in Mexico, you will find an endless array of luxurious resorts and beautiful beaches where you can get married. And as any travel agent will tell you, these resorts come with the most affordable rates in the industry. This allows for more decadent weddings and the ability to invite more guests than you might have been able to in other locations.
Amongst the hip resort offerings, you will also find plenty of exciting activities and culture, and for example, you'll find a thriving and lively gay community in the Riviera Maya. That area also includes great wedding packages and plenty to experience in your downtime, including beaches and bars that are very LGBT-friendly.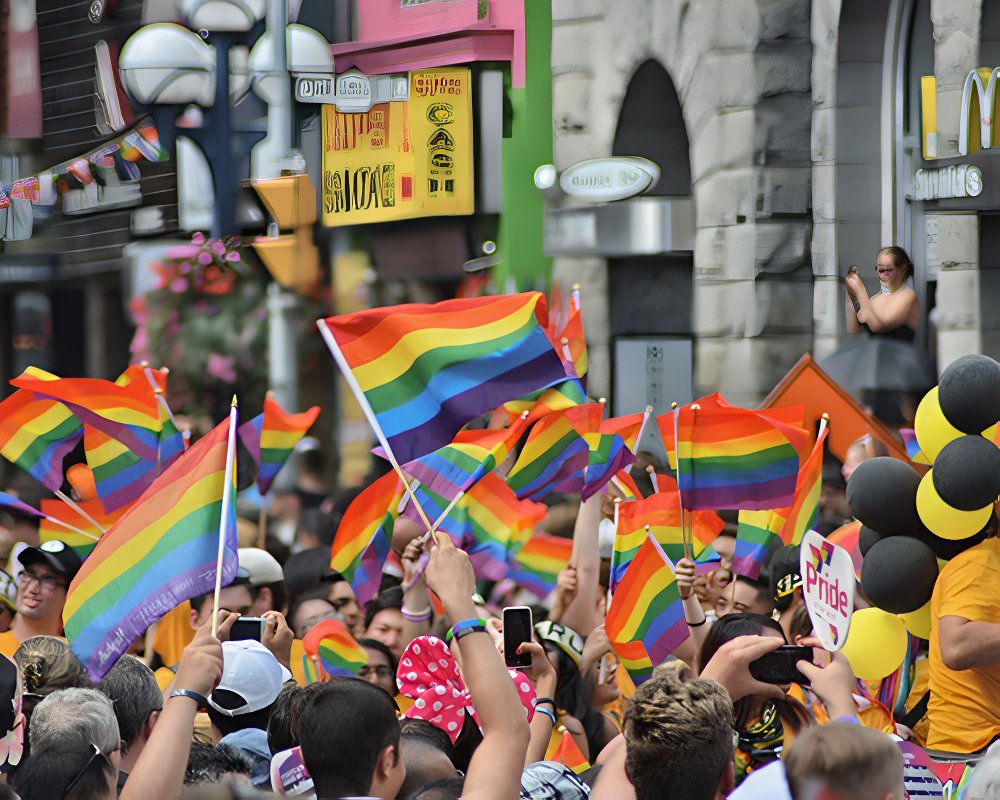 Further Considerations
If you're planning your very own same-sex destination wedding, there are a few things to consider. First, make sure your destination is gay-friendly and perhaps even a step further, welcoming. A simple internet search can help you out, while also increasing your chances of finding activities and locations you'll want to explore while on vacation.
Be upfront with your wedding planner about what phrasing you want to use and how you want your ceremony held. Remember their job is to accommodate you, after all. Lastly, stick to as many or as few wedding traditions as you want to, all while making sure your wedding is fun because that should be the goal! Cake cuttings, speeches, and bachelor/bachelorette parties are all optional based on what you want to celebrate.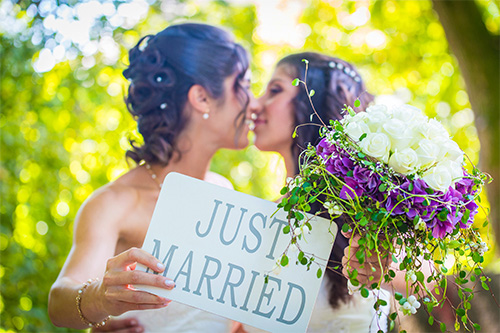 As equality increases globally, and the stigma decreases as well, there is perhaps no better time to host your same-sex wedding! Or even a small and intimate shindig if that's more your thing. When you're considering where to share your nuptials, the most important factor is comfort, and finding that special place where you choose to share your love. Luckily for today's destination wedding market, there are plenty of places to do that.
Destify Hosts Gorgeous Same-sex Weddings
At Destify we proudly support equal rights for the LGBT community and often book same-sex symbolic ceremonies for our clients across the Caribbean. We've covered the topic extensively in a past blog post, which highlighted the friendliness of Mexico for same-sex couples, the changing attitudes of the Dominican Republic and Jamaica, and lightly touched on other islands.
Although symbolic ceremonies are still reserved for private property in the Dominican Republic, Mexico continues to be the perfect destination for same-sex couples looking to wed in a tropical paradise.
As you continue further, we're going to cover the continuing trend of island nations changing in favor of LGBT positivity and feature some further destinations ideal for same-sex ceremonies and same-sex-friendly vacations.
Puerto Vallarta
There are many reasons why Puerto Vallarta is considered the gay capital of Mexico. In fact, Puerto Vallarta has received the Gay Travel Approved distinction by GayTravel.com, and the destination proves to be welcoming across a wide range of areas and tourist hubs in the region.
Take the world-famous "Old Town" as an example, considered a gay neighborhood since the 80's. It's also an ideal location for gay weddings. There you will find a retired community of Canadians and Americans, along with locals, who own LGBT-friendly businesses. There's an array of attractions from bars and restaurants, to nightclubs and hotels.
Many of our all-inclusive resorts provide splendid ceremony venues for both hetero and same-sex couples, from pristine beaches to elegant rooftop terraces. The popular beach of Playa de Los Muertos is often nicknamed "Mexico's gay beach", known for its hopping high season from November to March. This area is well-established for its concentration of happy LGBT tourists, and local hospitality.
Puerto Vallarta Weddings

Escape into luxury at Secrets Vallarta Bay Puerto Vallarta. This AAA Four Diamond resort is renowned for its beautiful beach, amazing spa and free flow access to Now Amber Puerto Vallarta next door.

Secrets Vallarta Bay:

Read more

Venues: 6
Adults-Only
15 Minutes

Package Costs:

$

999

–

$

3,799
The region has shown a continuing increase in anti-discriminatory laws, guaranteeing equality in both employment and public accommodations. It's said that 3 of every 10 hotels is considered LGBT friendly, offering same-sex weddings and ceremonies, and there is an entire series of events focused on tourism, parades, expos, and more.
The city's Vallarta Pride Parade is hosted every May when gay tourists flock to the convenient West Coast location. Perhaps it's the perfect time for a vacation or destination wedding? In the Romance District guests will find many restaurants and bars, and at night discotheques and drag shows to hit during your time in Mexico's "version of San Francisco."
Aruba and Curacao
Aruba is often nicknamed the "happy island", filled with over 20 miles of beautiful beaches and jubilant locals. During the day snorkelers can visit sunken shipwrecks, explore the colorful reefs, or lounge on the famous Palm or Eagle beaches. The capital city Oranjestad is truly gay-friendly, as its the Caribbean outpost of the Netherlands, a country long since friendly towards their LGBTQIA+ community. In this city, you'll find colorful architecture, and plenty of nightlife and casinos to keep things interesting.
Curacao Weddings

Nestled on the sandy shores of Piscadera Bay on the sun-kissed island of Curacao, Dreams Curacao Resort, Spa & Casino welcomes you to celebrate your dream Caribbean wedding.

Dreams Curacao:

Read more

Venues: 3
Family Friendly
20 Minutes

Package Costs:

$

999

–

$

11,999
In October 2016, Aruba became the first Caribbean island to allow same-sex civil partnerships. To host your very own same-sex wedding on the island you simply get married locally, then book your symbolic ceremony at your chosen resort. Local law states when a facility is open to non-married couples, same-sex couples must also be included based on non-discrimination rulings. In Aruba, you'll discover many bars and hotels responsive to same-sex couples.
You will also find LGBT allies across Curacao, with their welcoming Dutch history. Curacao has been public in its embrace, with exceptional gay-friendly hotels and nightlife. The motto of the island is, "live and let live", and the local tourist board has featured advertising campaigns marketed to the gay community. It's an ideal island for a wedding ceremony.
St. Martin and Saba
On the split island of St. Martin, with both Dutch and French sides of life, visitors will find an exciting LGBT hub for vacationers, with clothing-optional beaches and luxurious duty-free shopping. Dine at delicious French restaurants that also double as drag-cabaret venues, or check into the all-inclusive Sonesta Ocean Point resort, a sparkling new all-inclusive resort that will be unforgettable for your destination wedding.
Just a short ferry ride away, Saba may be the friendliest island for the gay community in all of the Caribbean. There's both an openly gay commissioner and director of tourism, and plenty of space to relax or hike. The Dutch vibes are felt throughout the entire island, with a completely free mindset that will transcend to the perfect day trip or stayover. Following a registered partnership bill it's safe to say the Carribean islands under Netherland's jurisdiction are extremely hopeful for full legal rights in the near future.
St. Martin Weddings

Here's a tasting menu of some of Secrets St. Martin's finest offerings, from a secluded seaside perfect for picturesque wedding photos, to some of the most satisfactory gourmet eats in the world

Secrets St. Martin:

Read more

Venues: 3
Adults-Only
30 Minutes

Package Costs:

$

999

–

$

3,799
Final Thoughts
This post wouldn't be complete without mentioning the landmark judgment in Trinidad and Tobago where the high court ruled that the country's penal court features outdated sections, which criminalized consensual adult same-sex as unconstitutional. The court has ruled that 13 of the 16 sections are illegal, null, void, and invalid. This decision followed a similar decision from Belize in 2016. Although the fight is far from over, this was a true victory for the LGBTQIA+ community across the island nations.
As more time passes, the growing rate of acceptance continues to rise steadily. It's sure to be a long time before gender and sex issues are eradicated in the Caribbean, but the local communities are fighting for their rights in each country.
In the meantime, you can support their local gay communities by frequenting LGBT-friendly islands, raising awareness for their individual gay tourism boards, and providing outreach during your gaycation or same-sex destination wedding.
As we come to the end of this blog series, we hope that we have ignited your excitement for planning your all-inclusive same-sex wedding in the Caribbean and Mexico. These destinations offer not only incredible natural beauty and cultural richness but also a warm and accepting environment that will make your special day even more meaningful.
From the breathtaking landscapes to the vibrant local culture, the Caribbean and Mexico provide the perfect backdrop for creating lasting memories with your loved ones. Whether it's exploring ancient ruins, indulging in traditional cuisine, or simply relaxing on the pristine beaches, there is something for everyone to enjoy.
So stay tuned and get ready to embark on this incredible journey of love, celebration, and togetherness in the enchanting Caribbean and Mexico! Your perfect destination for an unforgettable all-inclusive same-sex wedding awaits.
Ready to plan your own queer-friendly or same-sex wedding with Destify? We're here to help!