Planning a wedding is all about crafting a day that feels unmistakably you. And for queer couples, this rings especially true. Beyond choosing a venue or selecting a cake flavor, queer weddings are about celebrating your unique journey with every detail.
While we're all too aware that navigating the landscape of queer weddings can be challenging, remember that this is your love story. Let's find ways to paint every moment with your colors, making your wedding an unforgettable reflection of who you both are.
Making Every Moment of Your Queer Wedding Truly Yours
Selecting the right venue is about more than aesthetics; it's about feeling embraced and celebrated in every way. And when it comes to a queer wedding, it's essential to choose a place where love is the only language spoken.
Thankfully, numerous destinations featured on Destify are renowned for their LGBTQ-friendly vibes. Be it a serene beach resort or a charming European town, ensure your chosen venue embodies inclusivity. Doing so will not only make your wedding day feel more genuine but will also offer peace of mind to you and your guests.
Choose An LGBTQ-friendly Destination
Destinations like Puerto Vallarta, renowned for its golden beaches that stretch as far as the eye can see, have emerged as a queer pardise. As a destination, it pulsates with life, from its lively boardwalks adorned with art installations to its bustling nightlife, where music and laughter fill the air.
The warmth isn't just in its sun; the locals of Puerto Vallarta exude an openness, ensuring that every visitor feels embraced and celebrated. This welcoming spirit has rightfully crowned the city as a favored hub for LGBTQ celebrations.
Among its plethora of resorts, the Hyatt Ziva is an LGBTQ wedding venue that stands out. Known for its commitment to inclusivity, this resort doesn't just welcome queer couples—it celebrates them, making it a prime choice for couples looking to tie the knot amid luxury and acceptance.
Queer Wedding Outfit Inspirations
Wedding attire should be a reflection of who you are. In a lesbian wedding or gay wedding, it's a beautiful opportunity to embrace your identity fully. Are you inclined toward a traditional look or perhaps something that defies the norms?
Whichever path you choose, let it resonate with your unique story. The fashion world has seen a surge of diversity, with more designers catering to the LGBTQ community. If you're seeking inspiration, this Vogue article offers a plethora of ideas for queer wedding outfits that strike the perfect balance between elegance and self-expression.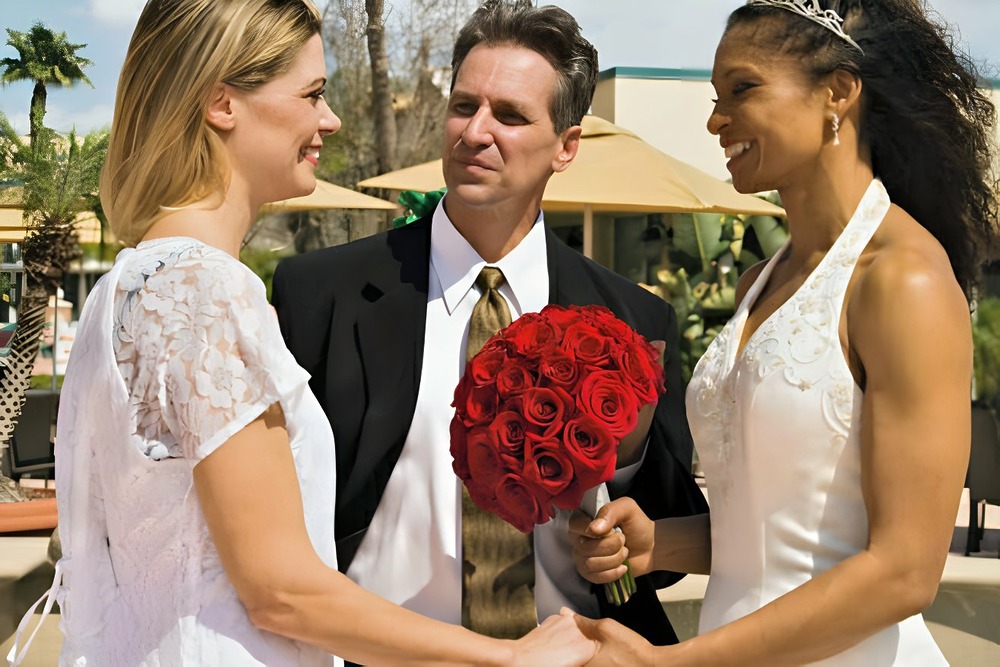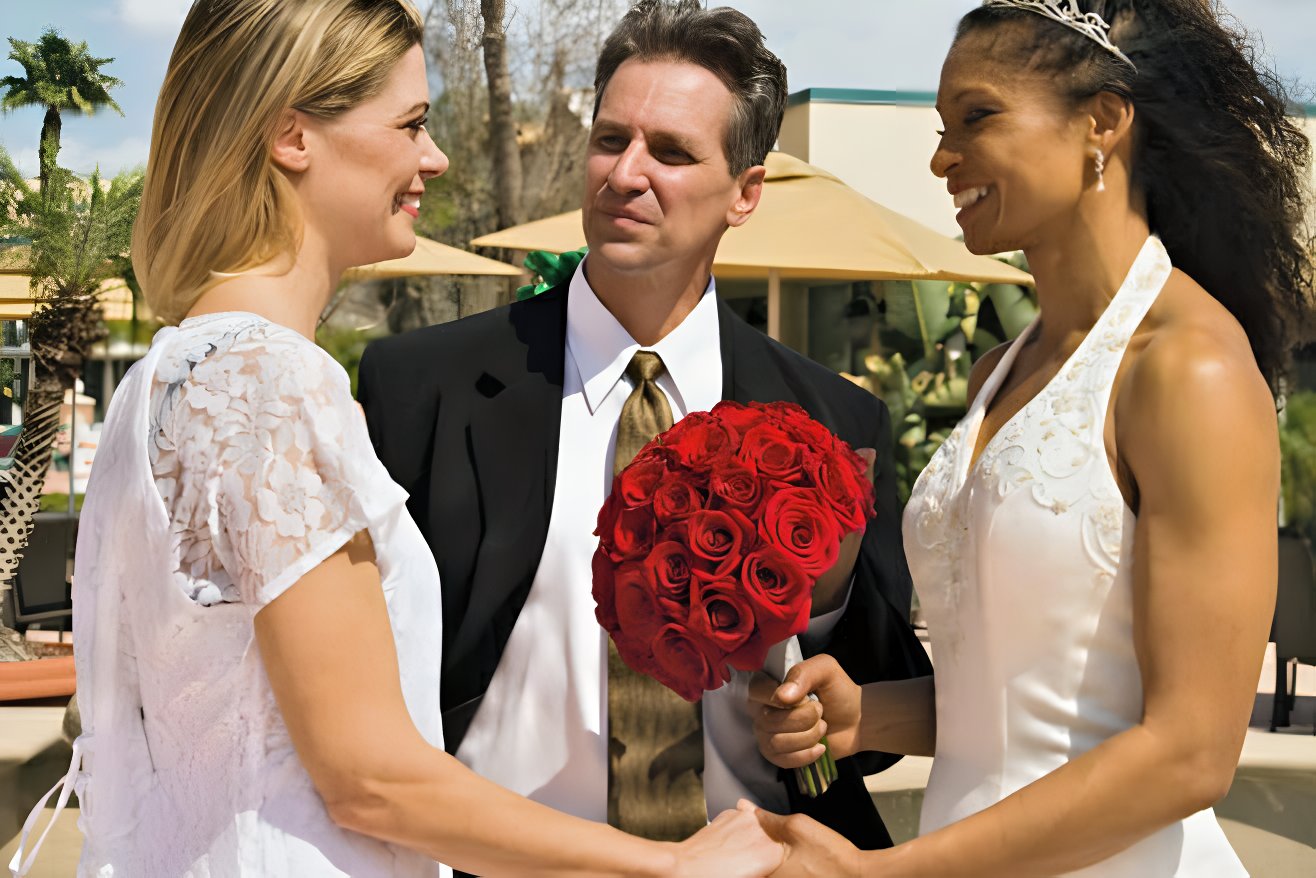 Incorporate Symbolic LGBTQ Elements
Symbols hold power, especially when they resonate with personal and communal stories. From the iconic rainbow flag to the pink triangle, queer symbols serve as proud markers of a journey full of resilience and love.
Consider integrating these symbols into your wedding decor—be it through colorful table settings, invitation designs, or even as a cake topper. These emblematic touches will not only add depth to your celebration but will also tell a tale of pride and unity.
Support LGBTQ-owned Businesses
Every wedding involves a legion of professionals working behind the scenes. Why not make your big day an avenue to uplift and support the community?
Collaborate with LGBTQ-owned businesses, from florists and caterers to LGBTQ wedding photographers. These professionals, rooted in the community, bring with them a unique perspective, ensuring your wedding feels authentically yours. Plus, by doing so, you'll be playing a part in supporting queer entrepreneurs and their dreams.
Incorporate Queer Rituals into Your Special Day
A wedding ceremony is where two souls become one. Making this moment truly yours involves infusing it with rituals that speak to your journey.
The queer community has a rich tapestry of traditional and new-age ceremonies. Whether it's the touching "Handfasting" ceremony or lighting the "Unity Candle," let these rituals be a mirror to your love story, speaking volumes of your union and the journey that led to this day.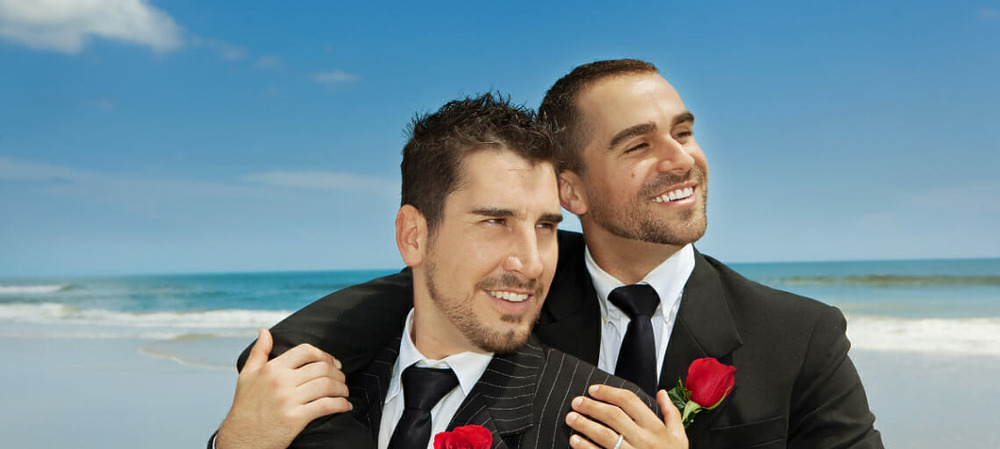 Give Guests LGBTQ-themed Wedding Favors
The end of the wedding doesn't mean the memories stop. Offer your guests a keepsake that embodies the spirit of your union. From rainbow-colored souvenirs and custom-designed LGBTQ-themed coasters to equality pins, let these favors be a tangible memento of a day filled with love, pride, and unity. It's a small gesture, but one that will remind your loved ones of a celebration where love truly won.
LGBTQ-friendly destination selection. Opt for destinations known for their inclusivity.
Queer wedding outfit inspirations. Don't be limited by heteronormative ideals of love — let your creativity shine through your attire!
Incorporate symbolic LGBTQ elements. Use symbols like the rainbow flag, pink triangle, or interlocking gender symbols in decor, stationery, or cake design.
Work with LGBTQ-owned Businesses. Collaborate with LGBTQ vendors, including photographers, caterers, and entertainers.
Spotlight on queer creativity. Incorporate readings from queer literature or LGBTQ activists during the ceremony.
LGBTQ-themed accessories. Provide queer touches like rainbow-colored souvenirs, pride-themed coasters, or equality pins.
Personalized vows. Write vows reflecting your shared experiences, challenges, and triumphs as a queer couple.
Music to celebrate queer artists. Include songs from LGBTQ artists or anthems that have become symbolic in the queer community. Or hire a queer DJ!
Photo booth with LGBTQ props. Offer props like rainbow boas, pride flags, or signs with LGBTQ slogans for fun photo moments.
Guest book alternatives. Ask guests to share their own stories or messages about love and acceptance.
Love, Your Way
As you embark on the most magical journey of your life, your queer wedding should be nothing short of a reflection of your shared love, pride, and individuality.
From selecting LGBTQ wedding venues to donning an outfit that screams 'unapologetically you,' every element should tell your unique story. Design your dream queer wedding with Destify, experts in the fields and allies of love.