There are few moments in life as unforgettable as your wedding day, including what your guests grace the ceremony and reception with fashion-wise. For destination wedding dresses, the scene set is typically more intimate and the style of you and your guests will determine the mood of the event.
The details related to a destination wedding dress include a few factors, but armed with the right guidelines, you can execute a memorable look that both you and your guests will remember for all time.
Whether hosting or attending a wedding destination, this list of destination wedding guest dresses will provide the inspiration you need to create a winning look!
Dressing for the Destination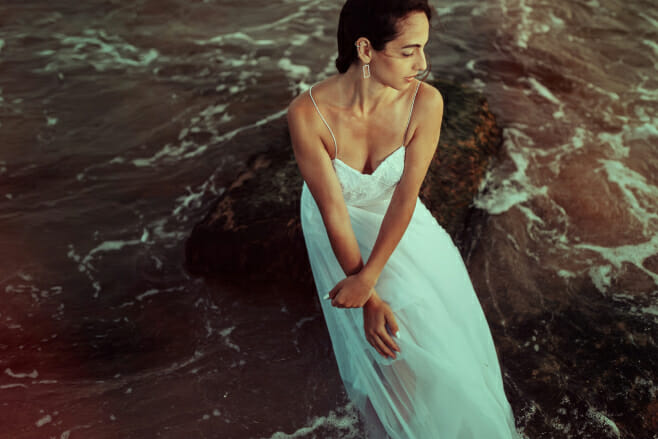 Where your wedding is located will have a huge impact in determining the event's vibe and possibly the theme as well, due to the climate (beach, countryside, upscale), travel, budget, and time necessary to bring everything together.
Before selecting what you wear to a destination wedding, narrow down the most important factors you want to incorporate into the event to create a mood, and then choose accordingly. What you ultimately decide on should be a representation of your overall tastes as well as the vibe you want permeating throughout the event. And although the wedding should primarily cater to the needs of the bride and groom, the guests should also feel just as joyful in the moment as well.
Once you have decided on a location, infuse your event with the wedding dress looks of the region to give your special day a singular vision and feel that speaks to your character.
Dressing for the Season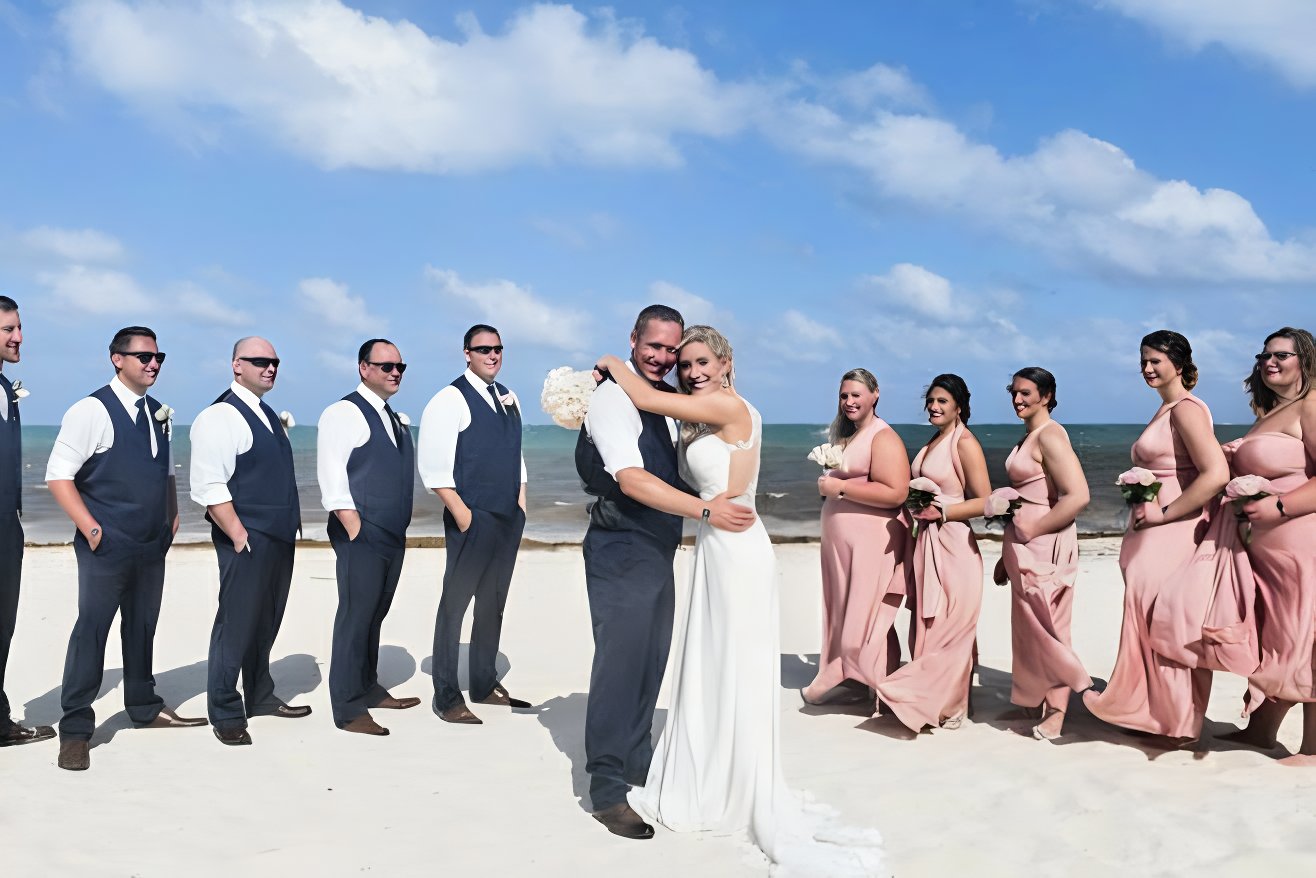 If you are considering planning a wedding during peak season, you should give your attendees as much advance notice as possible to coordinate a look that coincides with the theme of your wedding day. If given adequate time, your guests will be able to get a good idea of the destination wedding dresses they can wear and the ground rules involved that coincide with a non-traditional wedding.
Destination Wedding Dress Styles for the Big Day
Once your date and location have been secured, the next step is deciding on the styling you want to evoke for your big day. It's not just the bridesmaids that require destination wedding guest dresses, but attendees as well. Invitations sent out should indicate the attire expected of your guests, from casual, semi-formal, or cocktail dress.
The first rule of wedding destination dresses is to fully embrace the spirit of the event with plenty of colors. Popular hues to consider include but are not limited to fuchsia, tangerine, turquoise, sunflower, and aquamarine blue. Tropical prints, stripes, florals, and polka dots are great destination wedding dress options for women to select from. For fabrics, choose from organza, chiffon, lace, or cotton blends that are breathable and offer a luxurious look but maintain that classic flair.
Casual
The casual approach to a destination wedding dress features fabrics that are lighter and more breathable than traditional ones as they are more comfortable for an outdoor or beach setting and evoke a more relaxed mood. A great casual option is a nice maxi dress that is loose-fitting and sweeps across the sand.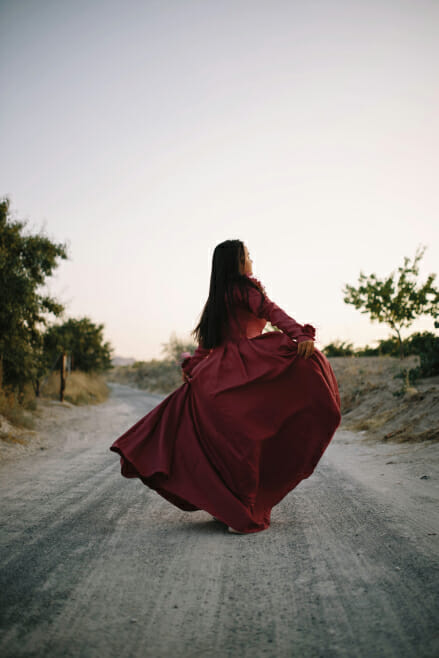 Semi-Formal
The semi-formal approach to a destination wedding dress is a short tea-length dress that falls right above the ankles, the perfect length to transition from the seaside to a reception hall. Paired with chunky heels or stilettos, it is a winning combination that is simple, yet effortlessly chic.
Cocktail
For women that opt for a cocktail dress, there are even more options for creativity. Because of this, you can opt for bolder colors and patterns that are eye-catching and sure to add some elegance to the ceremonies.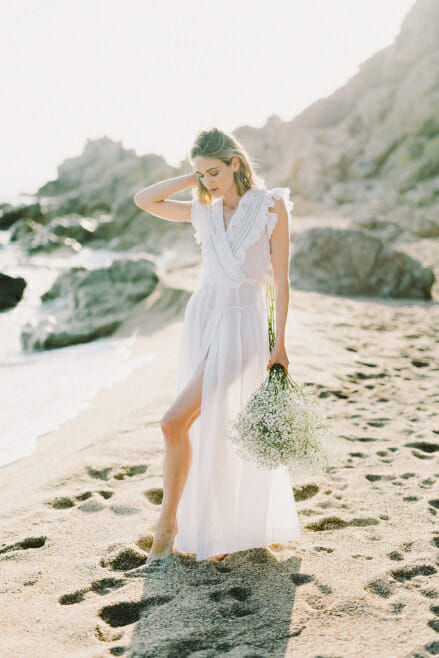 Hiring a Professional
For those that find a destination wedding too daunting and want to considerably reduce their stress levels, then a wedding coordinator like Destify, coupled with an on-site resort planner may be the best route to go. A Destify booking coordinator can be your go-to for everything destination wedding-related, from reserving your dream resort to handling your travel arrangements. At zero cost, they will make decisions for your event and have the expertise to coordinate the perfect wedding that meets or exceeds all of your expectations.
Final Considerations
Once you have made the decision to have a destination wedding, remember that you can only plan so much and that many things may be out of your hands. The personal touches and styling you ultimately choose for your destination wedding dresses will add to the overall character of the event and will leave a lasting impression.
Just remember to breathe and be in the moment, enjoy your friends and family, and know that your wedding is a day filled with love and happiness that will leave you with lifelong memories!
Ready to slay the aisle but haven't quite found it yet? Follow the button below to connect with a Destify Booking Coordinator and find your dream destination: