It's not just beaches, jungles, and Caribbean sea breezes anymore — we at Destify are ready to bring you to gorgeous lakes, rivers, ski slopes, and mountains for the picturesque destination wedding of your dreams!
After getting our feet wet in Vail, CO (more like getting our feet cold), our eyes set out further west. Get ready to take a dip in Lake Tahoe!
To celebrate our most recent United States-based destination wedding offering, we're here today to spotlight Destify's newest partner, Hyatt Regency at Lake Tahoe!
A Sky-Level (or Mountain-level, rather) Overview of Lake Tahoe
Hugged on all sides by the Sierra Nevada mountain range, Lake Tahoe is a diamond in the rough… ready for you to slip that diamond ring on your finger and say, 'I do.'
Situated over 6,000 feet above sea level, with churning clear waters, dense pine forests, and captivating mountain towns, this lakeside paradise is not only ready to open its alpine arms wide for the enchanting destination wedding of your dreams, but also to give you and your wedding guests an unforgettable stay after the big day.
Sprawling across the border of Nevada and California, Lake Tahoe is the 2nd deepest lake in the United States. It is a massive tourist attraction for people of all sorts: from hikers, skiers, rock climbers — and due to the natural beauty of its alpine surroundings — destination wedding couples and their guests!
With endless blue sky summer days and blustery, pristine snow banks and ski slopes during the winter months, Lake Tahoe is a stunning destination every season of the year.
All Peaks, No Valleys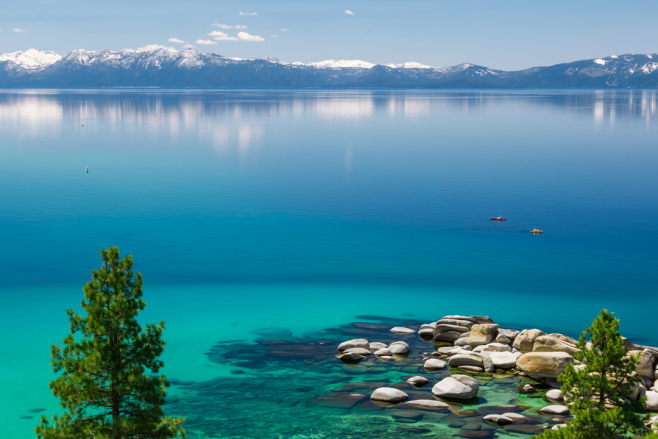 "As it lay there with the shadows of the mountains brilliantly photographed upon its still surface, I thought it must surely be the fairest picture the whole earth affords."
Know where author extraordinaire Mark Twain was struck with the inspiration to elucidate such an evocative phrase? That's right; it was Lake Tahoe.
Due to its sheer elevation, Lake Tahoe is a national treasure when it comes to skiing and winter sports. So famous, in fact, that Palisades Tahoe, Lake Tahoe's iconic ski area just a short car ride away from the resort, was home to the 1960s Winter Olympics. From lolling beginner-friendly slopes to nearly vertical drops, Palisades Tahoe is nothing short of a winter wonderland for skiers, snowboarders, and fans of winter sports of all sorts.
When the snow thaws, the delight merely blooms into new shapes. With winding miles of hiking and biking trails, including the verdant jewel Lake Tahoe Nevada State Park, nature enthusiasts of all walks of life will find a vast abundance of natural delight to be immersed by.
With the thaw, all that snow must go somewhere, right? Snaking rivers and creeks offer plenty of aquatic paths for kayaking and river rafting. And in the warmer months? Well, it might not be an ocean beach, but Lake Tahoe has a ton of lakeside strips of sandy beach. Swimming, dipping your toes, or just enjoying the fresh breath of mountain air on your face are sure to enchant you and your guests. Not only will all of that feel great, but this mountainous splendor guarantees some stunning wedding day photos.
All year long, Lake Tahoe offers an endless bounty of fun and thrills.
And Introducing…Hyatt Regency at Lake Tahoe!

Step inside, because Lake Tahoe offers a heck of a lot more than just beautiful sights.
Our newest stateside partner is ours for good reason. We looked through dozens of US-based resorts, and became infatuated with this one for a simple reason — the unbelievable beauty of its surroundings. With the all-star elegance offered inside of the resort, we knew our clients would fall in love with it just like we had. The Hyatt Regency at Lake Tahoe offers couples a unique experience worthy of their love story.
The wedding package options available to you at this Lake Tahoe treasure gives you the ability to flawlessly execute your preferences and vision, from linens, distinctive eating choices, lighting, and everything in between. With the dedicated Hyatt staff, your tailor-made wedding package awaits you. Why not start your destination wedding trip off with a classy reception with killer gourmet eats? Your ideal menu is yours! How does a farewell brunch suit your tastes? It can be arranged! With the dedicated wedding concierge team at our partner resort, each and every detail is yours for the picking. With a whole suite of wedding venues to choose from for your reception and ceremony, such as the tranquil Water Gardens location or the lavish Regency Ballroom, your day is just that – your day! You will be able to tailor it to your exact specifications and desires.
After the big day, the fun and frivolity only continue! Whether you're grabbing a bite at any of the award-winning on-site restaurants, like Sierra Cafe, you're playing a few hands at the world-famous Grand Lodge Casino, or you're unspooling any homeward-stress you brought with you at the on-site spa, we guarantee you and your guests will carry some unforgettable memories with you back down the mountains.
Ready, Set, Book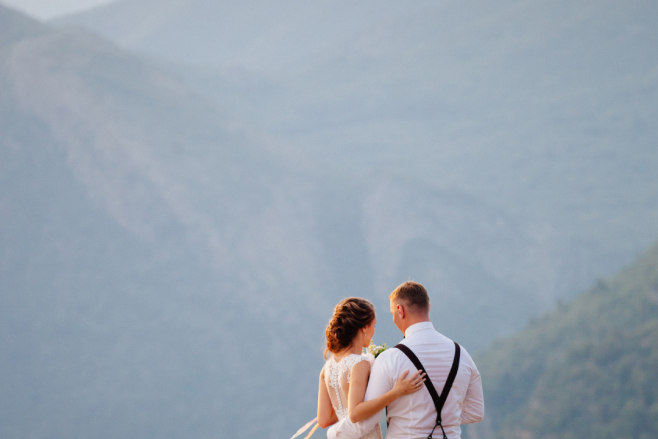 After sending thousands of clients to tropical paradises around the world, we at Destify are psyched to bring our passion and convenient services closer to home at the vibrant mountainsides of Colorado. Hyatt Regency at Lake Tahoe is one of our freshest offerings, and we can't wait for you to say 'I do' surrounded by the Sierra Nevada.
Regardless of the season or temperature, if you and your partner are ready to bring the love, we'll bring the paradise for the wedding of your dreams!