Top 5 Low-Cost Jamaica Wedding Packages
Planning your Jamaica destination wedding can be a daunting task. The allure of Jamaica's natural beauty, rich culture and warm people are difficult to resist! But with so many Jamaica wedding packages available at every price point, where do you start?
We've done the research for you so that planning your Jamaica destination wedding package will be easy-peasy! Read on to find out our top 5 low cost Jamaica wedding packages and their accompanying all-inclusive resorts:
What is the average cost of a wedding in Jamaica?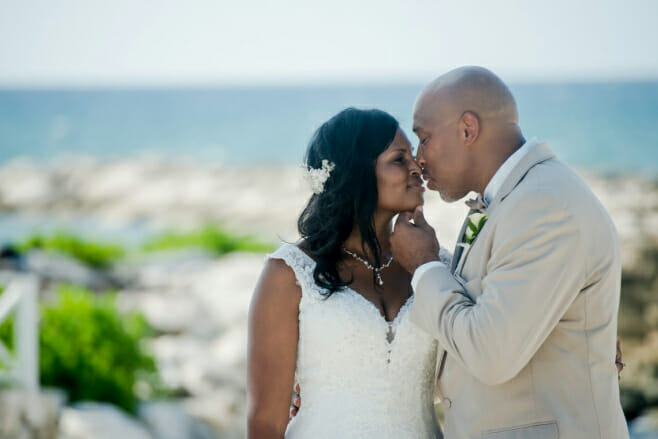 Destination weddings in Jamaica can be as affordable or as expensive as you like. Jamaica's stunning beaches and lush scenery mean that Jamaica wedding packages are available at every price point! With the average cost of a Jamaica destination wedding coming in around $12,000 USD there is no reason to compromise on your dream destination wedding simply because of budget constraints.
If you're working on a tight budget and your wedding expenses for you Jamaica wedding package is costing you more than $4,000 we've compiled some tips to help you save money while having the Caribbean destination wedding of your dreams.
How Can I Get Deals on Jamaica Wedding Packages?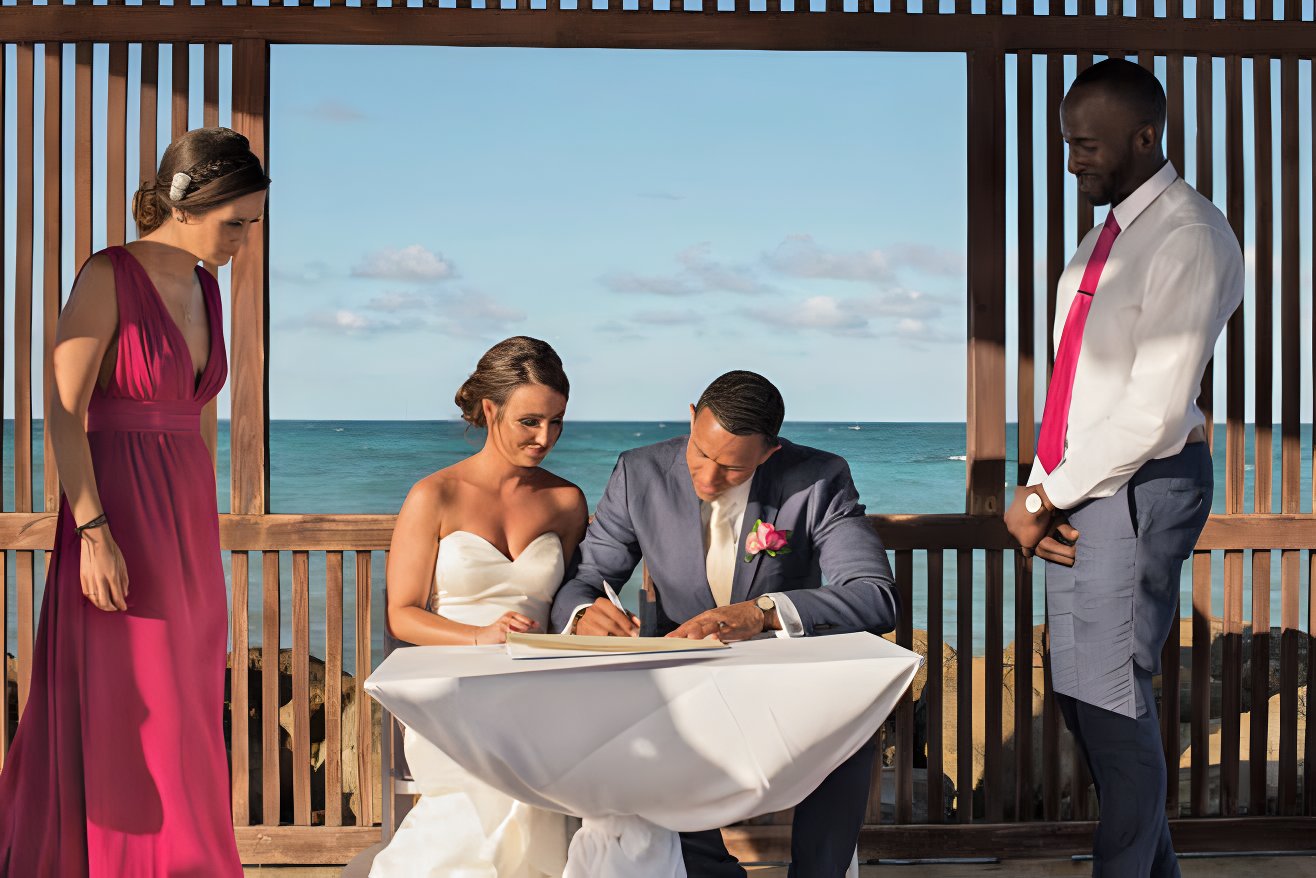 Wedding packages in Jamaica are generally accompanied by additional costs such as flights, food and accommodation for all wedding guests, so it is possible to save money by booking Jamaica wedding packages independently.
Most Jamaica destination weddings take place during the high-season of April through to November so if you choose a destination outside these months it will be significantly less expensive and easier on your wallet! Plus, many Jamaica resorts offer lower rates in off season which makes them even more affordable for couples who are working with a tight budget! Jamaica wedding packages are also available for off season weddings, so it is worth checking out your options.
How Can I Plan my Jamaica Destination Wedding on a Budget?
If you're planning your special day in Jamaica, but money is super tight, there are some tips and tricks to help you save big bucks while still throwing a Jamaica wedding to remember!
Look into wedding ceremony and reception offerings less than $10,000
Explore couples resorts and all-inclusive hotels that cover a bulk of your luxury wedding perks
Hilton Rose Hall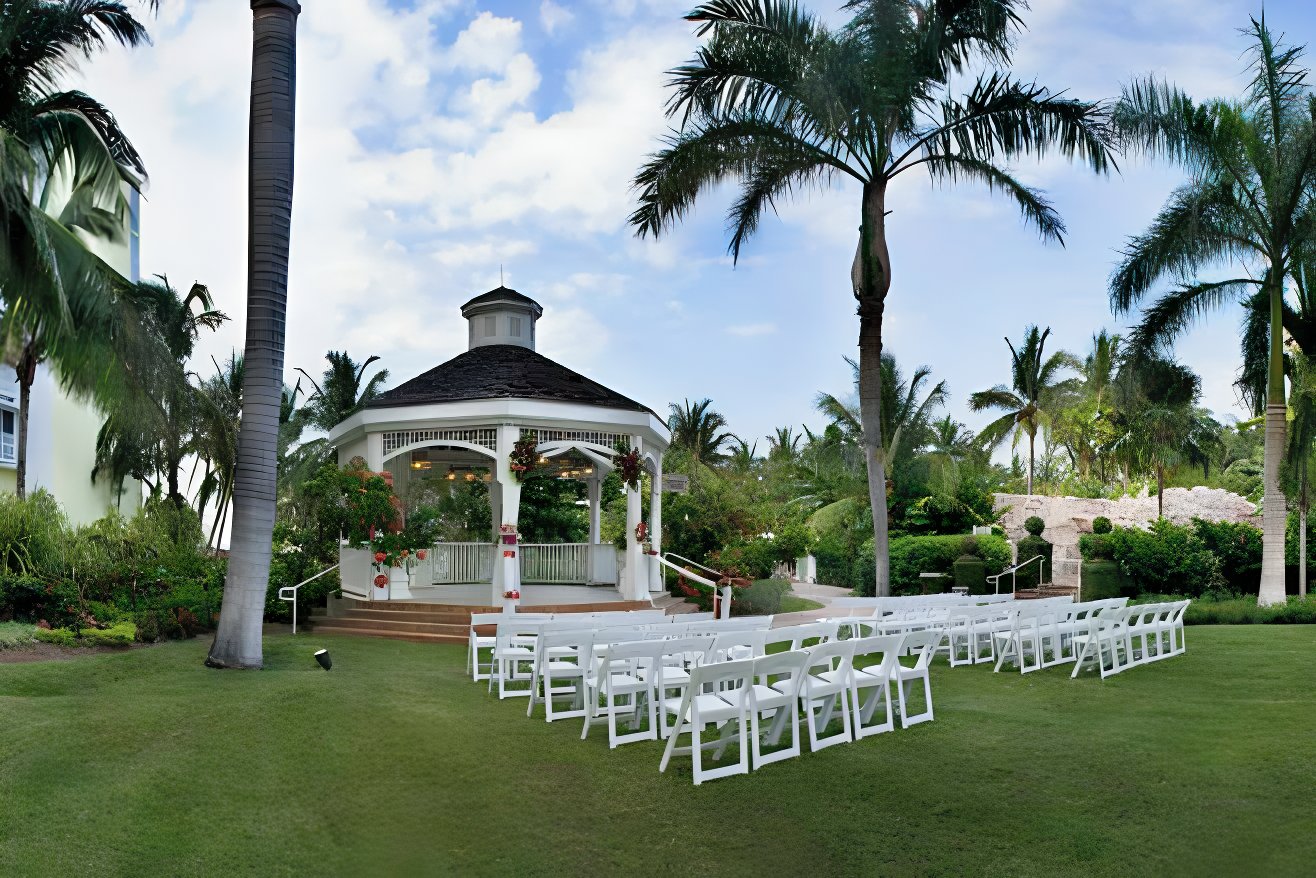 Wedding Packages Cost: Free – $9,509
Your destination wedding will be an event to remember from the moment you arrive at our tropical hideaway. As a gorgeous Caribbean sunset fades into the horizon, exchange vows on the beach. Allow Hilton Rose Hall's experienced staff, which includes an officiant, to handle all of the paperwork and arrangements.
This all-inclusive, beachfront resort offers a variety of engaging activities, making it a unique alternative to traditional wedding venues. Spend your days snorkeling, parasailing, hitting the golf course, getting pampered at a spa, or lying on the beach. Hilton Rose Hall Resort & Spa is dedicated to providing faultless service and gracious hospitality for unforgettable once-in-a-lifetime events and destination weddings.
Example Intimate Elegance Wedding Package: $1,289 (FREE wedding with booking requirements)
Symbolic marriage ceremony, performed by a non-denominational officiant
Bouquet
Boutonniere
Wedding location
Sparkling wine toast after the ceremony
Wedding cake after the ceremony
Room decoration with flower petals & complimentary wine
Late checkout up to 3:00 PM subject to availability
Pre-planning and onsite services of a professional wedding specialist
Complimentary online registry
Access to online wedding planning tool
Ceremony table with white linen and folding wedding chairs for 10 wedding guests
Sound system for the ceremony
25-minute massage for wedding couple
Romantic dinner for the wedding couple
RIU Ocho Rios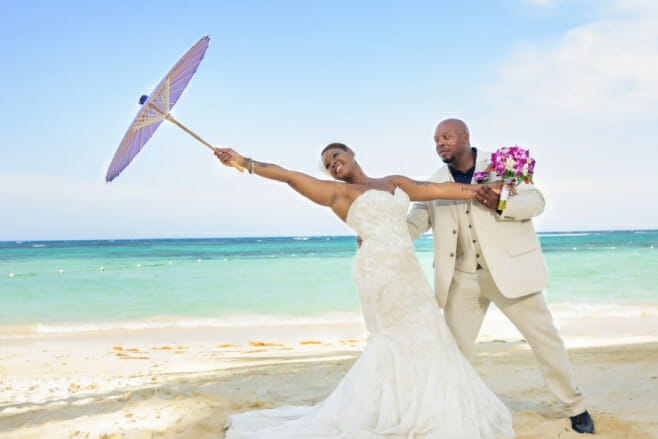 Wedding Packages Cost: Free – $3,099
RIU Ocho Rios, located on the beach, is the ideal location for an unforgettable Jamaican vacation and RIU wedding with the greatest 24-hour all-inclusive service. Free WiFi throughout the hotel, entertaining entertainment programs for all ages, a water park, a diverse menu, and RIU's special service are just some of the amenities available at this Ocho Rios resort.
This all-inclusive hotel in Jamaica boasts over 900 rooms that are fully prepared to provide you with optimum comfort. Air conditioning, satellite television, a minibar, a beverages dispenser, and a safe box are among the amenities available in each of them. You have access to the hotel's 5 pools with sun loungers and umbrellas, as well as a beach area reserved for your guest list, if you need to cool off during your stay.
Example Classic Wedding Package: $1,299
Wedding coordinator
Decoration set up for the ceremony location
Bouquet
Matching boutonniere
Recorded music during the ceremony
Semiprivate dinner at one of our specialty restaurants (just for the couple)
Wedding cake (just for the couple)
Sparkling wine during the main toast (just for the couple)
Special decoration in the room
Witnesses if required
Minister/Judge service
Marriage Certificate
Spa Surprise gift
10% discount in all Spa treatments for the Wedding Couple
Grand Palladium Lady Hamilton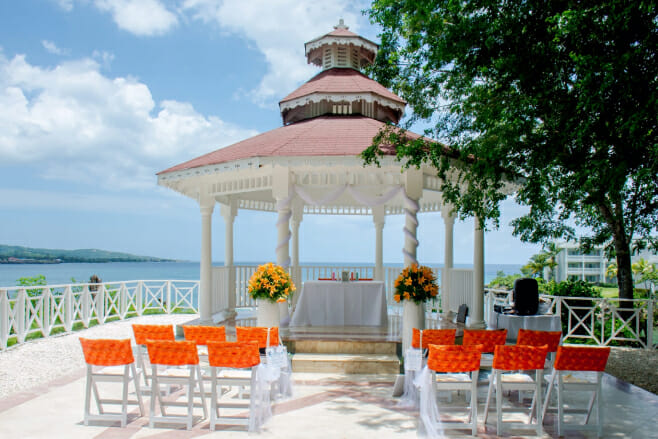 Wedding Packages Cost: Free – $5,900
When you arrive at the Grand Palladium Lady Hamilton, you are greeted by stark white structures, domes, and pillars. This resort has ample area to accommodate your 100-guest wedding with venues like Angels Atrium, Sunset Cove Gazebo, and Beach Pergola. Grand Palladium Lady Hamilton, located on Jamaica's northern coast, provides a picturesque setting for you and your significant other to tie the knot.
Example Love Birds Wedding Package: $1,100
Private Check in for the wedding Couple
Dedicated Wedding planner
Wedding scenery decorated with a floral centerpiece and White Tiffany chairs for your guests
Symbolic Ceremony
"Love Birds "Personal Flowers for the couple
Sparkling toast immediately following the ceremony
Ceremony Sound System
One-tiered Wedding Cake in Your Choice of "Naked" or "Butter swept" Icing with fresh flowers
Special Turn down service on the wedding night
Breakfast in Bed for the Wedding Couple
Wedding Gift
Special Dining Arrangements for the Evening of the Ceremony
15% discount for a Moonlight Dinner or Twilight Dinner and Photoshoot
Iberostar Grand Hotel Rose Hall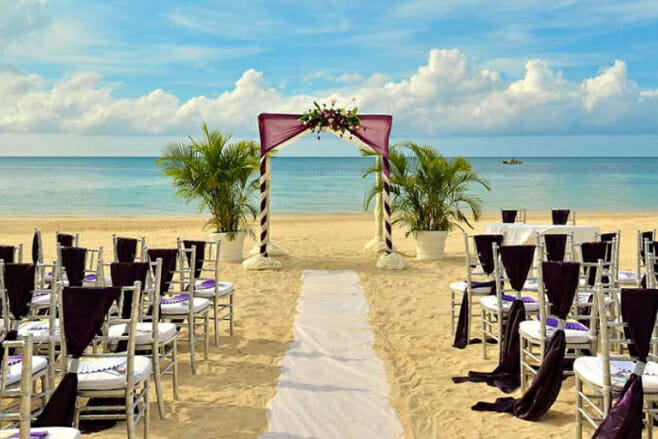 Wedding Packages Cost: $999 – $2,899
When you organize your wedding at the Iberostar Grand Hotel Rose Hall, the magnificent beaches of Montego Bay will serve as the perfect backdrop for your big day! The resort's high standards for elegance and tropical grandeur will wow you, and the palatial colonial estates offer an aura of European opulence to Jamaica's northern shore.
Iberostar Grand Hotel Rose Hall is an adults-only resort that offers an all-inclusive vacation full of island charm. From relaxing spas, unrivaled gastronomic experiences, pampering your wedding so that you and your guests leave fully rested, with the best tropical memories to last a lifetime.
Example Star Wedding Package: $999
Professional services of an on-site wedding specialist
Minister (symbolic ceremonies)
Witnesses (if required)
Setup of wedding venue (canopy, chairs and table with white linen)
Sparkling wine served after the ceremony
Fresh floral bouquet and matching boutonnière
Traditional white frosting cake decorated with fresh flowers
Wedding dinner in a specialty restaurant (one hour and a half)
Holiday Inn Montego Bay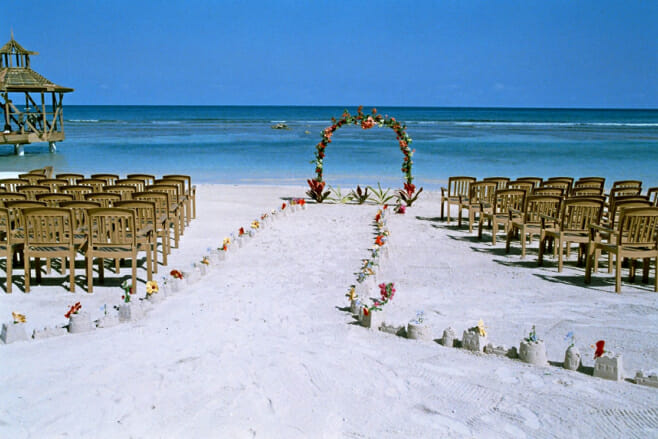 Wedding Packages Cost: $450 – $1,995
Holiday Inn Montego Bay weddings are held on a secluded island getaway in beautiful St. James, Jamaica, and feature all of the familiar amenities and committed personnel while keeping a calm and charming atmosphere. Your destination wedding day will be one for the books thanks to the Holiday Inn's top-notch services and grounded, real immersion in Jamaican culture.
A walk to the stores and cafés in town is a quick and easy way to get a sense for the local Jamaican lifestyle. Families with children will appreciate the large kids' club amenities and separate adult and children's pools at the Holiday Inn Montego Bay Wedding. This resort caters to visitors of all ages. Despite its size, the "Tek It Easy" private island provides a calm and relaxing atmosphere, ideal for relaxing and sunbathing.
Example Entry-Level Wedding Package: $450
Wedding Minister
Preparation of documents and legal fees including license
Certified copies of marriage register sent by courier
Wedding Ceremony Location – Cupid Gazebo
One bouquet and boutonniere
One-tier dream wedding cake
One bottle of sparkling wine
On-site wedding coordinator's service
Recorded music (your songs of choice provided prior)
"Just Married" t-shirt
5,000 IHG reward points
Curious about our expansive list of Jamaica wedding resorts? Follow the button below to explore our Destify Top Resorts and book the Caribbean wedding of your dreams: