When you Google "destination weddings," the term "free weddings" comes up frequently. From resort websites to destination wedding blogs and magazines, they're everywhere. This appears to be a fantastic deal, but like with any promotion, it's always a good idea to perform some additional research.
Many couples assume that free wedding promos are too good to be true, but many of our wedding couples  find that free wedding packages are a terrific place to start when customizing their wedding. They're also useful for sticking to a strict budget. Citing years of helping hundreds of thousands of couples find their dream complimentary wedding package, let's take a look at which all-inclusive resorts offer free weddings:
Are Free Wedding Packages Actually Free?
Yes…and no. While meeting specific requirements guarantees you a free ceremony, you might have to pay an officiant fee due to their third-party access. With taxes and other additional fees (decor, attire, excursions, etc.) considered, the average cost out of pocket can be around $700.
Hyatt Ziva Puerto Vallarta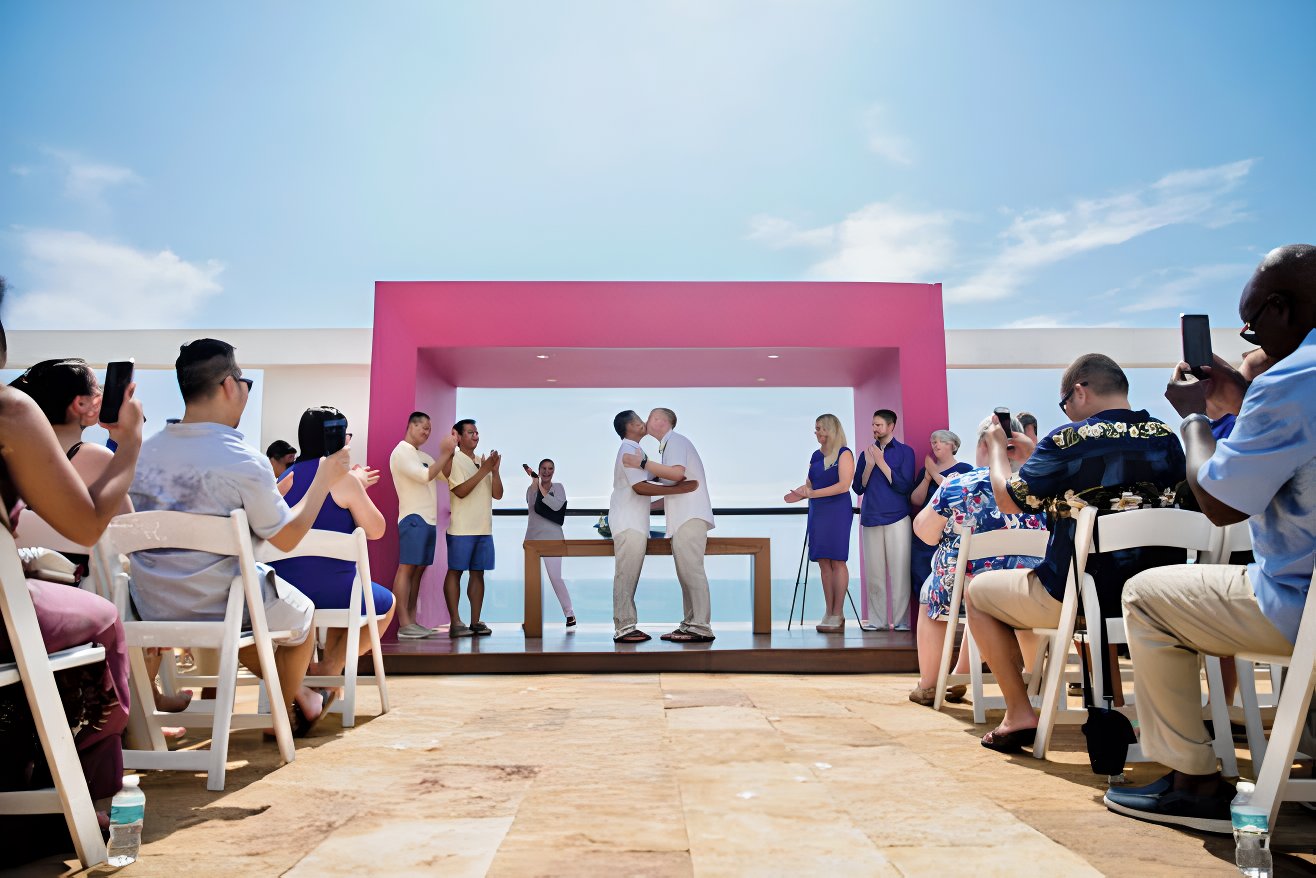 This all-inclusive resort, hidden in a quiet cove on the coast of Puerto Vallarta, offers a gorgeous and secluded beach to make your tropical holiday perfect. Your Hyatt Ziva Puerto Vallarta wedding will be pure happiness as you say your vows, with large suites and views of the magnificent beaches and bright gardens.
It is ideal for couples looking for a modest, romantic escape on a private beach in Puerto Vallarta. The beautiful Sierra Madre Mountains surround the hotel, allowing for excursions outside of the property. The resort looks west over the Pacific Ocean, offering breathtaking ocean vistas and spectacular sunsets, perfect for a Hyatt Ziva Puerto Vallarta wedding celebration.
What qualifies you for a free Hyatt Ziva Puerto Vallarta wedding package?
The base package is $1289 and includes 10 guests but is complimentary if your party books 25 room nights in qualifying room categories.
Secrets Puerto Los Cabos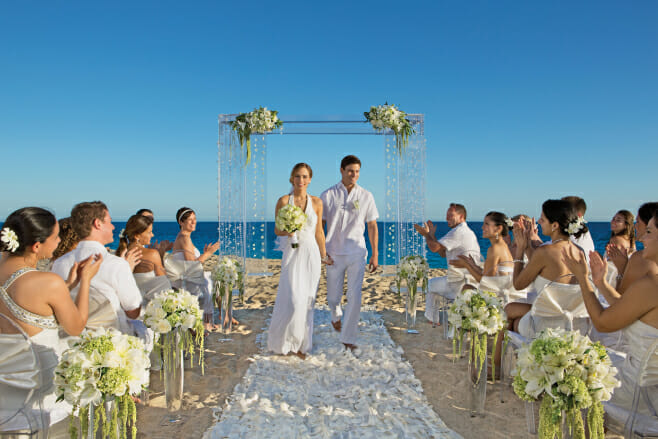 The Secrets Puerto Los Cabos Golf and Spa Resort is set in an exclusive neighborhood with three miles of gorgeous beachfront and world-class golf courses developed by legends like Jack Nicklaus and Greg Norman. A wedding at Secrets Puerto Los Cabos includes a mountain-side ceremony with balcony views of the Baja Desert or the Sea of Cortes. Your wedding guests will have much to do before the ceremony, such as tour the on-site botanical gardens and gorgeous walks, or enjoy access to a scenic harbor with stunning views of the Pacific Coast.
Schedule a guacamole-making workshop or a tequila tasting for a fun and original Secrets Puerto Los Cabos wedding party activity. The resort offers an abundance of activities, including world-class sports fishing, world-class golfing, boundless beach area, and magnificent pools, all in a quiet setting.
What qualifies you for a free Secrets Puerto Los Cabos wedding package?
The Secrets Wedding in Paradise Package welcomes 10 guests and qualifies as free with a minimum booking of 5 rooms for 7 nights in the Preferred Club Junior Suite Ocean View room category or higher.
Hard Rock Cancun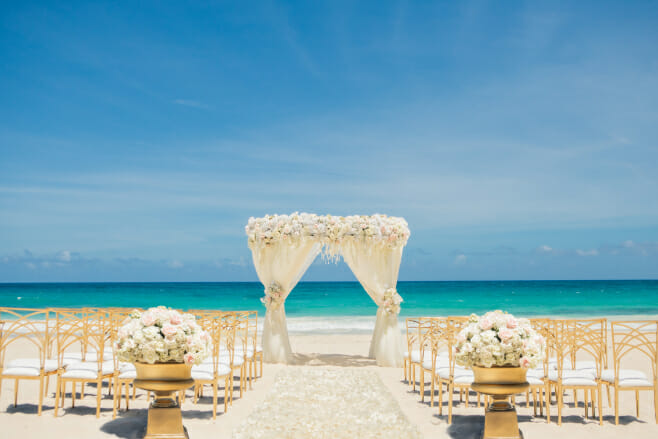 Hard Rock Cancun is the place to go if you want a rock and roll wedding where the entire wedding party can let their hair down. The 12-story resort combines modern decor with international rockstar memorabilia to create a sophisticated wedding destination on the Caribbean Sea's stunning beaches. A Hard Rock Cancun wedding is ideal for music fans or anyone looking to unwind on Cancun's beautiful beaches.
This is a fashionable choice for a destination wedding because of the stylish decor used throughout the property, from the restaurants to the pools. The majority of the rooms have views of the lagoon or the ocean, making your wedding guests feel as if they're in a tropical paradise. The main pool area and swim-up bar can get boisterous, even if there is enough to do for younger Hard Rock Cancun wedding guests.
What qualifies you for a free Hard Rock Cancun wedding package?
Hard Rock Cancun offers a complimentary package that includes a free and minimally white setup but will incur a fee of $1000 if booked 30 days prior to the event.
RIU Montego Bay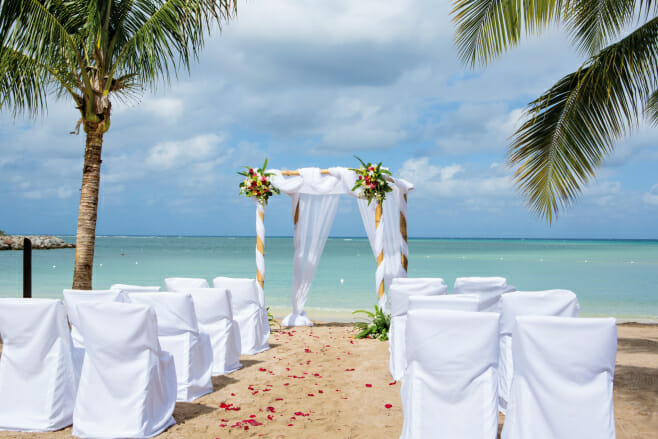 The RIU Montego Bay resort is surrounded by 450,000 square feet of lush gardens and influenced by its Jamaican surroundings' island architecture, making it ideal for a tropical destination wedding ceremony. If your wedding guests can drag themselves away from the opulent pool or the stunning beaches, you and your party will have easy access to downtown Montego Bay. A wedding at the RIU Montego Bay is ideal for couples looking for a regal destination wedding in paradise, complete with hints of classic colonial decor.
You and your RIU Montego Bay wedding guests will have easy access to tourist attractions, excursions, and shopping because this resort is only 10 minutes from downtown Montego Bay. Allow your inner child to run wild at a neighboring waterpark before recharging at a 24-hour sports bar. The beach is fairly large, with calm water that is ideal for wading.
What qualifies you for a free RIU Montego Bay wedding package?
There are no minimum rooms required to book your complimentary RIU Montego Bay wedding package, meaning you are eligible with the purchase of any room category.
Did one of these resorts catch your eye? We don't blame you! Follow the button below to connect with a Destify wedding specialist and start planning your forever-after today: