For travelers seeking a truly unique and unforgettable experience, a visit to Rick's Cafe in Negril, Jamaica is a must. Perched on the cliffs overlooking the Caribbean Sea, Rick's Cafe has become an iconic destination known for its breathtaking sunsets, thrilling cliff jumping, and vibrant atmosphere.
Whether you're a thrill seeker looking to dive into turquoise waters or a foodie in search of delicious Jamaican cuisine, this ultimate guide will provide you with valuable tips, recommendations, and must-dos to make the most of your visit to Rick's Cafe.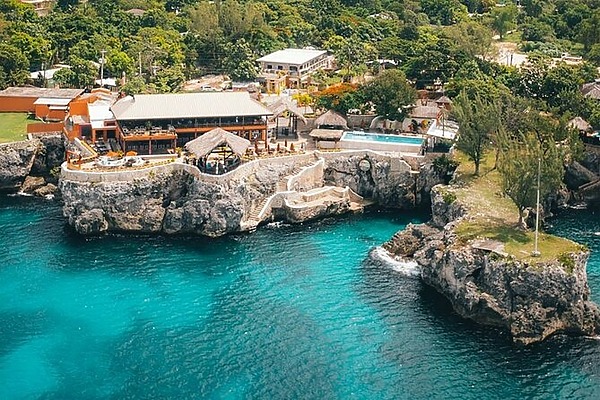 Getting to know Rick's Cafe: A brief history and significance
Rick's Cafe holds a rich history and significant importance in the region of Negril, Jamaica. It has become a well-known establishment that attracts tourists from all around the world. Understanding the background and significance of Rick's Cafe can enhance your overall experience during your visit.
Rick's Cafe was established in 1974 by Richard Hershman. It started as a small, quaint bar that catered to locals and gradually gained popularity among visitors to Negril. Over the years, Rick's Cafe has evolved into an iconic destination that perfectly captures the essence of Jamaican culture, hospitality, and natural beauty.
One of the main reasons why Rick's Cafe holds such significance is its breathtaking location. Perched on the cliffs overlooking the Caribbean Sea, it offers panoramic views of the azure waters and stunning sunsets. This unique vantage point provides visitors with an unparalleled visual experience that is hard to replicate elsewhere.
Cliff Jumping Thrills and Taste-bud Loving Bites
In addition to its scenic location, Rick's Cafe is renowned for its thrilling cliff-jumping opportunities. Many adrenaline-seeking visitors come to Rick's Cafe specifically to take part in this exhilarating activity. The cliffs range in height, allowing both experienced and novice divers to find a suitable spot to plunge into the crystal-clear waters below. Safety measures are in place to ensure a secure and enjoyable experience for all guests.
Apart from the physical aspects, Rick's Cafe also holds cultural significance. It has become a hub for live music, particularly reggae, which is an integral part of Jamaican identity. Local musicians perform vibrant tunes, adding to the lively atmosphere and creating a memorable experience for all visitors. The rhythmic beats, combined with the tropical ambiance, create the perfect setting for relaxation, dancing, and enjoying the vibrant Jamaican spirit.
Rick's Cafe is also well-known for its delectable Jamaican cuisine and signature cocktails. From jerk chicken to fresh seafood, the menu offers a wide range of traditional dishes that showcase the flavors of the island. Visitors can indulge in authentic Jamaican cuisine while taking in the breathtaking views and enjoying the lively ambiance.
Tips for planning your visit: Best time to go, transportation options, and essential items to pack
When planning your visit to Rick's Cafe in Negril, Jamaica use these valuable tips to make things easier:
Best Time to Go: Negril enjoys a tropical climate, with warm temperatures year-round. The best time to visit Rick's Cafe is during the dry season, which runs from December to April. During this period, you can expect plenty of sunshine and minimal rainfall, allowing you to fully enjoy the outdoor attractions and breathtaking views. However, keep in mind that this is also the peak tourist season, so the beaches and attractions may be more crowded.
Transportation Options: Getting to Rick's Cafe is relatively easy, regardless of where you are staying in Negril. The most convenient option is to hire a taxi straight from your front desk or use a local tour operator. Negotiate the fare before starting your journey.
Essential Items to Pack: To make the most of your visit to Rick's Cafe, be sure to pack the following essential items:
Sunscreen: The Caribbean sun can be intense, so protect your skin with a high-SPF sunscreen.
Insect repellent: Jamaica is home to various insects, especially during the evening. A good quality insect repellent will ensure a comfortable experience.
Swimwear: Don't forget to pack your favorite swimsuit to take advantage of the cliff jumping opportunities.
Towel: While some establishments provide towels, it is always handy to have your own towel for comfort and convenience.
Camera: Capture the breathtaking views, vibrant atmosphere, and memorable moments during your visit to Rick's Cafe. A waterproof or action camera is recommended if you plan to participate in cliff jumping.
To enhance your experience and ensure a truly relaxing vacation, consider staying at one of the many all-inclusive destination wedding resorts in the area:
Sandals Negril Beach Resort and Spa: Regarded as a top-notch all-inclusive resort, Sandals Negril provides luxury and comfort to its guests. This adults-only property offers several restaurants and bars, water sports activities, land sports, and even scuba diving. Nestled on a stunning beachfront, you'll be just a short distance away from Rick's Cafe, allowing you to witness the famous sunset at your leisure.
Riu Negril: Combining comfort and affordability, Riu Negril is a popular choice for families, couples, and solo travelers alike. With its prime beachfront location and an array of amenities, including unlimited food and drinks, entertainment, and water sports, guests can relax and enjoy their vacation to the fullest. If you're staying at Riu Negril, don't forget to carve out some time to visit Rick's Cafe to soak in the stunning sunset views and take part in the adrenaline-pumping cliff diving.
Azul Beach Resort Negril: With its family-friendly atmosphere and luxurious amenities, Azul Beach Resort Negril is an ideal choice for those traveling with children. This all-inclusive property caters to families, ensuring that everyone has a memorable and enjoyable vacation. From the Kids Club to the variety of dining options and water activities, Azul Beach Resort Negril provides something for everyone. After a day of family fun, make your way to Rick's Cafe to end the day with breathtaking ocean views and thrilling cliff diving performances.
While these are some of the must-dos at Rick's Cafe, there are plenty of other activities and amenities to explore. Take a dip in the inviting waters, relax on the sun-kissed cliffs, utilize the private cabanas or pools, and definitely savor delicious and authentic Jamaican cuisine at the cafe's restaurant. Whatever your preferences, Rick's Cafe offers a blend of adventure, relaxation, and cultural immersion for an unforgettable experience in Negril.