There are lots of different types of wedding attire, even for the bride. Bridal dresses come in a variety of styles: sleek and modern, floral and lacy, floor length or knee length, long trains and no trains, and jumpsuits or traditional suits.
How do you determine the best wedding dress to match your style? What about the location? A beachfront wedding dress is probably different from a church wedding dress. What types of wedding attire are there other than dresses? If you're overwhelmed with how to choose the best wedding dress, keep reading.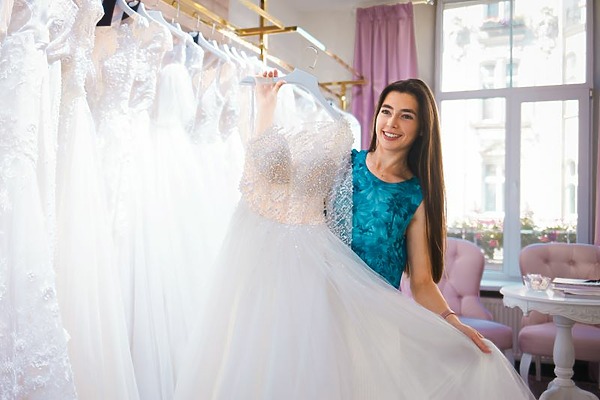 Wedding Dress Styles: The Silhouettes
When determining the best dress to match your style and your location, the easiest way to start narrowing down the search is by the silhouette. Different dress silhouettes may be more flattering to different body types, or may just simply be a style preference. Common wedding dress silhouettes include the classic ball gown, a-line, mermaid or trumpet, and sheath. The bridal jumpsuit and pantsuit, as well as two-piece sets, are also rising in popularity.
Ball Gown: This is the classic fairy tale princess dress silhouette with a fitted bodice and a full, voluminous skirt that usually starts at the waist and extends to the floor. If your dream is to feel like an actual princess on your wedding day, a ball gown might be the way to go.
A-line: The A-line dress is a more subtle cousin of the ball gown. A-line dresses are fitted at the bodice and then gradually flare out from the waist, creating an "A" shape that's not as dramatic as the classic skirt of a ball gown.
Mermaid and Trumpet: These silhouettes are glamorous and dramatic and look stunning on hourglass figures. They are fitted through the body but flare out. A mermaid dress flares out right at the hem, while a trumpet flares out around the mid-thigh.
Sheath/Column: One of the simplest silhouettes, a sheath or column dress is straight from the neckline to the hem. No flare or large skirt makes these dresses simple and minimalist, yet elegant.
Bridal Jumpsuits and separates continue to rise in popularity. Jumpsuits, like dresses, come in a variety of styles that can be dressed up or down depending on the theme and venue of the ceremony. Jumpsuits are a popular choice for small ceremonies, elopements, or simply for brides who do not enjoy wearing dresses.
Other Aspects of Wedding Dress Styles
While the silhouette is one of the main style features of a wedding dress, additional style features are important to consider when looking for the best wedding dress. The neckline and the sleeves (or lack thereof), as well as the length, are all part of the overall dress style. Features and materials such as lace, beading, and the general fabric are important considerations.
The dress material, combined with the silhouette, length, and neckline affects the overall wedding dress style. Choosing the best wedding dress for your personal style, comfort, and body type is important, but choosing a dress style that also compliments your wedding theme and location can make your wedding day even more picture-perfect.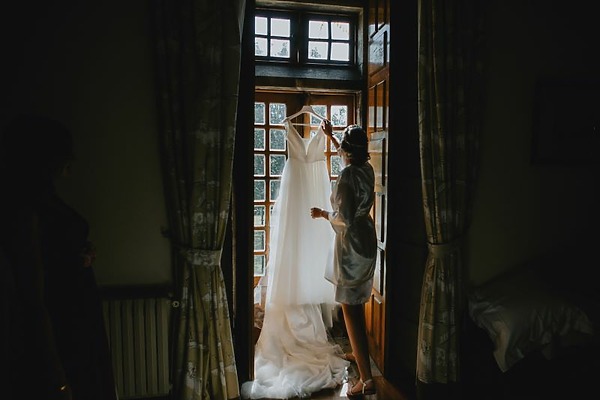 Choosing Your Dream Wedding Dress
There are a lot of different types of wedding attire, and a lot of options when it comes to wedding dresses. Choosing the best wedding dress for your celebration can seem like an overwhelming task.
If you have a specific vision in mind or have watched enough Say Yes to the Dress to know what you like, that might make it easier. But if you're open to almost any dress silhouette, material, and overall design, you might have a harder time narrowing your search down. No one else can tell you what the best wedding dress is for you, your style, and your body.
Light and airy fabrics fit the vibe of beach weddings, while thicker lacy fabric is ideal for winter weddings with mountain backdrops. Before choosing the wedding dress, consider the specific venue. What ground will you be walking on? Dragging a long veil or train over grass or sand can be a mess. Will there be some type of walkway? Or should you opt for something shorter? What's the weather like in your chosen location? Will you need a scarf for warmth, or do you want to go light and sleeveless to limit the amount of sweat and stay comfortable? Answering these questions will help you choose the perfect wedding dress.
Remember that your wedding dress doesn't need to be traditional, or fit any predetermined vision. It just needs to be you. It doesn't even need to be white. In fact, color is making its way into bridal fashion trends. The best wedding dress is the dress that will make you look and feel your best and fit within your budget.
Wedding Dress Considerations: Sizing, Budget, and Travel
Everyone wants to look good on their wedding day, and everyone should have the opportunity to find their perfect dress. While wedding dress sizing often requires alterations, bridal sizing is different from regular sizing. Be mentally prepared to go up a size or two for bridal dresses, and be prepared for alterations. Even if you plan to lose weight, always shop for a dress based on your current size. It's much easier to adjust and take in fabric than it is to add fabric.
Unfortunately, some brides may face challenges in finding a dress that fits. Many bridal shops, especially the larger retailers, offer more extended sizes, but generally, the options for plus size and inclusive size wedding attire may be more limited, especially in-store. Brides can always call ahead to see what sizes are offered.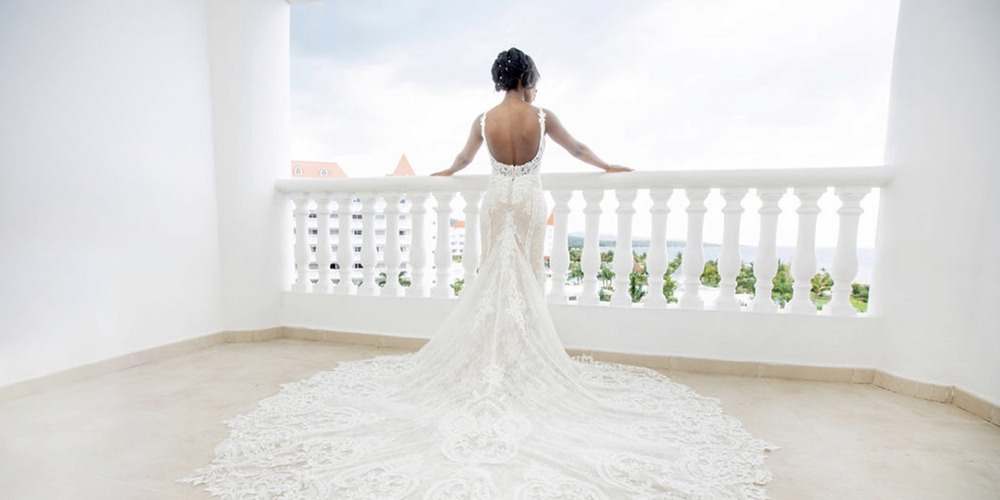 Wedding dresses can eat up a decent portion of the overall wedding budget. The average wedding dress cost is about $1,500. Of course, designer and custom dresses can be double, or quadruple that amount. Understanding what you're willing to spend, and what you might be willing to overspend, is key in choosing your wedding dress.
Many online retailers offer more affordable, high-quality dresses, with try-on at-home programs and made-to-order dresses. Shopping second-hand stores or renting a wedding outfit are also cost-saving options. For some brides, the dress is one of the most important pieces of the wedding. For others, they would rather spend the budget on other aspects to make their wedding dreams come true.
When it comes to wedding dresses for destination weddings, choosing the dress might not even be the stressful part. The stressful part may be getting your dress to the destination! What's the best way to determine how to travel with your dress? Contact the airline. Chances are you're not the first bride they've had to ask this question. Other than carefully placing the dress in overhead storage, other possibilities include placing it in an open seat, buying a seat for your dress, or checking if the flight attendants have a closet to hang it in.
While Destify can't tell you what the best wedding dress is, we can help you choose the perfect wedding destination, venue, and package to ensure your day is just like you dreamed. Destify's expert team works with couples to plan the celebration, schedule additional activities, and coordinate travel and lodging. The best part? Our services are all free. That leaves more room in the budget for that perfect dress. If you're ready to say "I do," we're ready to help make meaningful memories.