As we move into 2023, LGBTQ+ couples worldwide are looking to find their ideal wedding destination. In Mexico and the Caribbean, all-inclusive resorts offer safe spaces, unique venues, and top-tier luxury for newlyweds looking to tie the knot oceanside.
Today we'll explore two of the most popular wedding destinations: the Dominican Republic and Mexico, and both of these amazing all-inclusive wedding destinations are worthy of your special day!
Which of our wedding destinations legally recognizes LGBTQ+ weddings?
While we have seen a continuous shift in beliefs throughout the Caribbean Islands, the Dominican Republic and Jamaica, unfortunately, don't legally recognize gay marriage. As for Mexico, same-sex marriage is legally recognized in Mexico City, the state of Quintana Roo, the state of Chihuahua, and the state of Baja California.
Mexico and the Dominican Republic are still top locations for gay weddings and queer-friendly ceremonies, and our partnered resorts go out of their way to welcome the gay community. That's because our all-inclusive resorts specialize in these ceremony types (for both gay and straight couples). So, you can get married at your local courthouse and host your fabulous destination wedding at the resort of your choice.
Mexico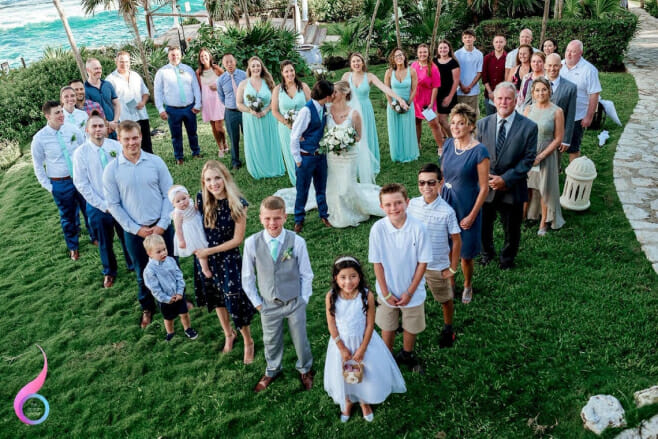 After signing a nationwide initiative to legalize gay marriage in 2016, the nation exemplifies the meaning of "progress". With every Mexico wedding resort welcoming all LGBTQ+ couples, it's safe to put this destination at the top of your planning list.
Fun fact! Quintana Roo was the first Mexican state to uphold gay marriage in 2012. Sound familiar? Quintana Roo is actually home to both Cancun and Riviera Maya; popular destinations filled with all-inclusive wedding resorts. Here are a few of our favorite Mexico properties that guarantee high-end amenities and LGBTQ+ ceremonies:
Dreams Tulum Resort & Spa is an all-inclusive property situated along the Caribbean Sea in Tulum, Mexico. This property offers an unbridled level of luxury to its guests, combining the beauty of the Caribbean with elegant services and amenities. The resort provides multiple offerings for a perfect gay-friendly wedding, honeymoon, spa vacation, family trip and so much more. Boasting an incredible beachfront location and a vibrantly green setting, Dreams Tulum Resort & Spa is perfect for relaxation and exploration alike.
The Panama Jack Cancun Resort is located on Mexico's Caribbean coast along the beautiful Cancun beaches. This resort offers a unique Mexican hospitality experience and an emphasis on comfort, relaxation, and value that will make any same-sex couple feel at home. The resort brings together a modern, lightweight design palette and a vibrant color scheme in which guests can escape from the hustle and bustle of everyday life while enjoying some of the best beach views in all of the hotel zone.
Hyatt Ziva Cancun is a 5-star beachfront resort located in beautiful Cancun, Mexico. This 5-star resort offers guests a private oasis with its perfectly manicured beach and stunning views of the Caribbean Sea. With easy access to Cancun's best attractions and dining spots, this is the perfect destination for a luxurious getaway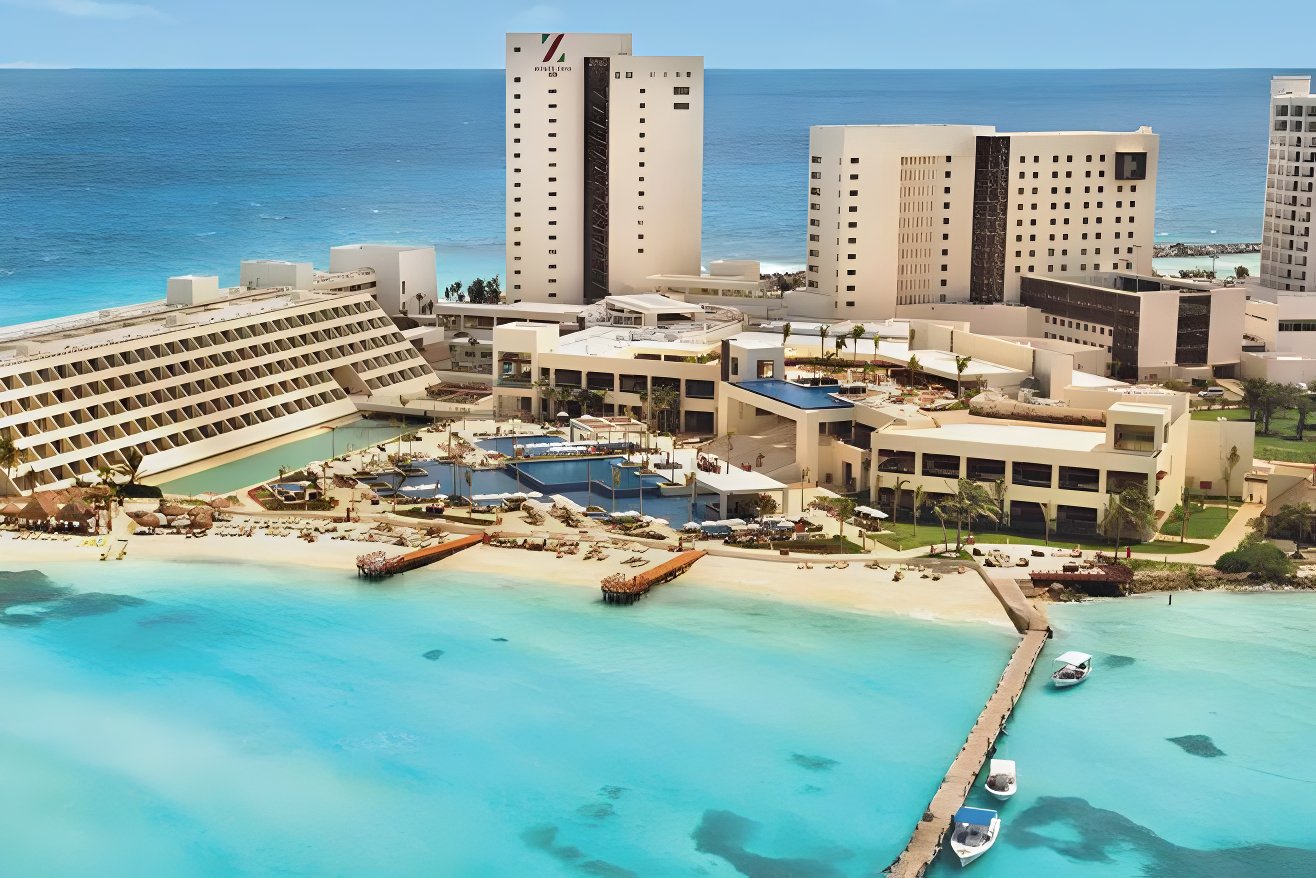 Other top resorts include:
Majestic Elegance Costa Mujeres
Dominican Republic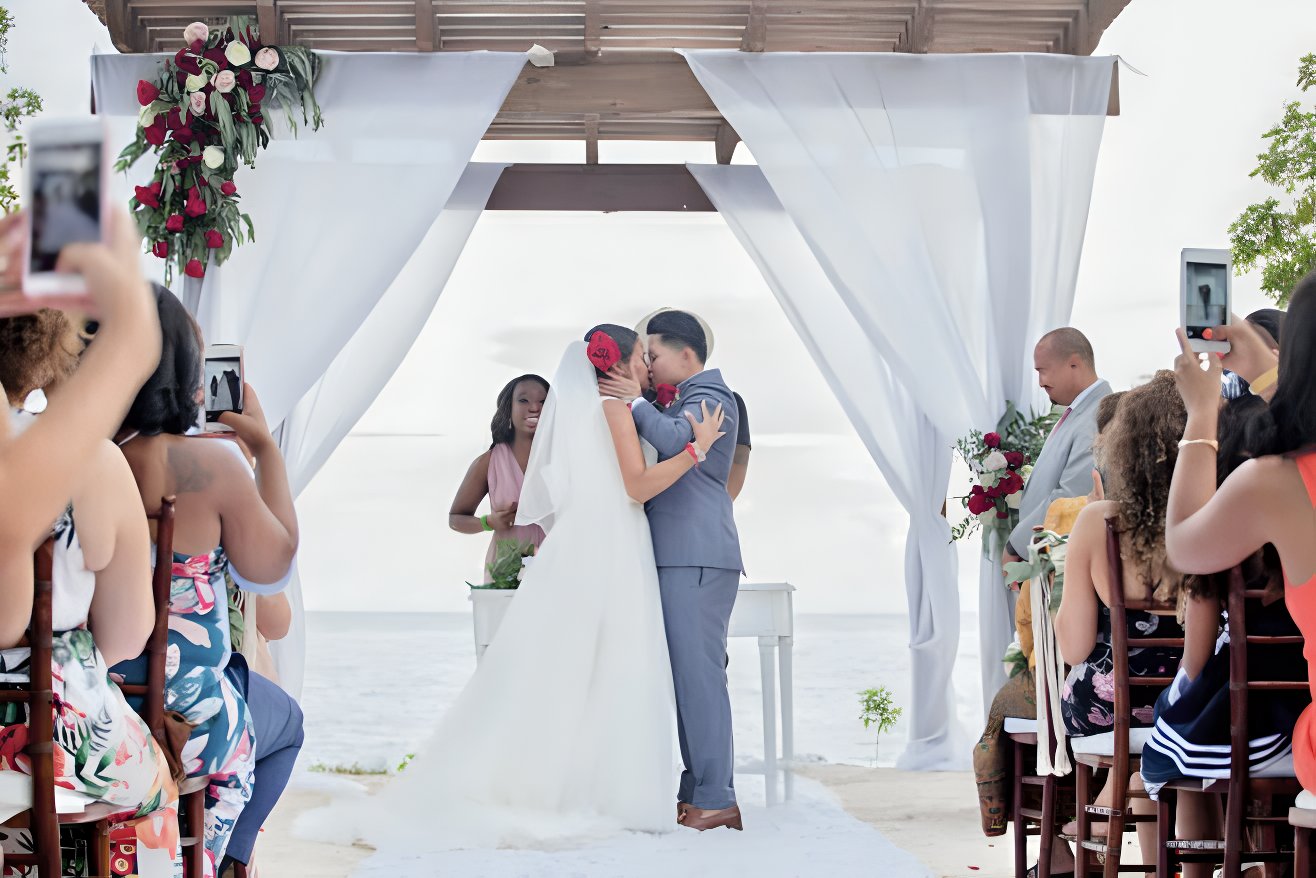 Hop on a plane and fly out to our next tropical wedding destination: the Dominican Republic. While the country doesn't legally recognize same-sex marriage, a wide variety of wedding resorts happily and comfortably host LGBTQ+ couples. Celebrate your love with world-class service, amongst jaw-dropping beachfront.
Our recommendation? Select a resort that is situated on private property which will grant access to all wedding venues for LGBTQ+ weddings. Then, tie the knot in the Dominican Republic with affordable and all-inclusive wedding benefits at the tip of your fingertips. Here are our top choices to consider:
Hyatt Ziva Cap Cana in Punta Cana is an all-inclusive 5-star resort that caters to families, gay couples, and larger groups alike. Set on nine acres of beachfront property, this luxurious resort offers all the amenities that you would expect from a destination such as Punta Cana. It has an adults-only area, children's facilities, a 23,000-square-foot spa, three swimming pools, five restaurants and bars, and an activity center all to boot.
Dreams Macao Beach in Punta Cana is an all-inclusive resort that promises to offer a memorable experience for every wedding guest. The beautiful LGBT-friendly wedding destination overlooks the stunning white sand of Macao Beach, which provides a wonderful backdrop for games, zip lining, horseback riding, and other activities offered on-site. The luxurious suites offer comfortable surroundings and stunning views of the Caribbean Sea. Other amenities include a full-service spa, a fitness center, and an entertainment center with a variety of activities.
Majestic Elegance Punta Cana Resort is a beautiful all-inclusive beachfront resort in the Dominican Republic. Located right on the beautiful seashores of Playa Bávaro, Majestic Elegance Punta Cana Resort offers guests a truly tropical experience. The resort features 594 luxurious suites, each with a terrace and beautiful sea views, and guests can choose from 7 different world-class restaurants, along with numerous wedding venues to exchange vows.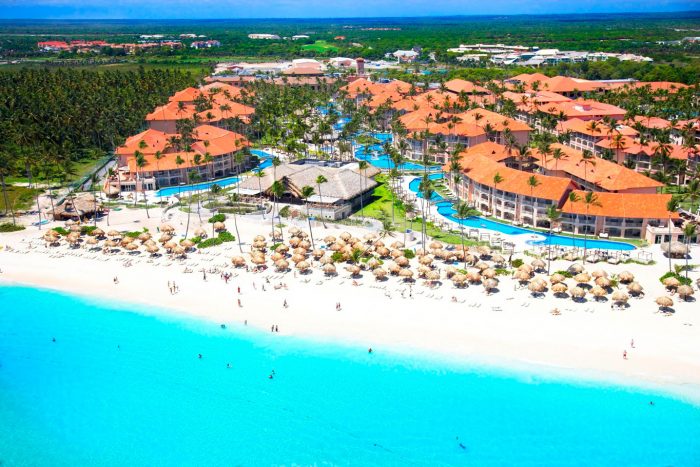 Other top resorts to consider: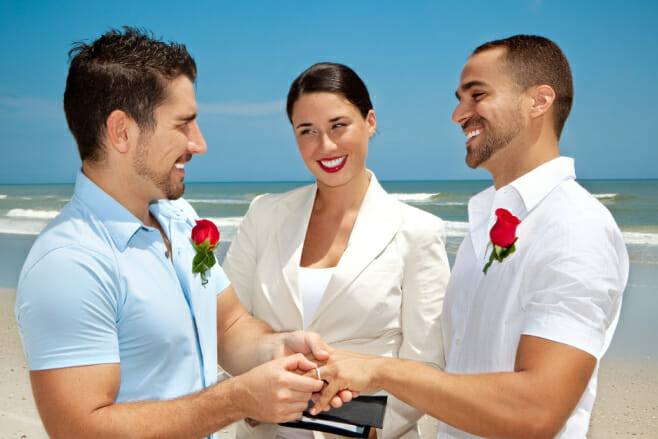 LGBT couples looking for a wedding destination that allows for romance, adventure, and a once-in-a-lifetime experience should consider Punta Cana and Mexico as top locations. Both countries offer unique experiences not found in typical wedding destinations.
In Punta Cana, couples can say their vows on the beach with the Caribbean Sea as their backdrop and enjoy a host of activities: swimming, snorkeling, diving, horseback riding, and exploring the lush forests and lagoons.
Meanwhile, in Mexico, couples can enjoy stunning views and a variety of activities ranging from swimming with dolphins to ATV excursions. Mexico has world-renowned resorts with exceptional service and also provides a welcoming, accepting atmosphere for LGBT individuals.
Whatever you and your partner envision, Punta Cana and Mexico have all the ingredients for the perfect destination wedding.
Want to learn more about progressive terminology that'll make your wedding more gender-inclusive? Follow the link below to read our latest Pride Series blog, Gender Neutral Wedding Terms You Should Know: