Destination weddings offer an attractive, cost-effective alternative to hosting a traditional luxury wedding stateside. Rather than spending a substantial portion of the wedding budget in one lump sum on a single-day wedding event, destination weddings allow couples to invest the same amount of money in a much longer and more enjoyable event.
Get out the champagne…it's time to celebrate and make that bank account happy! If you're dreaming of tying the knot in paradise, these affordable luxury wedding packages are for you. Savor the all-inclusive benefits of elegant resorts that, contrary to popular belief, want you to save money too.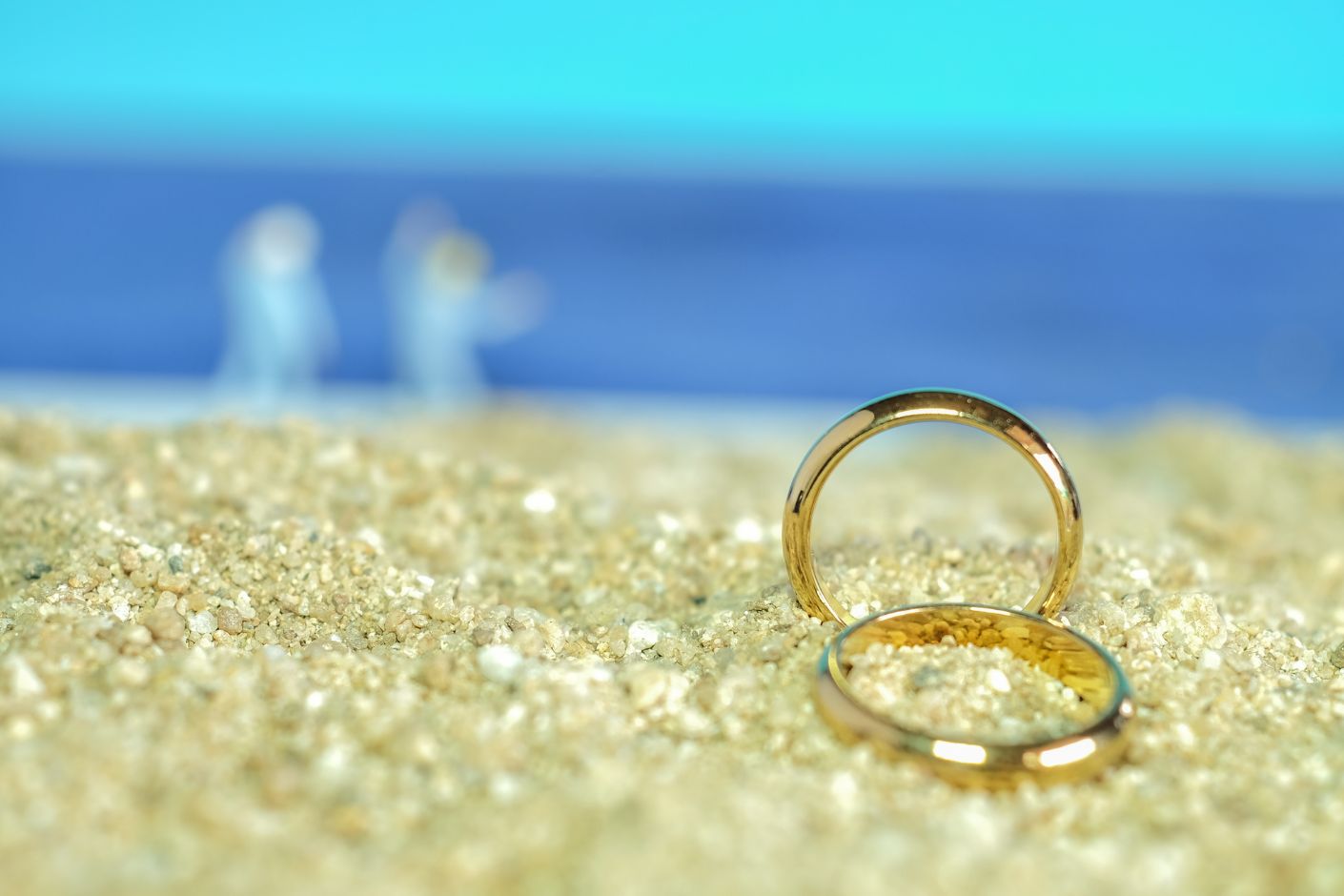 What Makes a Luxury Wedding Package?
A luxury wedding is one that stands out from trends for its sheer quality and elegance. From the venue to the decor to the food, everything should mesh together harmoniously to create an atmosphere of opulence that will be remembered by all who attend. It should be no wonder that luxury weddings tend to be costly since this type of wedding involves a lot of research, coordination, and modern details that can make even the most traditional ceremony unique and memorable.
One of the most essential components for a luxury wedding is selecting a high-class venue that achieves your day's desired aesthetic theme. Often, the most sought-after venues are historical buildings or grand gardens, as they allow you to imbue your wedding day with a sense of grandeur and tradition that you cannot achieve elsewhere. Once the venue is decided, you can focus on table settings, lighting, and dinnerware that enhances the atmosphere of elegance—all of which will add to the overall impact of your wedding experience.
Why More Couples Are Choosing the Destination Wedding Route
Destination weddings are more popular today because they allow couples to fulfill their luxury dream wedding while having a unique and memorable experience. Couples appreciate the idea of getting away from the monotony of the typical "big day." Destination weddings help create an atmosphere of escape and adventure while allowing couples to spend quality time with their closest friends and family in a one-of-a-kind location. Destinations weddings tend to offer couples a higher level of exclusivity, as well as allow access to highly sought-after vendors, venues, and settings.
Destination weddings offer a lot more value for your money, compared to a traditional wedding. They are significantly less expensive, as couples don't have to worry about the added cost of catering and rentals. You also pay less for accommodation, as most resorts offer special wedding packages, with discounts or complimentary nights when you book a room for your guests. The package usually includes a dedicated Wedding Coordinator, who can help with everything from booking vendors to organizing your reception activities. On top of that, destination weddings are an incredibly stress-free and romantic way to tie the knot, as there's no need to worry about organizing a venue. Plus, you get to explore a stunning new destination together as a couple!
Why Guests Love Them Too
Beach destination weddings offer guests the opportunity to combine a wedding celebration with a vacation. The beach itself provides a beautiful, natural backdrop for the ceremony, and the surrounding area can provide ample opportunities for recreation, shopping, dining, and entertainment. Guests also appreciate the relaxed, casual atmosphere of a beach wedding and being able to kick off their shoes and dip their toes in the sand. Resorts provide everything a guest needs at one all-inclusive price, so everything is taken care of before they even catch their flight. Lastly, beaches are often less expensive locations than more traditional wedding sites, making it easier on the couple's budget and the guests' wallets.
How much are all-inclusive luxury wedding packages?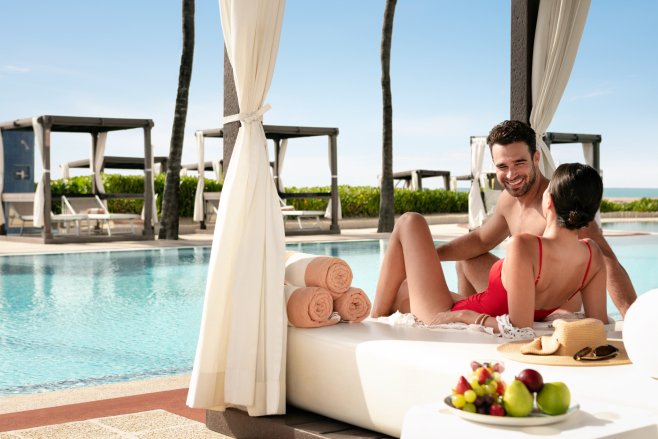 Although your room may feature upscale rates for your stay, all-inclusive wedding packages can still be truly economical. We'll let you in on a secret: you don't have to book during the high season. While it might seem more attractive to host a summer destination wedding, try reserving an off-season ceremony for lower rates.
Dreams Riviera Cancun Destination Weddings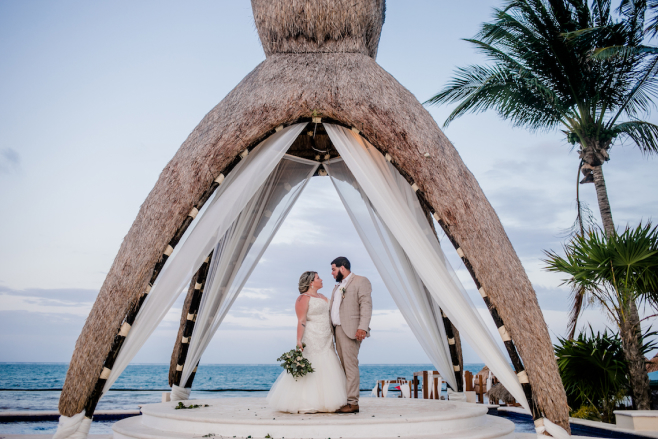 Along the picturesque Yucatan Peninsula, Dreams Riviera Cancun prospers as one of AM Resorts' top wedding resorts. Garnering a wide variety of affordable luxury destination wedding packages, this Bali bed-studded oasis ensures a romantic getaway.
The many features of this wedding resort include seven international restaurants, two infinity pools with swim-up bars, ten bars, luxurious spa services, and unlimited access to food and drinks throughout the resort The resort also offers a variety of beach experiences. Guests can relax on the resort's white sandy beaches or enjoy activities such as kayaking, snorkeling, and sailing.
Dreams Riviera Cancun also features daily entertainment on the main pool stage, fun-filled activities for the whole family, beach, and pool volleyball. True tropical serenity awaits you at Dreams, where discounted spa treatments and loyal wedding coordinators elevate your wedding week. Whether you're perched underneath a handcrafted gazebo or dancing to "Footloose" at your beachfront reception, Dreams Riviera Cancun guarantees luxury amenities at economical rates.
Wedding Packages: Free – $11,999
Wedding Package in Paradise
Symbolic ceremony
Wedding organization and personal touch of on-site wedding coordinator
Preparation and ironing of couple's wedding day attire
Complimentary room for one member of the wedding couple the night
before the wedding (based on availability and upon request)
Bouquet(s) and/or boutonniere(s) for the wedding couple
Wedding cake and sparkling wine toast (for up to ten guests)
Special turndown service the night of the wedding
15% discount on all spa treatments (Spa boutique purchases not included)
Newlywed Package
Welcome letter
Fresh fruit
Bottle of sparkling wine
Breakfast in bed with mimosas (reservations must be made in
advance with concierge)
Late checkout for the couple (based on availability and upon request)
Free anniversary nights
Majestic Elegance Costa Mujeres Destination Weddings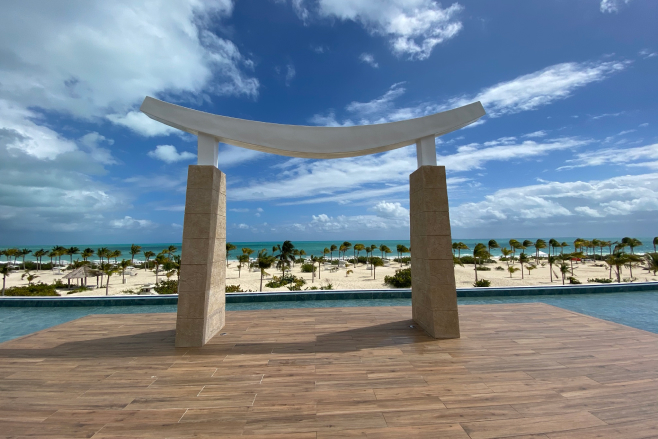 Let's take a stroll up the coast past Cancun's booming Hotel Zone and into another Mexican-Caribbean paradise: Majestic Elegance Costa Mujeres. Awake to the soft rippling of your swim-up villa, where a private brunch greets you before your on-site hair appointment. Majestic Elegance Costa Mujeres showcases captivating spaces with the latest in modern wedding venue design that will add a futuristic touch to your ceremony.
From renowned accommodations to a long list of amenities, guests will be able to experience the ultimate in luxury in Costa Mujeres. Accommodations at the Majestic Elegance Costa Mujeres range from standard rooms with balconies to exclusive suites and penthouse suites offering breathtaking views of the Caribbean Sea. Guests will also enjoy exclusive access to the resort's private beach. The resort also boasts 24-hour room service for in-room dining, four restaurants, four bars, plus a superb spa featuring an extensive range of beauty and health treatments (like you on-site hair appointment).
The Majestic Elegance Costa Mujeres is the perfect location for your luxury wedding package, offering couples the most beautiful settings for their special day. With a full array of wedding services, you can be sure that your wedding will be as perfect and unique as you have dreamed it would be. Enjoy a special Majestic Wedding package, featuring an exquisite wedding ceremony, a high-end reception, a wedding party, and a wedding breakfast. You and your guests will be pampered and made to feel like royalty with exceptional personal service and amenities.
The resort's venues regularly offer glorious ceremonies with immaculate vistas due to their location along the sun-baked shores of the Caribbean Sea. Majestic Elegance ensures that your wedding is aesthetically striking. From glorious Sky Terrace seascapes to flora-imbued ceremony spaces, your Costa Mujeres retreat will dazzle.
Wedding Packages: Free – $1,750
Majestic Free Wedding Package
Majestic Elegance Costa Mujeres wedding planners
Ceremony venue
Room upgrade
Early check-in and late check-out
Services of a civil judge or priest
Wedding cake
Tropical bouquet and boutonniere
Bag of rose petals
Ironing of bride's dress and groom's tuxedo • Sound system and ceremony translation
Marriage certificate
Champagne toast
10% discount on hair and makeup
Handcrafted welcome sweets
Bridal boudoir refreshments
Semi-private dinner in a specialty restaurant
Romantic breakfast in bed for the couple
Romantic candlelight dinner for the couple
Complimentary couples massage
Two bottles of champagne in room during stay
Hyatt Zilara Rose Hall Destination Weddings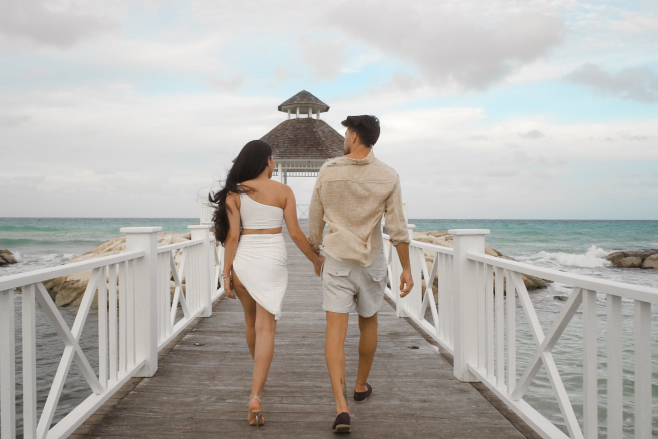 Our final stop on the affordable luxury destination wedding packages tour brings us to the secluded paradise Hyatt Zilara Rose Hall. An adults-only haven perfect for mature guests, this Montego Bay resort showcases one of the finest wedding experiences in the Caribbean. Throughout your stay, you'll have access to seasoned chefs and successful coordinators, all poised to cater to your every need.
Hyatt Zilara Rose Hall offers couples the perfect destination for their special day with a lavish and romantic setting. The resort offers one-of-a-kind wedding packages that range from a beach to a garden ceremony, to a stylish modern wedding affair. Guests will be treated to deluxe accommodations and amenities such as a special welcome ceremony with a professional makeover and expert coordinator.
With delicious food and drinks, beautiful floral arrangements and a full-service wedding planner, Hyatt Zilara Rose Hall's Luxury Wedding Packages are sure to make your day perfect. Whether you are looking for a private, intimate wedding surrounded by your closest friends and family or a grand, extravagant event, Hyatt Zilara Rose Hall has you covered!
Sharing beautiful venues with its sister Hyatt Ziva, the Jamaica property offers an impressive 13 ceremony spaces. Walk the aisle at the resort's Ocean Gazebo set against shimmering Caribbean waters, or host a dazzling cocktail hour at the lush emerald gardens. With complimentary benefits available to all couples, it's no question why Hyatt Zilara Rose Hall is on our list.
Wedding Packages: Free – $16,999
Intimate Elegance
Symbolic marriage Ceremony and certificate, performed by a Secular Bilingual Wedding Officiant
Bridal floral Bouquet and Boutonnière for the Groom
Signature Wedding cake
Special decoration of the Couple's room
Complimentary wine delivered to the Couple's room
Late check-out for the couple up to 3:00 p.m. (applies for the Couple, subject to availability)
Onsite services of a professional Wedding Specialist
Complimentary online bridal registry and Wedding website
Ceremony table with white linen and folding Wedding chairs
Sound system for the Ceremony
Massage for the Wedding Couple (25-min each one)
Romantic dinner for the Couple
Making the decision to host a destination wedding can help couples create an unforgettable wedding experience without sacrificing affordability. With a little bit of planning, luxury wedding packages can be designed to cater to a variety of budgets while offering a beautiful atmosphere, excellent amenities, and a memorable experience each guest will cherish.
Ready for some celebratory champagne? Because we've barely scratched the surface. Across the Caribbean, many all-inclusive resorts offer affordable luxury destination wedding packages. No matter where you choose to lock in your hubby, you can rejoice in planning a wedding week that saves you money. Who knows, maybe you can use that money to lengthen your honeymoon (wink, wink).
Want to learn more about our economical luxury resorts? Follow the button below to discover our Destify Top Resorts: