Cenotes are one of the many unique features of Cancun!
Tourists and destination wedding guests flock to these beautiful watery caverns all year long. 
Cenotes are a great excursion option in Cancun and an excellent way to spread your wings and leave your all-inclusive resort property to get an authentic taste of the local culture!
There are thousands of cenotes to choose from, but we're here to highlight some of our destination wedding couples' favorites!
What is a Cenote?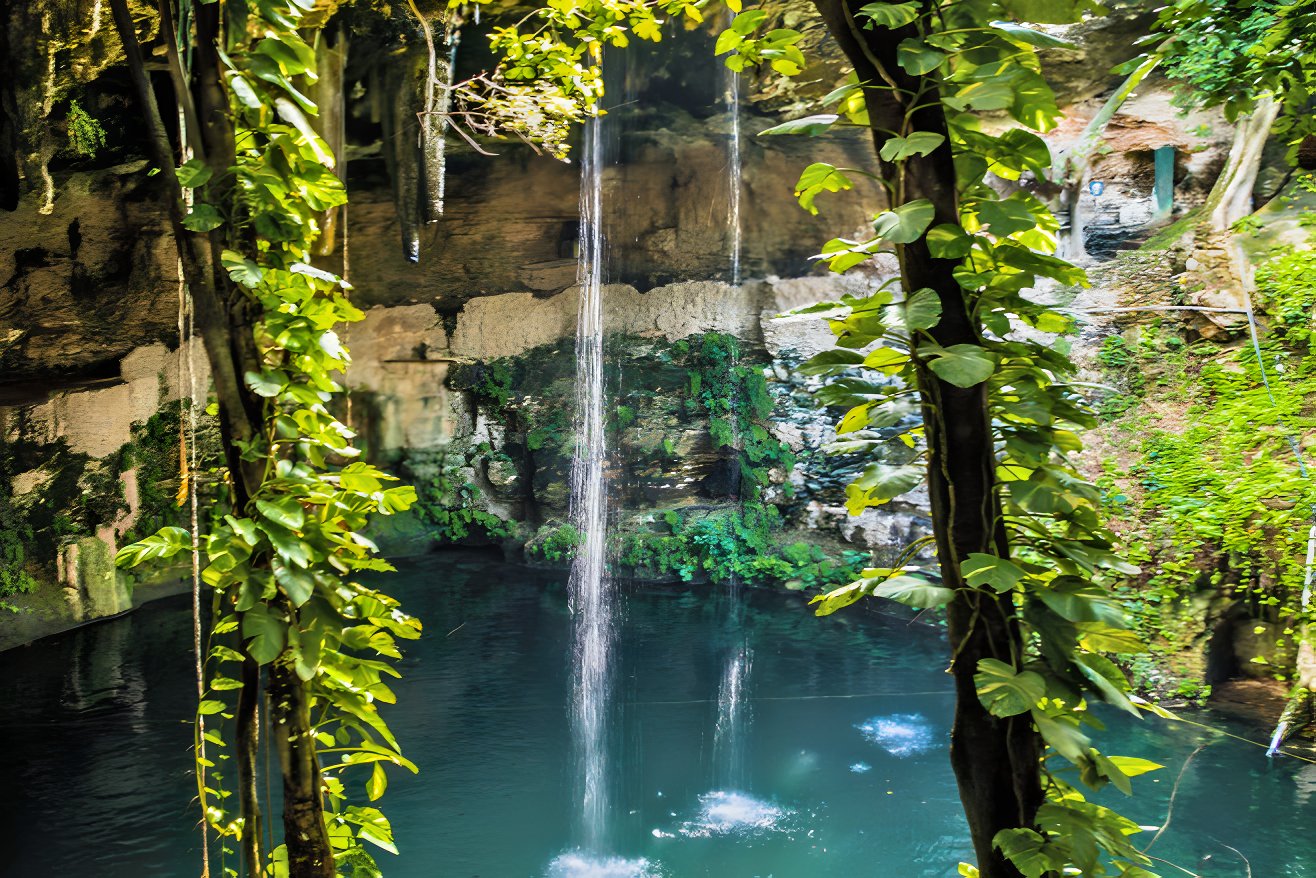 Cenotes are essentially caves or sinkholes.
They are vast systems of underground rivers and caverns snaking throughout the Yucatan Peninsula, Cancun's home.
Cenotes form when the roofs of the caves collapse, exposing themselves to the sky above. From there, they fill with fresh water, creating a cenote.
There are estimated to be over 9,000 cenotes in Cancun alone. These underground grottos have become wildly popular, and some all-inclusive resorts even offer cenotes as wedding venues for big day!
Cenotes had great significance to ancient Mayan cultures. 
Not only were they the primary water source for the Mayan people, but cenotes were considered entrances to the underworld, also known as Xibalba. 
As such, temples and places of worship were built close to cenotes, exemplified in the famous Chichen Itza Ruins and its surrounding cenotes.
Cenote Azul, Playa del Carmen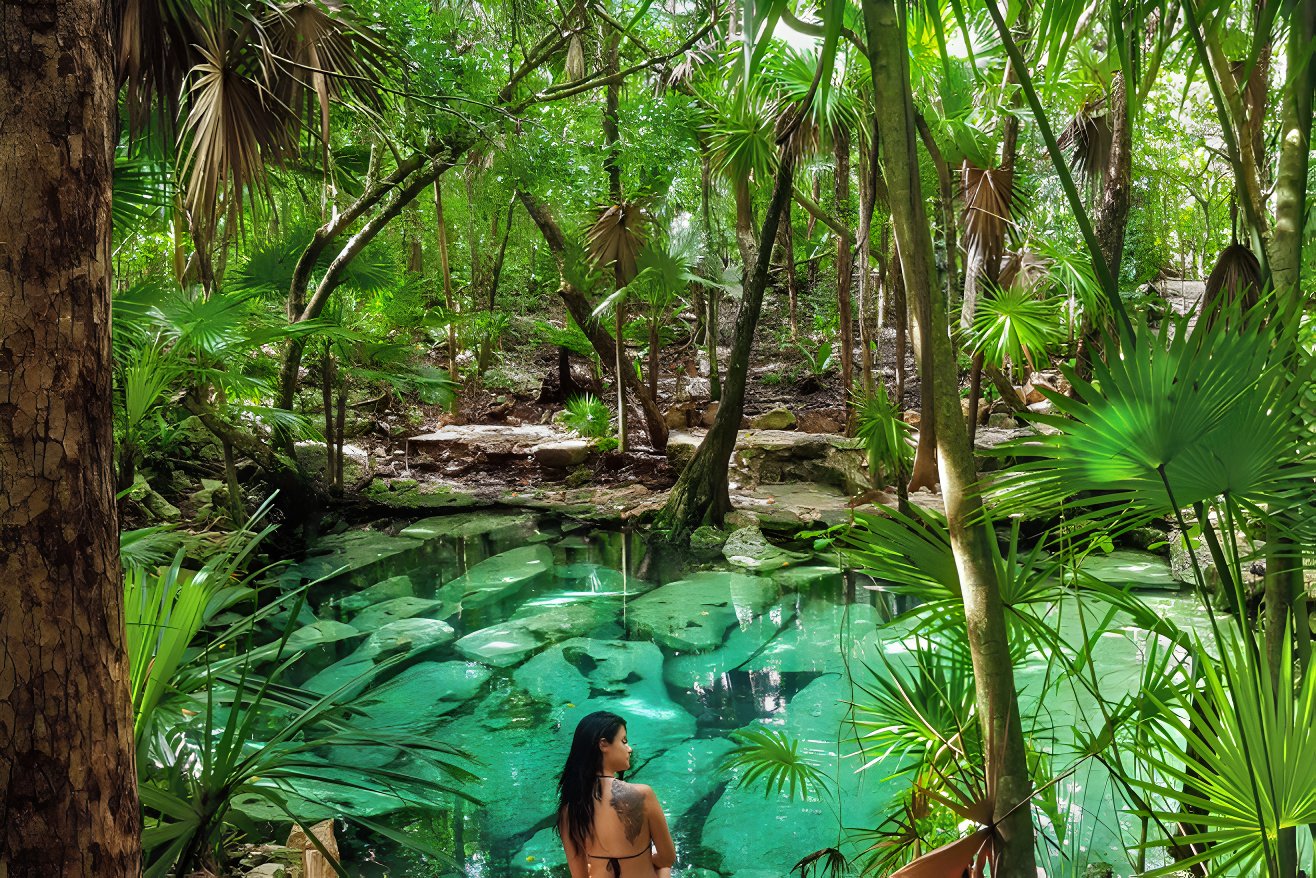 Distance from Cancun: 1 hour 15mins
Entrance Fee: $7.54~ USD/Person ($150 pesos per person)
First up is the freshwater Cenote Azul!
This cenote is a vibrant oasis surrounded by lush, verdant plant life and jungles. It has no roof, so it receives plenty of Caribbean sunlight.
The sight of the light dancing across these crystal blue waters is simply enchanting! 
These translucent waters are shallow and typically warm via the sunlight, so this cenote is excellent for swimming.
Cenote Azul is a perfect cenote for kids thanks to its shallow waters and nearby snack bar.
Cenote Dos Ojos, Tulum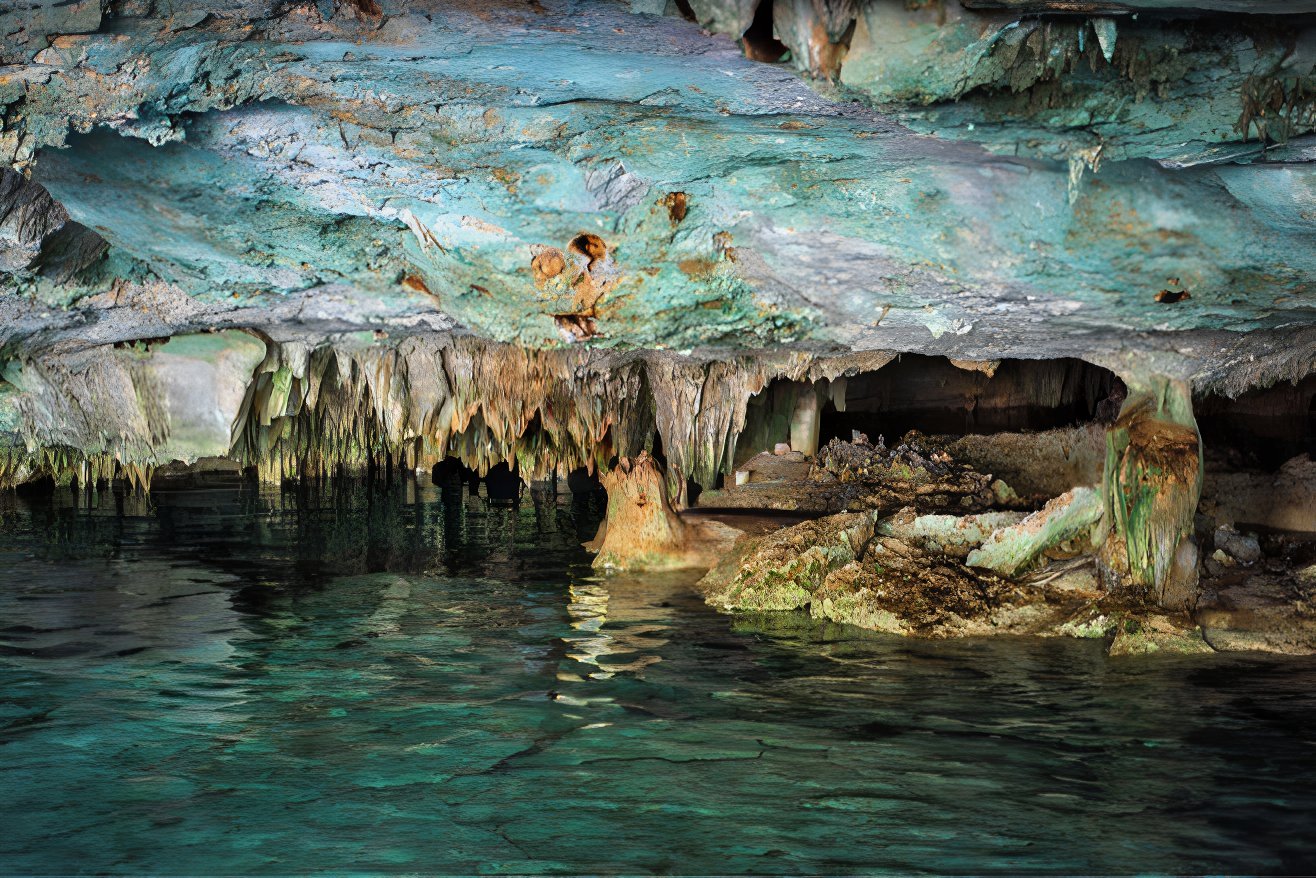 Distance from Cancun: 1 hour 45 minutes
Entrance Fee:  $32.69~ USD/Person ($650 pesos per person)
Cenote Dos Ojos is a cavernous, otherworldly cenote.
The stunning rocks and water are breathtaking, especially when the twilight hours come around and the whole cave seems to glow!
Cenote Dos Ojos is wonderful for swimming, but it's especially great for snorkeling and diving!
The underwater stalactites and rock formations are glorious and otherworldly from below the surface. 
For divers, you can reach two cave systems, the 'Barbie Line' and 'Bat Cave.'
The 'Barbie Line' contains a circuit of easy-to-reach, beautiful rock formations that come alive with the afternoon sun.
The 'Bat Cave' is an air pocket cave filled with, you guessed it, bats! This shadowy cavern is not for the claustrophobics out there, but it is a gorgeous, almost supernatural sight!
Cenote Ik Kil, Yucatán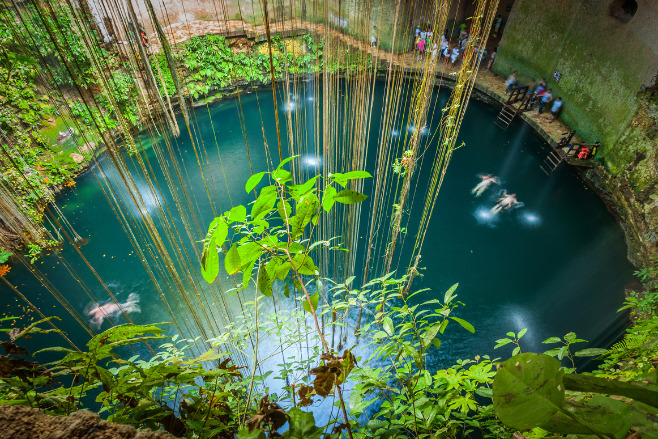 Distance from Cancun: 2 hour 45 minutes
Entrance Fee: $7.54~ USD/Person ($150 pesos per person)
Near the ancient Chichen Itza Mayan Ruins, Cenote Ik Kil is a secluded, atmospheric cavern well worth visiting.
This Yucatan cenote's ceiling is open to the sky, letting in the sunshine when the hour is just right.
The clear waters are over 80 below ground level. Coupled with the towering cave walls all around, Cenote Ik Kil has a cozy feel different from many other cenotes.
Winding vines, darting fish, and a stairway carved into the cenote round out the natural wonder found at this cenote.
Coupled with the cenote's untamed wilds, are modern inclusions and facilities like a restaurant, bar, gift shop, restrooms, changing rooms, snorkel gear rental, and much more.
This incredibly well-equipped locale is one of the most popular cenotes in Mexico, so try to beat the crowd by coming very early or later in the day!
Cenote Suytun, Coba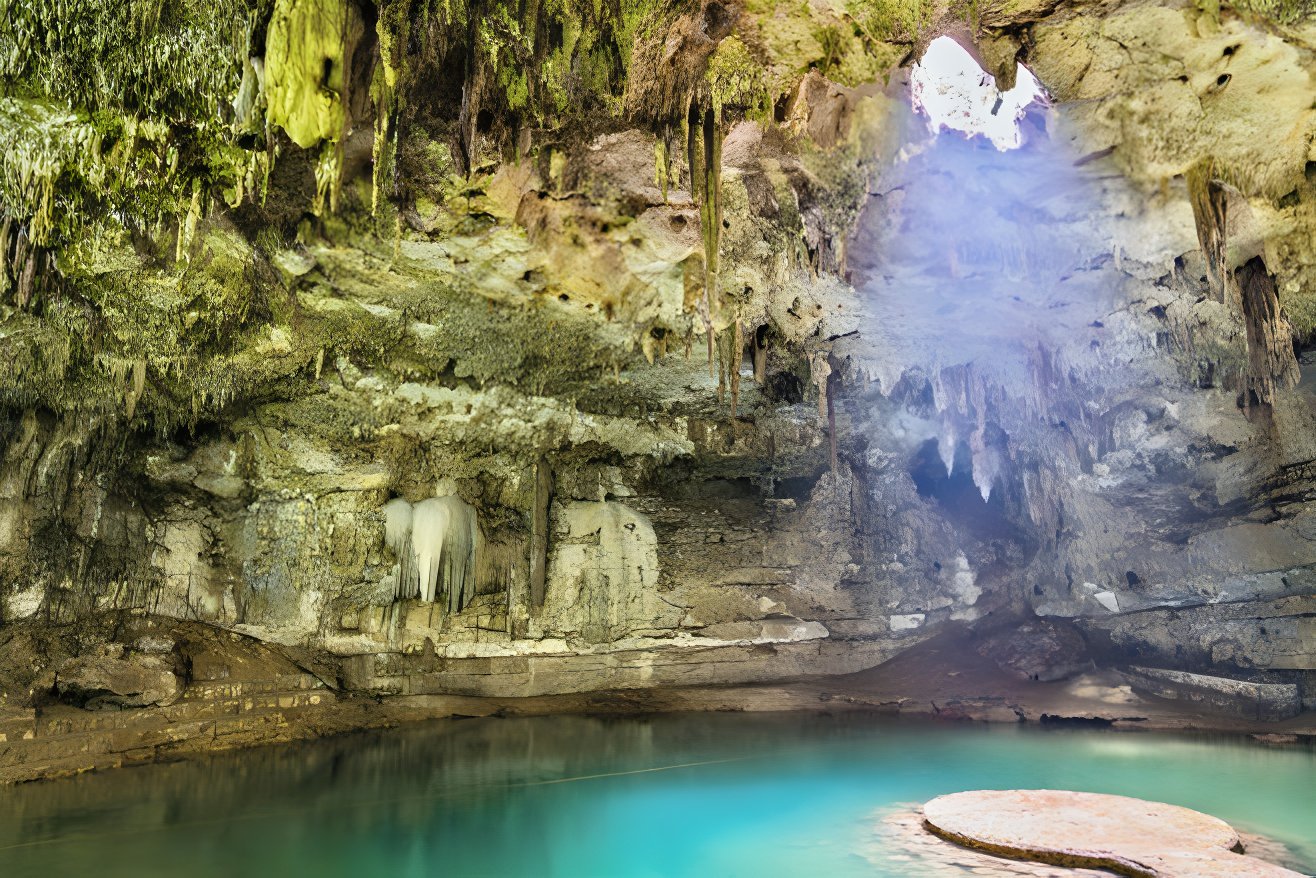 Distance from Cancun: 2 hour 45 minutes
Entrance Fee: $10.06~ USD/Person ($200 pesos per person)
Cenote Suytun is one of the most visually distinct and photographed cenotes in Cancun!
Except for a few small holes in the ceiling that let the Caribbean daylight in, this unearthly cenote is wholly enclosed.
Most notably, Cenote Suytun has a stone path that leads to a round platform in the center of the vast pool. 
This circular platform sits directly under one of the cenote's light sources, so it's become a popular spot to snap some selfies.
Like Cenote Ik Kil, this popular spot is best seen either in the morning hours or closer to closing time. 
Gran Cenote, Tulum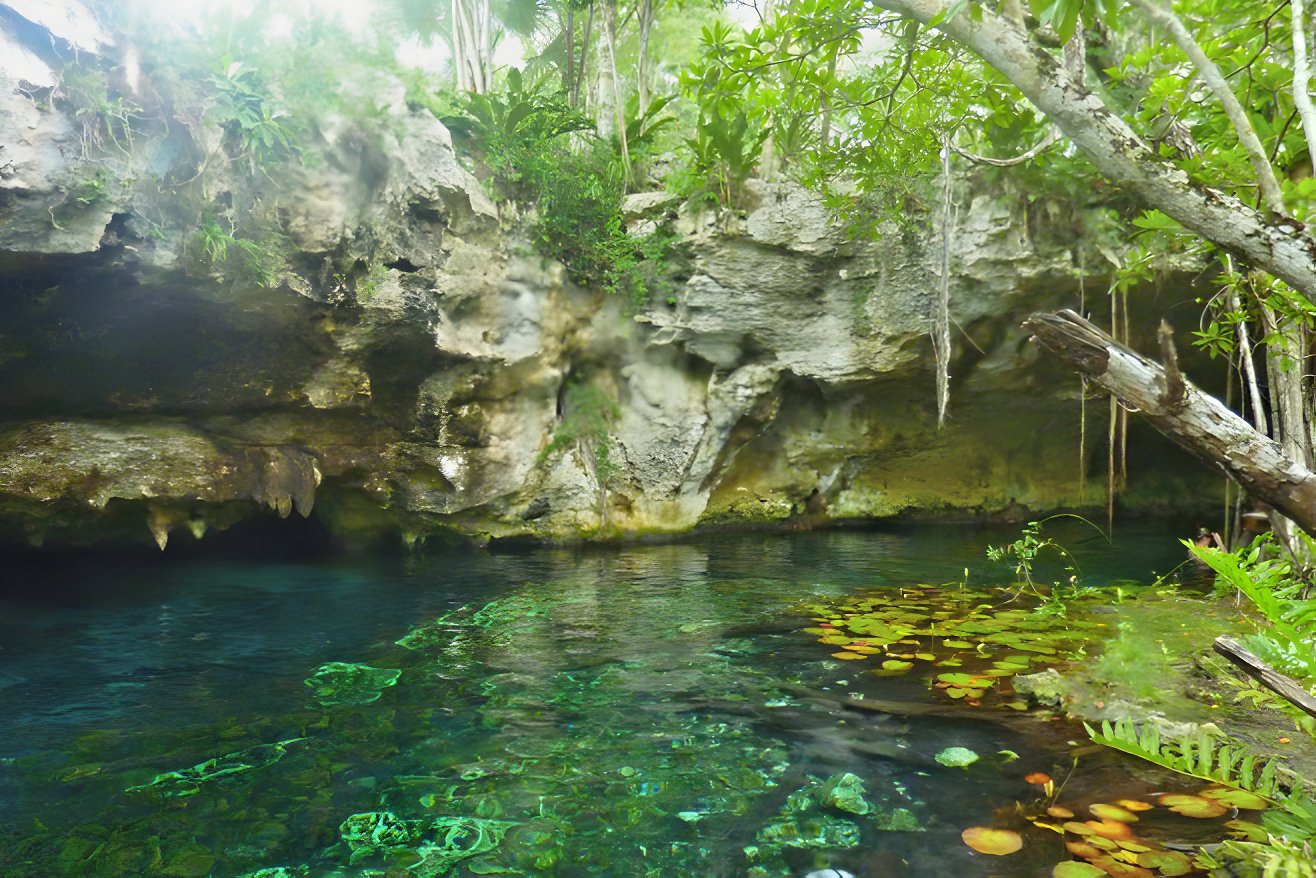 Distance from Cancun:  1 hour 45 minutes
Entrance Fee: $15.09~ USD/Person ($300 pesos per person)
Gran Cenote is a sprawling, open-air system that transports visitors to a nature lover's paradise.
You will find two turquoise-blue swimming areas connected via a cave. This long stretch of water is a fantastic cavern for snorkeling.
The mostly-underwater cenote caverns feature enchanting stalactites and stalagmites, local animals like turtles, and cool, translucent waters.
One of the two major caves is home to various wooden platforms perfect for relaxing and taking in the sights of the cenote and the surrounding kaleidoscopic plant life. 
As far as facilities go, Gran Cenote has restrooms, showers, lockers, and changing rooms. 
Cenote Zacil-Ha, Quintana Roo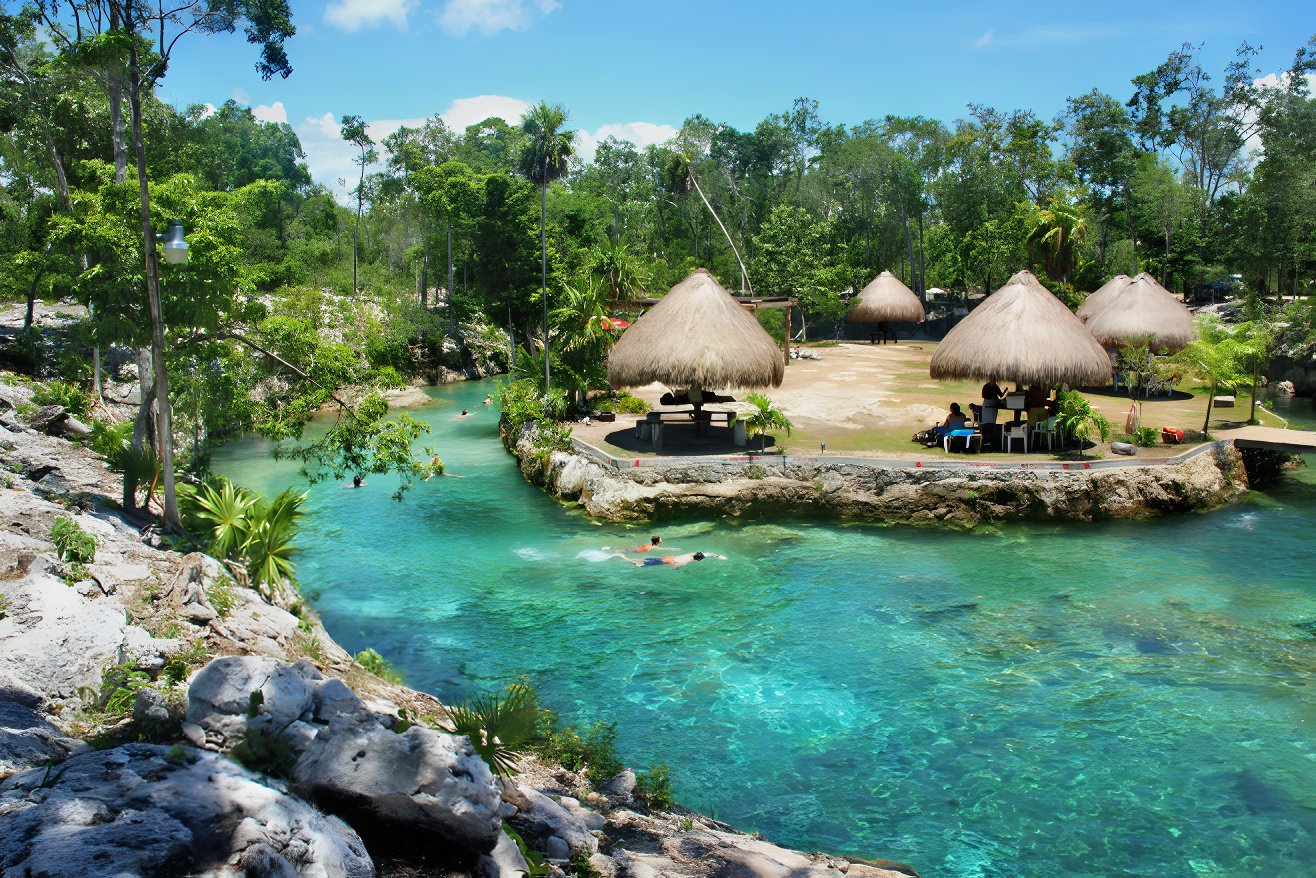 Distance from Cancun:  1 hour 45 minutes
Entrance Fee: $10.06~ USD/Person ($200 pesos per person)
Because of its shallow waters, Cenote Zacil-Ha is one of the best cenotes for families with kids and small children.
Considered an 'open cenote,' this aquatic nook is the natural world's version of a swimming pool. There are lounge chairs and shaded palapas around the waterhole, allowing parents to kick back and relax while their kiddos take a dip and swim amongst the little fish in this cenote!
Cenote Zacil-Ha is one of the only cenotes with a zipline overhead! This fun inclusion is a thrilling way to make a splash and dive into the cenote.
There are many shops surrounding Cenote Zacil-Ha and a restaurant, making this well-kept secret cenote a relaxed, must-visit location.
Book Your Cancun Wedding and Discover YOUR Favorite Cenote Today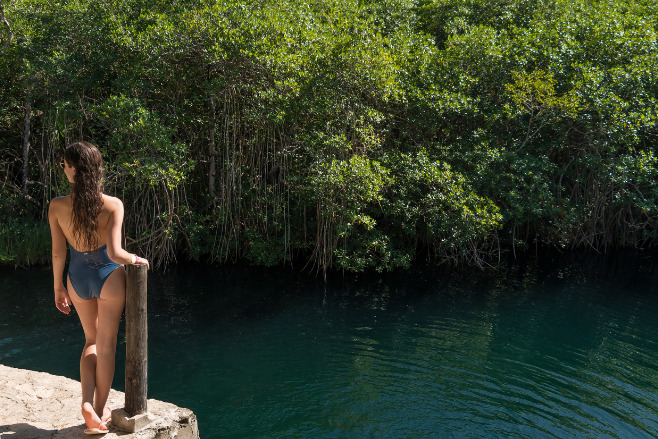 Ready to take a dip and say 'hooray' from your new favorite Cenote?
Amazing! 🥰
We've booked thousands of destination weddings in Cancun for couples and guests who have 
visited these magical pools.
Make your splash and talk to one of our destination wedding experts today!