Your elegant wedding venue is just as important a choice as your wedding's destination and resort! From tranquil white sand beaches, to lush gardens, to panoramic rooftop spaces, there is an elegant wedding venue choice out there for every couple!
But if you're struggling to narrow down your favorite elegant wedding venue, don't sweat it!
We're here to show you 9 of our favorite wedding venues!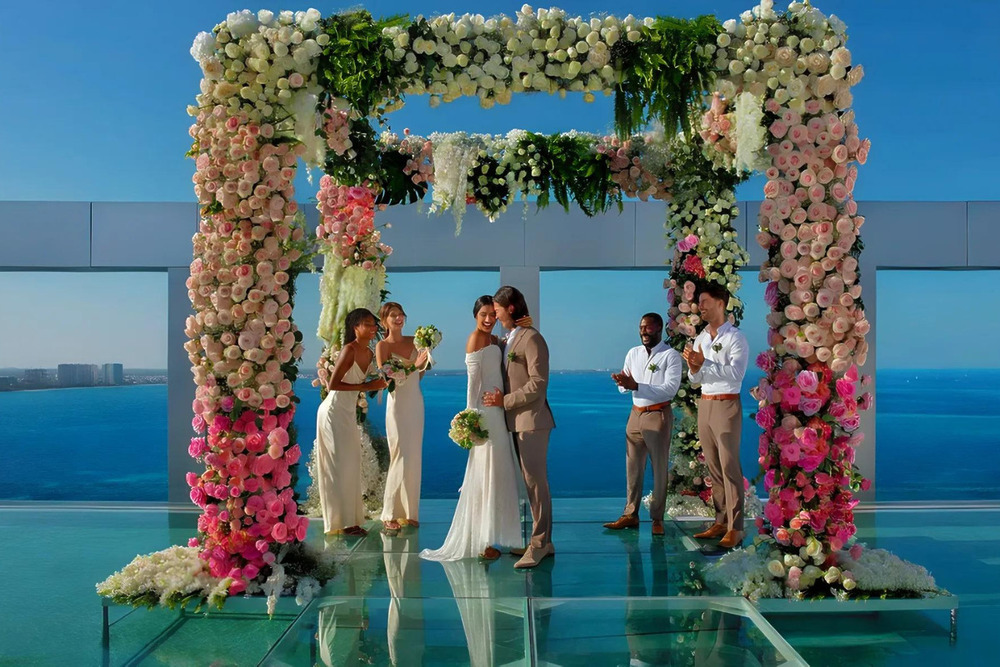 It is a stylish and upscale rooftop lounge with a modern and sophisticated design that offers breathtaking panoramic views of the Caribbean Sea and the Cancun skyline.
The venue features an open-air bar that serves an extensive selection of premium liquors, wines, and signature cocktails. The menu is designed to cater to various tastes and preferences, emphasizing locally sourced ingredients and creative mixology.
The Xhale Rooftop also features a pool, a Jacuzzi, and plush seating areas, making it the perfect spot to relax and unwind while enjoying the stunning views and lively atmosphere. Additionally, the venue hosts various events and parties, including live music, DJ performances, and themed parties.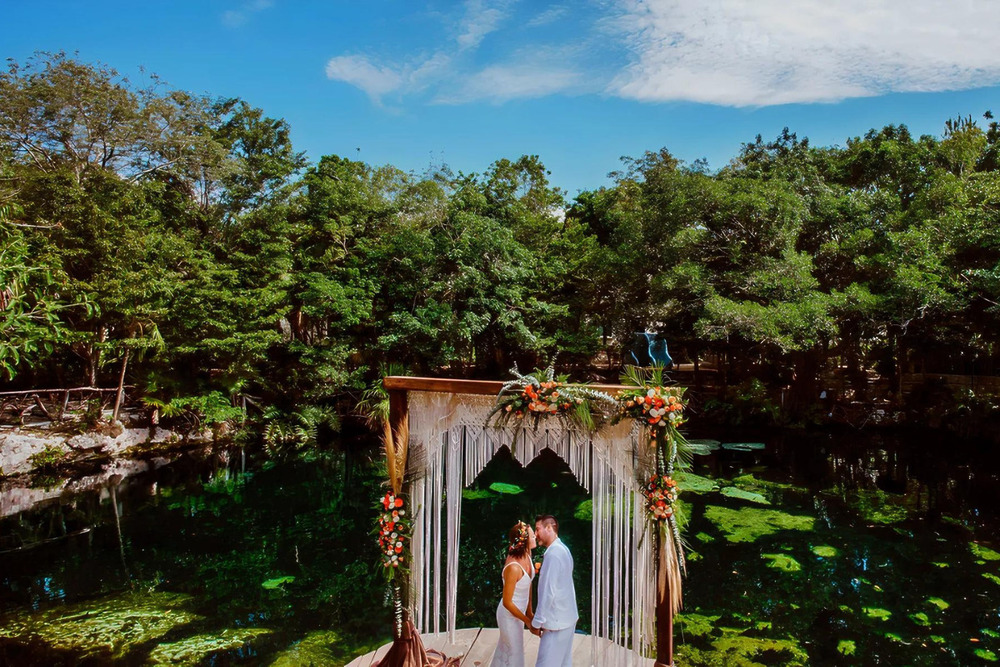 The Cenote Cristalino venue is a stunning natural pool located within the resort's grounds.
The Cenote Cristalino is a freshwater pool fed by an underground river system. The pool is crystal clear and has a beautiful blue-green color characteristic of cenotes. The pool is surrounded by lush vegetation, and several wooden decks and platforms are built around the pool that provides seating and sunbathing areas.
The Cenote Cristalino is a popular spot for swimming and snorkeling, and a variety of aquatic life can be seen in the pool, including fish, turtles, and even freshwater rays. The pool is also used for various water-based activities, such as kayaking and paddleboarding.
The Cenote Cristalino is a unique and beautiful venue that offers guests the opportunity to experience the natural beauty of the Yucatan Peninsula. Whether you are looking to relax by the pool or explore the underwater world of the cenote, the Cenote Cristalino at Sandos Caracol Eco Resort is a must-see destination.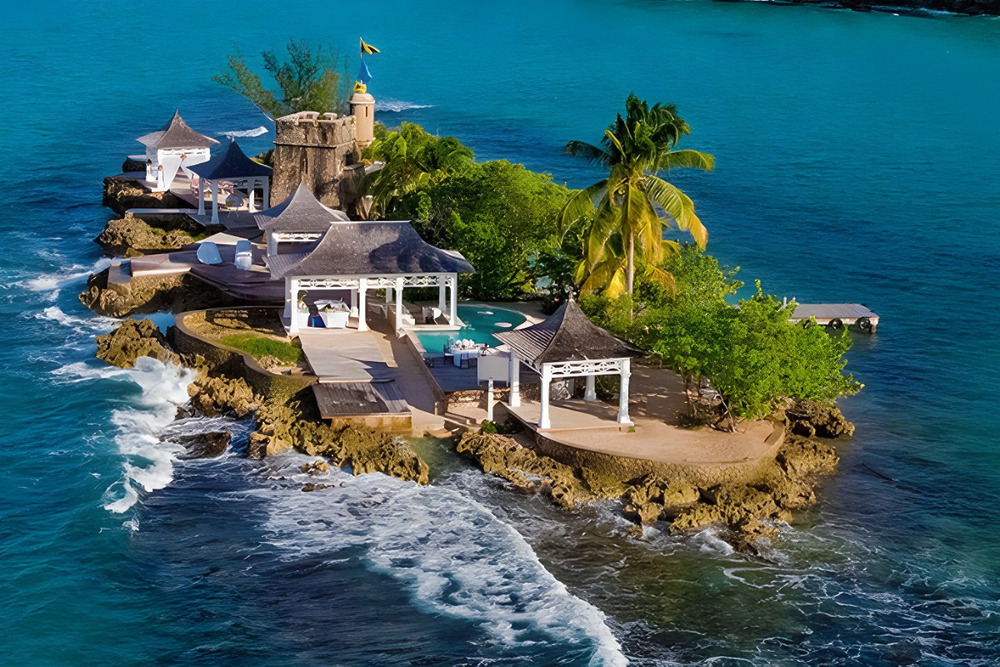 Couples Tower Isle's Private Island is a stunning venue that offers couples an exclusive and intimate setting for their wedding or special event. The island is just a short boat ride from the resort and is surrounded by crystal-clear waters and white sand beaches, creating a romantic and picturesque backdrop.
The Private Island features a range of amenities and facilities, including a secluded beach, an open-air pavilion, a bar, and a grill. The pavilion is a beautiful structure that provides shelter from the sun and rain while allowing guests to enjoy the stunning views of the island and sea views. The bar serves a range of refreshing drinks, including tropical cocktails, beer, and wine, while the grill prepares delicious fresh seafood and other local specialties.
The island also has comfortable seating areas, including lounge chairs, hammocks, and cabanas, where guests can relax and enjoy the beautiful surroundings. For those who want to get active, the island offers a range of water sports and activities, including snorkeling, kayaking, and paddleboarding.
Dreams Vista Cancun's Preferred Club Infinity Pool Rooftop is a luxurious and exclusive space offering breathtaking panoramic views of the Caribbean Sea and the Cancun skyline.
The venue is located on the rooftop of the resort's Preferred Club Tower, reserved for guests who have booked a Preferred Club room or suite. Only a select group of guests can access this stunning location, ensuring a private and intimate atmosphere.
The infinity pool is the venue's centerpiece, offering a stunning backdrop for sunbathing, swimming, or simply enjoying the view. The pool features a sleek and modern design, with clean lines and sparkling blue water that merges seamlessly with the horizon.
The surrounding area is beautifully landscaped, with lush greenery and tropical plants that provide a natural and tranquil atmosphere. Plenty of lounge chairs and cabanas are available for guests to relax in, as well as a bar area where they can enjoy a refreshing drink or cocktail.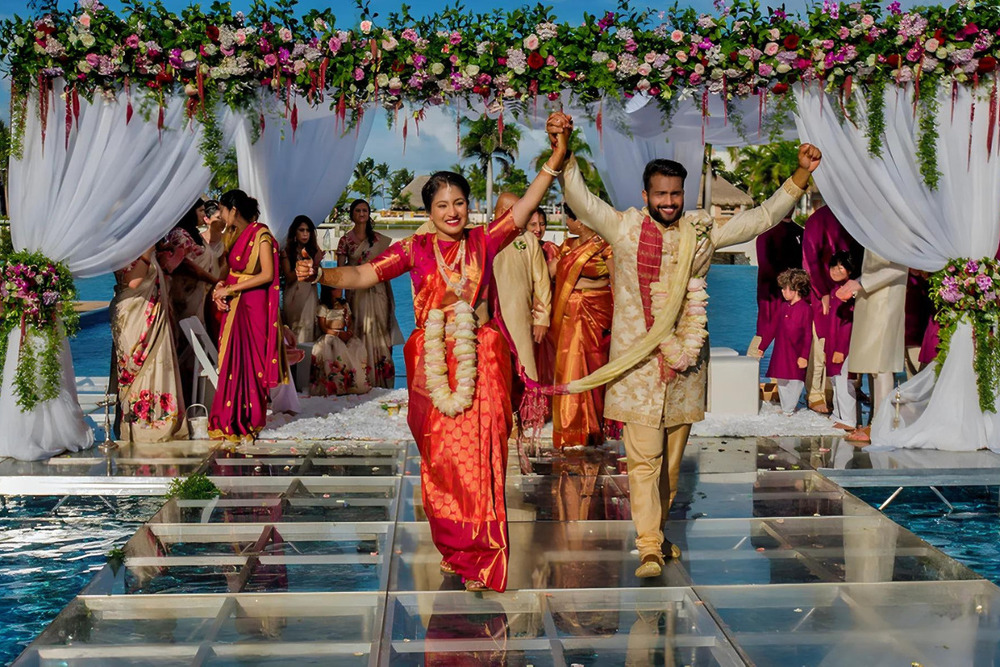 The Eclipse Canal venue at the Hard Rock Punta Cana is a stunning outdoor event space located right on a picturesque canal's edge. The platform features a large stage perfect for concerts and performances and plenty of seating and standing room for guests to enjoy the show.
The Eclipse Canal venue's atmosphere is lively and sophisticated, with sleek modern furnishings, state-of-the-art lighting, sound systems, and stunning views of the surrounding water and the area's natural beauty.
In addition to hosting concerts and other live performances, the Eclipse Canal venue is famous for weddings, corporate events, and other special occasions. Its location at the Hard Rock Punta Cana resort also means guests can access various amenities, including restaurants, bars, and accommodations.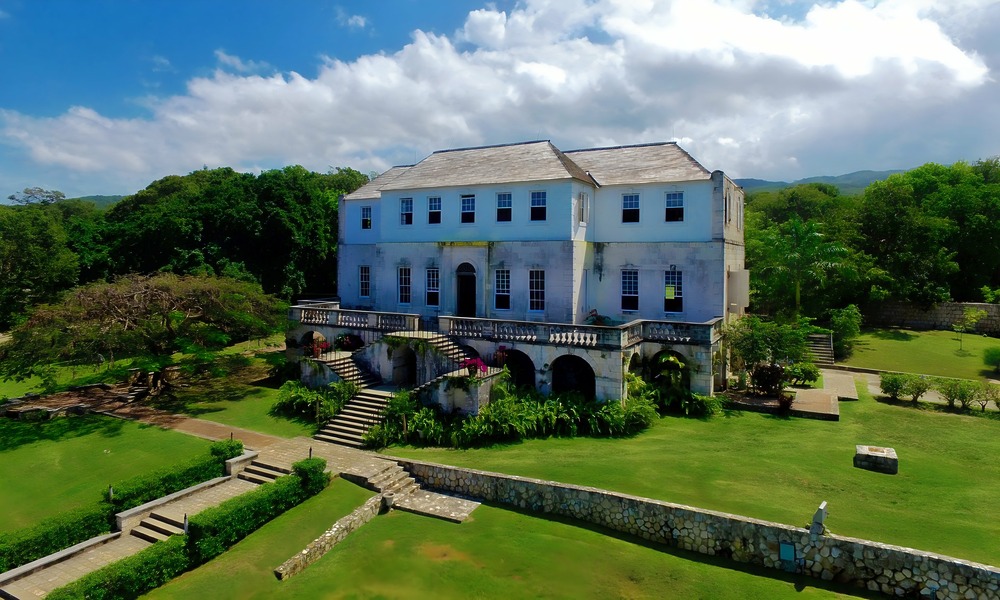 The Hilton Rose Hall's Rose Hall Great House is a stunning wedding venue in Montego Bay, Jamaica. The Great House is a historic plantation home that has been beautifully restored and renovated to serve as a luxurious event space.
The venue features a spacious outdoor terrace with breathtaking views of the Caribbean Sea, providing the perfect backdrop for a romantic outdoor ceremony. The venue is surrounded by lush gardens and a sparkling infinity pool, adding to the elegance of the setting.
The interior of the Great House is equally impressive, with a grand staircase, high ceilings, and ornate chandeliers that create a sense of sophistication and glamour. The house has several rooms that can be used for different aspects of the wedding celebration, including a reception hall, a dining room, and a bar.
The Rose Hall Great House is also steeped in history and folklore, adding to its unique charm. It is said to be haunted by the ghost of Annie Palmer, the infamous "White Witch of Rose Hall." This adds a touch of mystery and intrigue to the venue, making it even more memorable for guests.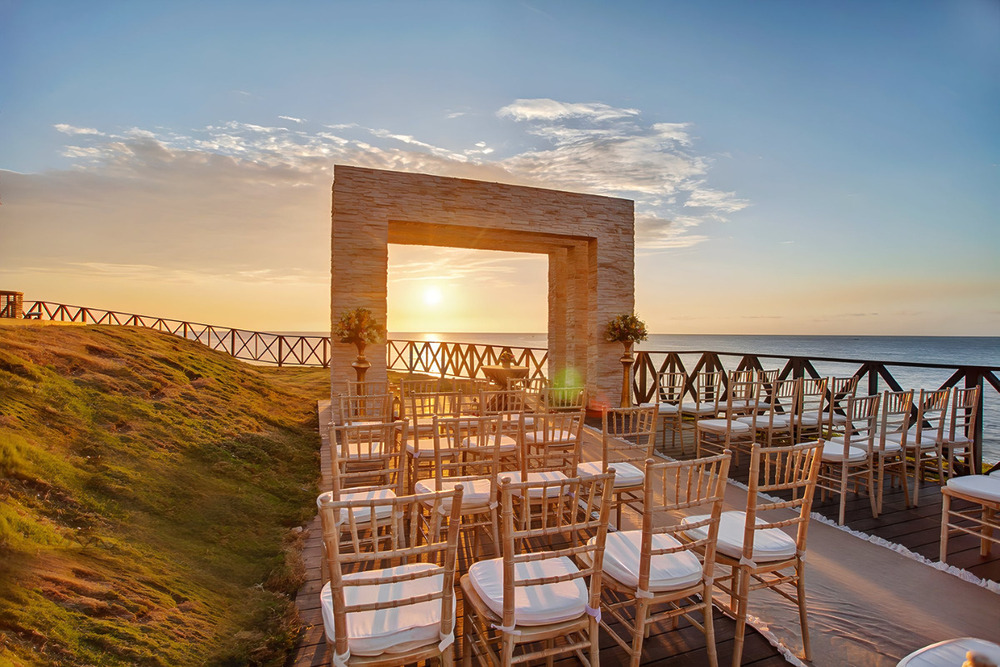 Hideaway at Royalton Negril's Ocean Point Gazebo venue is a stunning outdoor location offering breathtaking Caribbean Sea views. The gazebo is situated on a cliff, providing guests with panoramic views of the ocean and the surrounding landscape.
The gazebo is modern and elegant, featuring a sleek, minimalistic design with white columns and canopy roof. The space is perfect for intimate events like weddings, vow renewals, and other special occasions.
Lush tropical gardens surround the Ocean Point Gazebo venue and offer a private and serene atmosphere, making it the ideal location for a romantic and unforgettable celebration. The space has state-of-the-art sound and lighting systems, creating a perfect setting for dancing under the stars.
In addition to the stunning views and modern design, the Hideaway at Royalton Negril's Ocean Point Gazebo venue offers exceptional service and amenities. Guests can enjoy a dedicated bar, comfortable seating, and access to all-inclusive food and beverage options, ensuring their celebration is perfect.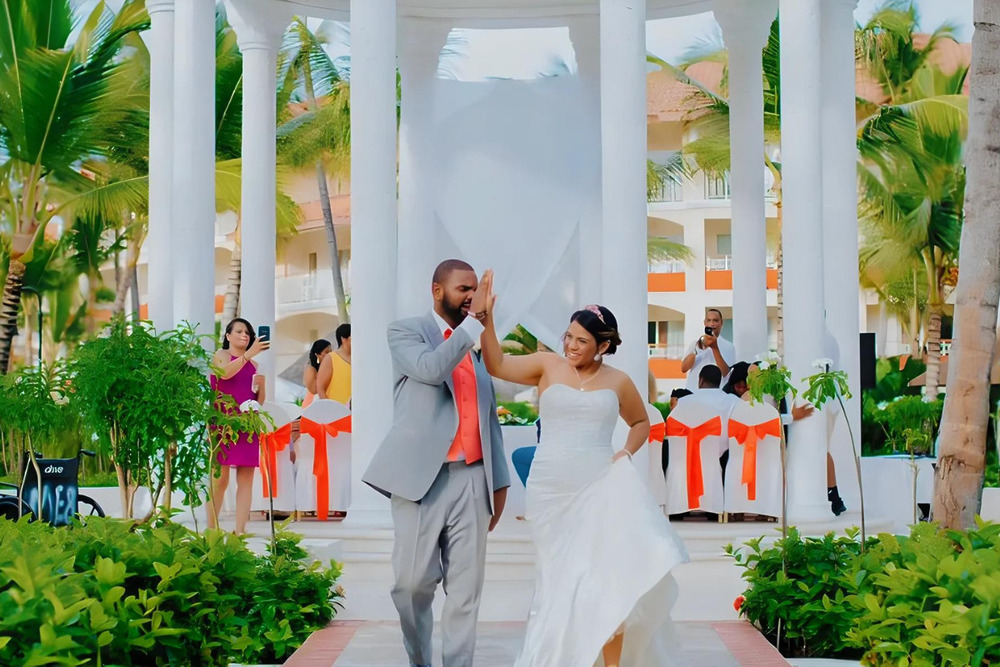 Majestic Elegance Punta Cana's Elegance Gazebo is a stunning outdoor wedding ceremony venue located within the resort's lush tropical gardens. The gazebo is constructed of white pillars and a white roof, with elegant drapes that blow gently in the Caribbean breeze. The gazebo features a spacious deck, perfect for the couple and their wedding party to stand upon while exchanging vows.
Surrounded by vibrant flowers and towering palm trees, the Elegance Gazebo provides a picturesque setting for a wedding ceremony. The gazebo can accommodate up to 100 guests, making it an ideal option for intimate weddings. The resort's experienced wedding planners can assist couples in customizing the gazebo with additional floral arrangements or decorations to match their chosen wedding theme or colors.
Overall, the Elegance Gazebo at Majestic Elegance Punta Cana provides a romantic and tranquil setting for a tropical wedding ceremony, perfect for couples looking to exchange vows in paradise.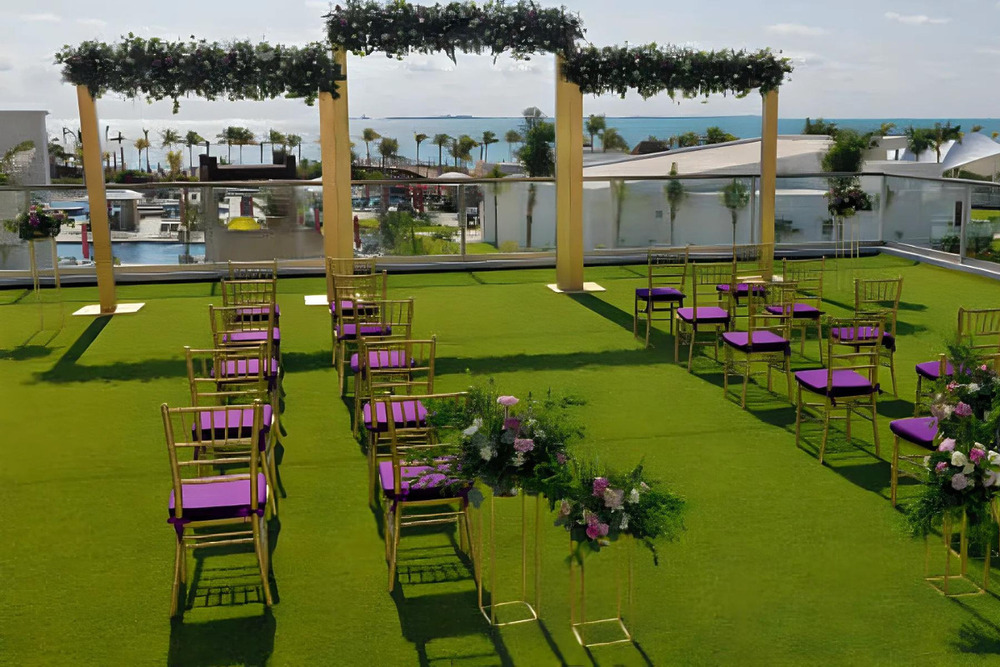 Planet Hollywood Cancun's Roof Top Wedding Gusto venue is a stunning location for couples looking to tie the knot with a breathtaking view. The venue is situated on the rooftop of the Planet Hollywood resort, providing guests with panoramic views of the Caribbean Sea.
The venue features a stylish and modern design, with sleek white furnishings and elegant decor. The space is spacious enough to accommodate up to 80 guests and has a separate area for the ceremony and reception.
The ceremony area boasts a romantic and intimate atmosphere, with a beautifully decorated altar and stunning sea views. The reception area is equally impressive, with a large dance floor, a full-service bar, and comfortable lounge areas for guests to relax and enjoy the celebration.
The venue also offers top-of-the-line audio and lighting systems, ensuring the couple's special day is accompanied by great music and a perfect ambiance.
Book Your Elegant Wedding Venues Today!
Now that you've set the stage for your luxurious big day in paradise, are you ready to say 'I do?'
Talk to one of our destination wedding experts today!