So, you're planning a destination wedding. First off, hats off to you and your future spouse! 🥳
But here comes the tricky part: you have to decide on a destination. As simple as this may seem, a bevy of picturesque Mexico and Caribbean locations could provide the perfect backdrop for an unforgettable romantic wedding experience.
Maybe you're thinking to yourself, "tropical climates and all-inclusive luxury resorts — how different could these destinations be from each other?"
Well, we're here today to dispel that myth!
We've sent thousands of happy couples to these vibrant locales. With all of that experience, we've discovered each location's unique characters and souls and how each destination is molded by its surrounding culture and environment.
So, without further ado, let's get down to the basics and showcase the difference between our destinations!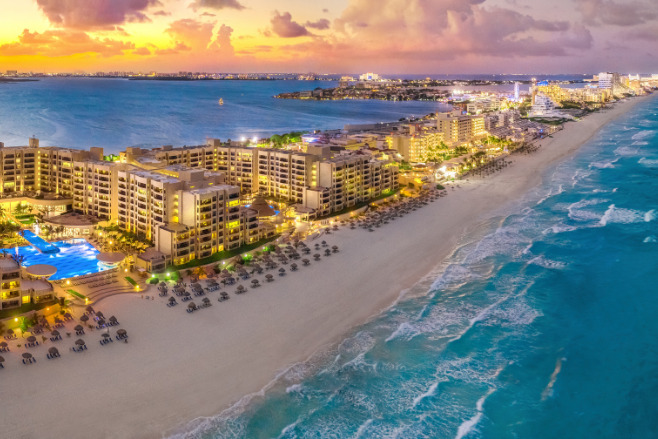 Take a short flight down to a lush wonderland teeming with lush jungles, cultural landmarks, and perhaps North America's most exciting array of watersports.
It's intimidating, at times, to view Mexico's selection of locations. Not only are you met with 8 possible destinations in the same country, but each city and town boasts different resorts, flora, fauna, and activities linked to their respective region. Talk about analysis paralysis!
However, this is the beauty of planning a Mexico destination wedding  — there is no wrong choice!
Every location possesses its own unique atmosphere and amenities. Whether you're taking a dive in a refreshing cenote in the Riviera Maya forest or touring Puerto Vallarta's artistically stunning downtown district, you'll discover a wedding environment that perfectly accommodates you and your guests' preferred speed.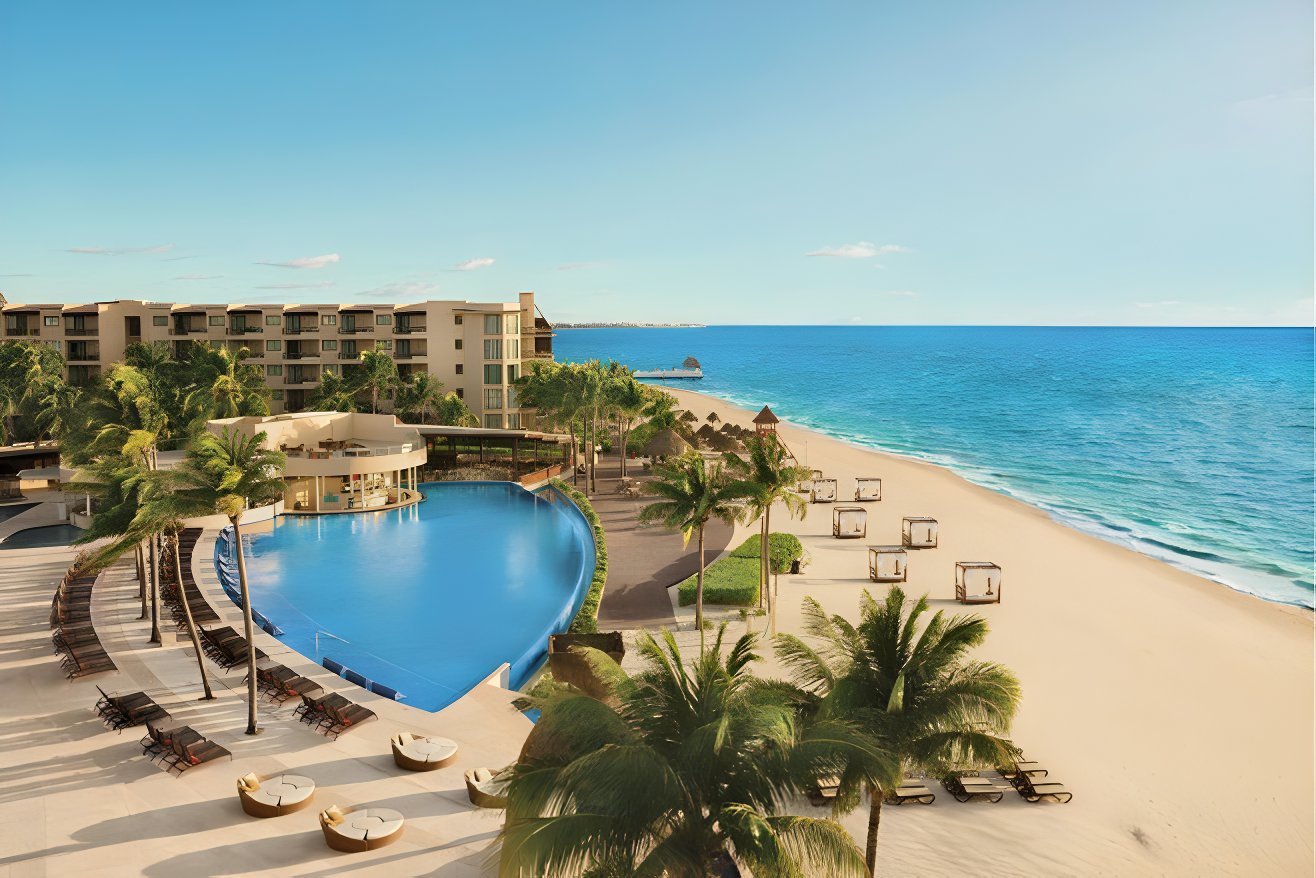 Conveniently situated between downtown Cancun and Playa del Carmen, your enchanting wedding awaits. Whether you desire a ceremony by the beach or under a Mayan-inspired gazebo, Dreams Riviera Cancun will guarantee a day of endless bliss. Enjoy a private in-suite Jacuzzi, or visit the outdoor pool theatre, which offers shows and themed dinners. No matter what your wishes are, this resort has it all!
Dreams Riviera Cancun Resort & Spa offers a wide range of on-site dining options, including several restaurants serving international cuisine and several bars and lounges. You have to try dining at Himitsu, a Pan-Asian gourmet restaurant serving up scintillating eats.
The resort also features a large outdoor swimming pool, a well-equipped fitness center, a full-service spa, and a range of water sports and other activities.
One of the standout features of Dreams Riviera Cancun is its stunning setting, which includes over a half mile of pristine soft white sand beach and crystal-clear waters of the Caribbean Sea. This resort is also well-located, close to many of the area's popular attractions, including the ancient ruins of Tulum, the ecological park Xcaret, and the famous theme park Xel-Ha.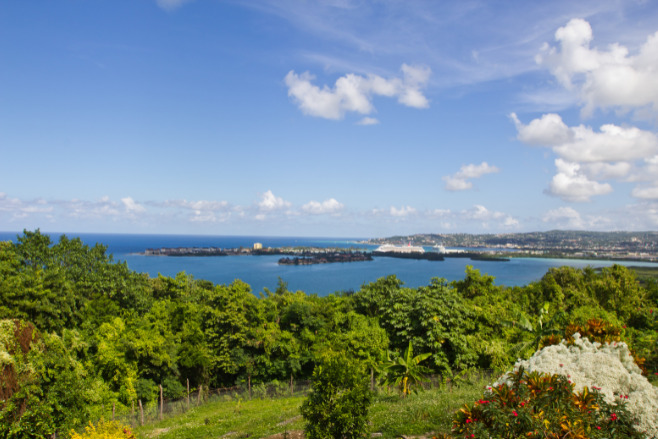 Our tour brings us to the masters of island time: Jamaica. Jamaica is an island dotted with 5-star wedding resorts and a collection of charming beachside towns that'll elevate your dream week of happiness.
Jamaica offers a front-row seat to some of the world's most gorgeous seascapes and natural landmarks. Hamlets such as Negril and Ocho Rios showcase cliff-diving and the wild Dunn's River Falls. Guests can also leverage Montego Bay's contemporary shopping centers, tantalizing nightlife, and world-class restaurants, where jerk cuisine reigns supreme.
The area is steeped in historical importance and influence, mouth-dropping wedding venues, and punctual in-resort service. With British colonial architecture forming the basis of a majority of the island's structures and resorts, the region garners an immersive juxtaposition of tradition and modernity.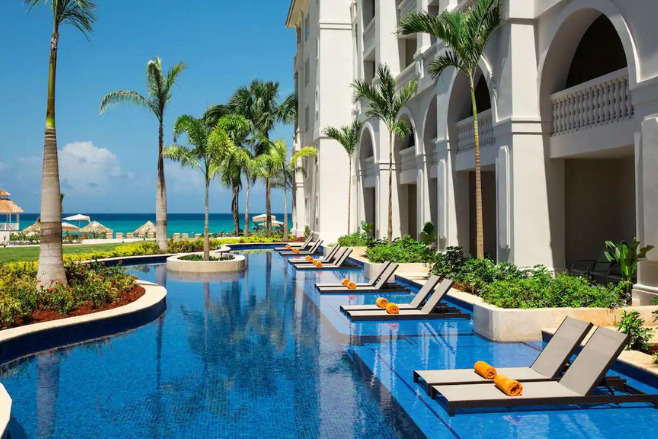 Just on the outskirts of Montego Bay, Jamaica, this exquisite resort is the perfect place for a beautiful destination wedding. Hyatt Ziva Rose Hall has many activities to make your stay as relaxing or exciting as possible.
Surrounded by beautiful beaches and pools, with fantastic food options, the possibilities for an incredible ceremony and a lifetime of memories are endless.
With the Hyatt name, you can rest assured that you and your wedding guest list will receive impeccable service for the duration of their stay.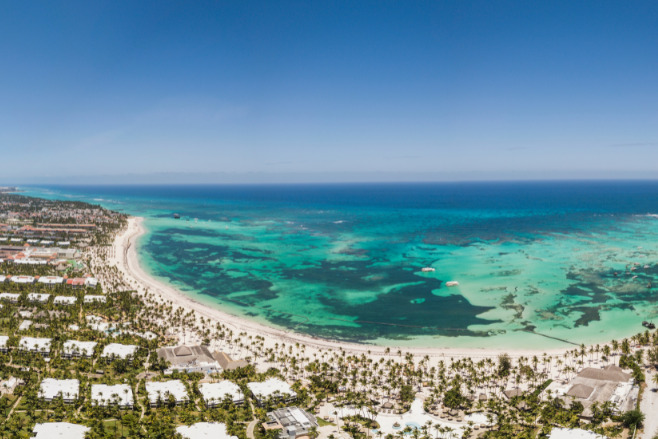 As we venture towards the Caribbean Islands, we find the vibrant oasis of the Dominican Republic. With 24/7 sunshine, pristine white sand beaches, and the most translucent waters you'll ever see, it's no secret that this opulent paradise has couples returning years after their destination weddings!
From the glamour of Punta Cana to the calming vibes of La Romana, the region boasts a variety of elegant all-inclusive resorts representing the gold standard of chic Caribbean luxury.
Guests can enjoy long walks on Bavaro Beach or even tour La Romana's model Mediterranean village, Altos de Chavon. No matter where you decide to host your Dominican Republic destination wedding, you will achieve direct access to some of the finest culturally-rich attractions in the Caribbean.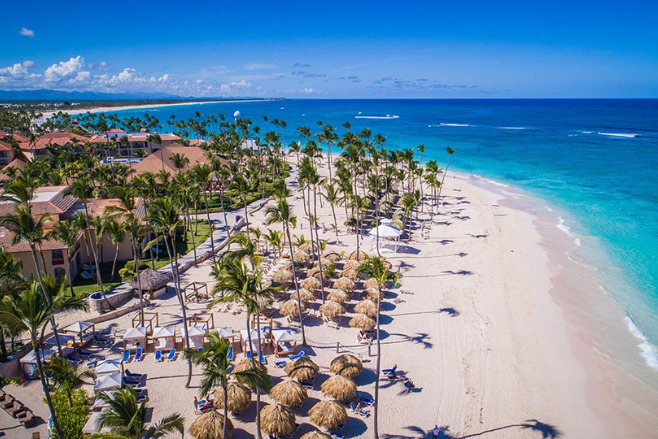 The Majestic Colonial is an expansive resort nestled between rich flora. It offers Caribbean decor throughout the resort, complimented by the soft sands of Bavaro Beach. A Majestic Colonial wedding is perfect for couples looking to share their big day surrounded by lush vegetation, golden sands, and the sounds of the sea.
The resort houses guests in spacious and elegantly decorated rooms and suites, each equipped with modern amenities and panoramic views.
There are several dining options at the resort, including international and local cuisine served in elegant restaurants, as well as casual beachside dining and snacks. La Hispaniola is a foodie's must-stop destination. It serves up decadent imported meats and fresh seafood, combining the tasty eats with open-air atmospheres.
If R&R is your first priority, the resort has a full-service spa offering a range of treatments and services, including massage therapy, beauty treatments, and yoga and meditation classes. There is also a fitness center and multiple swimming pools, as well as a range of water sports and other activities, such as tennis and beach volleyball!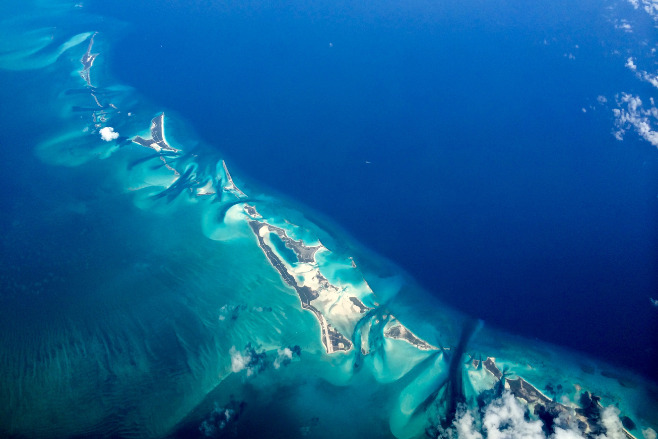 The Caribbean Islands are a group of tropical islands located in the Caribbean Sea, southeast of the Gulf of Mexico and the North American mainland. There are over 700 isles dotting this island chain, each a unique jewel of chic Caribbean charm.
The Caribbean region is known for its warm, sunny weather, pristine beaches, turquoise waters, and lush tropical landscapes.
Each Caribbean island has its unique culture, attractions, and history. Many of the islands saw European powers colonizing them over the centuries. As a result, the Caribbean has diverse cultures and influences, reflected in its food, music, art, and architecture.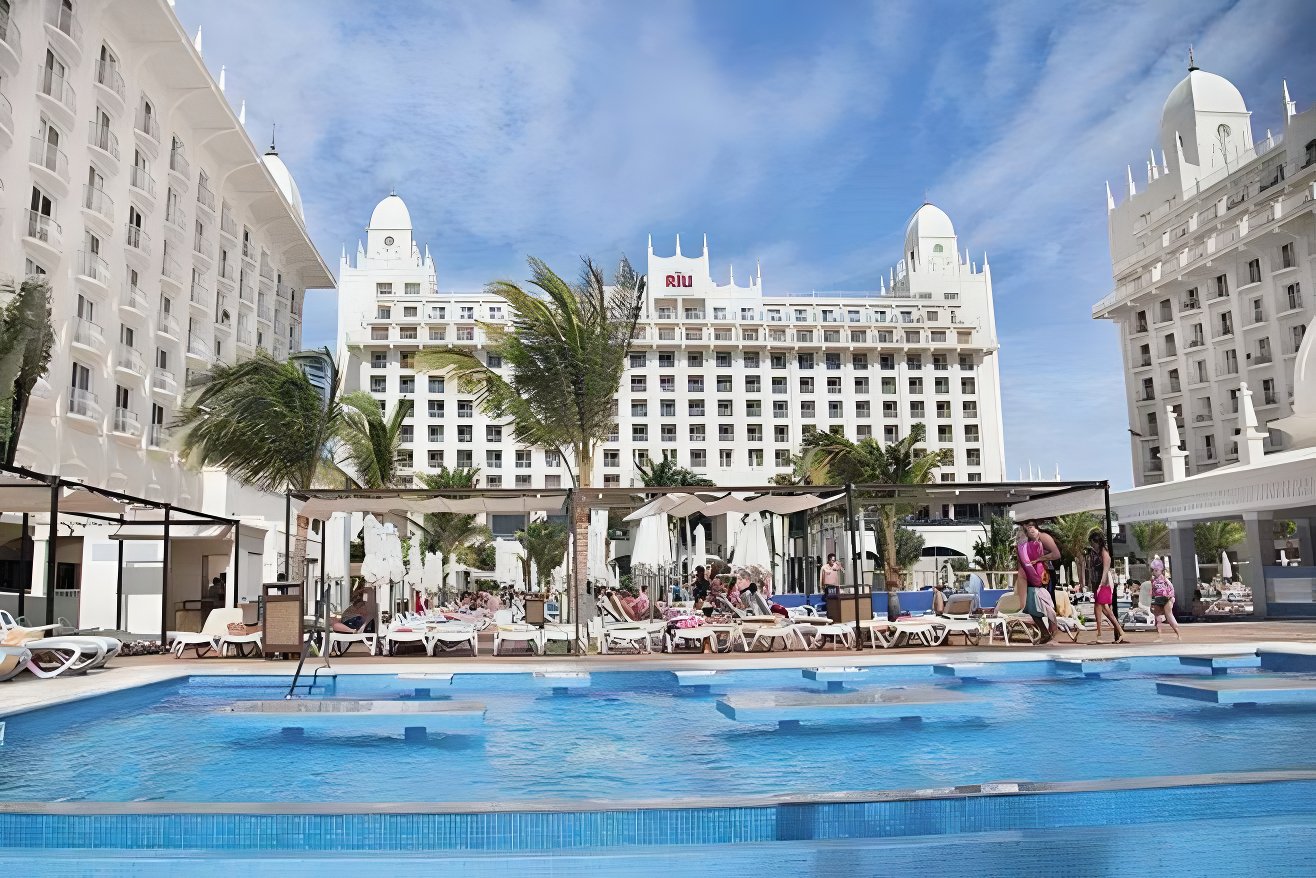 Riu Palace Aruba is located on a gorgeous beachfront, making it the ideal setting for a beach wedding in paradise!
Beautiful fountains, swimming pools, and opulent furnishings flow seamlessly from the resort into the distinctively-emerald seas of Aruba.
In addition to the all-inclusive alternatives, a renowned casino is nearby and offers many shopping and dining opportunities.
The resort has a kids club, but with the surrounding nightlife, Riu Palace Aruba is more suited to wedding parties of adults eager to cut loose!
Aruba's island characteristics will make any visitor feel at ease, and the region is a welcoming sanctuary to explore both day and night, owing to the friendly multilingual locals.
In fact, because of the open-arms atmosphere of the locals, Aruba has earned the nickname of 'One Friendly Island!'
Book Your Destination Wedding in 2023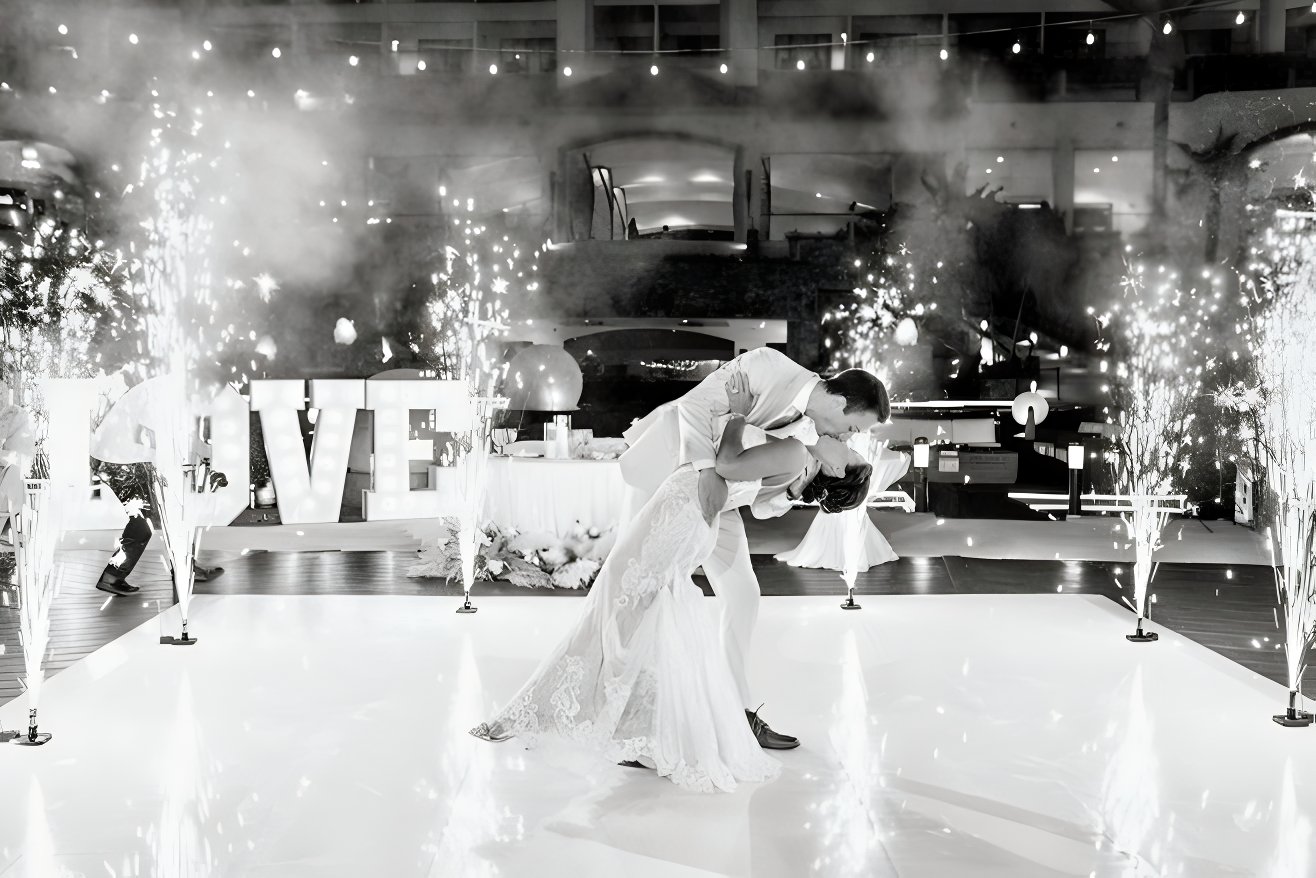 Now that you've learned the difference between our destinations, are you ready to pick your favorite and book your destination wedding?
We're here to take the stress and difficulty out of wedding planning so that you enjoy every moment of your destination wedding!