Across Mexico and the Caribbean, we feature a variety of all-inclusive resorts where luxury is a part of each and every last detail. In today's blog post we're featuring some of our high-end resort options, in unbelievable locations and with hand-tailored service. Many include private butlers, gorgeous infinity pools, gourmet chef curated dining, and a variety of elegant bars featuring premium spirits. Follow the list for some of our most luxurious all-inclusive resort suggestions.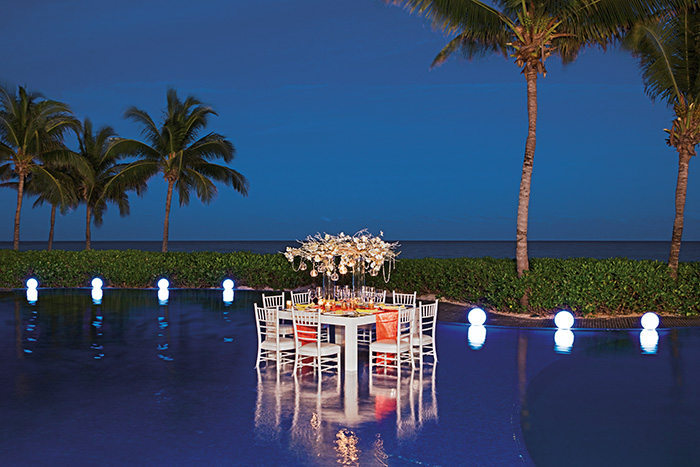 Private Dining at Zoetry Paraiso de la Bonita
Grand Velas Riviera Maya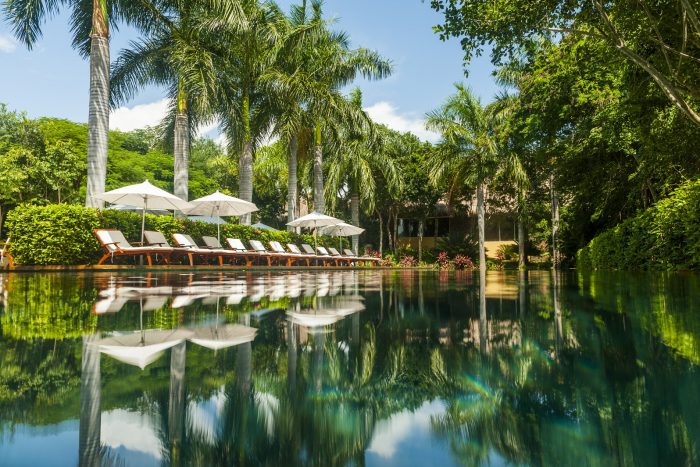 Grand Velas Riviera Maya
The Grand Velas resort in Riviera Maya utilizes thoughtful architecture in an unbeatable location, with a circular beachfront surrounding the property. A wedding ceremony could hug the turquoise coastline, or feature the lush mangroves for sun-soaked photo opportunities. The resort is broken into three rooming sections, the Zen, Ambassador, and Grand Class wings. Each has its own characteristics and pools. Families are welcome, but adults will find a private retreat within the Grand Class section. There's no lack of relaxation options, from the luxe spa featuring an outdoor high-tech hydrotherapy treatment to the 11 bars on-site, including a health bar for recovery and smoothie bar too.
Iberostar Grand Rose Hall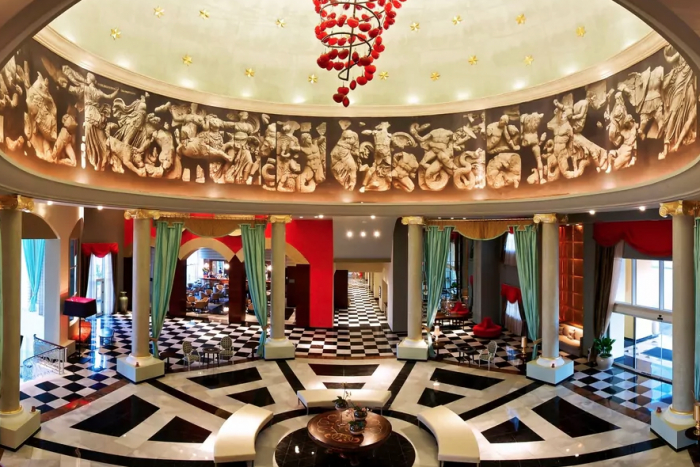 Iberostar Grand Rose Hall
The Iberostar Grand Rose Hall in Jamaica takes vacation levels up a notch, complete with the beautiful Reggae vibes of its surroundings. This idyllic spot is tucked between the sea and rolling mountains, the picture-perfect place for your wedding ceremony. The resort rests on a secluded beach and is for adults only. Guests will love the personal butler services, beautiful pools, and the vibrant nightlife. Beyond the luxurious digs each Grand guest stays in, there's also plenty of exchange privileges with neighboring Iberostar resorts, so you'll have an endless amount of restaurants and amenities to explore.
Zoetry Paraiso de la Bonita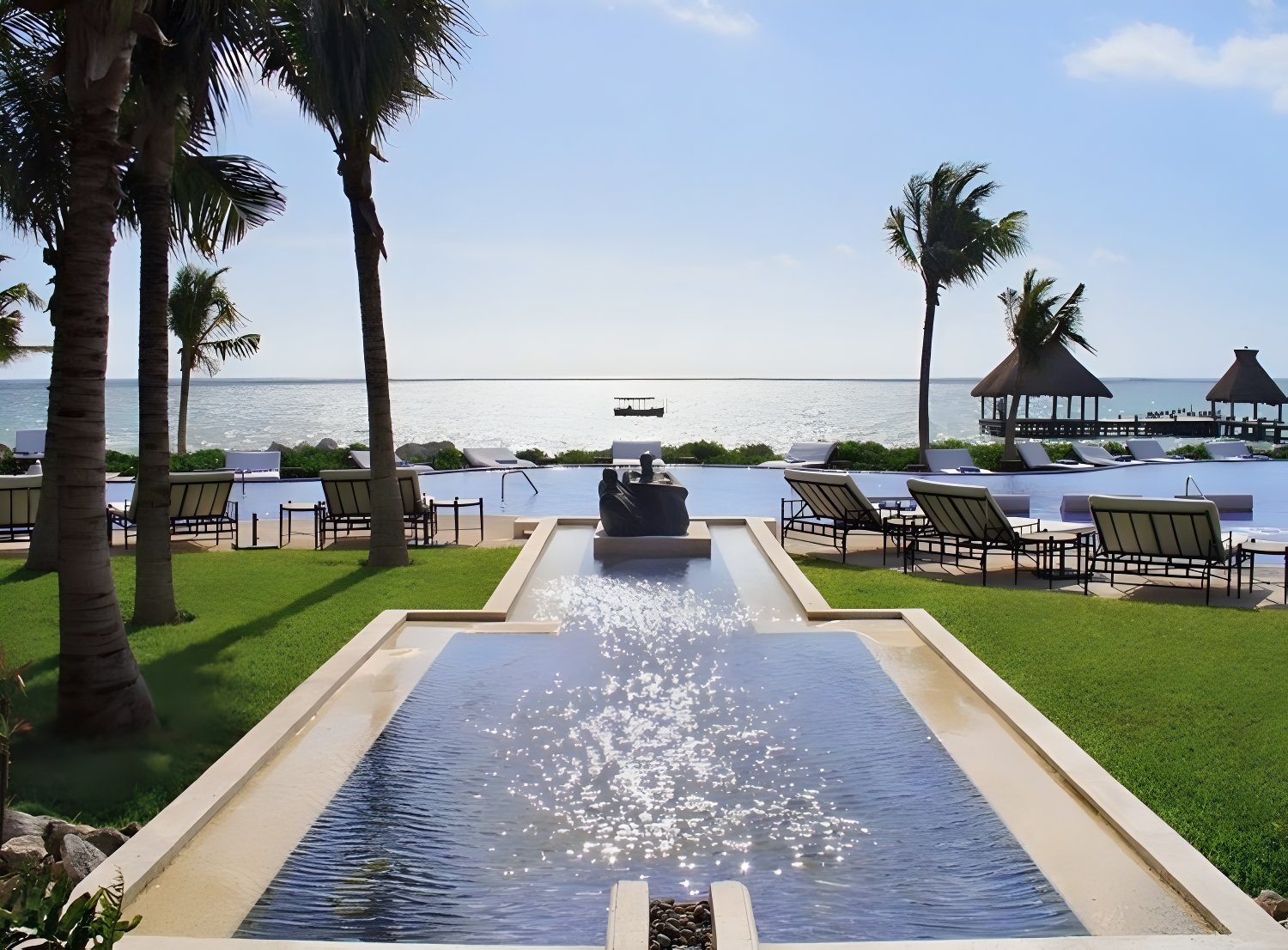 Zoetry Paraiso de la Bonita
This ultra-posh boutique hotel is often labeled the flagship AM Resort, and for good reason. There isn't a single part of the resort grounds at Zoetry Paraiso de la Bonita that's not immaculate, from lush gardens to gorgeous restaurants featuring worldly design flair. Guests will feel the luxury from the second they land in Cancun, thanks to a complimentary chauffeur car provided as your airport transfer with the purchase of your room. Guest rooms are housed in 2 story palapas, featuring exposed stairways and hand carved details. There are tranquil moments promised throughout, with a catamaran cruise included, to the bird lounge and rooftop terrace perfect for your destination wedding. For added romance, book a romantic candlelit dinner on the quaint boardwalk overtop the ocean water.
Exellence Punta Cana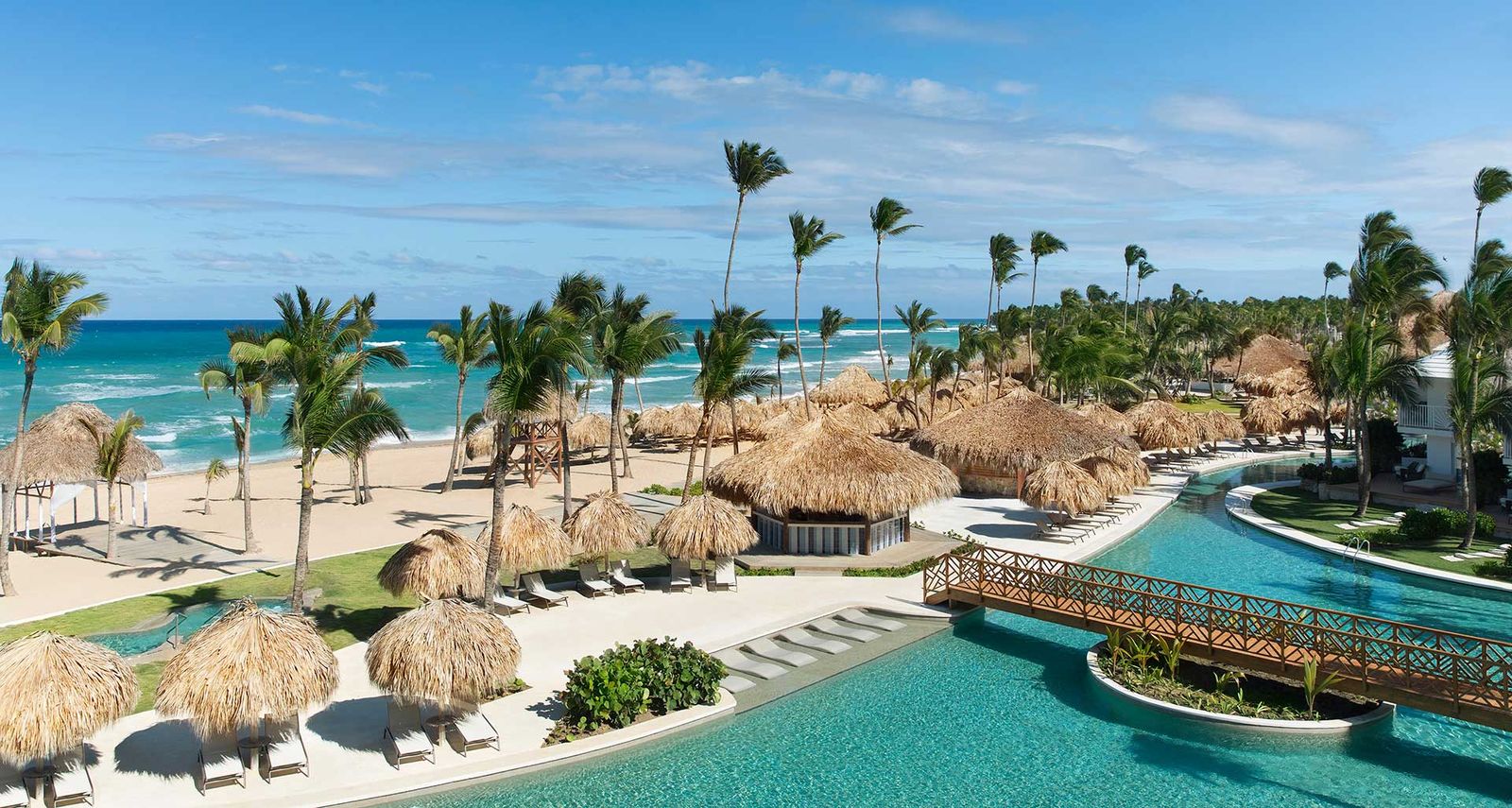 Excellence Punta Cana
The adults-only Excellence Punta Cana resort sits along the beautiful eastern coast of the Dominican Republic, with fine white sand amongst a gorgeous palm grove. The resort's architecture is inspired by colonial influences, with long and lazy pools winding throughout the entire property. The Excellence name means excellent details, with thoughtfully curated menus at each a-la-carte restaurant, to nightly entertainment featuring the rhythms of meringue. A stay at this resort means luxury everywhere, and while you're partaking in the pool and beach wait service, you may just spot whales on the shoreline, soaking up the Caribbean sun just as you are.
Grand Fiesta Americana Los Cabos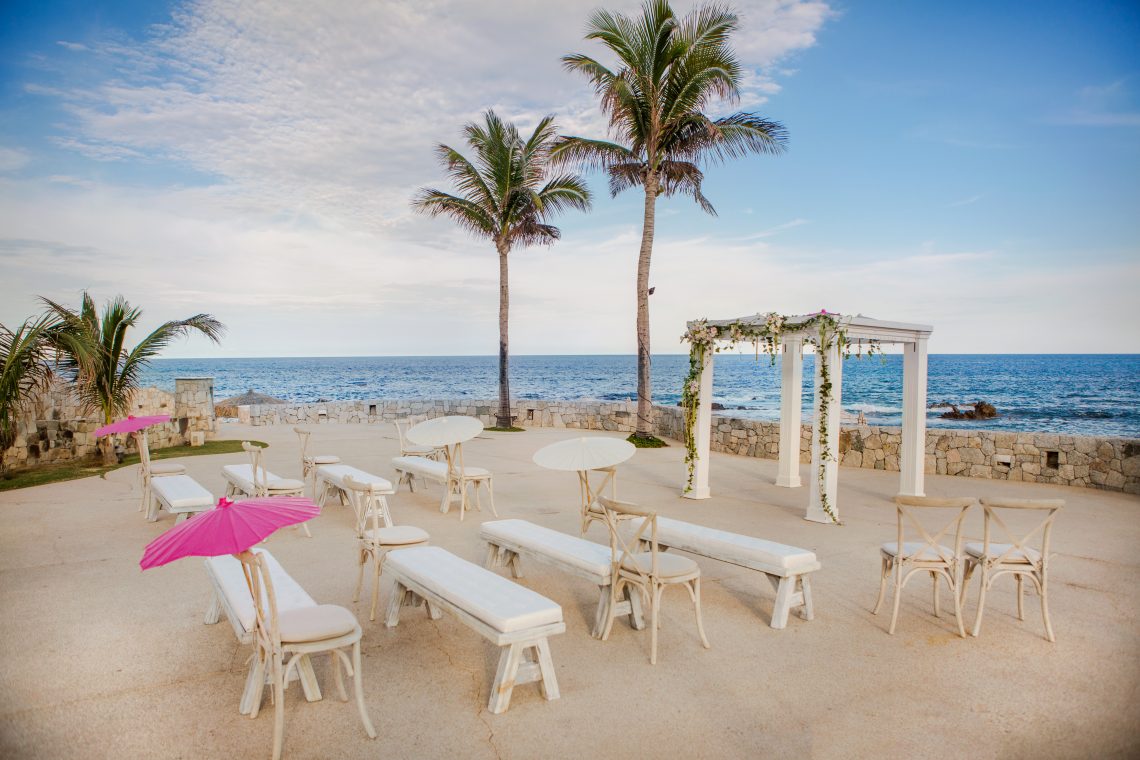 Grand Fiesta Americana Los Cabos
The Grand Fiesta Americana resort in Los Cabos is situated on a dividing line, where the Mexican desert meets the sea. The resort's architecture is designed to maximize every breathtaking view of both the mountains and the Pacific ocean. As one of the most distinguished resorts on Mexico's west coast, you can expect amazing coastal views for your wedding ceremony, like the Whale's Terrace where humpbacks can be spotted in the winter time. Or simply enjoy the impeccable amenities, like the Jack Nicklaus designed golf course or the beautiful spa that offers unique wine treatments. There are numerous pools, for both families and adults only, and round the clock room service will leave every guest feeling attended too.
UNICO 20°87°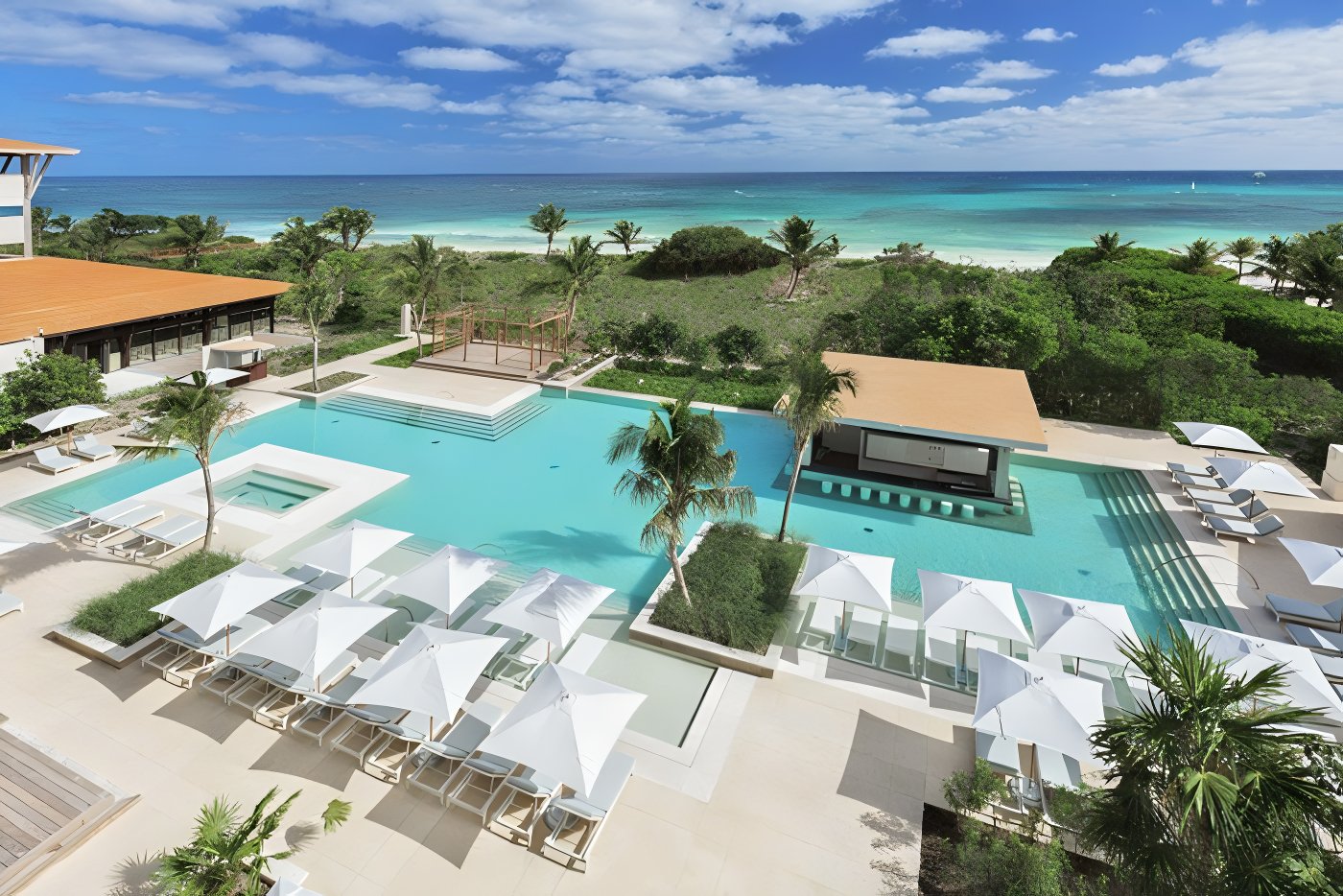 UNICO 20°87°
The high-end UNICO 20°87° adults-only resort is currently one of the hottest properties on Mexico's east coast, and it's easy to see why. The resort features contemporary decor, and local inspiration to attract international crowds. With the ideology of "no-itinerary-necessary" as the resort's motto, you'll find included excursions for adventurers and spectacular views from every inch of the resort. The resort shines in its gastronomy department, especially at Cueva Siete, a restaurant featuring a rotating program with internationally renowned chefs. Wedding packages were even designed by famous celebrity wedding planner Marylen Exposito.
Royalton Saint Lucia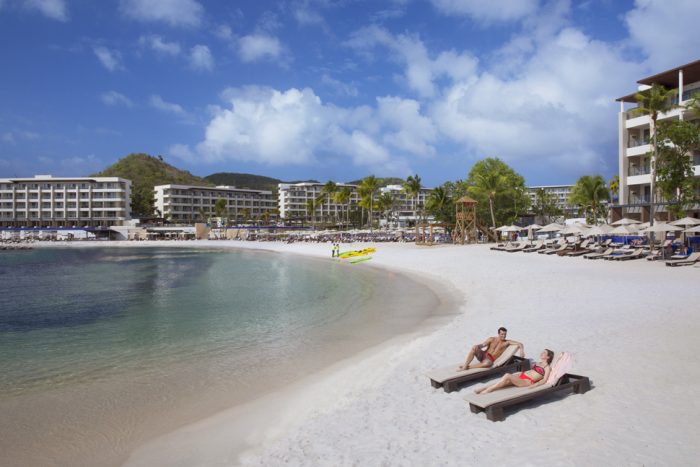 Royalton Saint Lucia
Sitting in one of the most picturesque beach locations ever, the Royalton Saint Lucia offers an unforgettable setting for any vacation or destination wedding. With a rooftop terrace overlooking signature sunsets, and a modern granite covered resort, guests will truly be able to unwind in luxury. Across the resort, there's a feeling of being tucked away within your own private cove, and each room promises comfort and modern amenities. For added luxury, upgrade to Diamond Club status, which includes access to a private beach area and the Diamond Club pool. Plus, guests will love the dining options, including the C/X experience available at an additional cost, where artisan chefs create dishes inspired by music.
Beaches Turks and Caicos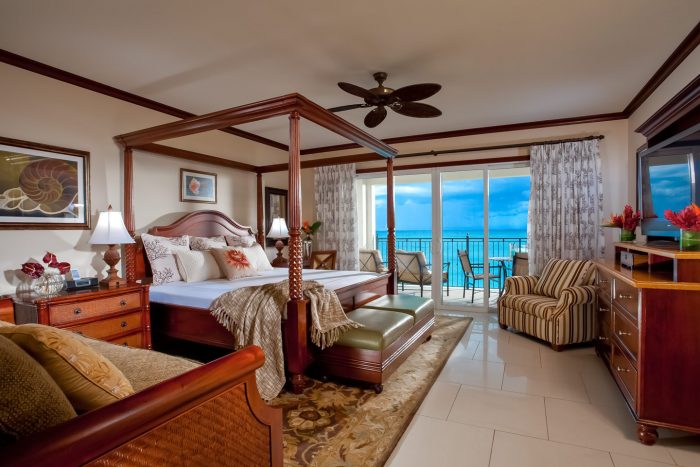 Beaches Turks and Caicos
Located on the ultimate island escape of Turks and Caicos, the Beaches all-inclusive resort has everything a family could ever want from a luxurious island getaway. The resort is built for families, where guests of any age receive the royal treatment. There's Sesame Street Camp to entertain the young ones with their favorite familiar faces, and private butler service included with each room. The Beaches brand comes with tons of perks other resorts can't compete with too, like endless scuba diving, and even a 3-hour catamaran cruise included in the room rate. But what's most luxurious of all about the resort is its location, situated on the perfect stretch of white sandy beach.
Are you ready to celebrate your wedding in luxury? No matter your budget, big or small, we can make your destination wedding perfect! Contact an agent today to learn more: