Ready to get down and boogie at your destination wedding? Oh wait, you need to hire a DJ first. An unsung hero of every wedding reception, your DJ can make or break the overall vibe of the evening. When it comes down to it, no one wants to be stuck in the weeds with only a day-of Spotify playlist plugged into the aux. To avoid this, we've come up with our top tips to hiring the perfect destination wedding DJ:
What should you look for when hiring a destination wedding DJ?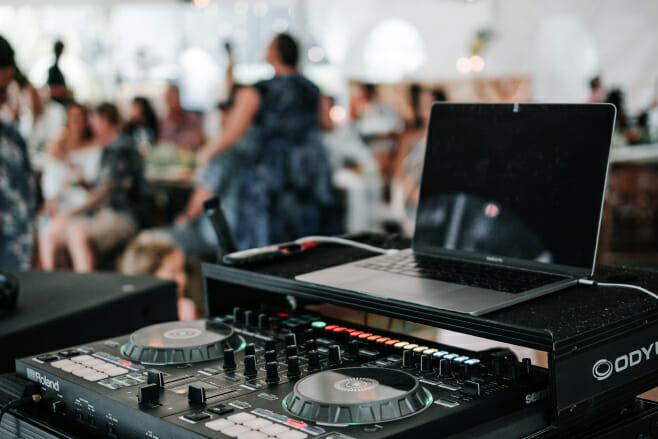 Hiring a destination wedding DJ is much like hiring a stateside DJ…with a few extra things to consider:
Location: Has your prospective professional traveled across state or country lines for a job? And when they did, how easy was it for them to bring their equipment? This is the first step to answering, perhaps, the most important question in general: should you hire a stateside or local DJ?
Research, Research, Research: It's leg-day at the destination wedding planning gym. Doing the leg work to find your DJ will pay dividends in the end. This means breaking out the Google Search and looking up recent (and active) DJs who have either done destination weddings or are currently stationed at your prospective resort.
Resort Vendor Guidelines: While you can indeed enjoy on-site resorts and their DJs, some properties, unfortunately, either won't let you bring your own DJ or source third-party vendors that you can't control. So, much like the research tip, follow up with your prospective resorts regarding the aforementioned information.
Vibe: We can all agree that your DJ should have a good track record with previous couples and their celebrations. Try to find a DJ that is willing to cater to the atmosphere that you're looking for, whether that's nightclub-esque, classic wedding playlist, or even quirky!
Benefits of Hiring a Local DJ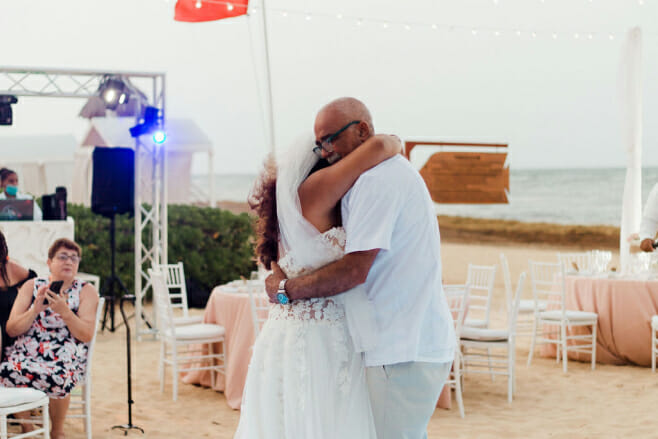 Track One: hiring a "local" DJ is more affordable! If the idea of flying your DJ in doesn't sound convenient (or cost effective), your wedding resort has you covered! Included in most wedding packages, DJs are either sourced locally or already part of the resort staff. According to our top Sales specialists, most destination wedding DJs are the latter — which is great news for all you lovebirds looking to save a buck or two and streamline your planning. Additionally, you get the comfort of knowing that your resort DJ has conducted many successful wedding receptions and other functions, and knows the rules and regulations of your chosen resort!
Benefits of Hiring Your Own Stateside DJ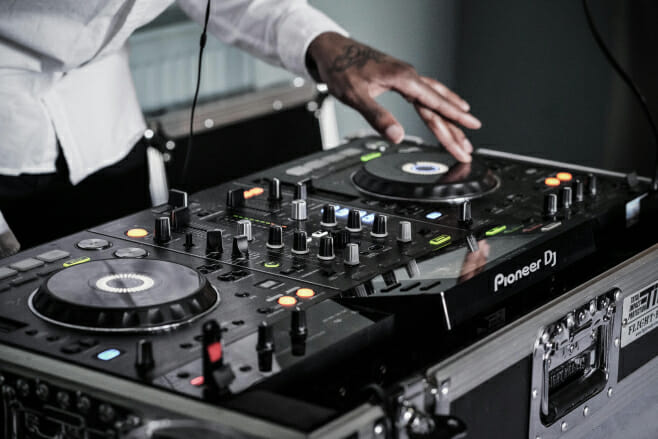 So you got a referral to a highly-rated stateside wedding DJ. Awesome! While travel is taken care of with on-site professionals, hiring a US-based disc-jockey guarantees you more direct access. Want to make extra sure your bridal party's entrance and First Dance cues are perfect? Having that extra source of communication with your DJ could make a huge difference. This benefit also trickles down into your overall destination wedding planning process. Because of your built-up rapport going into the wedding weekend, you can weave them into your itinerary and ensure they know exactly when and where they need to be.
What should you do after hiring your DJ?
Communication is the name of the game when it comes to most parts of your destination wedding planning…especially when it comes to your DJ. Here are few things you should do right after hiring your DJ:
Local DJ:
Verify your specific DJ's information in case you need to communicate with them further before the wedding
Confirm whether or not your DJ is an add-on or part of your all-inclusive package
Stateside DJ:
Secure travel and accommodations
Confirm with your resort's wedding department that you are hiring a stateside DJ, and to pass along necessary information and contacts to them for logistic concerns
Both
Communicate with your DJ as much as possible about your expectations for the playlist
Set up a timeline of when and where you'll need them throughout the day
Build an expanded playlist of songs and announcements (Best Man/Maid of Honor's speeches, Father-Daughter Dance, First Dance, etc.)
Which songs need to be on the playlist?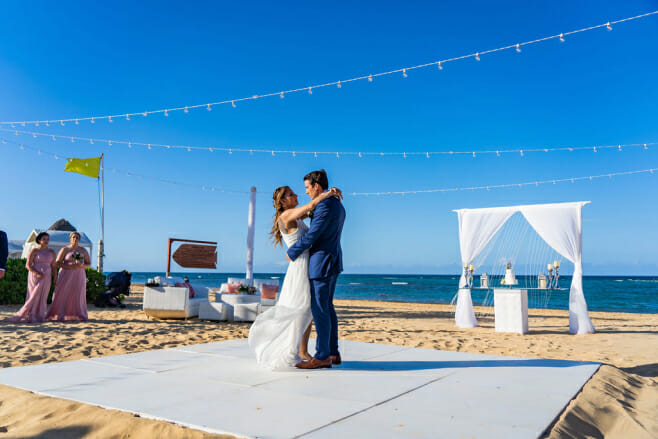 So, now you have a better idea of how to hire the perfect destination wedding DJ. What now? Well, for those of you who still need to build out that playlist, we at Destify have a few fresh beats (and old favorites) in mind. Consider the following staff picks for your future destination wedding reception — and get grooving:
I Got a Feeling – Black Eyed Peas
Shout – Temptations
September – Earth, Wind & Fire
Footloose – Kenny Loggins
Let's Get Loud – Jennifer Lopez
Juice – Lizzo
Sway – Michael Bublé
The Beauty of Who You Are – Marc Broussard
Love So Soft – Kelly Clarkson
Any song that reminds you of home (i.e. "Sweet Home, Chicago," "I Left My Heart in San Francisco," etc.)