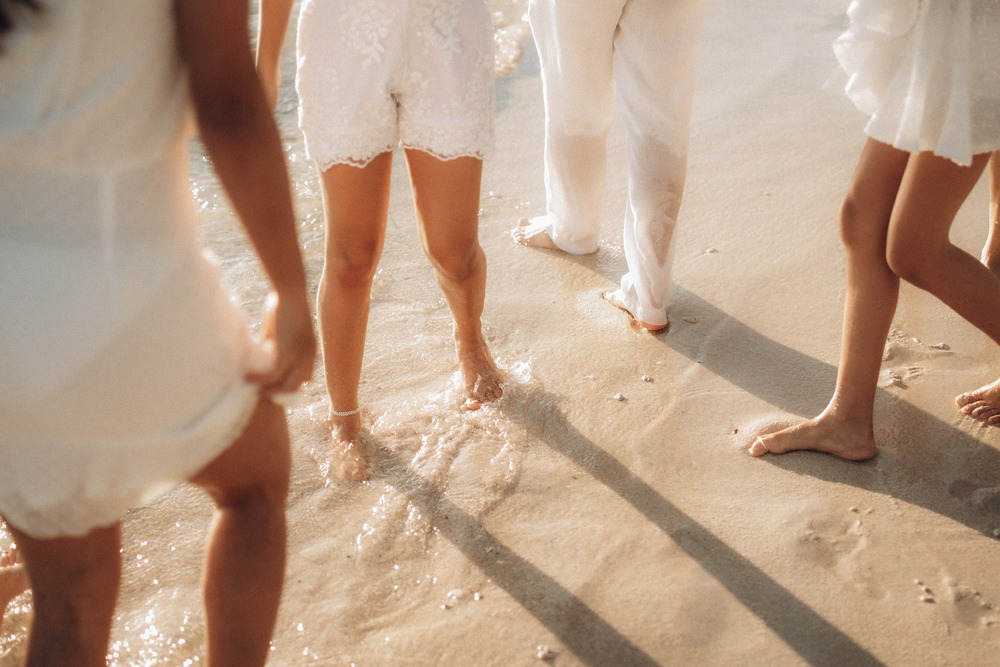 Celebrate Your Love with the Best of Caribbean Charm
Imagine pristine beaches, azure waters, and a gentle sea breeze setting the stage for the most magical day of your life. The Caribbean, with its vibrant cultures and awe-inspiring landscapes, has always been synonymous with romance, making it a coveted destination for weddings. And when you couple that beauty with the luxury of all-inclusive wedding packages and destination travel, you've got the recipe for a truly unforgettable celebration. 
So, if you're dreaming of tying the knot amidst the Caribbean's enchanting ambiance, you're in for a treat! We've handpicked the top 5 all-inclusive wedding resorts that promise not just a spectacular setting, but an experience that'll linger in memories for a lifetime. Keep reading for the top five all-inclusive wedding packages in the Caribbean.
Cozumel Weddings

Secrets Aura Cozumel is located just miles off the coast of Mexico's Yucatan Peninsula, with the largest beachfront on the island and magnificently crystal clear Caribbean waters that would be perfect for a destination wedding.

Secrets Aura Cozumel:

Read more

Venues: 4
Adults-Only
20 Minutes

Package Costs:

$

999

–

$

3,799
1. Secrets Aura Cozumel: A Secluded Paradise
Destination weddings at Secrets Aura Cozumel offer couples a romantic and luxurious setting for their special day. Nestled on the stunning island of Cozumel, Mexico, this adults-only resort provides an idyllic backdrop of turquoise waters and pristine white sandy beaches. The resort offers comprehensive wedding packages and easy-to-understand wedding add-on costs, tailored to suit each couple's vision, ensuring a stress-free and memorable experience. 
Whether exchanging vows on the beach with the sound of the waves as the soundtrack or in a beautiful garden gazebo surrounded by tropical foliage, Secrets Aura Cozumel provides breathtaking venues for ceremonies and receptions. With world-class amenities, gourmet dining options, and an attentive staff dedicated to making every moment perfect, this resort ensures that destination weddings at Secrets Aura Cozumel are a truly unforgettable experience for the couple and their guests.
Antigua Weddings

There's a reason why this island gem is our marquee Antigua property, featuring luxurious overwater bungalows and visually-stunning Tamarind Bay wedding venues!

Royalton Antigua:

Read more

Venues: 4
Family Friendly
30 Minutes

Package Costs:

$

999

–

$

11,199
2. Royalton Antigua, Antigua: Where Dreams Float Above Waters
An oasis of luxury nestled on the stunning shores of Antigua, Royalton Antigua promises more than just a wedding; it offers an experience. The highlight? Their mesmerizing over-the-water bungalows redefine Caribbean destination wedding goals.
Imagine exchanging vows as the tranquil waters of the Caribbean bear witness, and as you celebrate, the sun setting paints the sky in hues of orange and pink. Add to this a plethora of idyllic wedding venues and you understand why it's rated among the best Caribbean wedding destinations.
Aruba Weddings

RIU Palace Aruba sits on stunning Palm Beach which would be a perfect location for a beach wedding ceremony in the Caribbean Islands.

Hotel Riu Palace Aruba:

Read more

Venues: 3
Family Friendly
20 Minutes

Package Costs:

$

1,499

–

$

7,699
3. RIU Palace, Aruba: A Symphony of Romance and Elegance
Set against the backdrop of Aruba's sparkling waters, RIU Palace captures the very essence of love and celebration. Widely acclaimed as one of the top all-inclusive resorts in the Caribbean, this paradise doesn't just provide a venue—it promises an experience.
With its unparalleled romantic atmosphere, imagine saying 'I do' with the gentle caress of the Caribbean breeze and the soft symphony of waves. RIU Resorts makes it easy to afford a destination wedding. Their seasoned wedding planners, revered for crafting all-inclusive wedding packages in the Caribbean, ensure your day is nothing short of perfect. Still, need a reason to choose Aruba? See why Aruba's beautiful island has refocused efforts on expanding tourism here.
Grenada Weddings

Perfectly situated on 2 pristine white sand beaches overlooking Tamarind Bay, Royalton Grenada is an idyllic paradise for couples and wedding guests alike.

Royalton Grenada:

Read more

Venues: 3
Family Friendly
5 Minutes

Package Costs:

$

1,099

–

$

11,199
4. Royalton Grenada: The Caribbean's Best-Kept Secret
Grenada, often termed the Caribbean's best-kept secret, is home to the exquisite Royalton Grenada. This resort is where scenic beauty meets upscale amenities, weaving together an aura of magic and romance. While its modern comforts cater to the global traveler, the unique Caribbean charm ensures you experience the island's soul.
Every ceremony here is set against a canvas of turquoise waters and golden sands, making it an embodiment of the all-inclusive wedding packages in the Caribbean dream. Don't just take our word for it; Vogue echoes the sentiment in their feature on Grenada.
Curacao Weddings

Nestled on the sandy shores of Piscadera Bay on the sun-kissed island of Curacao, Dreams Curacao Resort, Spa & Casino welcomes you to celebrate your dream Caribbean wedding.

Dreams Curacao:

Read more

Venues: 3
Family Friendly
20 Minutes

Package Costs:

$

999

–

$

11,999
5. Dreams Curaçao: Where Dreams Meet Reality
Nestled in the heart of the Caribbean, Dreams Curaçao beckons couples with its panoramic ocean views and the island's rich cultural allure. Recognized among the best all-inclusive resorts in the Caribbean, it's a place where your wedding dreams translate into tangible memories. It's easily one of our favorite destination wedding spots. 
The resort specializes in crafting unique and customizable wedding packages, ensuring every couple gets their fairytale moment. Whether it's a ceremony overlooking the crystal-clear waters or a reception drenched in Curaçao's vibrant traditions, Dreams ensures it's an affair to remember.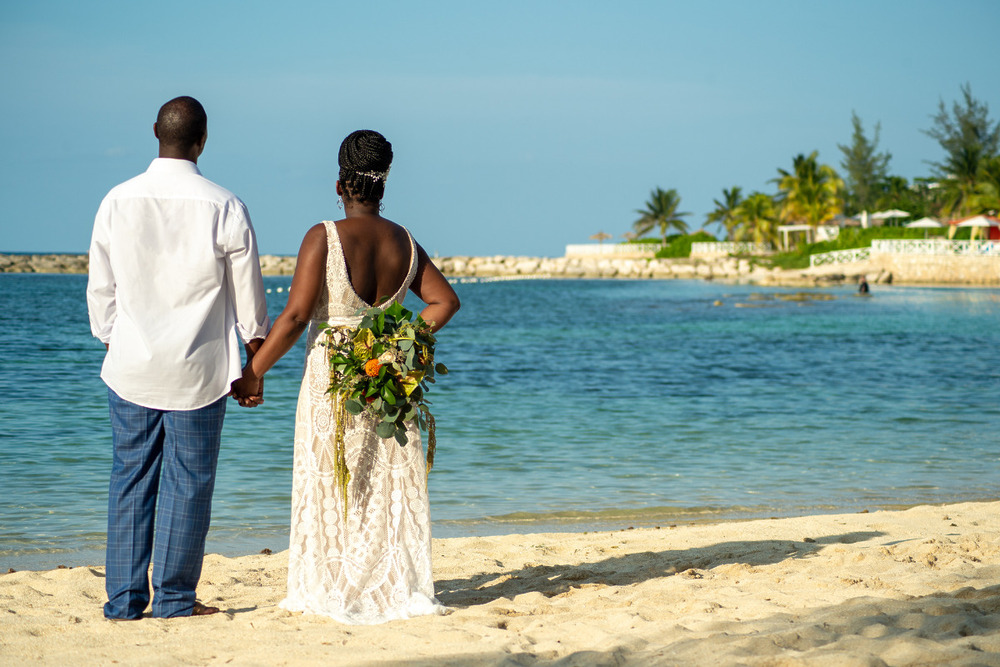 Final Musings on Caribbean Nuptials
With the vast expanse of the Caribbean offering myriad mesmerizing international destination weddings, narrowing down the perfect spot for your big day can be challenging. But, with the help of our handpicked list of all-inclusive wedding packages in the Caribbean, your quest for the ultimate all-inclusive wedding package becomes effortlessly simple. 
Eager to turn that dream into a tangible, unforgettable reality? Just don't forget to renew your passport! Reach out to Destify today and let's embark on the journey to craft your once-in-a-lifetime Caribbean wedding.