In the destination wedding industry, affordable wedding packages are actually quite accessible and easy to find. If you are looking for a beautiful and romantic retreat with a small budget, then keep reading! Rest assured, we have found a few destination wedding packages and couples resorts that will give you everything you need for your dream Cabo San Lucas getaway. Now, move over Riviera Maya, it's time to begin planning your absolutely perfect love story with these affordable destination wedding packages in Cabo San Lucas!
Villa del Arco Destination Wedding Packages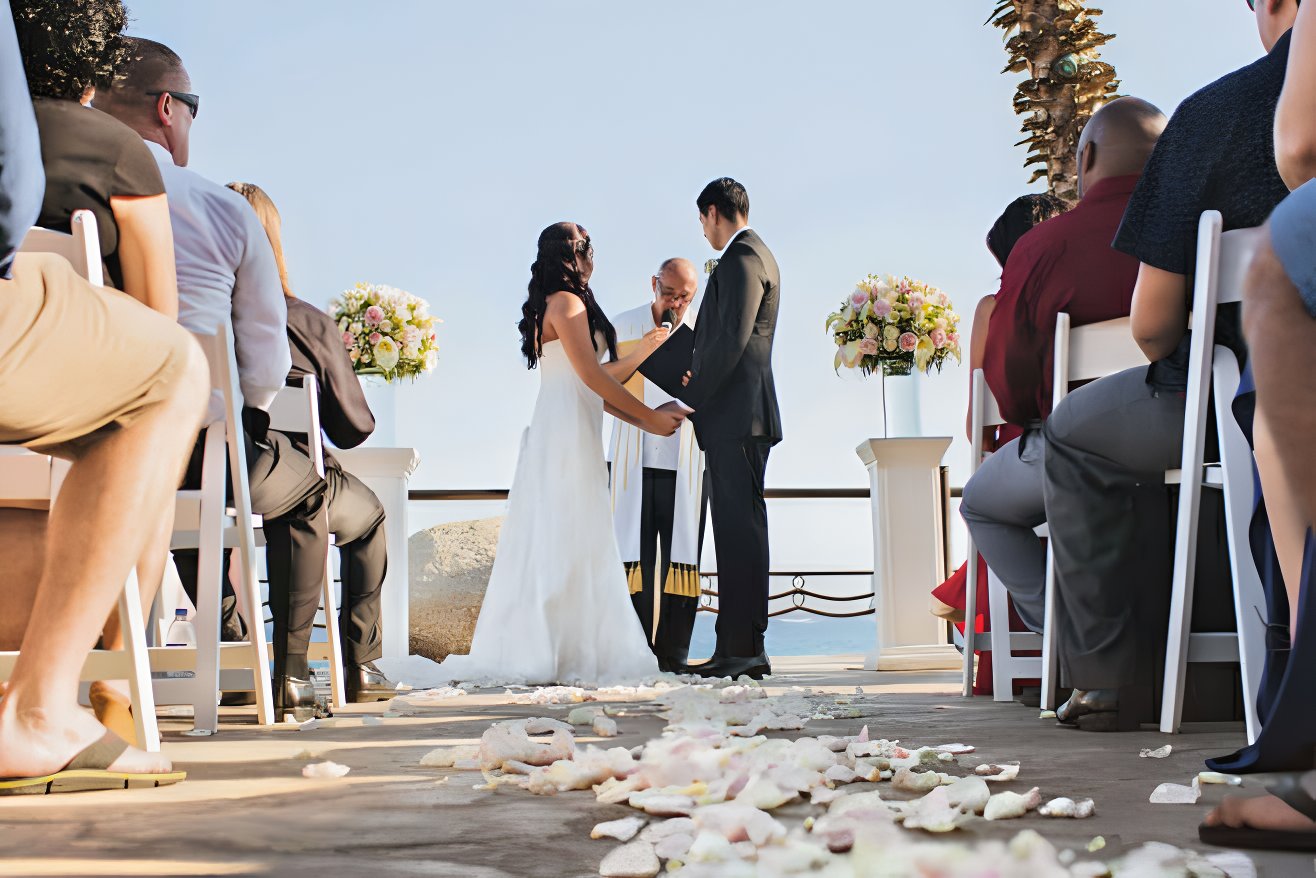 Package Costs: Free – $2,849
A Villa del Arco destination wedding is near to downtown Cabo San Lucas and even closer to the white sands of the magnificent Medano Beach. It offers beautiful views and a plethora of activities to indulge in following your wedding ceremony. Friends and family of all ages will enjoy the all-inclusive resort and its family-friendly amenities.
Affordable destination weddings with thhe below example package are priced at $849 includes all of the amenities you need to enjoy your big day with ease, including a candlelight dinner for two on the best beach on the Pacific Coast!
The stress-free destination wedding package includes:
Bottle of wine upon couple's arrivalLate checkout (based on availability)
Basic bridal bouquet
15% spa discounts for guests
Romantic amenity for couple on wedding night
Symbolic ceremony and stress-free coordination
Ceremony decor
Sweetheart tableRomantic turn down service on wedding night
Special framed photo of couple
Pro Tip: This destination wedding package is 100% customizable! You can add all the extras you desire, from honeymoon nights to boutique purchases if needed. If catering isn't enough food for you then let them know ahead of time, so they are able to accommodate any special requests that may arise. The staff and on-site wedding specialist will work diligently to fulfill all of your needs before and during your big day.
RIU Santa Fe Destination Wedding Packages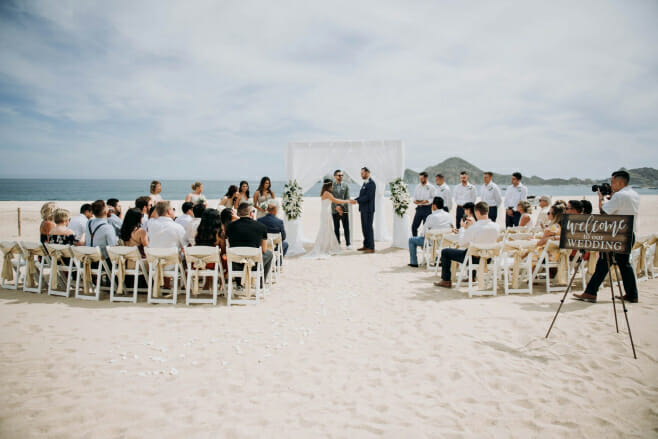 Package Costs: Free – $3,499
At the RIU Santa Fe, expect to be treated like royalty. A dream destination wedding at RIU Santa Fe offers infinite culinary options, entertainment alternatives for guests of all ages, and wedding personalization, from specialty restaurants and first-class facilities to the lovely beach and golden sunsets! RIU Santa Fe, located at the tip of Mexico's Baja California peninsula, blends romance, breathtaking beauty, and ideal weather to create the ideal setting for your wedding trip.
Classic Wedding Package:
Personal wedding planner & dedicated wedding team
Decoration set up for the ceremony location and wedding party on pristine beaches
Bridal Bouquet
Matching boutonniere
Recorded music during the ceremony
Semiprivate dinner at a specialty restaurant (just for the couple)
Wedding cake (just for the couple)
Champagne during the main toast (just for the couple)
Special turndown service and decoration in the room
Witnesses if required
Minister/Judge service
Marriage Certificate
Spa Services gift
10% discount in all Spa treatments for the Couple
Sandos Finisterra Los Cabos Destination Wedding Packages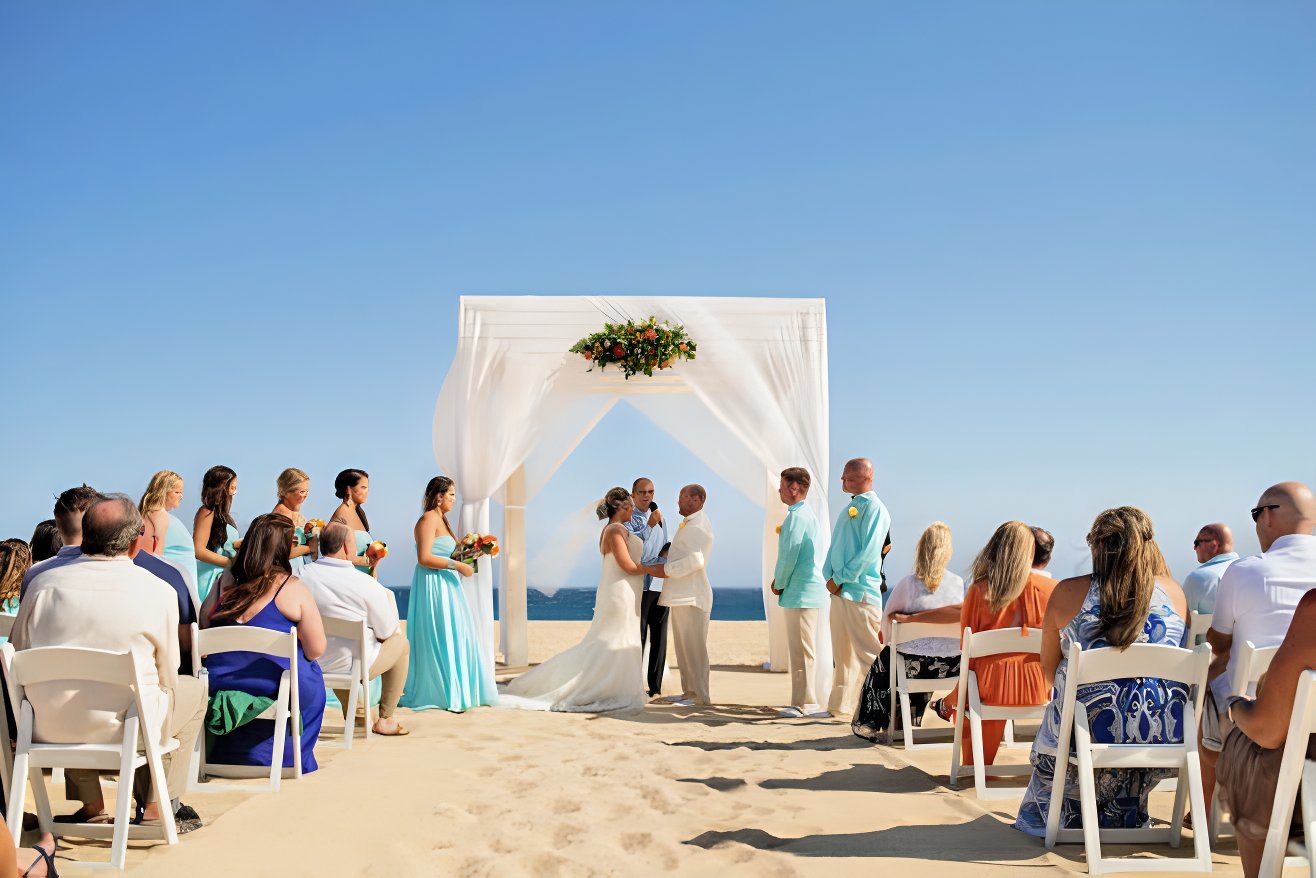 Package Costs: $3,150 – $4,750
Sandos Finisterra Los Cabos is as beautiful as its name suggests: "finisterra" means "end of the earth," and this resort has all of the breathtaking views to match. This all-inclusive resort has views for days and is located near the well-known Land's End Arch.
Your ceremony and reception can take place in one of three locations. First, there's the beach, with its clear seas and calm waves. There's also a beautiful desert garden and a summit location. Sunsets are guaranteed to be breathtaking no matter where you travel.
Swims and sips in the pool (with a swim-up bar) will keep the party going all weekend for your wedding guests, as will excursions to downtown Cabo San Lucas and the Marina. Take in the fantastic panoramic views from this resort, which is perched on a clifftop at the extremity of the Baja Peninsula, every evening (and morning). Don't forget to take a stroll under the stars at night.
Dreamcatcher Wedding Package:
Symbolic ceremony
Stress free ceremony setup as per resort location
Wedding locations of choice for your special day
Sound system and microphone during the ceremony
1 centerpiece for minister's table
1 bouquet and 1 boutonnière, or 2 bouquets, or 2 boutonnières
Private dinner reception with open bar (duration: 3 hours)
Basic setup and ambient lighting
Sparkling wine for the wedding toast
1 tier custom made wedding cake
Wedding organization and personalized service from expert wedding planners
Commemorative certificate in the form of the "Sandos Wedding Tree"
Upgrade to the next available room category for the couple
Complimentary honeymoon registry and amenities
Hyatt Ziva Los Cabos Destination Wedding Packages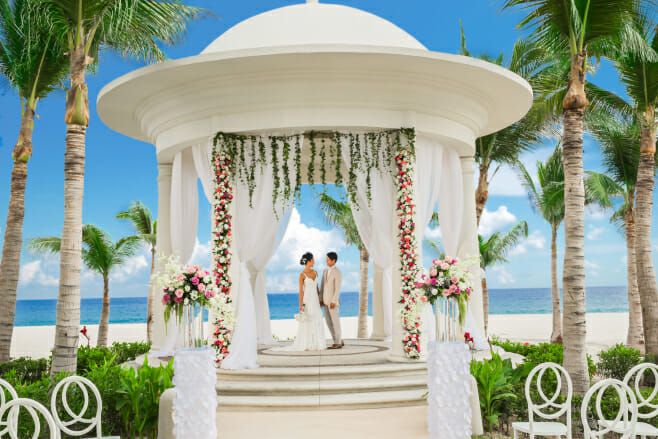 Package Costs: Free – $16,999
Hyatt Ziva Los Cabos, located on Mexico's Pacific coast, is a location with breathtaking views of the dynamic and colorful Cabo San Lucas perfect for real weddings. This resort, which overlooks glistening blue waters and one of the world's most spectacular sunsets, is an ideal location for your wedding. In the unique and gorgeous location of Baja Sur, you and your guests will experience a peaceful and romantic ambience.
The Hyatt Ziva Los Cabos offers approximately 35,000 square feet of event space that can be tailored to your specific wedding and honeymoon requirements. The Sea of Cortez will shine in the background as you tie the knot on the white sands of Central Beach, Zaffiro Beach, or Hacienda Beach. These stunning settings can also be outfitted with chairs and tables for cocktail hours and receptions on the water.
A white gazebo, surrounded by lush and languid palm trees, is also a wonderful location for marrying the love of your life. Even better? Your personalized, cost-effective wedding planners will handle all the details with a personal touch.
You can return to the hotel for poolside beverages after exchanging vows before dinner in the Grand Peninsula Ballroom. This dinner space is tastefully decorated with rattan lounge seats and a neutral color scheme that creates a sophisticated atmosphere.
Intimate Elegance Wedding Package:
Symbolic marriage Ceremony and certificate, performed by a Secular Bilingual Wedding Officiant
Bridal floral Bouquet and Boutonnière for the Groom
Signature dream Wedding cake
Special decoration of the Couple's room
Complimentary wine delivered to the Couple's room
Late check-out for the couple up to 3:00 p.m. (applies for the Couple, subject to availability)
Onsite wedding planning services of a professional Wedding Specialist for all your wedding plans
Complimentary online bridal registry and Wedding website
Ceremony table with white linen and folding Wedding chairs
Sound system for the Ceremony
Massage for the Wedding Couple (25-min each one)
Romantic dinner for the Couple
Grand Fiesta Americana Los Cabos Destination Wedding Packages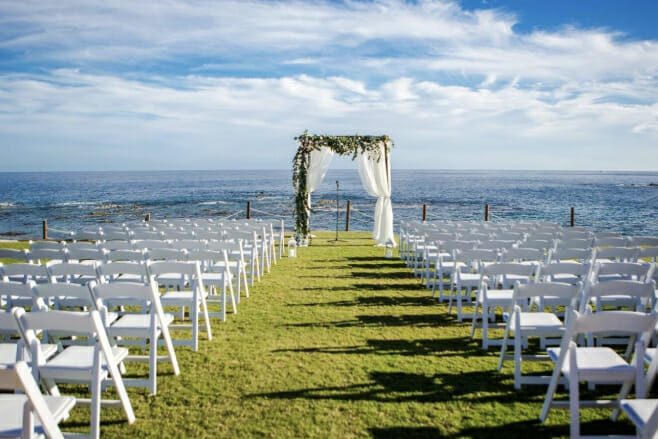 Package Costs: $1,975 – $12,724
The Grand Fiesta Americana Los Cabos, located on the dividing line where the Mexican desert meets the sea, is an ideal location for destination weddings. The architecture was created to make the most of the surrounding natural splendor. With beautiful coastal views, a range of activities to participate in during your stay, and a unique spa that employs the advantages of wine to its advantage, your Grand Fiesta Americana Los Cabos wedding will be an unforgettable experience for you and your loved ones.
Bride & Groom Wedding Package:
Symbolic ceremony performed by a non-denominational minister
Wedding altar or gazebo decorated with draping and floral accents
Bouquet(s) and/or boutonniere(s) for the wedding couple
Sound system
Wedding cake
Sparkling wine toast
Romantic turndown service on wedding night
Breakfast in bed the morning after the ceremony
15% discount on Spa treatments
2-night stay certificate to celebrate the first wedding anniversary
Dedicated Fiesta Americana Los Cabos Wedding Specialists & Celebration Expert
Complimentary room for one member of the wedding couple the day of the ceremony (for day use, subject to availability)
Refreshments and amenities for the wedding couple while getting ready for the ceremony
Le Blanc Spa Resort Los Cabos Wedding Packages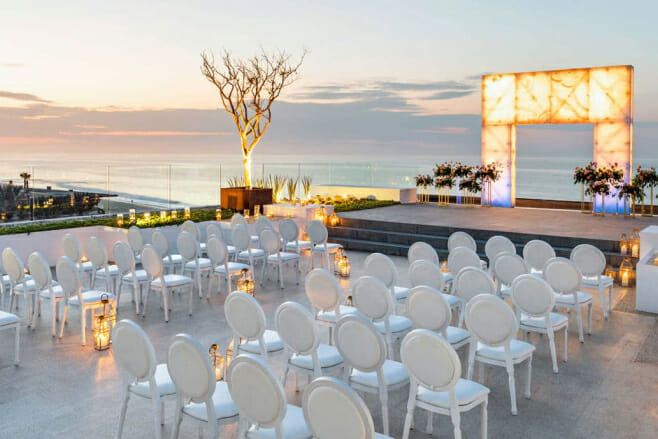 Package Costs: Free – $3,600
At Le Blanc Spa Resort Los Cabos, say your "I do's" in style. With its minimalist chic decor, crystal blue ocean seas, gorgeous infinity pools, and, of course, an unending stretch of lovely white-sand beach, Le Blanc Spa Resort Los Cabos welcomes you to indulge in adults-only destination weddings and the best all-inclusive luxury couples resort.
You've been planning your wedding for years, now make it a reality at Le Blanc Spa Resort Los Cabos with the most breathtaking background. Your dream wedding is meant to be lavishly celebrated, and Le Blanc Spa Resort Los Cabos will ensure that you receive the best treatment possible with their affordable destination wedding packages in Cabo San Lucas.
Free Wedding Package:
Services of Le Blanc Spa Resort Los Cabos Wedding Specialists
Ceremony location for various destination weddings
Non-denominational minister to perform symbolic or vow renewal ceremony
Special butler service on the day of the wedding
Thirty (30) white Tiffany chairs for the ceremony
Sparkling wine during the ceremony
One (1) semi-private dinner reservation for up to thirty (30) guests with standard restaurant decor
Breakfast in bed the morning after the ceremony for bride and groom
Two Le Blanc Signature totes
Two Le Blanc Signature bathrobes
Complimentary Collection:
Exclusive for the bride: 2-hour access to Blanc Spa Bridal Suite on the wedding day
Exclusive for the groom: 4-hour access to Hospitality Suite on the wedding day
Want to explore more of our five-star wedding properties? Follow the button below to discover our Destify Top Resorts: