Making Your Grand Wedding Effortless
Weddings are a celebration of love, but they're also often a monumental task to plan—especially when you're envisioning a grand celebration with 200 or more guests. The logistics alone can be overwhelming, from venue selection and decor to catering and entertainment. That's not even mentioning the nuanced details like seating arrangements and timelines, wedding add-on costs, and seemingly small details that can turn any bride or groom into a bundle of stress.
But what if you could eliminate much of this hassle and streamline your planning process? Imagine not having to micromanage every little detail but still having the wedding of your dreams. Sounds like a fairytale, doesn't it? Well, we're here to tell you that it's entirely possible and that it's easy to afford a destination wedding. Enter all-inclusive wedding packages, a one-stop solution designed for those who aspire to have a large, yet flawlessly organized wedding.
In this guide, we'll explore some of the best all-inclusive wedding packages tailored specifically for grand celebrations with 200 or more guests. So sit back, grab a pen and notepad (or just bookmark this page), and let's dive into how you can make your grand wedding not just possible, but effortless and spectacular. Here are our top three all-inclusive wedding packages for 200 guests.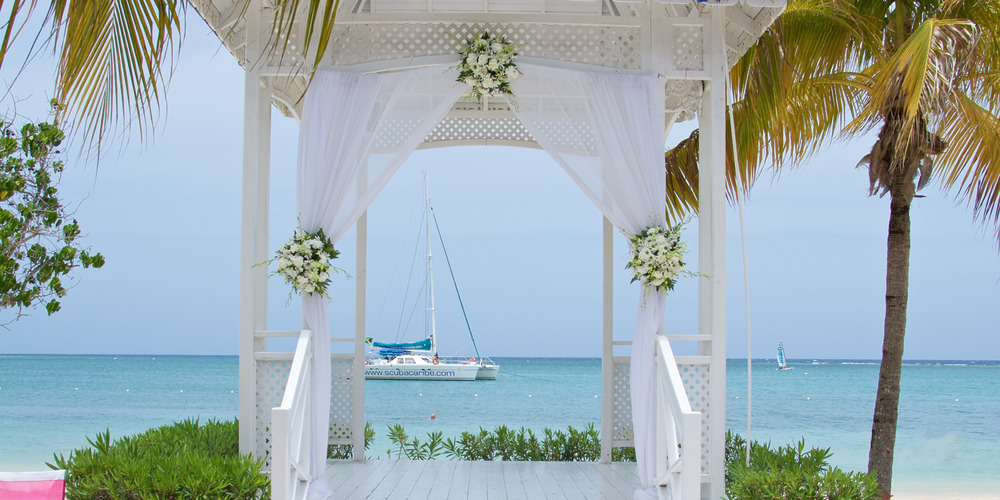 1. Grandeur at RIU Resorts
RIU Resorts are practically synonymous with luxury and grandeur, making them the ideal choice for couples looking for large destination wedding packages. Whether you're envisioning your big day in Cancun, Jamaica, or any other exotic location, RIU has a backdrop that will make your wedding photos look like they're straight out of a fairytale. But, let's dig a little deeper into what makes international destination weddings at a RIU Resort truly unique.
Key Features and Amenities:
Size & Capacity: RIU Resorts are spacious properties, well-suited for hosting grand celebrations that can comfortably accommodate 200 guests or more.
Rooms Available: With a range of accommodation options from suites to villas, your guests won't just attend your wedding; they'll enjoy a vacation they won't forget.
Pools: Imagine a cocktail reception by one of RIU's stunning pools, offering both luxury and a relaxed ambiance.
Cost: While not on the low-end scale, you can expect value for every dollar spent. Wedding packages are comprehensive, covering a multitude of details you didn't even know you needed.
RIU Resorts don't just offer a venue; they offer an experience. An experience that's characterized by impeccable service, eye-catching decor, and world-class amenities that will leave your guests talking about your wedding for years to come.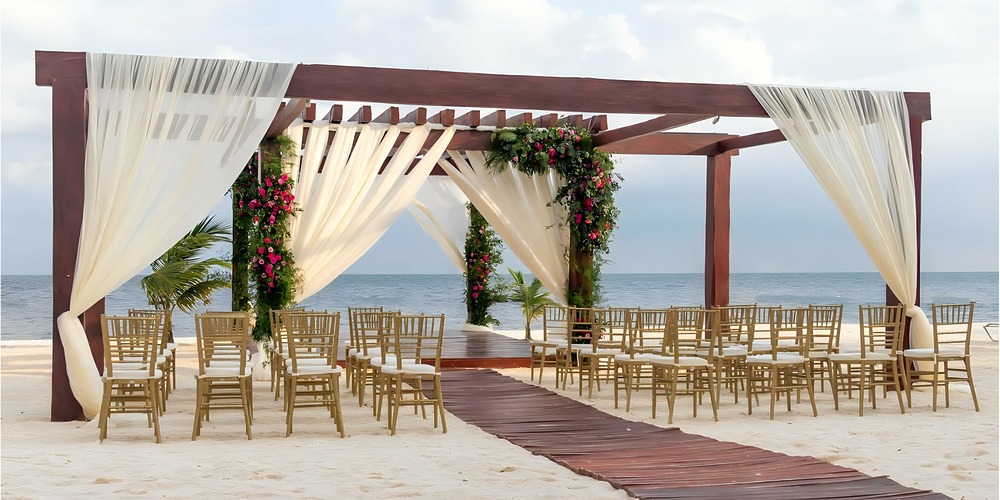 2. Enchanting Moments at Secrets Resorts
When it comes to romantic settings and top-tier service, Secrets Resorts has become a gold standard. Perfect for couples who wish to immerse themselves in a world of sophistication and attentive details, Secrets offers an oasis for large weddings that demand the epitome of excellence. Our favorite destination wedding spots feature many Secrets Resorts. Let's peel back the curtain and reveal why a wedding at Secrets is nothing short of enchanting.
Key Features and Amenities:
Size & Capacity: With resorts that are both expansive and intimate, you can host a large wedding without losing that personal touch.
Rooms Available: A variety of high-end rooms and suites await you and your guests, setting the stage for a luxurious stay.
All-Inclusive Amenities: From gourmet dining to spa services, Secrets offers an array of all-inclusive amenities that turn any wedding event into a lavish affair.
Cost: While Secrets is an investment, their comprehensive wedding packages ensure that every penny is well-spent on making your special day extraordinary.
Secrets Resorts understands the art of crafting unforgettable moments. With their combination of exquisite settings and all-inclusive luxuries, your wedding will not just be an event—it will be a lifetime memory that you and your guests will cherish forever.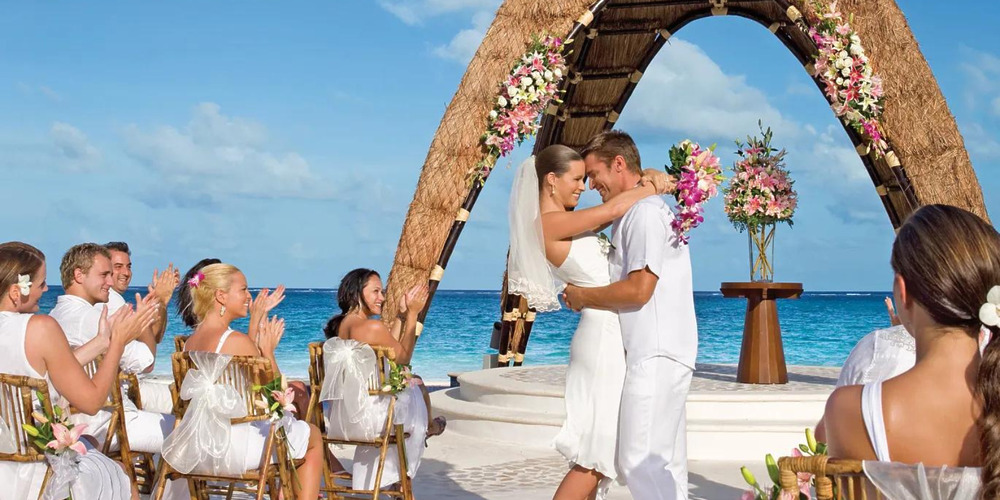 3. Unforgettable Elegance at Dreams Resorts
Looking for a venue that will leave an indelible mark not just on you and your guests? Look no further than Dreams Resorts. This paradise on Earth offers a luxurious backdrop that makes any nuptial feel like a page taken straight out of a fairytale, designed for destination travel. With Dreams, your quest for destination wedding packages for 200 guests culminates in an experience that's as unforgettable as it is elegant.
Key Features and Amenities:
Luxurious Venues: From beachfront vows to ballroom dances, Dreams offers versatile venues that speak the language of luxury.
Rooms Available: Think of ocean-view suites, direct pool access rooms, and even private villas for the VIPs in your life.
Wedding Packages: Dreams has it all, from budget-friendly packages to the crème de la crème options that include everything from a horse-drawn carriage to fireworks.
Cost: No need to break the bank; Dreams has a range of packages to cater to different budgets without skimping on quality.
Dreams Resorts has masterfully created a world where luxury and love intertwine seamlessly. From the meticulous attention to detail in their decor to the breadth of their wedding packages for 200 guests, they take grand weddings to the next level.
How to Choose Wedding Packages for 200 Guests
Deciding on an all-inclusive package for your large wedding can be overwhelming, but a few key considerations can streamline the process. Start by scrutinizing your guest list and assessing every plus one, as this will influence the size and type of venue you'll need.
Next, consider your must-have amenities—are you keen on a seaside ceremony, or is an opulent ballroom more your style? Budget is another significant factor; take time to compare what's included in different packages.
As you contemplate the myriad details of your forthcoming nuptials, take a moment to appreciate the grandeur that could be. With all-inclusive wedding packages designed for 200 guests or more, the opportunities for a breathtaking ceremony and celebration are boundless.
Don't merely plan a wedding; curate an experience that will resonate for a lifetime. From large weddings to small destination wedding ideas, we've got you covered. Explore Destify's extensive array of large wedding packages for 200 guests and begin the journey to your unforgettable day.