Kicking off our Destify Wedding Coordinator Spotlight Series we interviewed Martina Mairhofer, one of Sandos Hotels & Resorts' former on-site wedding coordinators (current Sales Manager). Stationed in Playa del Carmen, Mexico, Martina has booked and coordinated hundreds of weddings – making her a true expert when it comes to planning your forever-after with Sandos and Destify. Citing years of experience, Martina tells all, giving us a nuanced understanding of destination wedding planning:
Destify: So, just to provide some background into your coordinator experience, what your position is and then how you got to where you are right now in the wedding industry?
Martina: I'm the Wedding Sales Manager for Sandos, and we have four all-inclusive resorts in Mexico, and the way that we work is that we have our sales office, so it's very easy to contact all four resorts. It's basically the same contact to set up the wedding to get information, and then when the wedding is confirmed, we pass it on to our resort team.
So, those are the ones that do all the planning with our couples and so on. I'm more in charge of promotion. But I do have a background in wedding planning as well, as I used to work as a wedding planner at one of the resorts.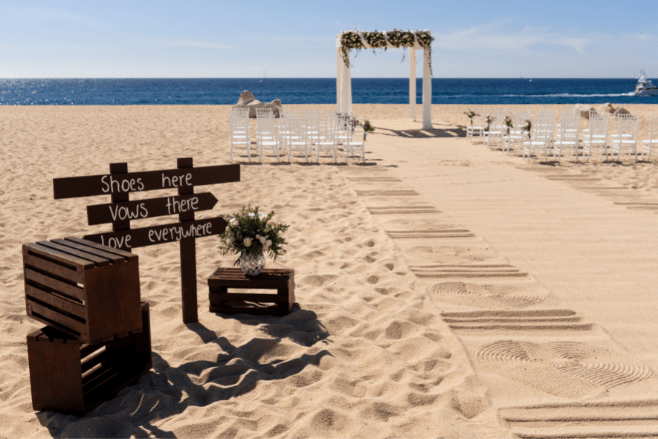 Destify: So then you have experience with coordinating weddings already, and you're directly working with wedding planners at Sandos. So, typically in a year, how many weddings do you usually coordinate as a department?
Martina: It depends a little bit on the resort because we have two very large resorts with 8900 rooms. So there, we do between 200-300 weddings a year. But privacy is very important, so we never do two weddings at the same time. They're always spaced out at different times and different locations. At smaller resorts like Sandos Cancun, for example, we only offer 213 rooms, so we actually can guarantee only one wedding per day.
Destify: There's a lot of privacy for the big day. Getting into the wedding planning process, what's your biggest piece of advice for couples that are just starting?
Martina: My recommendation for couples is to try and find what their style can be with inspiration and pictures. There's a lot to research on Instagram, Pinterest, and just because it's not on our price list, so to speak, doesn't mean it doesn't exist.
The first step I'd say is definitely get an inspiration board together, and then our wedding team actually assigns a dedicated wedding designer about three months out. Usually from the time you book a wedding, which is typically a year out to three months, there's a lot of time to analyze your thoughts and see what you like. Three months out, that's when couples start to finalize their decisions. Then, when they have that all ready, their vision ready, they can just send it over to our wedding team and they can make design proposals, work out pricing, and set everything up.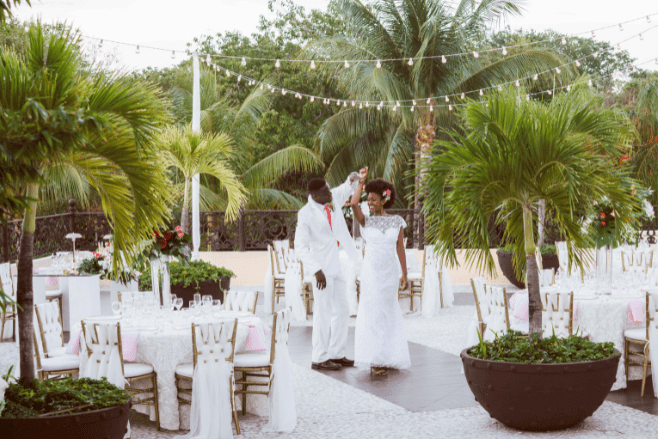 Destify: How does working with Destify factor in that and how do you collaborate with us to deliver that planning process to couples?
Martina: Working with Destify is actually really great and helps couples focus on the fun stuff. Destify helps us a lot with guests and their room bookings so that is taken care of. So, the couple doesn't have to worry about travel and getting their room booked, letting them focus on getting all the fun decision making for the wedding planning together with our on-site weddings team.
Destify: Speaking of, typically, for 20, 50 and 100 person weddings, what is the average cost for each of those?
Martina: We work with all types of budget. So typically, when a couple sends over their inspiration, we always ask for their budget because there are, of course, lots of different things that you can do. Our wedding packages range from $3,000 to $4,750 for 30-people wedding parties. The top package includes the DJ and the ceremony, cocktail hour, and dinner reception, complete with a cake and incredible catering.
From there, we'll work with couples to add on their decor, any additional flowers, and music. Right now, the average cost of a wedding at our resorts is between four and $6,000, with the average wedding size being about 35 to 40 people. All of those perks I just mentioned fall into that price range. But of course, we can go over that range if it's a bigger wedding or if it's a very elaborate wedding with lots of decor and events.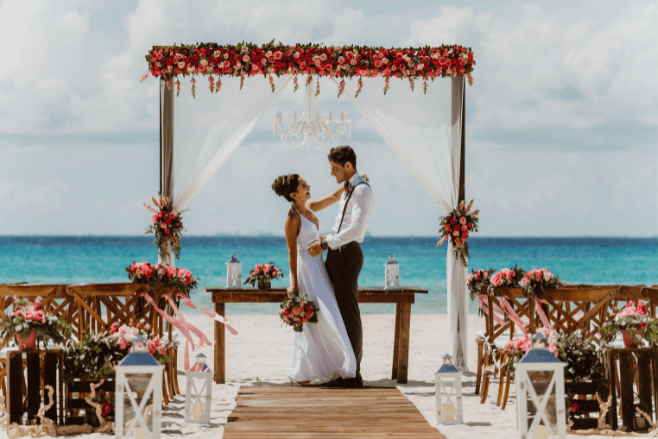 Destify: You mentioned working with people's budgets and from the get go, that's probably the most important thing for people to establish. From your experience, what are some unexpected costs that couples don't really expect?
Martina: Sometimes you think about everything you have to pay to the resort, but then you also have to consider the photographer. We have our onsite team, which is kind of handled a little bit separately. And then of course, other expenses include things that you bring to the resort like wedding attire, rings and all of that
But for the charges at the resort, we try to be very transparent and all of our pricing has the final cost on it. We do not have any hidden fees. We have tax included and services included in all of our pricing. So couples really have the confidence to know what this is, what they have to pay, and they don't have to be scared if there's anything added last-minute.
Destify: That's always good. I mean, I think with anything in life, it's always good to have that transparency with anything money related. So that's really fantastic to hear.
Martina: Yes, but things that do have an extra cost, and we always disclose that if couples like to bring in a different vendor. Our service is very complete and our wedding planners are there to do all the design and scheduling for the couple. So we can quote all the services and bring in any type of decor.
But if there's a different service that the couple would like to bring in themselves, there is a vendor fee of $500 per vendor. But then again, if the vendor stays at the resort as a guest for at least three nights, we don't charge it.
Destify: That's actually really interesting to know. They have to consider flying them out and paying for their plane ticket to get there.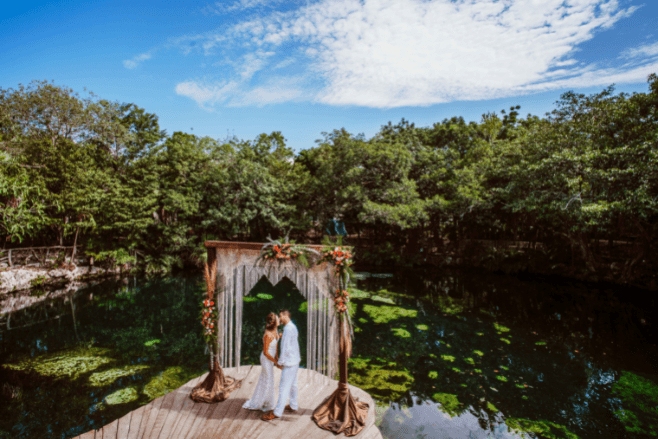 Martina: Exactly. Another thing to keep in mind is that our wedding prices are built with the idea that all of the guests are staying at the resort. Sometimes a few guests may have a timeshare at a different resort or they don't want to stay at the same property as everybody else, so they can still come in for the day for their wedding.
But they would need to pay a day pass fee, which right now is $100 per person, per night, per adult, and then $50 for kids under twelve. That will give them access for the whole day, from 9am to 11pm.
Destify: Let's talk about decor. For decorations, flowers, and entertainment that aren't included in the regular package, can you just reiterate what that budget range is for couples?
Martina: It's a very large range. For example, there are different centerpieces to choose from. The ones that are included in our wedding packages are $80 per piece. So, the packages already include a number of them, with the option to add on any additional pieces. But, historically, we have had centerpieces of $500 a piece, like really large, lavish, elaborate ones.
Or, we can even go below the $80 mark if it's a smaller, more intimate set-up. In terms of other perks, live music tends to be on the pricier side. But even there is a range. If you have, for example, a mariachi trio which may start at $450, and then if you're looking at a live band – like a full-sized one for dancing and everything, that would start around $2500 and over.
Destify: That makes sense. Especially with mariachi, who have to transport amps and a bunch of various equipment.
Martina: Exactly. So, the basic services are included in our wedding packages. Basically, if you don't want to add on anything, you don't have to.
Destify: That gives couples the option to paint the canvas whichever color they want. That's really wonderful to have that flexibility because if someone prefers to have that package set up for them, that's fantastic.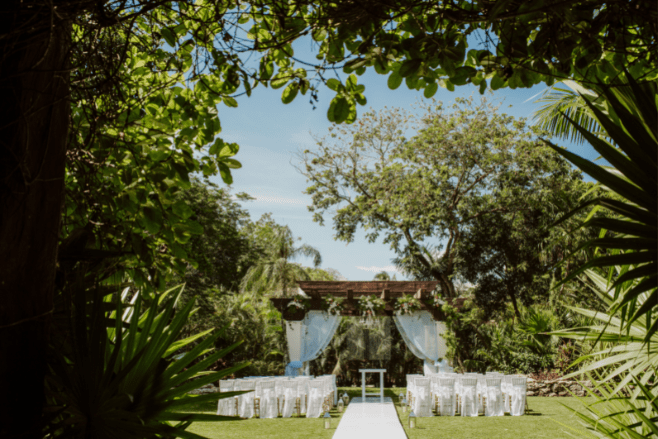 Martina: Packages are really easy because you don't have to think about the basic things that you will need anyway – because they are already there!
Destify: I think from a couple's perspective, people care about personalization and truly getting an amazing, unique experience out of the budget they work with.
Martina: Yes! Their wedding is a unique moment that should reflect their personalities as well.
Destify: Let's shift the financial gears for a second. So, once a bride or a couple places a deposit for their wedding, what's the timeline from there?
Martina: Typically, the weddings are booked between twelve and 15 months from now. Once the deposit has been paid, we will send out the confirmation with the wedding contract and also state everything that's included in the package. We will also send out the link to a drive with all the wedding information – which actually has a timeline in there as well to help couples know what's going on.
And from there, there is some time for couples to brainstorm their wedding's aesthetic, send out their save the dates, and find all the things they need to organize at home like wedding attire, rings, and any additional decor. If couples have any questions, they can always reach out and we are happy to help. Three months out, that's when the wedding coordinator is assigned, and that's when the whole process starts to come together.
Destify: So, you're there basically every step of the way?
Martina: Yes! Three months out, that's when the contact is more frequent, with our team walking the couples through everything: choosing the menu, the decor, setups, music, ceremony venue, and if they want to have any additional elements or readings in the ceremony and so on. So, they don't need to worry about forgetting anything, because our wedding planners on site are really on top of things.
When the couple arrives at the resort, they will also have a meeting with their wedding planner, where they'll sit down, go through everything, and make sure all the details are correct.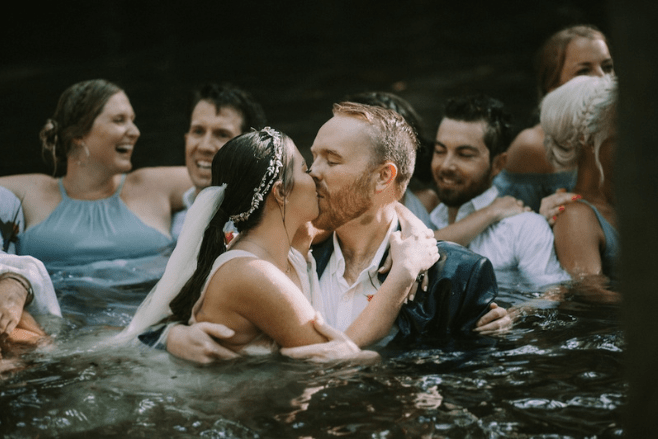 Destify: It sounds like it's very hands off for them for the most part, it seems comforting to have that constant communication, especially when they're on site and need that assurance that everything's taken care of.
Martina: Most couples haven't been to the resort or haven't been there recently. So, they have their wedding team as their eyes and ears, all of which have coordinated hundreds of weddings and are incredibly trustworthy because of that.
Destify: Well, this has been illuminating and quite informative, Martina. Thank you so much for your time and insights!
Ready to plan your Sandos Hotel destination wedding? Thanks to our partnership with Martina and the rest of the Sandos team, you can book an unforgettable getaway at all-inclusive gems such as Sandos Finisterra Los Cabos and Sandos Playacar. Fill out the form below and get started today!