All-inclusive destination weddings are all the rage lately. Despite the lingering effects of Covid-19, there's been so much travel to these luxury resorts that 2022 was declared 'the year of the all-inclusive.'
That does beg the question: what about non-all-inclusive resorts? What do they have to offer you fledgling spouses-to-be? How are they different from regular all-inclusive resorts?
Well, since we at Destify have sent thousands of couples to destination weddings at hundreds all-inclusive resorts dotting locations such as Mexico, Jamaica, and the Dominican Republic, we've got the skinny on those questions!
And they are questions as relevant as ever, since Destify is excited to begin offering our services at destinations a lot closer to home, with resorts that feature non-all-inclusive services and wedding packages.
Let's roll up our wedding expert sleeves and take a dive into the benefits of all-inclusive & non-all-inclusive destination wedding resorts!
To Be or Not to Be All Inclusive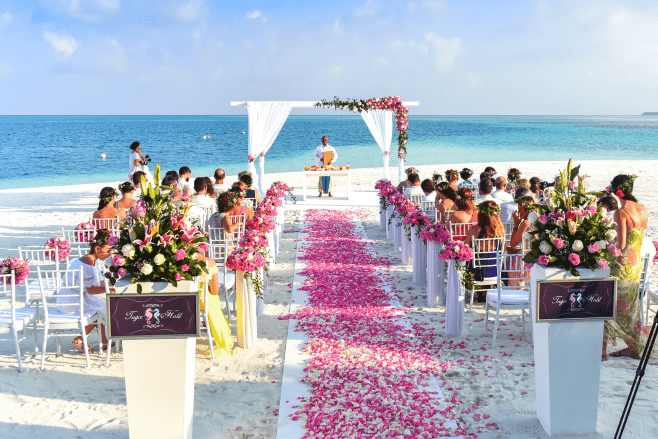 We didn't mean to get ahead of ourselves there! Before we take a deep dive, we've got to dip our toes into the water. What, exactly, defines an all-inclusive resort?
While some of the finer details vary resort by resort, overall, booking these all-encompassing packages means that all of the essentials of your post-wedding stay are bundled into one price.
AKA: feel free to leave your wallet in your suite. Food, beverages, activities, and facilities are covered under an all-inclusive package's per/night expenses.
While many of these resorts offer higher value inclusions and upgraded facilities and services, having these baseline necessities covered in one fee provides unparalleled convenience. This is especially handy for brides and grooms planning to invite a large wedding party to their destination wedding. Coordinating everyone's bare essentials becomes as easy as a finger snap!
On the other hand, a non-all-inclusive resort offers many of the same services and amenities but at additional or separate costs.
And speaking of costs…
Money Makes the World Go Round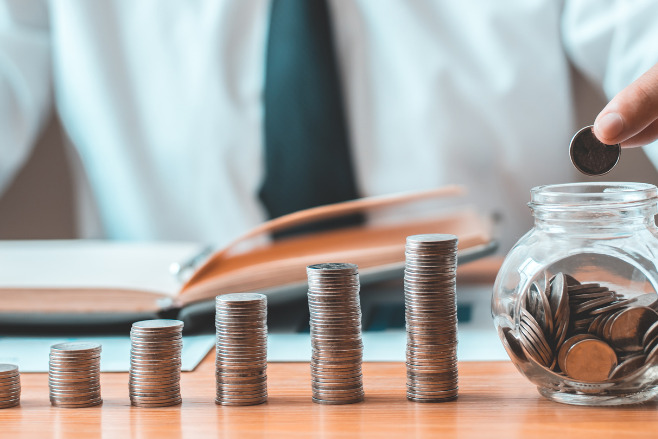 Budget is the first thing to consider when choosing the right resort for you, and deciding whether to go with an all-inclusive resort or not.
All-inclusive resorts tend to offer guests a better value. With unlimited food, drinks, lodging, and additional specialized services per the specific resort, you and your destination wedding guests will have quite literally everything you could ever want or need on a vacation. And because of their pre-packaged nature, the destination wedding planning process is made that much easier! You simply can't match the bang-for-the-buck; it's an experience in and of itself. And it directly ties your guests into a longer celebration with you and your spouse-to-be!
Seems simple, no? Well, not exactly. Much of the cost built into an all-inclusive destination wedding package is justified by the sheer number of services and amenities offered, including on-site activities, live events, and of course, unlimited food and drinks.
For wedding parties who enjoy a more tranquil getaway, especially those who won't drink more than a few alcoholic beverages, the costs might veer cheaper for a non-all-inclusive resort. As well, all-inclusive resorts typically require a minimum number of nights booked per guest. If many of your friends and family are unable to swing a multiple-day stay, a non-all-inclusive resort might be more accommodating to a larger wedding party.
As well, the flip-side of your package and inclusions being prearranged is that all-inclusive destination wedding packages can be more restrictive and less customizable for some. And in order to qualify for a stay at an all-inclusive resort, most wedding parties must have minimum night stays, typically 3 nights per guest. Therefore, some see non-all-inclusive packages as a great foundation to start with and to further build their specific wants and needs atop of, creating their ideal destination wedding and vacation plan, plus allowing their guests a little more customization for themselves.
Really, it comes down to your own specific wants and needs for the destination wedding of your dreams!
Leaving the Property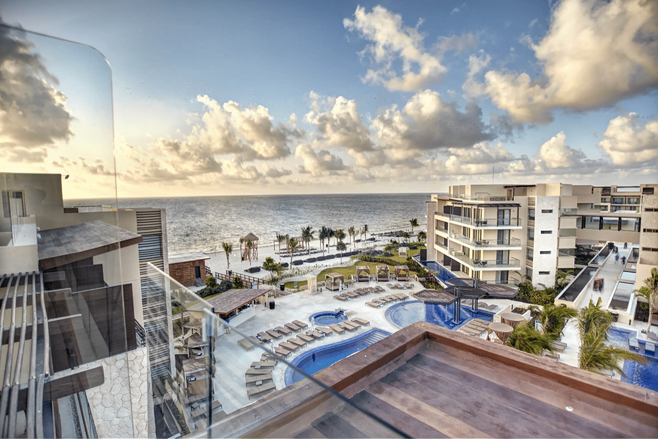 All-inclusive resorts are essentially mini-communities: gyms, restaurants, shops, and housing, among many other specialized facilities offered by each specific resort. Everything you could ever need is ready and waiting for you!
While you can't deny the convenience of these all-encompassing packages, some see these luxurious, gated locations as a non-encouragement to leave the resort's property and experience the fantastic destination surrounding your resort.
For those adventurous souls out there, days solely spent lounging by the pool and sampling the cuisines offered at the hotel's restaurants might not scratch that exploratory itch.
At non-all inclusive resorts, you might be more motivated to venture out and experience the genuine local culture. Whether for authentic food and restaurants, regional architecture and design, or activities and local excursions, there is a whole provincial world to be experienced outside the confines of an all-inclusive resort.
All-Inclusive resorts offer beautiful, comprehensive experiences for couples and their guests. Put simply, an unforgettable adventure without having to think ahead and plan awaits. Non-all-inclusives, on the other hand, gives couples and their guests the chance to curate their trip to their own wants and desires.
What kind of traveler are you? Because if you like things a little more lively, then…
Peace or Party?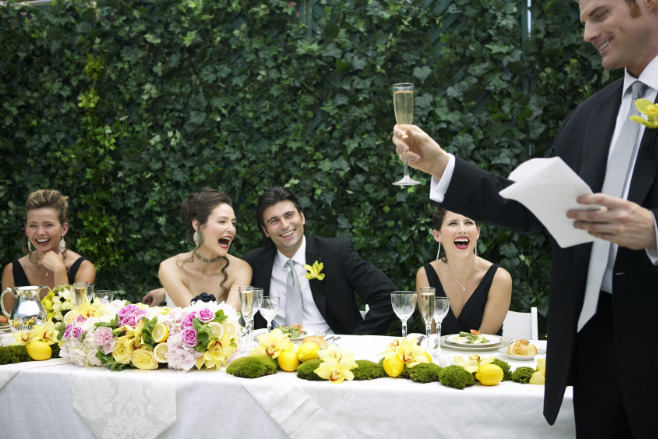 All Inclusive resorts can be a total party. With its zero-stress environment and free alcohol packages, these resort guests can be lively, to say the least. With various resorts offering live music, entertainment, themed nights, and so much more, a week at an all-inclusive resort can feel like a week at a wild festival.
Many travelers come to all-inclusive resorts for that very reason. Younger brides might seek out these non-stop party locations so their fun-loving guests will have endless entertainment opportunities.
However, just as many prefer a vacation that offers peace. 'Rest and relaxation,' the old R&R, is an expression for a reason. If your ideal destination wedding is a serene affair, a non-all-inclusive could be the better choice.
Without an endless supply of alcohol flowing through the resort (and maybe its guests, too), these locations tend to skew to the mild side.
A non-inclusive is something to consider depending on your destination wedding age range. For some families with very young children, they are much better choices. Equally, some older wedding guests may prefer the relaxed nature that many of these non-all inclusive offer.
The Final Verdict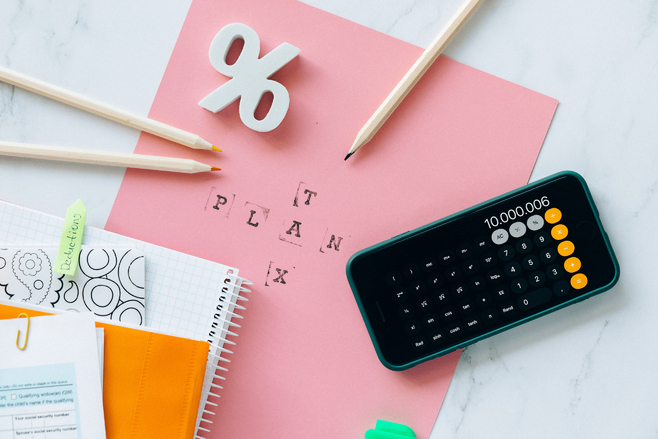 There are varied benefits of all inclusive and non all inclusive destination wedding resorts. Your choice really depends on the kind of partners-to-be you are and the sorts of guests you're inviting!
Non-all-inclusive resorts can be peaceful, laidback experiences for those not looking to make their post-knot-tying vacation a non-stop party. On the other hand, all-inclusives are great for a lively, large wedding parties looking for a huge amount of entertainment options and luxuries.
Both choices offer amazing amenities, services, locations, and experiences. So, whatever your destination, all-inclusive or non, you can't go wrong booking your wedding with Destify!
Interested in some of our thrilling new resort options? Click the button below to view our Destify Top Resorts: