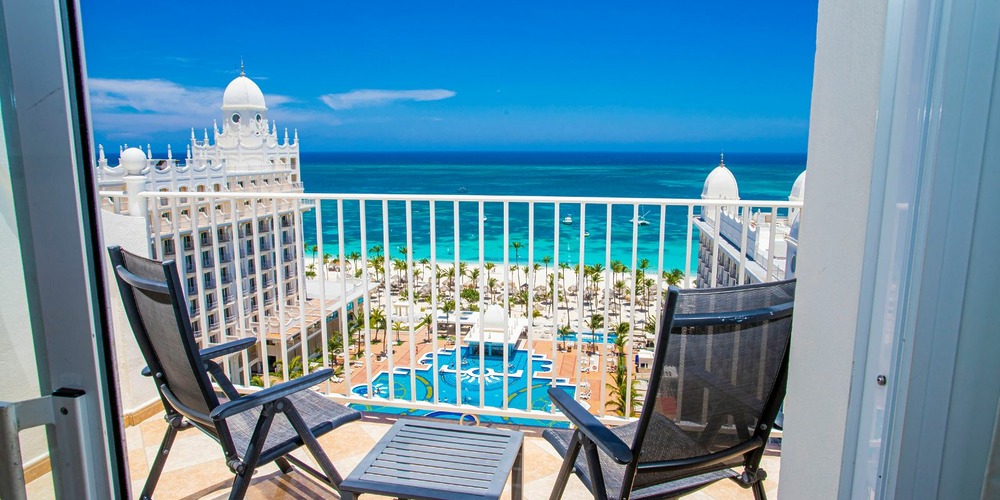 Three decades of shared laughter, countless memories, and unwavering love—it's an achievement that deserves to be celebrated in the grandest manner. As you approach this remarkable milestone, you might be considering a romantic gesture to show your enduring commitment to one another.
What better way than renewing your vows or vacationing at a location that embodies the essence of love and romance? This guide will help you discover destinations that are nothing short of dreamy, designed explicitly for couples like you. Keep reading for our top seven 30th wedding anniversary destinations.
Top 30th Wedding Anniversary Destinations to Rediscover Your Romance
1. Dreams Karibana Cartagena Golf & Spa Resort, Colombia
An oasis of romance nestled within the captivating city of Cartagena, the Dreams Karibana promises unforgettable vow renewal ceremonies. As you reminisce about your cherished journey together and dream about the chapters yet to be written, this resort is one of our favorite 30th wedding anniversary destinations, providing an idyllic backdrop to celebrate your three-decade milestone.
Playa Mujeres Weddings

Situated on the beautiful shores of Playa Bahia de Mujeres is RIU Palace Costa Mujeres, the dreamy, all inclusive Caribbean getaway of a lifetime.

Hotel Riu Palace Costa Mujeres:

Read more

Venues: 2
Family Friendly
40 Minutes

Package Costs:

Included –

$

7,499
2. RIU Palace Costa Mujeres, Playa Mujeres, Mexico
Nestled along the serene coastline of Playa Mujeres, the RIU Palace Costa Mujeres stands as a symbol of elegance and romance. With its pristine beaches, crystalline waters, and top-notch services, it's a haven for couples celebrating significant milestones. As you walk hand in hand on the sun-drenched shores, you're transported to a world where love reigns supreme. The enchanting ambiance of Mexico, combined with the resort's luxurious offerings, makes it an impeccable destination for vow renewals.
Montego Bay Weddings

This adults-only, all-inclusive RIU resort in Montego Bay is a stunning location ideal for wedding celebrations that run into the night.

Hotel Riu Palace Jamaica:

Read more

Venues: 1
Adults-Only
10 Minutes

Package Costs:

$

1,499

–

$

7,999
3. RIU Palace Jamaica, Montego Bay
Welcome to the epitome of Caribbean luxury: RIU Palace Jamaica. Nestled in the heart of Montego Bay, this adults-only retreat stands out as a beacon for couples yearning for intimacy and sophistication. With its infinity pools overlooking the azure Caribbean Sea, gourmet dining experiences, and unparalleled spa services, it provides an idyllic setting for those moments of recommitment. As steel drums echo in the distance and waves gently caress the shoreline, vow renewals and 30th wedding anniversary destinations here become an affair to remember for eternity.
Barbados Weddings

Sitting on a stunning Caribbean beachfront is Sugar Bay Barbados. This family-owned property boasts an array of premier amenities, restaurants, and activities, as well as a tranquil environment that is perfect for couples' getaways.

Sugar Bay Barbados:

Read more

Venues: 2
Family Friendly
26 Minutes

Package Costs:

Included –

$

3,316
4. Sugar Bay Barbados, Caribbean Islands
In the heart of the Caribbean lies Sugar Bay Barbados, a true embodiment of tropical elegance. As you step onto its sun-kissed beaches, the ambiance of this all-inclusive haven captivates. Beyond its crystal-clear waters, couples can indulge in gourmet dining beneath the stars, relax at its tranquil spa, or lounge by cascading pools. Celebrating thirty years of wedded bliss becomes an ethereal experience here, surrounded by the island's natural beauty and the resort's luxurious offerings.
Aruba Weddings

RIU Palace Aruba sits on stunning Palm Beach which would be a perfect location for a beach wedding ceremony in the Caribbean Islands.

Hotel Riu Palace Aruba:

Read more

Venues: 3
Family Friendly
20 Minutes

Package Costs:

$

1,499

–

$

7,699
5. RIU Palace Aruba, Caribbean Islands
Discover the allure of Aruba at the RIU Palace Aruba. Nestled on the powdery sands of Palm Beach, this luxurious haven promises an anniversary celebration beyond compare. With its pristine ocean views, a myriad of gourmet dining options, and plush suites overlooking the Caribbean blue, every moment feels tailored for romance. With sparkling pools, spa treatments, and of course, the Aruban sun, RIU Palace will make your 30th milestone truly unforgettable.
Guanacaste Weddings

Pamper yourself at the Dreams Las Mareas all-inclusive resort, as you lounge on the palm-studded El Jobo beach or soak up the sun from your private and fully-furnished balcony.

Dreams Las Mareas:

Read more

Venues: 10
Family Friendly
85 Minutes

Package Costs:

$

999

–

$

3,799
6. Dreams Las Mareas, Guanacaste, Costa Rica
Venture to where luxury meets nature at Dreams Las Mareas in enchanting Guanacaste. Surrounded by lush tropical forests and kissed by El Jobo Beach, this resort stands as a testament to romantic escapades. As you renew your vows or simply spend some quality time together, let the gentle whisper of waves and the enchanting Costa Rican landscape bear witness. Dive into infinity pools, savor exquisite cuisines, and let the magic of Dreams Las Mareas redefine your love story.
Lake Tahoe Weddings

The quintessential Lake Tahoe wedding experience is alive and well at this lakefront gem. From secluded, nature-imbued shoreline cottages to heated pools and hot casino halls, your 'I dos' will have a touch of Nevada excellence in every detail.

Hyatt Regency Lake Tahoe:

Read more

Venues: 6
Family Friendly
45 Minutes
7. Hyatt Regency, Lake Tahoe, United States
Looking for a lavish staycation or a getaway close to home? Indulge in the tranquility of lakeside romance at the Hyatt Regency in Lake Tahoe. Enveloped by the awe-inspiring Sierra Mountain Range, this resort offers unspoiled views of Lake Tahoe's shimmering waters. Whether it's a serene boat ride, a cozy fireside evening, or simply soaking in the picturesque surroundings, the Hyatt promises an anniversary celebration that feels worlds away, yet wonderfully nearby.
Three Decades, Infinite Memories
Choosing the ideal locale for a vow renewal is as significant as the vows themselves (and even the 30th wedding anniversary gift!). As you reflect on the past and look towards the future, let these dreamy destinations offer the canvas for your continued love story, and enhance your holiday with these gift suggestions by Insider and Vogue. Celebrate love and life while creating lasting memories at one of these 30th wedding anniversary destinations.