In 2016, on the heels of our successful group travel site (TravelZap.com), our leadership team toasted the launch of Destify.com — focusing solely on destination weddings. As with so many sites, our team tested, optimized, churned out content, and started our journey helping couples make amazing memories on one of the most important days of their lives. Some 5,000+ weddings later? It was time to hit that refresh button. Hard. You can see more of our Destify reviews here, as well.
In the beginning of 2022, our leadership team looked over the now 7 year old site, and set forth the plan that would update not only the functionality and scope of our flagship site… but also refresh the look and feel of Destify holistically. New look, new you, right?
Let's not bury the lead in the sand though. Our Product Marketing Team has been toiling away behind the scenes to deliver the shiny new site you're visiting today.
How the New Look Came To Be
Our product marketing team sat with the current materials on hand. Our old logo? It was fine, but we posited it could be better. With that in mind, the idea of refinement was the name of the game. To keep the recognizable form of our ring logo… but update it to be just a little bit cooler. Which brought us first to color.
One thing we've been told time and again had been the use of black. It struck us that a site that celebrates saying "I do" amidst the picturesque paradises in Mexico, the Dominican Republic, Jamaica, and the Caribbean Islands… should be reflected in our company branding!
And with that in mind… We added the sunset to our logo: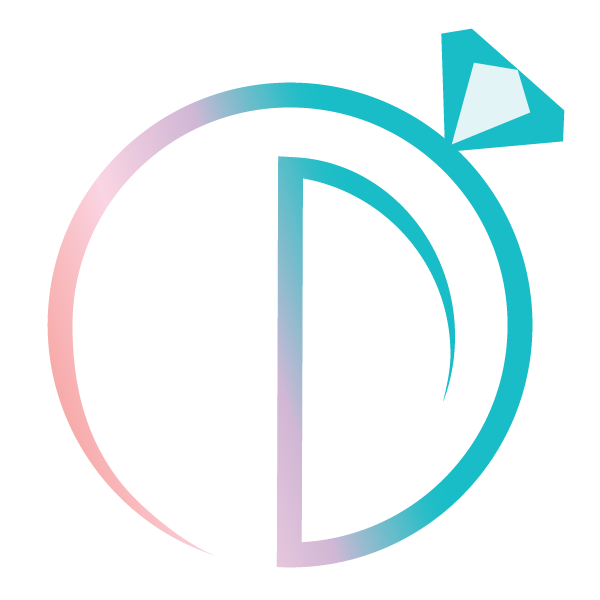 Our team also upgraded our font choices (#FontNerdsUnite). We chose fonts that were both
fun
and new. And with the logo, fonts, and a refreshed color palette all decided upon? It was time to start rebuilding our site from the ground up!
Teamwork Makes the Dream Work
Product marketing opened up the conversation across our company for thoughts and suggestions on the new site. From amazing brainstorming sessions, diligent notes were turned into a game plan. Sales chipped in to better refine our top resort selection — ensuring that those all-inclusive resorts we love most were celebrated properly. Our marketing team scoured user data, and spot checked how our users used our old site. This in-turn generated a backlog of feature ideas to help folks better find the perfect destination, resort, venue, wedding package and rooms for their impending nuptials.
And with all the planning in place, our front-end developers and designers were given their marching orders. Behind the scenes, the pixels started getting pushed. Content was refreshed and added. Every single page (and trust us, there's a LOT of them) was looked over.
September 16th, 2022… our Marketing and Sales Team collected themselves in our conference room. A pre-and-post launch checklist was bashed together. Diet Cokes and Red Bulls were politely chugged. The orders were given to our Platforms Team… THROW THE SWITCH.
We'll spare you the wait, because, duh, you're clearly here on the new site!
Fancypants New Features
Now that you're here on the brand new Destify.com, how about we show you around!
You'll notice in our navigation we've smooshed together Research and Planning. We've updated these articles to help you start your journey. Whether you'd like to take a fun quiz to determine your ideal destination, learn more about free (yes, free!) destination weddings, or see the breakdown of how destination weddings work… we got you covered.
If you look out the right side of the plane… to the left of our Research & Planning section, you'll see our Real Weddings. While these are our same amazing wedded couples' stories as before, we've done more than restyle the articles. Now when you enjoy a story — like Anthony and Tifani-Rose's gorgeous wedding at the Hard Rock Punta Cana — you'll have quick access to check out the Hard Rock after you're done reading their story. And stay tuned! We plan on debuting a new format to our Real Wedding article in the coming weeks. More love! More romance! More destination wedding fairy-tale happily ever afters!
As we begin our descent, you'll denote we've saved the biggest and best feature for last. Inside our Destinations section we're proud to debut an interactive and comprehensive filter! Now you'll be able to hone your search for the best resort for you and your betrothed with a few clicks! Are you looking for a large resort where the party never ends, with a beautiful beach venue to say 'I do'? Click-click-clicka-BOOM. So, go ahead. Take it for a spin… but remember: every resort on Destify is hand-picked by our team to be an amazing experience. You literally can't go wrong. But with our helpful filter? You'll be able to narrow down your choices to meet those standards you want in your dream destination wedding. Get choosy!
Your Path to I Do
As we pull into the gate, we'd love to call to your attention one more item of note: Your Path to I Do. Destify's new booking platform. It's been the vision of our leadership team to simplify the complex process of booking your destination wedding in ten minutes or less… and after years of development? We're here!
Throughout your journey on Destify, when you find that perfect resort and you're ready to start the booking process (or even just check all the pricing as you build), you'll enter into Your Path to I Do. Once inside, you'll select your resort, venue, wedding package, and room(s) for you and your spouse-to-be — along with the wedding date you had in mind. And before you can day dream about exchanging vows with the ocean waves crashing behind you? You'll be booked!
So… What's Next?
SO MUCH! Sorry, we're a little excited. Now that you're enjoying the spiffy new sunset-hues, and futzing with our filter… we're back in the lab — brainstorming new features, writing new content, researching amazing new destinations and resorts, and making sure everything is running smoothly.
We hope you love our site as much as we do. And if you have any suggestions? We want to hear them! Go ahead and contact us. Tell us what you think, and what you want to see. Now, if you'll excuse us? We have a little champagne waiting for us in the fridge.