For their 25th anniversary as a luxury hotel brand, Riu Hotels & Resorts has recently reopened its Riu Santa Fe all-inclusive property in Mexico with a brand new look. After undergoing extensive renovations, the hotel now features a modern, sleek design that seamlessly blends in with the natural surroundings of the Baja California peninsula. Let's take a look at Riu Santa Fe's renovations!
The front desk has had a complete renovation, giving it a clean, contemporary look where white and natural light stand out and shimmer. The modern foyer is roomy and allows for a smooth flow of visitors. The separation of the check-in and check-out sections of reception helps the flow. To avoid forcing visitors from that region to visit the main welcome desk, a second reception desk with a concierge was constructed.
The hotel, located just a short distance from downtown Cabo San Lucas, has long been a popular destination for tourists seeking sun, sand, and relaxation. With its prime location on the southern tip of the Baja California peninsula, the hotel boasts stunning views of the Sea of Cortez and the surrounding desert landscape.
Riu Santa Fe extends through various streets, buildings, and facilities, sitting shoulder to shoulder with other Riu properties, Riu Palace Cabo San Lucas and Riu Palace Baja California. There's even an area themed like a traditional and cozy Mexican village.
A new pool area is one of the most impressive updates to the property. The main pool is now larger, with plenty of space for guests to swim, relax, and soak up the sun. There is also a new poolside bar, where guests can enjoy refreshing cocktails and light bites while lounging by the water. Grabbing an afternoon drink by the pool has never looked so good!
The result is a hotel that is both visually stunning and highly functional. The hotel's interior design is sleek and modern, yet classical, with clean lines and contemporary furnishings that create a sense of effortless sophistication. The color palette is largely neutral, with blue and green pops that reflect the surrounding environment's natural hues.
Another notable upgrade to the property is the addition of new restaurants. Riu Santa Fe has opened the new "Kulinarium" food court with two new "Tiki Taco" stations and a new grill station at Pepe's Foods.
As well, Riu Santa Fe has given fresh makeovers to its existing restaurants, such as the themed restaurants Carusso (Italian), Sakura (Asian), La Misión (Mexican), and Torote (steakhouse), which are situated near the main pools.
This all comes after Riu Santa Fe expanded in 2018 with the addition of the Riu Pool Party area and Splash Water World onsite waterpark. They also renovated their 1288 rooms, embellishing them with blue furniture that evokes the oceanside and wooden furniture that symbolizes the jungle trees surrounding the property.
Despite all of the updates, the hotel has maintained its commitment to providing an all-inclusive experience for its guests, a dedication to a marriage of luxury and fun.
Along with Riu Parties, an idea that was developed in this hotel in 2018, Club Pacha is in charge of livening up visitors' nights. The Riu Pool Party area hosts parties four times a week. Partygoers will enjoy pink and jungle-themed events in the evenings, while white and neon-themed events will occur at night.
As part of the hotel's 24-hour All-Inclusive offer, guests at the other two Riu resorts in the vicinity, Riu Palace Cabo San Lucas and Riu Palace Baja California are welcome to attend these events and use the waterpark and facilities at no additional cost!
The hotel offers a wide range of amenities, including daily activities and entertainment, access to the gym and spa, and unlimited food and drinks at all restaurants and bars.
Overall, reopening the Riu Santa Fe all-inclusive property is great news for travelers looking for a luxurious, sun-soaked getaway. With its modern design, new amenities, and commitment to guest safety, the hotel will surely be a popular destination for years to come. Whether you're looking to relax by the pool, hit the beach, or explore the local area, the Riu Los Cabos all-inclusive is the perfect place to do it.
Other Amazing Nearby Riu Properties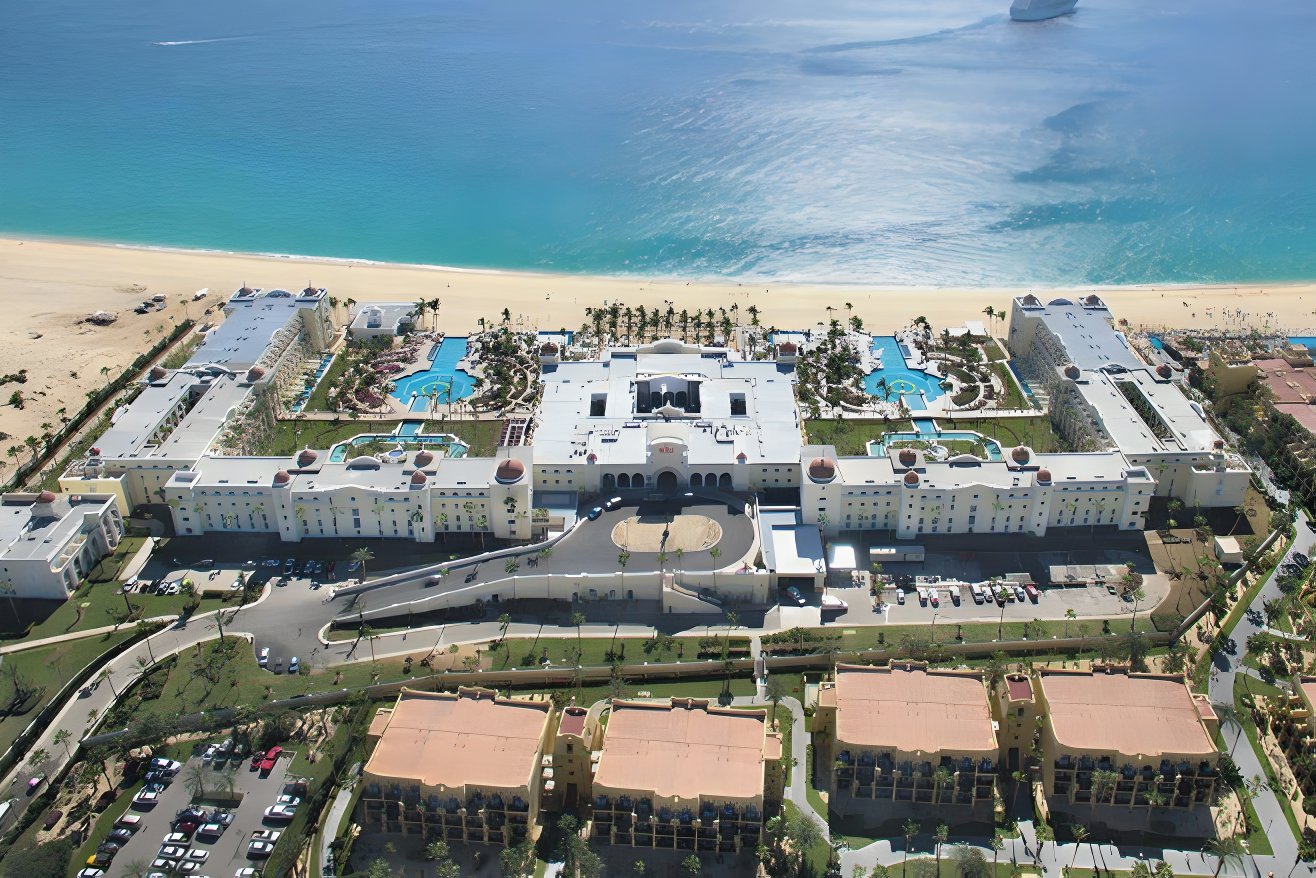 Riu Palace Cabo San Lucas is a luxurious, all-inclusive resort in Cabo San Lucas, Mexico. The resort is situated on the Baja Peninsula's beautiful white sandy beaches, offering stunning views of the Sea of Cortez.
The resort is located near the marina and downtown Cabo San Lucas, making it easy for guests to explore the area and enjoy a range of activities, such as shopping, dining, and nightlife.
Riu Palace Cabo San offers an all-inclusive experience, which means that all meals, snacks, drinks, and activities are included in the price of the stay. The resort also offers high-end amenities, such as a full-service spa, multiple pools, and specialty restaurants.
Make sure that you and your guests come hungry, because Riu Palace Cabo San Lucas offers a diverse range of dining options, with several specialty restaurants serving a variety of cuisines.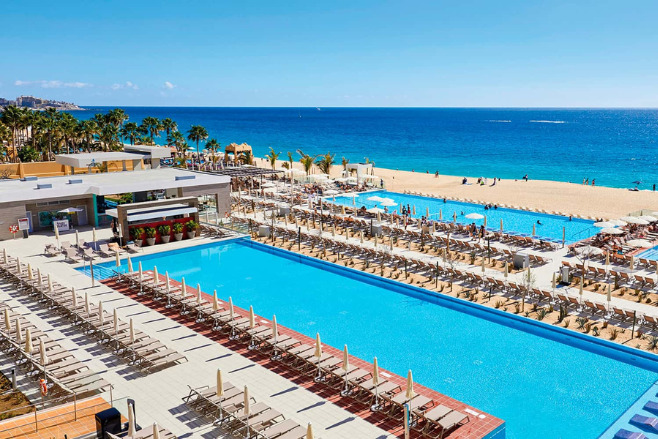 Riu Palace Baja California sits on Medano Beach in Cabo San Lucas, which is world famous for its beautiful turquoise waters and golden sand. It offers stunning views of the Sea of Cortez and is close to some of the region's most popular attractions.
Riu Palace Baja California offers a variety of dining options, including several specialty restaurants serving a range of cuisines such as Italian, Japanese, and fusion. Guests can also enjoy 24-hour room service and a variety of bars and lounges serving premium beverages.
The resort features a large infinity pool that overlooks the ocean, as well as a swim-up bar and several sun loungers for relaxation. There is also a full-service spa and fitness center, along with a range of activities such as beach volleyball, water aerobics, and kayaking.
The resort has several amenities for guests to enjoy, including a large outdoor swimming pool, a spa, a fitness center, and a tennis court. Guests can also participate in various water sports, such as kayaking and paddleboarding, or relax on the beach.
Riu Palace Baja California offers daily entertainment, including live music, shows, and themed parties. The resort also has a nightclub for guests who want to dance the night away.