Hyatt Hotels Corporation, one of the leading resort brands in the world, is all set to expand its portfolio with the opening of a new resort in Punta Cana, Dominican Republic – Dreams Flora Punta Cana.
The new property is the latest addition to Hyatt's all-inclusive brand, the Hyatt Ziva and Hyatt Zilara. Dreams Flora Punta Cana delivers an elevated experience for travelers and wedding couples seeking looking to tie the knot in luxury.
Dreams Flora Punta Cana is located in Cabeza de Toro, a neighborhood set between Punta Cana and Bavaro. Cabeza de Toro's name translates to "bull's head" in Spanish, signified by the bullhead shape of the shoreline.
Dreams Flora Punta Cana is a beachfront property on Cabeza de Toro providing with breathtaking views of the Caribbean Sea.
The resort is spread over 40 acres and boasts 750 suites. It includes a collection of premium suites with private pools and ocean views.
Additionally, the property also features an exclusive adults-only section with 120 suites, offering couples a private and serene retreat.
The resort has been designed to offer a unique blend of luxury and comfort. The rooms are spacious and elegantly decorated, offering guests a relaxing and tranquil environment.
The resort has eclectic dining options, from specialty restaurants to casual dining, catering to every palate.
Furthermore, the property offers guests access to 13 bars and lounges, serving various signature cocktails and beverages.
Indulgent dining options at Dreams Flora Resort & Spa include à la carte restaurants serving a range of international cuisines, like Asian and Mexican, a buffet with interactive stations, a café, and a snack grill. All of these establishments have stunning views, are in convenient locations, and don't require reservations. Convenient 24-hour dining gives visitors the luxury of dining in their suite for a more private setting. All on-site eateries have a gluten-free menu for customers with a gluten allergy.
In addition to world-class accommodation and dining options, Dreams Flora Punta Cana will offer a range of activities and amenities to keep guests entertained. The resort will have five swimming pools, including an infinity pool, a lazy river, and a swim-up bar.
As well, the resort will offer water sports such as snorkeling, kayaking, and paddleboarding for thrillseekers. Guests can also indulge in a tennis game or take fitness classes at the resort's fitness center.
Also, for those looking to unwind and relax, the Dreams Flora Punta Cana will have a full-service spa offering a range of treatments and therapies. The resort will also have a kids' club, providing parents with some time to relax and enjoy their vacation.
Dreams Flora Punta Cana also features a Preferred Club, an exclusive and elevated experience for resort guests. The Preferred Club provides luxe perks like an upgraded minibar, an in-suite espresso machine, and access to the Preferred Club lounge.
This lounge area offers guests luxuries like daily continental breakfast services, afternoon hors d'oeuvres, tasty desserts, and premium liquors.
The resort is conveniently located near popular attractions such as the Indigenous Eyes Ecological Park, Punta Cana Golf Course, and the Coco Bongo Show and Disco. The resort is just a 40-minute drive from Punta Cana International Airport, making it easily accessible for travelers.
Dreams Flora Punta Cana's opening is great news for travelers seeking a luxurious and comfortable stay in the Caribbean. The resort's stunning location, world-class amenities, and exceptional service will create outstanding guest experiences. Hyatt's commitment to creating memorable guest experiences is evident in this new addition to its portfolio.
For all these reasons and more, pack your bags and head to Dreams Flora Punta Cana!
Other Dreamy Dreams Properties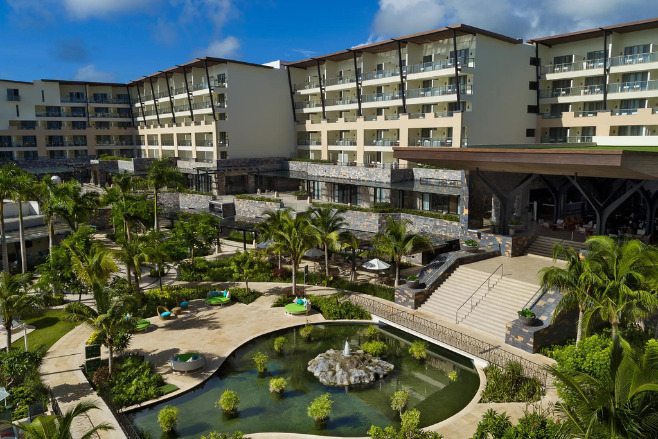 Dreams Natura is built in tandem with the environment, combining the natural world with contemporary luxuries. The resort features sustainable materials and renewable energy sources to reduce its carbon footprint. Lush jungles and beautiful beaches envelop Dreams Natura. Guests can explore the area's natural beauty through activities like eco-tours or hikes.
The property offers an all-inclusive experience with unlimited food, drinks, and activities. Guests can enjoy a variety of dining options, including international cuisine and local specialties.
The resort features spacious and comfortable rooms and suites, all with modern amenities like flat-screen TVs, minibars, and balconies or terraces.
Dreams Natura provides a wide range of activities for all ages, making it an excellent choice for families. Children can enjoy the water park, kids' club, and daily entertainment, while adults can relax at the spa or take part in activities like yoga or snorkeling.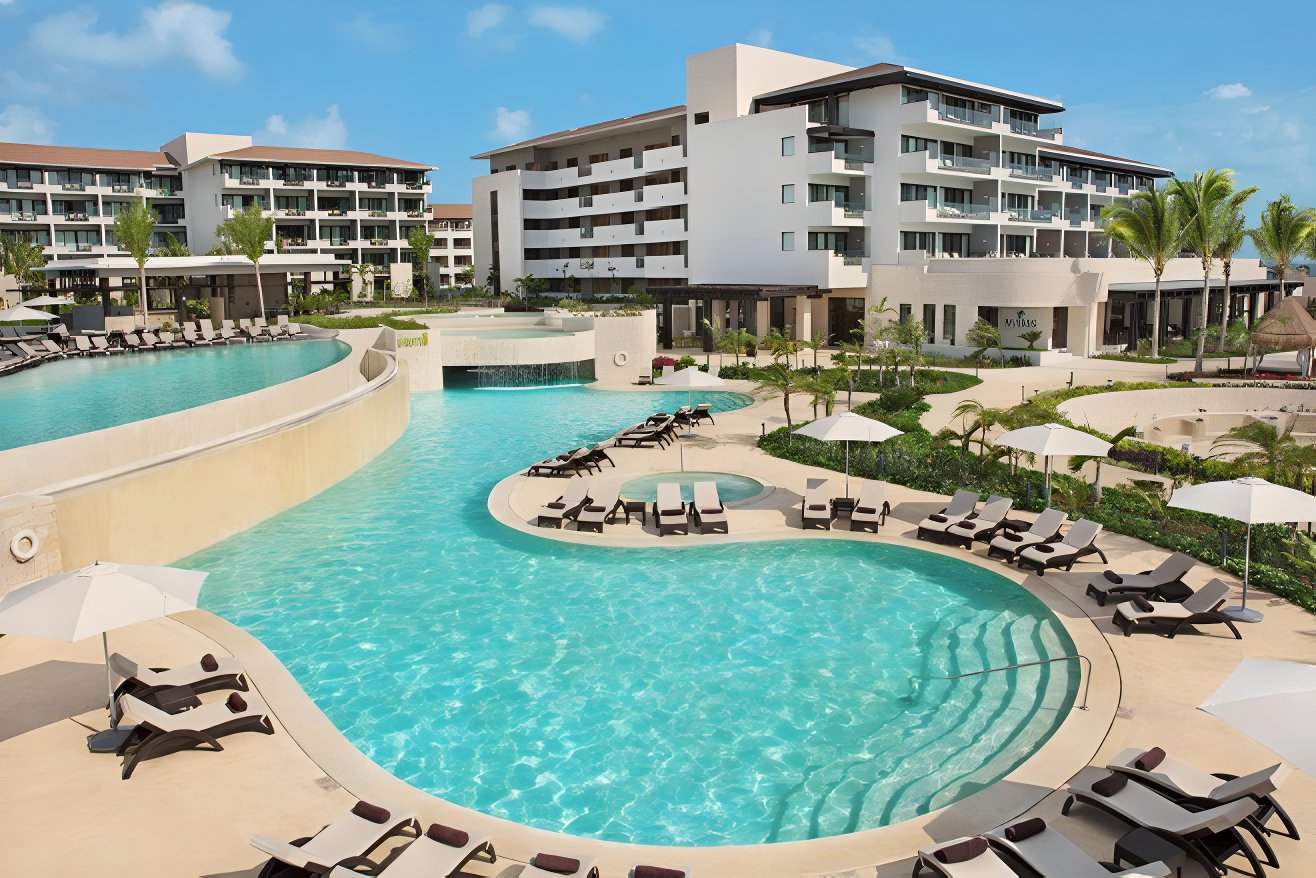 The resort is located in a pristine beachfront setting in Playa Mujeres, an exclusive gated community known for its natural beauty, white sand beaches, turquoise waters, and private setting.
Dreams Playa Mujeres offers an all-inclusive experience, which means that guests can enjoy unlimited food and drinks, activities, and entertainment options.
The resort has a range of spacious suites, including family, swim-out, and oceanfront suites. Each suite offers stunning views of the Caribbean Sea.
Dreams Playa Mujeres is a family-friendly resort offering a range of activities and amenities for guests of all ages. This includes a kids' club, a teen club, a water park, and a range of family-friendly activities and entertainment options.
The resort has 10  gourmet dining options offering a diverse range of cuisines, from Mexican and Italian to French and Asian.
Best of all, Dreams Playa Mujeres is committed to sustainability and has implemented several eco-friendly practices, including a turtle conservation program and a recycling program, to minimize its environmental impact.