A place well known to many people, Puerto Rico is one of the most accessible wedding destinations for many reasons. It is an easy-to-travel destination for our friends and family because they don't need to jump through hoops to get there – you don't need a passport, planes are plentiful, and many people speak English as well as Spanish. At the same time, Puerto Rico wedding resorts are some of the most beautiful and amenity-filled places you can visit. For most people, Puerto Rico provides a comfortable atmosphere while still allowing families and friends to spend the day with you.
Still, planning a destination wedding can be quite difficult because many people just can't visit Puerto Rico whenever they want to – so they have to do a lot of planning from afar. There are little to no all-inclusive options either, but this may change in the future with resorts like Dreams Puerto Rico opening later this year.
So which are the best Puerto Rico wedding resorts? Here are our top choices:
Wyndham Grand Rio Mar Beach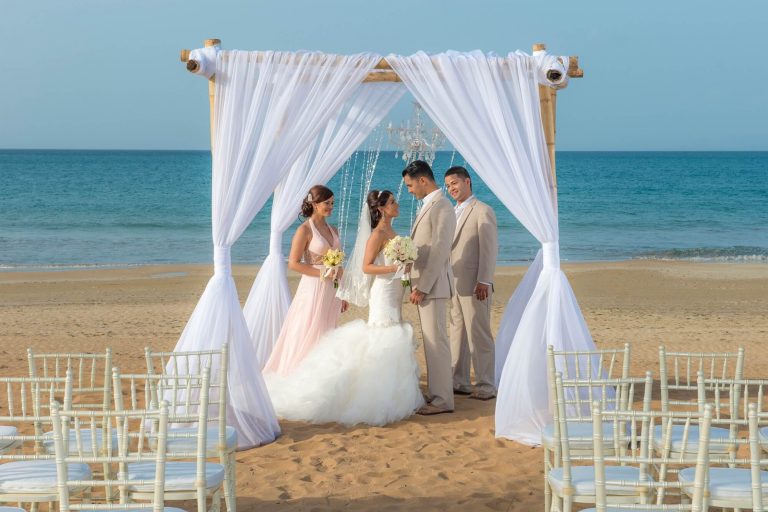 Wyndham Grand Rio Mar Beach
The Wyndham Grand Rio Mar Beach is a stylish and contemporary option for those that want to have a beautiful wedding that is action packed. There are many options here as well – multiple venues mean that you will have the choice of your perfect ceremony location. It is also a great choice for your guests, who will be able to lounge and relax on the beaches while being taken care of completely by this great staff. For guests that have children, there is childcare and special activities.
The wedding venue options are truly stunning for your Puerto Rican wedding, ranging from oceanfront venues with immaculate views of the ocean to separate ballrooms that allow you to dance the night away. You can choose from a non-denominational ceremony or a religious ceremony at this Puerto Rican wedding resort. For the fees, you get access to outside wedding planners and vendors. It also caters to vow renewals. Venue options can hold up to 320 guests, so you can host a wedding of any size.
El Conquistador Puerto Rico Wedding Resort
El Conquistador
The Waldorf Astoria Resort, El Conquistador is located on a 100-yard cliff above the Atlantic Ocean. It is a luxurious hotel, to be sure, that offers many amenities for your wedding. One reason so many people love this wedding resort in Puerto Rico is that it is so unique and graceful – resting on the cliffs of Punta Gorda and the gently moving water provides the perfect ambiance that you need. At the same time, the staff is expertly trained so that your day will go perfectly. As of May 2019, the resort has been completely remodeled and boasts some of the most modernized facilities on the Island. Another added bonus is that this resort is just 30 minutes away from one of the biggest attractions in Puerto Rico, the El Yunque Rainforest. Imagine your wedding photos here.
Of course, your Puerto Rico wedding will be the center of the trip, and El Conquistador boasts a staggering 11 wedding ceremony venue options for you to consider. You and your loved one will have the pick of the lot that will perfectly match your desires, theme, and wedding size. You won't have to worry about cramming too many people into a small space or your ceremony feeling too sparse. Of course, you will have a variety of options when it comes to packages, food options, amenities, and more.
If you are looking to have a large wedding, you can have up to 1,400 guests in many of the different options – or as few as just a handful. One thing to know about this location is that since it is so large and has so many venues that they can hold more than one wedding per day, but each will receive individual care.
Sheraton Puerto Rico Wedding Resort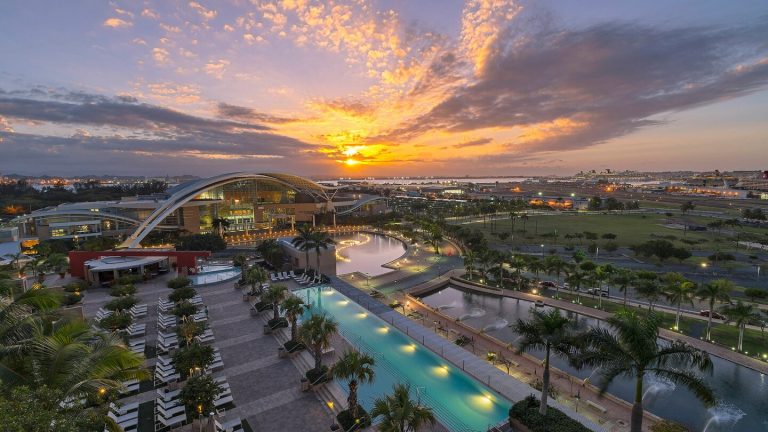 Sheraton Puerto Rico
Located in San Juan are the Sheraton Puerto Rico, a destination for those who are looking for convenience, fun, and a great wedding, of course. This property is a more urban wedding resort in Puerto Rico, featuring unique and beautiful amenities that are centered on a casino and the tropical landscape. Whether you want to spend your days basking by the ocean or eating some of the expertly prepared foods, you will have everything that you need, including spas, gambling, entertainment, and more.
Since this location is so central to everything else in Puerto Rico, it is a wedding resort that you will not only get to celebrate your love at but also give your guests a real sense of a city vacation. In fact, if you have a large party that will want to enjoy some time off, this is the place to do it.
If you are planning to utilize the services of a Puerto Rico wedding resort, make sure that you figure out which one will work best for your wedding size, the type of wedding you want, your budget, and what other experiences you want to have.
Hit the button below to explore more of our Puerto Rico wedding resorts: