Jamaica is one of the most gorgeous island countries in the world, situated on a beautiful stretch of land with the warm Caribbean seas surrounding it. Our couples choose Jamaica for destination weddings because of this, and because of all the natural beauty within too, so that's why on this list we're covering some just a few of the best Jamaica wedding locations.
Amongst Rose Hall or Montego Bay, guests will be treated to lavish and opulent resorts, and our best Jamaica wedding locations cover a variety of surroundings and budgets too. From the luxurious to the affordable, either way, you'll be amongst some of the most pristine beaches in the world. Plus, with our Jamaica wedding locations, you can expect all-inclusive offerings, so all drinks and dining are included. Picture it, you're taking a reprieve from swimming in the ocean, greeted with a drink by beachside service, and contemplating your next plate of delicious Jamaican jerk chicken.
Hyatt Ziva Rose Hall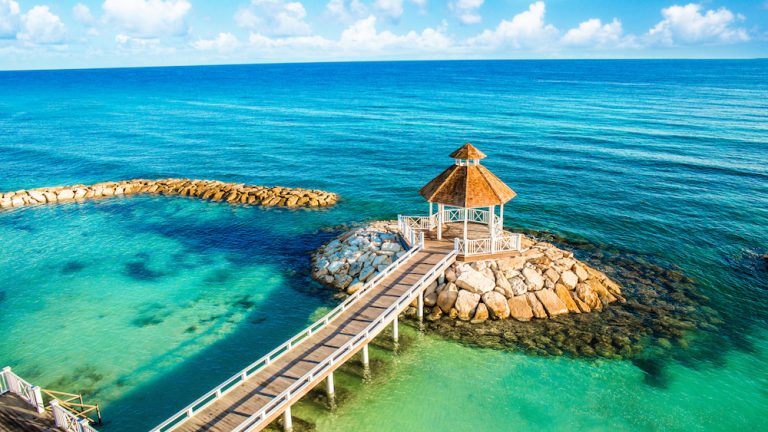 Hyatt Ziva Rose Hall
The Hyatt Ziva Rose Hall is a clear front runner amongst our best Jamaica wedding locations, and it's one of the top all-inclusive destination wedding resorts in Jamaica in general. The reasons are numerous, from a large amount of wedding ceremony venues available across the resort to the Hyatt brand and the impeccable service guests have come to expect from the name. As far as price tier goes, it's considered luxury on our scale of price per person per night, but with that price comes a well-appointed wedding department and access to stunning locations for your ceremony.
Rose Hall is an area of Montego Bay known for world-famous golf courses, snorkeling opportunities, waterfalls, and lush tropical foliage. The Hyatt Ziva Rose Hall Jamaica wedding resort takes notice of its picturesque location too, and there's no more beautiful of a place to say I do then on one of the ocean gazebos, resting atop the Caribbean waters. After your wedding ceremony, move just a few feet down the boardwalk, where you can host a private reception right on the beach, featuring buffet or plated menus.
Sandals Royal Caribbean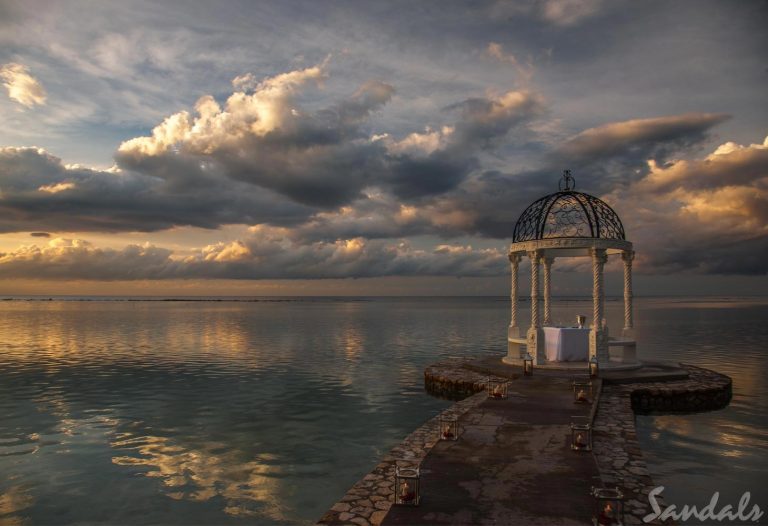 Sandals Royal Caribbean
Sandals offer a most romantic retreat and are one of the more intimate offerings amongst our 7 best Jamaica wedding locations. The luxurious retreat offers 227 spacious rooms across a sprawling complex, with complimentary wedding packages that allow for customization, and wedding incentives based upon the number of guests staying. A Sandals Royal Caribbean Jamaican wedding will exude charm and elegance, and guests will love the exclusive tropical offshore island, just a few minutes away by boat.
It makes the list of Best wedding locations in Jamaica due to the bright and vibrant waters, and the ceremony venues that take full advantage of the views. Take for example the oceanview gazebo, which extends over the calm waters of Montego Bay. When not celebrating your wedding, couples will love the over-the-water bungalows, with glass vision floors and walk-in rain showers.
Iberostar Rose Hall Suites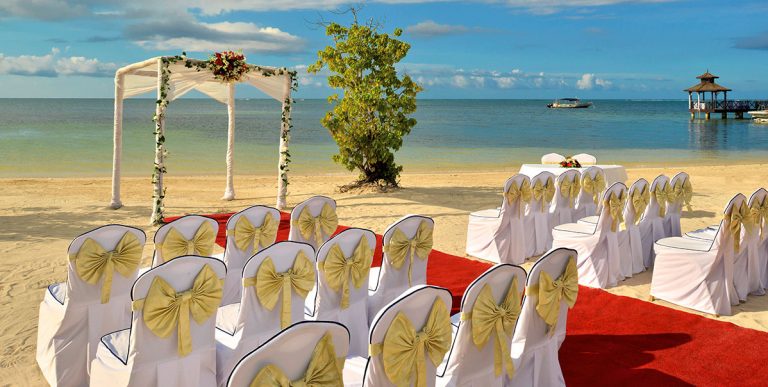 Iberostar Selection Rose Hall Suites
When travelers consider Jamaica, a top reason is because of the unforgettable beaches, so that's why Iberostar Selection Rose Hall Suites makes our list of best wedding locations in Jamaica. This family-friendly resort offers a selection of fairly prices suites, and your beach ceremony will be absolutely perfect, with calm green waters as your backdrop.
Give the parents a break, to enjoy your ceremony or reception, with a lazy river and waterpark that will entertain the young ones, and supervised child's care services on offer. There's no shortage of restaurants and bars to explore during your stay, and the guys can take a break and hit the deluxe golf course on-site too.
These are just a sampling of what wedding couples can expect in Jamaica. To learn more about destination weddings in the beautiful country, follow the button below: