It's time to get down to business with one of the most critical aspects of organizing a destination wedding in Mexico. No, we're not talking about which champagne to serve your wedding guests. While this is important, many couples planning a destination wedding in Mexico may be concerned about the cost of the ceremony and wedding week. Here are some short answers to help you figure out what kind of funds to set aside while planning your dream party:
Are Mexico Destination Weddings Cheaper?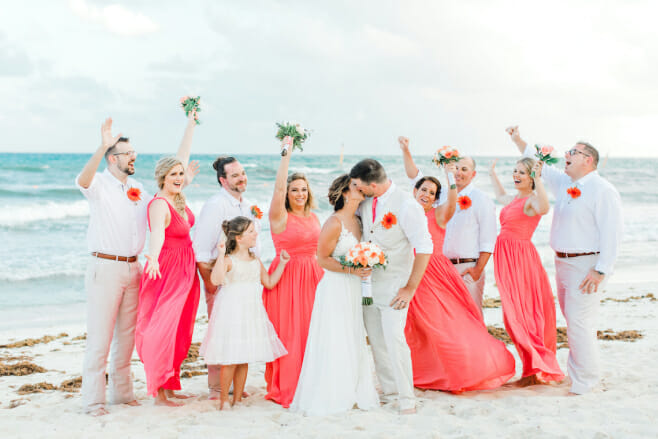 Simply put: it all depends on the resort you choose for your wedding. Mexico has become one of the most popular wedding locations in the world in recent years. Using Cancun as an example alone, hundreds of beachfront resorts cater to the flood of tourists and wedding groups by offering Cancun wedding packages to meet a wide range of budgets.
No matter your budget, you can still host a destination wedding in Mexico. Many five-star resorts, for example, provide gratis wedding packages that include many of the same facilities and add-ons as more expensive packages. So, whether you're staying in the Cancun Hotel Zone or at a hidden boutique hotel, there are wedding packages in Mexico to suit everyone's budget.
How Much Does a Destination Wedding Cost in Cancun?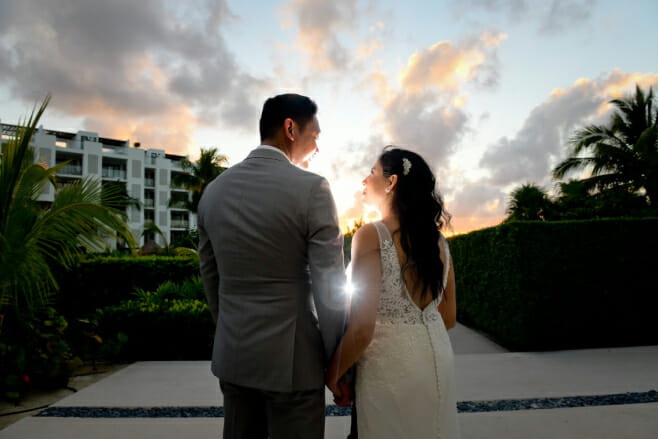 Cancun weddings are well-known for the globally-acclaimed hotel zone on the main strip. Weddings with 20 or more guests in Cancun can take use of the city's various restaurants, bars, and nightclubs, making it an ideal choice if your destination wedding includes a nightlife component. In addition to your Cancun wedding package, you'll get that downtown vibe with high-rise resorts.
Cancun is one of the most economical all-inclusive destinations, so a wedding with 20 or more guests can be readily afforded. Wedding packages are plentiful and inexpensive, and resorts and hotel rates vary by budget, so you may get the most bang for your buck while planning your Cancun wedding. The Cancun International Airport offers an unending number of flights to and from the terminals each day, and with intense rivalry among resorts, weddings in Cancun, Mexico are likely to be affordable.
How Much Does a Destination Wedding Cost in Riviera Maya?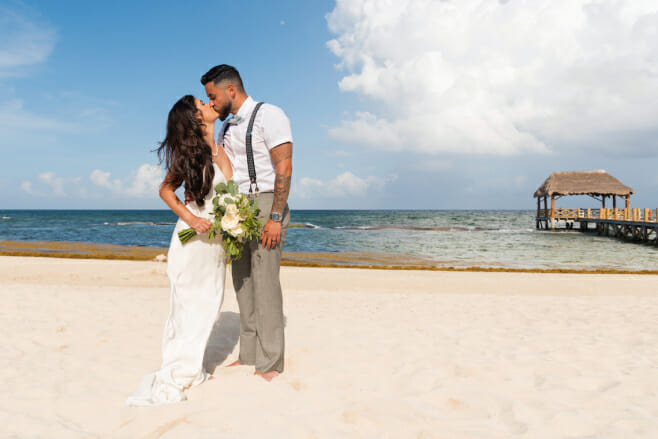 The Riviera Maya is home to some of Mexico's most stunning beaches, including Maroma Beach, which has consistently been named as a top beach in the world. Riviera Maya is roughly 45 minutes to an hour south of Cancun, with more spacious resorts and vast expanses of white sand beaches, ideal for a Mexico destination wedding ceremony with 20 or more guests. This region is also noted for its beautiful woods teeming with colorful fauna and species; peacocks, monkeys, iguanas, and the indigenous Coati are all typical sightings.
Wedding costs are among the most affordable available, and you'll find that Riviera Maya package prices for 20 or more guests are far less than those of a normal US wedding. Most wedding ceremonies will include some modest ceremonial adornment, and you can add more for an additional fee. When you book larger parties, you may be eligible for complimentary hotel upgrades, free private events, and other benefits.
How Much Does a Destination Wedding Cost in Los Cabos?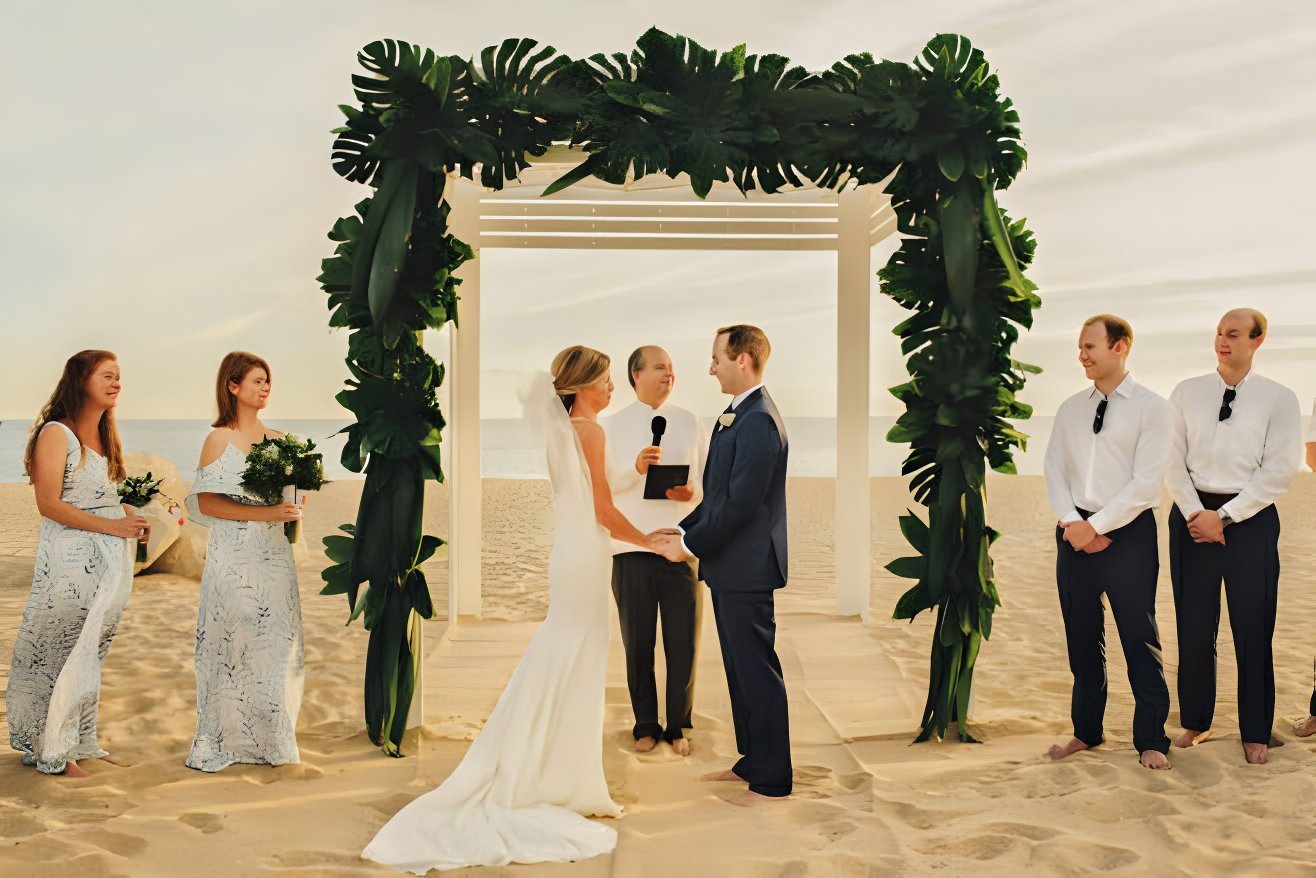 Welcome to one of the most affordable locations in Mexico: Los Cabos! The diversity of resorts available means that Cabo San Lucas wedding couples can pick the ideal atmosphere for their unforgettable day. Los Cabos all-inclusive weddings operate with a variety of wedding package formats, ranging from intimate gatherings for the couple to large-scale events with many guests. For guests traveling from the west coast of the United States, travel costs are easily available, and budget-friendly companies like RIU and Dreams can accommodate happy families at affordable rates.
El Arco, a remarkable natural rock formation that would be the perfect photo backdrop for one of our classic Cabo San Lucas wedding venues, is famed for being home to Los Cabos weddings. Weddings in Cabo San Lucas take place where the Pacific Ocean meets the Sea of Cortez. Although some Los Cabos wedding resorts have beaches where the currents are too strong to swim, this should not prevent you from having your wedding here because this location has some of the longest sections of pristine coastline in all of Mexico.