Wondrous, unforgettable, and oh so affordable, Cabo weddings are the epitome of Pacific-Mexico elegance. Packed with the finest all-inclusive resorts and wedding packages, destination weddings in Los Cabos feature the latest and greatest in contemporary romance. And that's not all. Whether you're sailing a catamaran to the world-famous El Arco, or hitting up the downtown scene, this bustling jewel-by-the-sea has everything you need for an exhilarating getaway. Ready to start planning? Let's review how much a wedding in Cabo costs, from Economical all the way to Luxury:
How Much Does an Economical Wedding in Cabo Cost?
RIU Santa Fe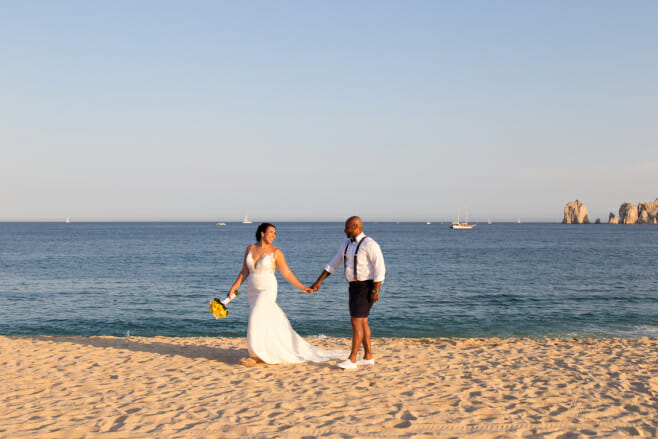 Have a Cabo wedding at the Sea of Cortez-ocean front RIU Santa Fe all-inclusive resort on a beautiful stretch of beach on the southern tip of the Baja Peninsula. All 902 rooms provide you with luxury, heavy wood furniture, stately columns and balconies or terraces overlooking the sea or grounds. A full roster of recreational activities covers tennis courts, nightly entertainment and supervised activities for the kids will be valued by your wedding guests.
How Much Does an Intermediate Wedding in Cabo Cost?
Sandos Finisterra Los Cabos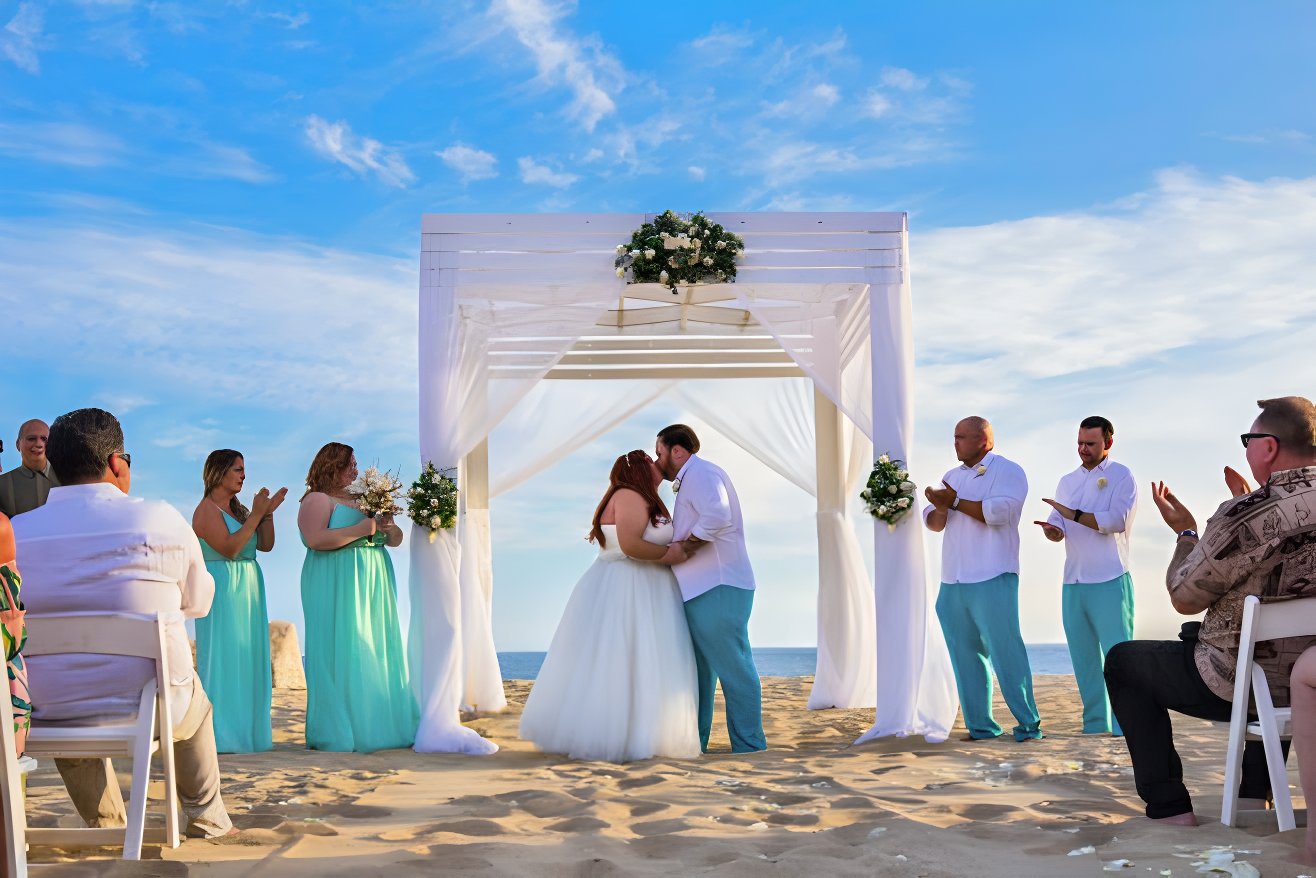 The name Finisterra means "End of the Earth", and that's what you'll find at this breathtaking all inclusive resort. Sandos Finisterra is nestled on a clifftop at the very end of the Baja Peninsula. Situated just steps away from the excitement of Downtown Cabo San Lucas and the Marina, Sandos Finisterra has captivating views of the Pacific Ocean on one side and panoramic vistas of the city, bay and Marina on the other. Whether you're looking to party through the night or lounge the day away, this resort offers the perfect vacation.
Guests at Sandos Finisterra will find seven expansive acres of beach, perfect for serious seaside lounging. Although the ocean isn't safe for swimming here, the beautiful beachside pool area has areas for games and relaxation, as well as 7 jacuzzi tubs and an adults only pool with swim-up bar.
How Much Does a Luxury Wedding in Cabo Cost?
Hyatt Ziva Los Cabos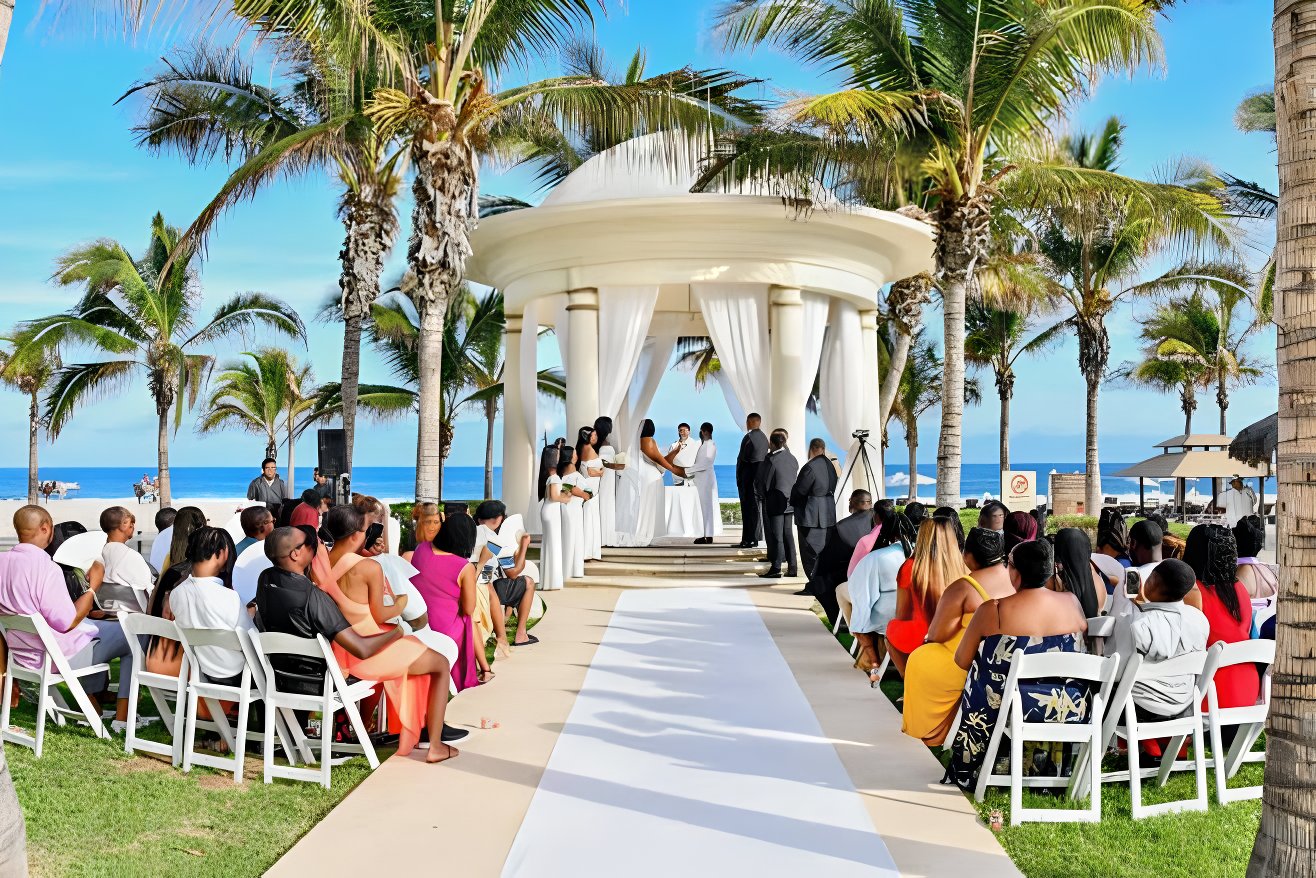 Just outside of Cabo San Lucas in San Jose del Cabo, Hyatt Ziva Los Cabos sits on beautiful white sands with remarkable views of the peninsula as well as the Sea of Cortez. Elegance and top-tier amenities and accommodations take center stage at this establishment, with a state-of-the-art spa and recreational facilities and several peaceful pools spread throughout the grounds. The resort recently underwent major renovations to the lobby and gym, as well as additions that include two new restaurants and a terrace that showcases the most breathtaking views possible.
The brilliant accommodations will keep you and yours in a blissful state for the duration of you Cabo San Lucas wedding, as rooms include views of the resort surroundings or the sea, and swim-up suites are available to further your relaxation. There are fire pits encircling the central resort lagoon, separate kids and adults pools, and drink and snack options spread throughout.
Hard Rock Los Cabos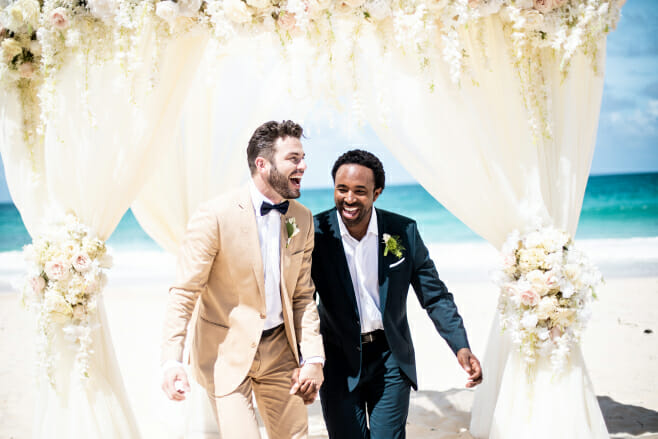 As the newest property in the Hard Rock Hotel chain, Hard Rock Los Cabos garners the latest advancements in A/V technology, not to mention immaculate venue spaces with handcrafted gazebos and mouth-dropping seafront views. Offering 4 enchanting spaces capable of accommodating anywhere from 100 to 500 guests, the resort is best suited for large wedding parties.
Regardless of where you host your ceremony, the property's immersive spaces will instantly elevate your dream destination wedding. From the breathtaking sunset-laden beach altar to a charming traditional indoor chapel, Hard Rock Los Cabos will naturally transform your romantic vision into a reality. Have a particular day in mind that's widely coveted by other couples? Worry not, the hotel will host no more than 5 weddings per day, guaranteeing all wedding parties their preferred ceremony date.
Breathless Cabo San Lucas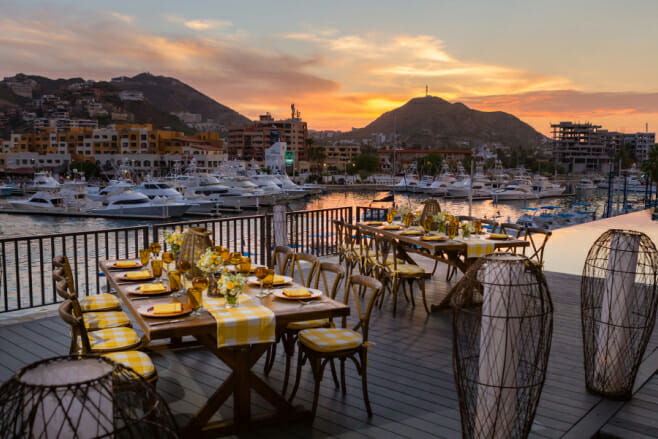 Sultry chic marries elegance at Breathless Cabo San Lucas, making it the ultimate romantic destination for your wedding festivities. Just steps away from the infamous Cabo San Lucas nightlife, restaurants, and shops, Breathless Cabo San Lucas brings vibrancy and luxury to your wedding with a team to help organize your details so that you can truly immerse yourself in all that the resort has to offer without having to worry about a thing for your wedding! With various packages available for customization, Breathless Cabo San Lucas welcomes you to plan destination weddings without any stress – a feat thought impossible by those who have never experienced the services of Breathless Cabo San Lucas.