Destination weddings are a great way to not only have a beautiful wedding, but also save on expensive wedding expenses. With destination wedding packages, you can get married in an exotic beach or garden location without spending too much money and enjoy a romantic getaway. However, many people wonder if destination weddings are cheaper than traditional weddings.
In this post we will explore the costs of both types of events and see how they stack up against each other. Let's begin planning your dream destination wedding!
So, are destination weddings really cheaper?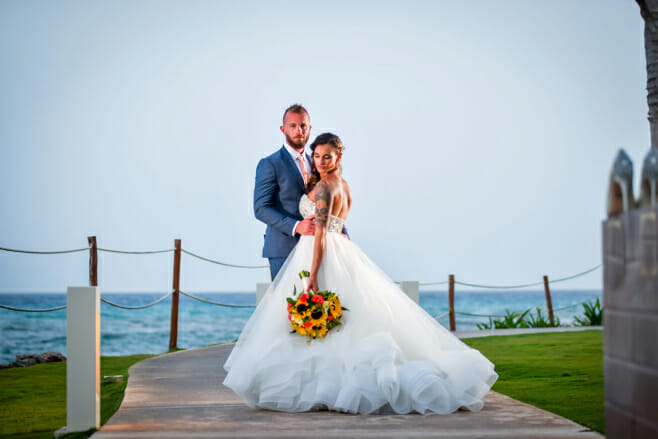 Destination wedding packages can be less expensive. These types of events are also more affordable because they're smaller in scale and don't require as much preparation or decorating. In addition, some locations charge a lower fee for hosting your event than traditional venues do which makes the cost even lower!
Many travel costs will increase depending on where you decide to have your destination wedding. Always keep this in mind when looking at potential destinations so that you aren't surprised by any added fees later down the line, including airfare and off-site group excursions.
How much do destination weddings usually cost?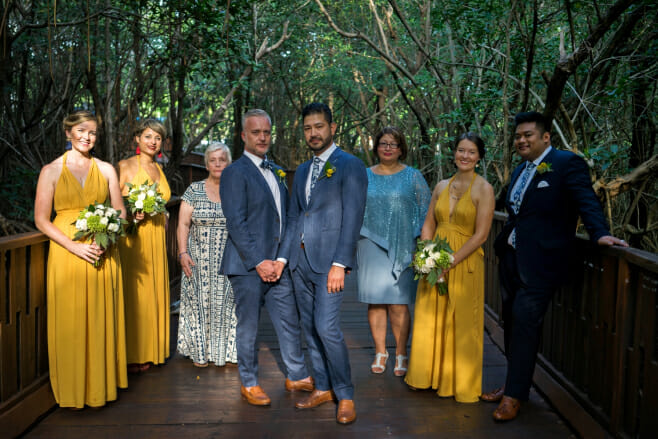 The average destination wedding costs between $12,000 and $17,000. This is much less expensive than the average American wedding which rings up at around over double that price!
There are many factors that influence the price of destination weddings. Some people may opt for more expensive destination weddings because they want to provide their guests with an unforgettable experience, while others might choose a less pricey alternative because it's just not in their budget – or maybe there is another way to celebrate your special day without breaking the bank!
Keep in mind that these prices can vary depending on where your event will be held as well as how many guests you plan on inviting. If your wedding ceremony isn't capped at a certain amount of people then it may end up costing even more if numbers exceed expectations.
With all things considered, destination weddings cost about half as much as traditional ceremonies do, so they're an excellent choice for those who want to save money while still having a fabulous event. You also get to plan your dream wedding with gorgeous backdrops, popular venues, and plenty of resort options to spice up your entire week and honeymoon.
How do destination wedding packages compare to US wedding packages?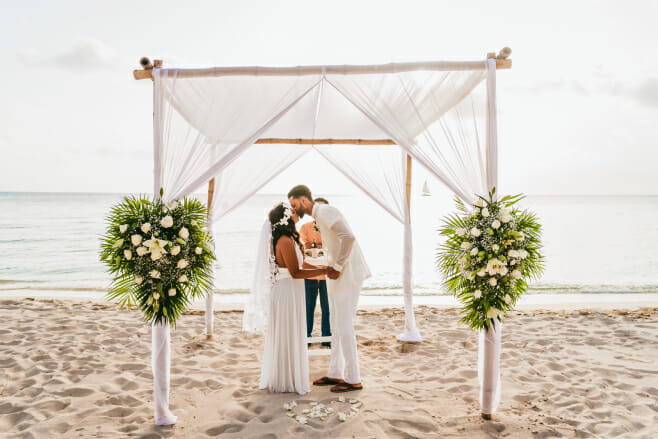 Destination weddings can be as affordable as you want it to be, with no set amount that must be spent. The value of an all-inclusive resort and the wedding packages on offer are what make it an incredible way to get married. Everything can be parlayed into your two forms of contact, from a Destify wedding specialist taking care of travel and booking needs to the wedding department taking care of your ceremony and reception, along with any wedding package needs such as floral arrangements and photography.
We have analyzed over 100 of our destination weddings and compared their costs to what a traditional wedding would cost, and have found that the vast majority saved greatly. The biggest factors contributing to wedding day costs are the choice of destinations and the number of wedding guests attending. A good rule of thumb is to expect about 50% of your guests to attend your destination wedding, which is often much higher for a local wedding.
How can couples save money on destination weddings?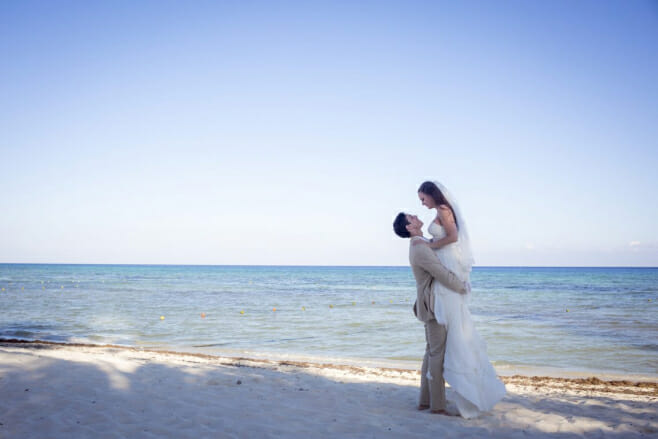 There are several ways in which to save money when it comes time for you to book your destination wedding. Here are a few of them:
Keep an eye out for last minute deals and special offers on travel packages, or be flexible with the location if budgets are tight. You might find that what you're looking for isn't quite as expensive as advertised at other couples resorts.
There is always something lovely about renting well maintained, cozy beach houses near whatever wedding venue that's booked – however this option can easily become pricey depending upon how many guests will be staying there overnight. If possible consider hosting events away from where everyone will sleep so having accommodations nearby won't cause big budget problems down the road!
Look into beach wedding venues who offer multi-day wedding packages at a substantial discount. In doing so you'll be able to have the complete experience for less money than it would cost if you booked all of your ceremony elements separately. (Our recommendation: consult an on-site personal wedding planner with a dedicated wedding team to help you with the next steps!)
Traveling in off-peak seasons can bring savings, but keep in mind that this may make destination wedding planning more challenging depending on what's included with the package and how far out from your event date booking will need to happen! Sometimes there are trade-offs involved when trying to save a few bucks – do some research beforehand or speak with an expert who knows exactly where best to plan destination weddings without breaking the bank! Also, always make sure to avoid hurricane season.
Sometimes couples opt out of serving alcohol, or even hire their own photographer to save money on their dream wedding date
Should I have my honeymoon at different couples resorts after my destination wedding?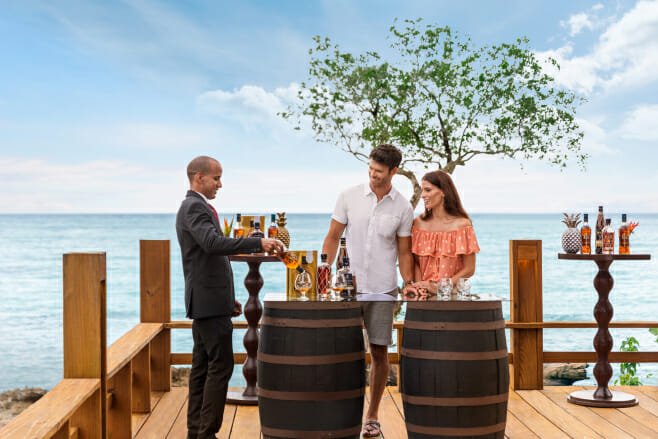 After your destination wedding, should you have a different honeymoon at another resort? The answer is probably no. You might be thinking that since you already paid for the first trip with family and friends why not go somewhere else?
However, this would defeat the purpose of having you guests travel together to one place just so you could split up after all that trouble! Plus, it can get expensive booking two vacations in different places instead of just staying where everything has been planned out already.
Don't worry though – there are plenty more activities to do if you still want a few extra days of alone time! First things first: relax ! After such an exciting day (and possibly night) waking up early may seem like torture but try getting over it because what's done is done. You can't go back in time! Just enjoy the resort you are at and if that doesn't sound exciting enough, think of all the other things there is to do outside your hotel room.
Here are a few places to consider when looking for all-inclusive perks to enjoy on your honeymoon:
The ancient ruins of Tulum
The ancient Mayan ruins of Chichen-Itza
The beautiful beaches of Cozumel, Bavaro, and Medano
Delicious food and signature cocktail options 24/7
Private dinner under secluded palm trees
Stress-free spa treatments and pristine beaches
What are the benefits of having a destination wedding?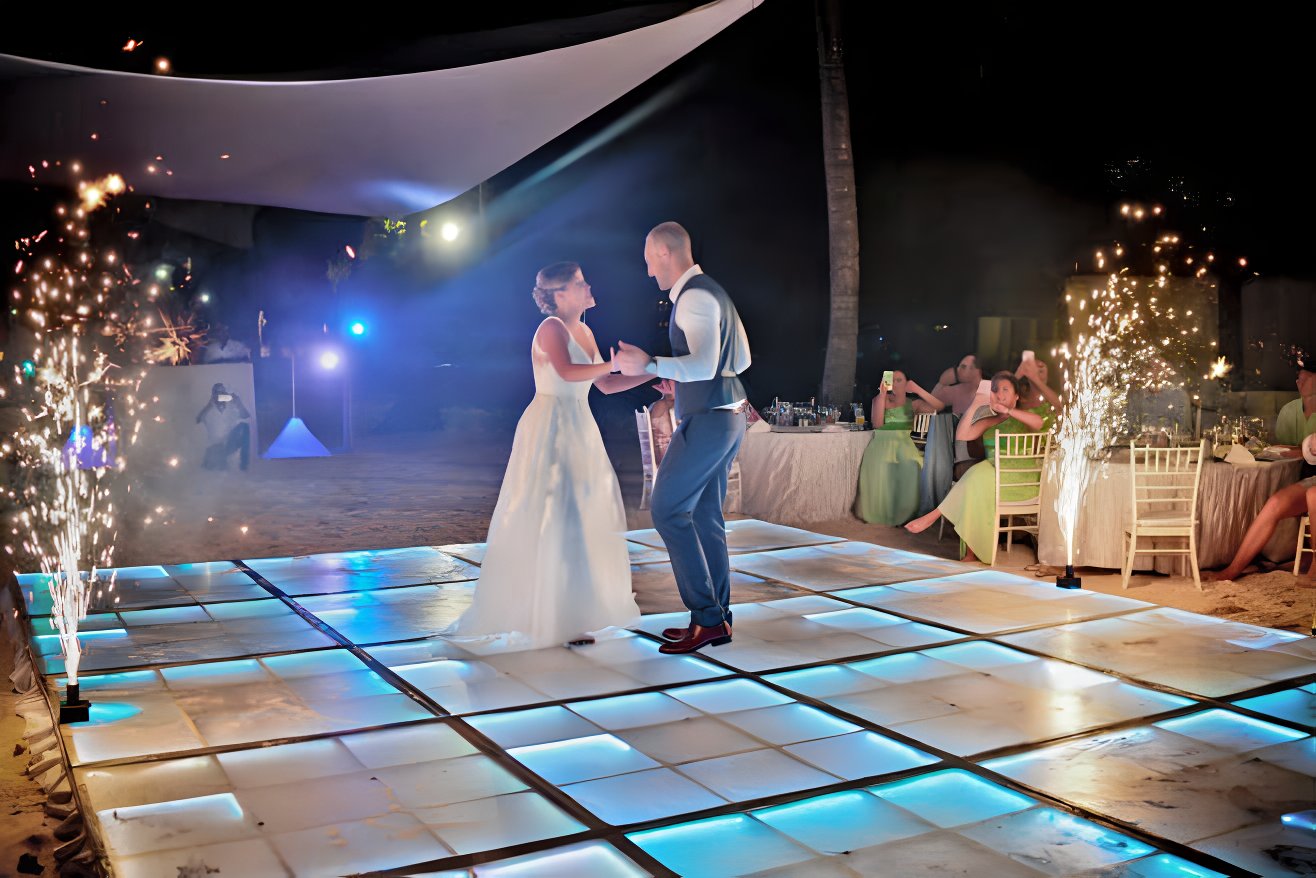 Destination weddings offer couples more flexibility in planning their big day. At many times, they also provide you with better rates for both your event and accommodations due to size or location restrictions. With fewer guests at your ceremony and reception, it can be much easier on the wallet than an average traditional wedding would.
Couples who choose destination weddings enjoy focusing more on unwinding with a romantic getaway instead of stressing about all the extra financial pressures that come along with bridal parties, invitations and catering costs. Additionally, when you plan a trip around such an important celebration as a marriage commitment no expense is spared providing even greater value for budget conscious lovers! And what's not to love about memories made under the sun at a dazzling beach with the one you love?
Destination weddings also provide guests the chance to go somewhere new, experience it all at their own pace, relax by taking advantage of amenities available at all-inclusive resorts rather than worrying about hosting duties back home. These things can end up saving brides and grooms money on travel expenses as well – win-win!
Can I score a free destination wedding?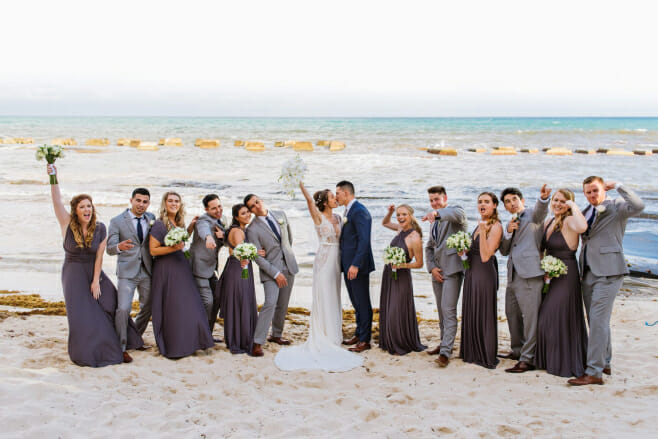 We'll let you in on a little secret: if you use Destify's services, you can get free destination packages! While most free weddings require you to book a particular number of rooms for your stay, your Destify representative will work with you to find a cost-effective retreat that might include a complete wedding (free after paying taxes). Want to know more? Check out our free destination wedding packages with all the details on complimentary benefits. Here are some of the all-inclusive perks you can still score with a free destination wedding package:
Special turndown service for the wedding couple
Sparkling wine toast
Ideal setting for all wedding party activities
Specialty restaurant privileges and absolutely perfect cuisine
Access to expert wedding planners
Where are the cheaper destination wedding packages and locations to get married at?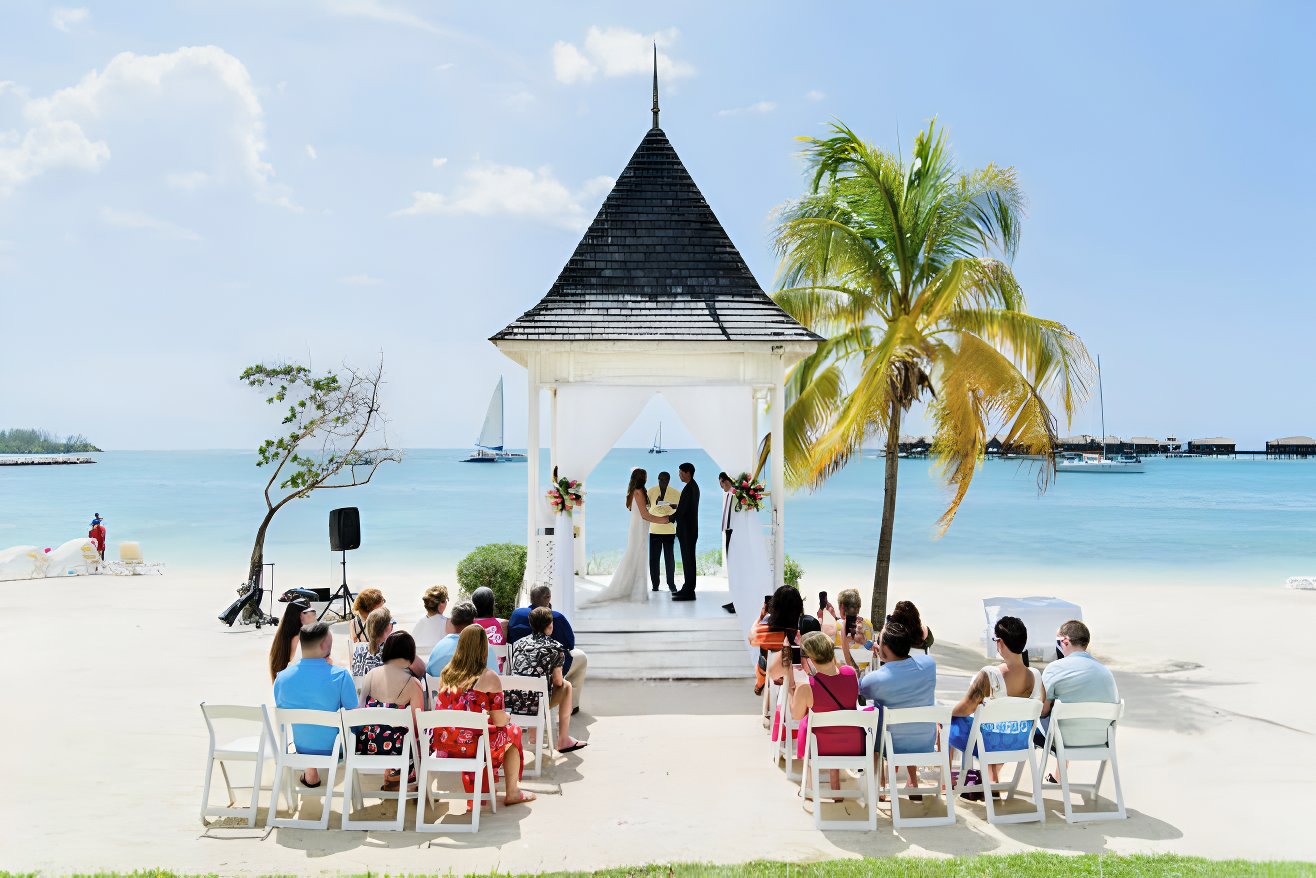 For many people, a destination wedding is cheaper than the alternative: holding your nuptials at home and spending money on travel for guests. Depending on where you're getting married, though, there are ways that you could save even more cash by having an island or beachside ceremony! A few examples of destinations with affordable rates include Curaçao (where weddings can cost only $450) and Aruba ($650). Whether you want to get hitched in Mexico, Jamaica, or any other warm weather locale near the equator, check out Destify's destination weddings before planning your wedding week.
Additionally, destination wedding locations such as Punta Cana and Riviera Maya offer a variety of budget-friendly all-inclusive resorts perfect for your love story. For instance, all-inclusive resorts like Majestic Elegance Punta Cana offer free weddings via their complimentary package! Built out with the finest amenities ranging from a honeymoon registry to pristine white sand beaches and venue options, this glorious Caribbean destination wedding location ensures the free wedding of your dreams.
So there you have it! We hope this post has helped you see the differences between destination weddings and stateside ceremonies. Rest assured, whether your dream is a lavish, all-inclusive resort or an intimate affair with just close family members in attendance, we're here to help make that happen for you, one unforgettable event at a time. To view more of our amazing resorts click on one from the list below–we've got something for everyone!
Want to explore more all-inclusive properties? Follow the button below and view our Destify Top Resorts: