The average destination wedding cost is one of the most important questions to ask before you book your dream destination wedding. The cost will vary depending on where you're getting married, how much time you want to spend there, and when you start wedding planning. We'll take a look at two popular destinations – Mexico and Jamaica – and what the average cost look like within their destination wedding packages.
When you come across a friend's destination wedding photo album on social media, you might wonder how much it cost. These wedding weeks are much less expensive than one might think, featuring everything from beautiful resorts with immaculate settings to the best destination wedding packages on the pristine beaches of the Caribbean. Here's our research on how economical destination weddings can be, based on a few useful resources. Let's plan your budget-friendly love story!
How Much Does It Cost To Have A Destination Wedding?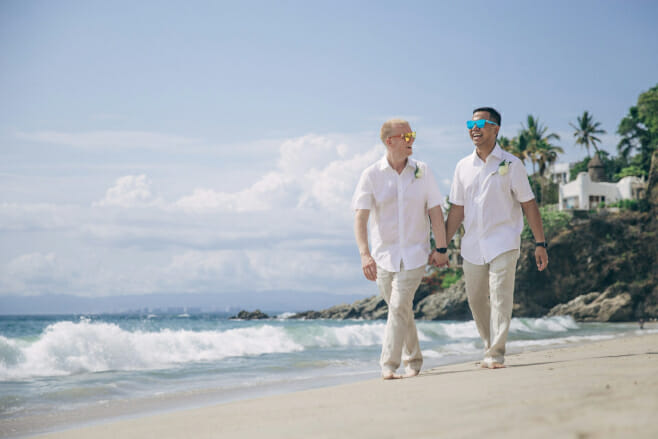 The cost of a destination wedding varies depending on your budget. A smaller budget, on the other hand, does not mean you have to forego luxurious facilities or extras. It makes sense to believe that the higher the cost, the more you include on the bill. However, it's vital to remember that you don't have to break the bank to begin planning your stress free dream wedding and vacation.
Here's an example of how much a destination wedding would cost on a typical budget. Using the Destify Wedding Calculator and prior destination wedding packages, we've included all the details you'd consider for your unforgettable event:
Destination: Jamaica
Number of Guests: 20
Date: 10/18/2021
Wedding Package Type: Basic Package (Includes: Symbolic Ceremony, Ceremony Set Up, Sound System, Dedicated Wedding Team, Sparkling Wine Toast)
Add-Ons: Legal Ceremony, Semi-Private Dinner, Photography, DJ, Wedding Cake
Rooms: 30
Venue: Beach
Estimated Total: $4,410
Now, let's take a look at what a more expensive wedding would cost with a Luxury Package and more add-ons:
Destination: Jamaica
Number of Guests: 20
Date: 10/18/2021
Wedding Package Type: Luxury Package (Includes: Symbolic Ceremony, Ceremony Set Up, Live Music, Private Dinner, Personal Wedding Planner, Sparkling Wine Toast)
Add-Ons: Legal Wedding Ceremony, Open Bar, Photography, DJ, Dance Floor, Fireworks, Updated Decor
Rooms: 30
Venue: Beach
Estimated Total: $8,790
The actual question is: what kind of budget are you looking for, given the $4,380 difference between the two plans and their add-ons? You'll still be celebrating with your wedding party guests in an absolutely perfect tropical paradise, even if the budget-friendly option lacks some luxuries. The only real distinction is the amount of money you're willing to spend on upgrades and features. Let's examine where you can find low-cost, all-inclusive resort packages for your big day.
What Are The Cheapest Destination Wedding Locations?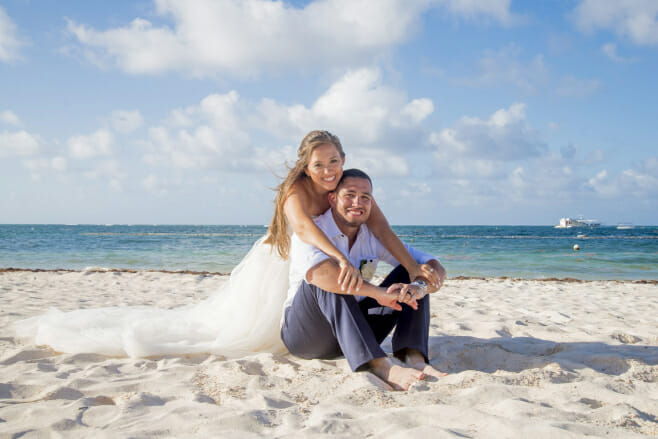 In reality, it all depends on whatever resort you select to hold your wedding day. You'll discover
gorgeous couples resorts
offering bespoke wedding packages anywhere you go, whether it's Mexico, Jamaica, or
the Dominican Republic
(we recommend
Punta Cana
). There are inexpensive solutions for every budget, ranging from free wedding options to basic bundles. Here are some of our favorite places to visit on a budget:
Majestic Elegance Costa Mujeres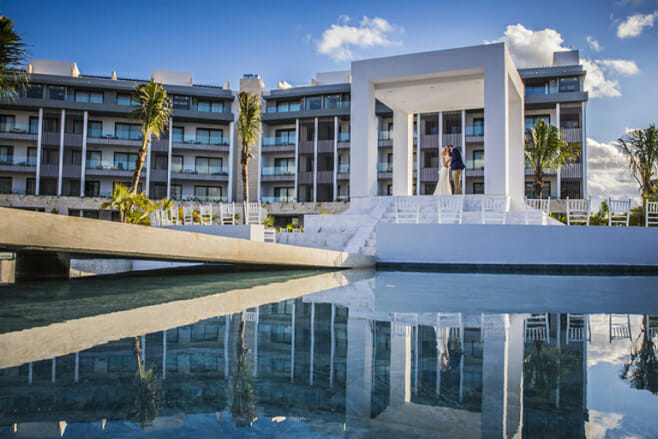 A destination wedding in Mexico is not only inexpensive but also the perfect place to bring your closest family and friends. This luxurious resort on
Cancun's coast
features an ideal setting with ocean views that will stay in your heart forever.
Majestic Elegance Costa Mujeres
offers a variety of
all-inclusive wedding packages
with a variety of features and the best beach venues. Even better? Your on-site wedding specialist is included with your cost-effective wedding package.
Example Majestic Elegance Costa Mujeres Free Wedding Package:
Majestic Elegance Costa Mujeres wedding specialists
Ceremony venue
Room upgrade for the bride and groom
Early check-in and late check-out
Services of a civil judge or priest
Wedding cake
Tropical bouquet and boutonniere
Bag of rose petals
Ironing of bride's dress and groom's tuxedo
Sound system and ceremony translation
Marriage certificate
Champagne toast
10% discount on hair and makeup
Handcrafted welcome sweets
Bridal boudoir refreshments
Semi-private dinner in a specialty restaurant
Romantic breakfast in bed for the couple
Romantic candlelight dinner for the couple
Complimentary couples massage and select spa services
Two bottles of champagne in room during stay and special turndown service
RIU Reggae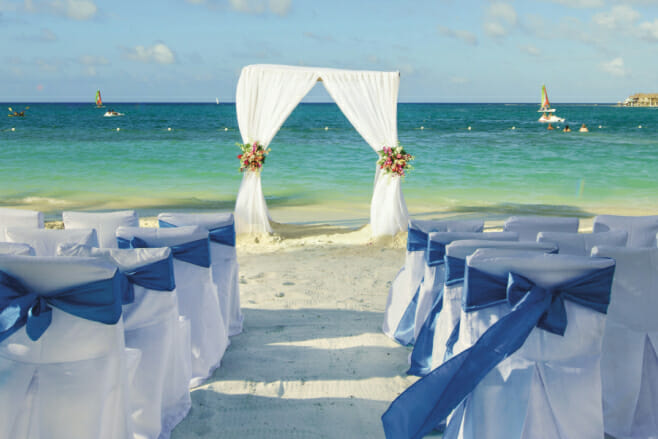 This Jamaica gem is a stunning location for a destination weddings and receptions.
RIU Reggae's
all-inclusive packages include everything from the symbolic chapel service to dinner at one of its five restaurants on property. Depending on the time of year, you can expect roughly 100 guests to show up for this kind of destination wedding.
Example RIU Reggae Classic Wedding Package:
Expert wedding planners
Decoration set up for the ceremony location
Bridal Bouquet
Matching boutonniere
Recorded music during the ceremony
Semiprivate dinner at one of our specialty restaurants (just for the couple)
Wedding cake (just for the couple)
Sparkling wine during the main toast (just for the couple)
Special decoration in the room
Witnesses if required
Minister/Judge service
Marriage Certificate
Spa Surprise gift
10% discount in all Spa treatments for the Wedding Couple
These resorts are the finest budget-friendly options, with a wealth of family-friendly features such as spa treatments and all the extras you can imagine. Let's look at whom we should invite and how many people you can expect to show up for your wedding.
What Percentage Of Invited Guests Attend A Destination Wedding?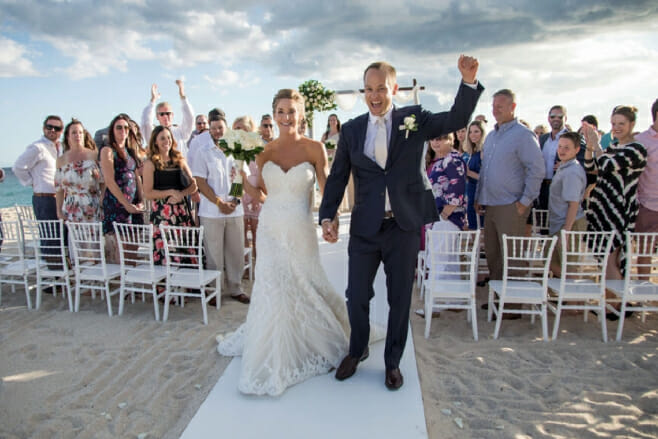 The most ideal special day gift? Seeing a list of RSVPs with the word "Yes" on it. While we'd want to see every one of our loved ones at our wedding, destination weddings aren't always possible for certain of your guests. However, this does not imply that the pews will be empty.
We predicted that between 50 and 75 percent of your invite list will attend your wedding using a variety of web resources. That disparity may appear significant, but the final list reduces down to a few variables that may be swapped out depending on your wedding guests:
Location
List size
Flight/accommodation rates
Simply put, destination weddings are relatively inexpensive. Along with our previous suggestions, we encourage the following crucial step: research, research, research. Because every wedding week is unique, make sure you choose the right location and add-ons to meet your budget. Allow your creativity to go wild without worrying about your cash with complimentary destination wedding packages and stylish facilities available to anyone.
Want to calculate your dream destination wedding? Follow the button below and find your ideal quote today: