It's the week before the wedding, and you're staring at your closet. The trickiest part is often deciding what do you wear to a destination wedding.
Well, you're in luck. Beach weddings typically welcome less-traditional wedding garb, with many couples opting for brighter colors and lighter fabrics. With a beautiful backdrop and enchanting weather at your disposal, the fashion opportunities are endless!
More on Destination Wedding Outfits for Guests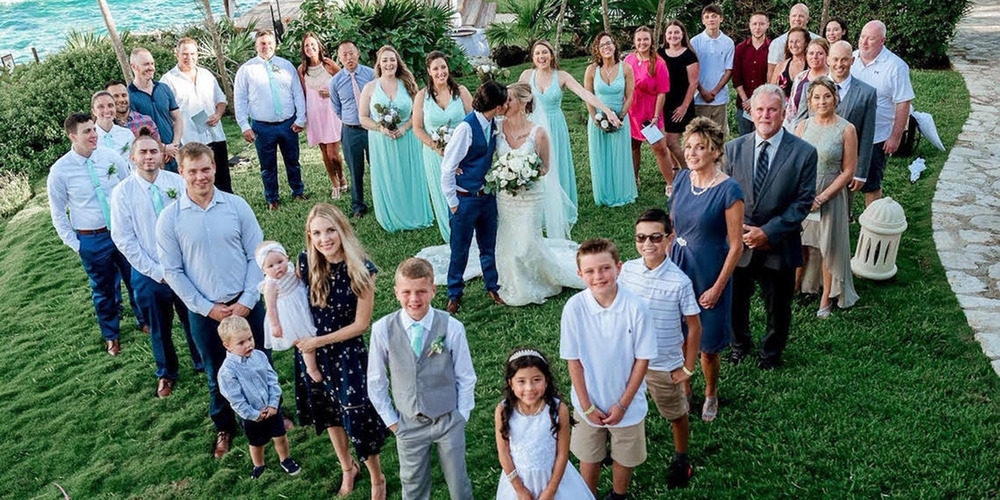 When attending a destination wedding, it is important to consider the environment and location in order to appropriately decide what to wear. In many cases, destination weddings are held in beautiful and scenic outdoor settings, and guests should also consider the specific location and theme of the event when choosing their attire.
For beach weddings, guests can opt for light and airy outfits that adhere to the laid-back ambiance. Men may wear linen or cotton suits in light colors such as khaki, light gray, or pastels. A light dress shirt and tie are also appropriate for a more formal touch. Women can opt for flowy sundresses, maxi dresses, or elegant jumpsuits in breathable fabrics. Sandals or wedges are suitable footwear options for beach weddings as they allow guests to navigate the sandy terrain comfortably.
For weddings in exotic or tropical destinations, guests should choose clothing that reflects a vibrant atmosphere. Men can experiment with brighter colors, such as a bold blue suit or a patterned shirt paired with dress pants. Adding a touch of local flairs, such as a colorful pocket square or a traditional accessory, can enhance the festive ambiance.
Women can embrace colorful prints and lively patterns in their dresses of various lengths. Light and breathable fabrics, such as chiffon or silk, are ideal for warm weather. Pairing these outfits with comfortable yet stylish flats or low heels will ensure guests enjoy hours of celebration without sacrificing their comfort.
In contrast, for destination weddings held in historic or cultural settings, guests should dress more formally to align with the elegance and significance of the location. Men may opt for classic suits in darker shades, such as navy, charcoal, or black. A crisp dress shirt, tie, and polished leather shoes are essential to complete the formal attire. Women can choose cocktail dresses or elegant evening gowns that are both respectful of the setting and reflect their personal style. Opting for tasteful jewelry and accessories can add an extra touch of sophistication.
Ultimately, guests attending destination weddings should aim for a balance between comfort, appropriateness for the location, and adherence to the requested dress code. It is important to consider the weather conditions, culture, and theme of the wedding while selecting an outfit. By doing so, guests can ensure they are dressed appropriately to celebrate the special day while enjoying the unique destination.
Let's take a look at some of the most popular beach wedding wardrobe options:
Beach Wedding Attire
Beach Formal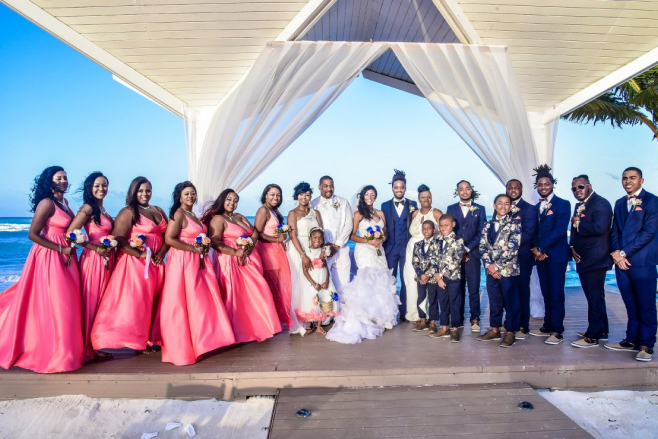 Whether you're hosting or attending, beach formal calls for attire similar to traditional wedding outfits. This means suits or tuxes with slacks for men; and dresses or formal jumpsuits for women. Keep in mind that your outfit also depends on where the venue is located.
If you're placed on a Dreams Riviera Cancun style rooftop or terrace space overlooking the beach, then plan for customary wedding attire. On the flip side, beach wedding ceremonies just feet from the ocean may call for lighter maxi dresses or blazers, not to mention shorter heels and sand-friendly dress shoes. Comfort is an important aspect to consider for any type of destination wedding. Get beach inspired!
Beach Semi-Formal/Cocktail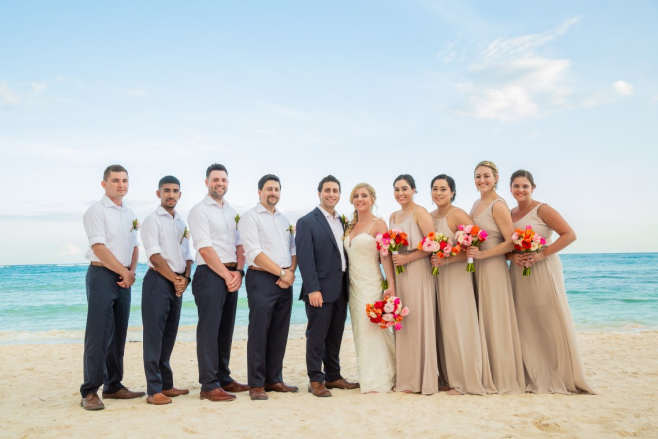 Semi-formal or beach wedding cocktail attire mirrors beach formal kits. This time around, however, you can get creative with it! Floral, argyle, and other unique patterns can spice up your big day. Keep in mind that loud colors and patterns, while eye-catching, aren't recommended for semi-formal outfits.
It's time to shed some layers, especially at sun-soaked locations like Royalton Bavaro. Lighter blazer and dress fabrics are perfect for this occasion. Keep your eyes out for flexible slacks and shorter-length beachy dresses.
We recommend packing either a maxi-dress or tea-length skirt to avoid looking too casual. Wedges, flats, and chunky sandals are acceptable for this situation.
Beach Casual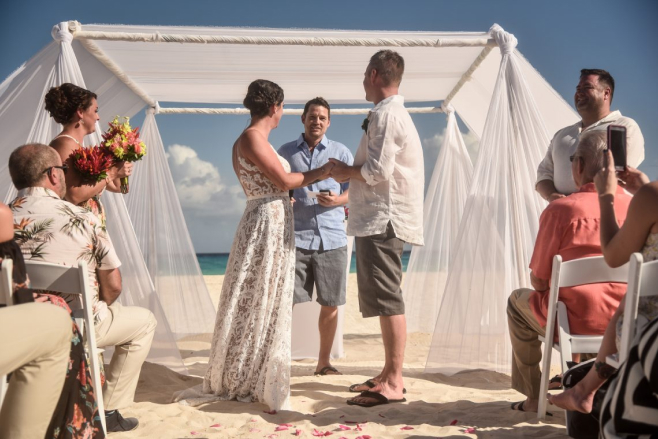 Get even more comfortable with beach casual attire. Men, break out the formal polos, button down shirts, and light slacks (or shorts) but avoid cotton t-shirts. Comfort is the name of the game here, but you'll still want to look classy. Flip-flops are permissible but we recommend formal boat shoes or high-quality loafers to bring your outfit up a notch.
Sundresses and casual rompers are perfect for this occasion. Our recommendation? If it's beach casual, take full advantage of the dress code. This means lighter garments, open-toed sandals and flats, and departing from traditional wedding dresses.
Is it okay to wear a gown to a wedding?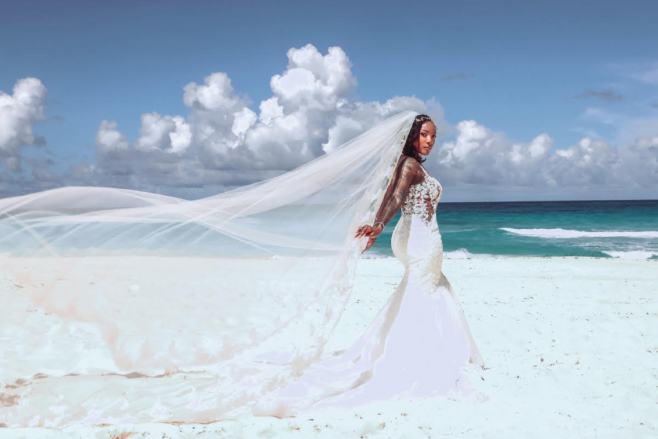 It's definitely okay. But remember, you might walk an aisle that's not made of stone or concrete. It's important to note that the shorter the gown the better. Traditional gowns aren't as breathable compared to lighter dresses or rompers.
We recommend opting for more breathable fabrics, making a more comfortable beach gown that encourages relaxation but maintains that classic flair while tying the knot at pure white sand venues like Hyatt Ziva Cancun.
What shouldn't you wear to a destination wedding?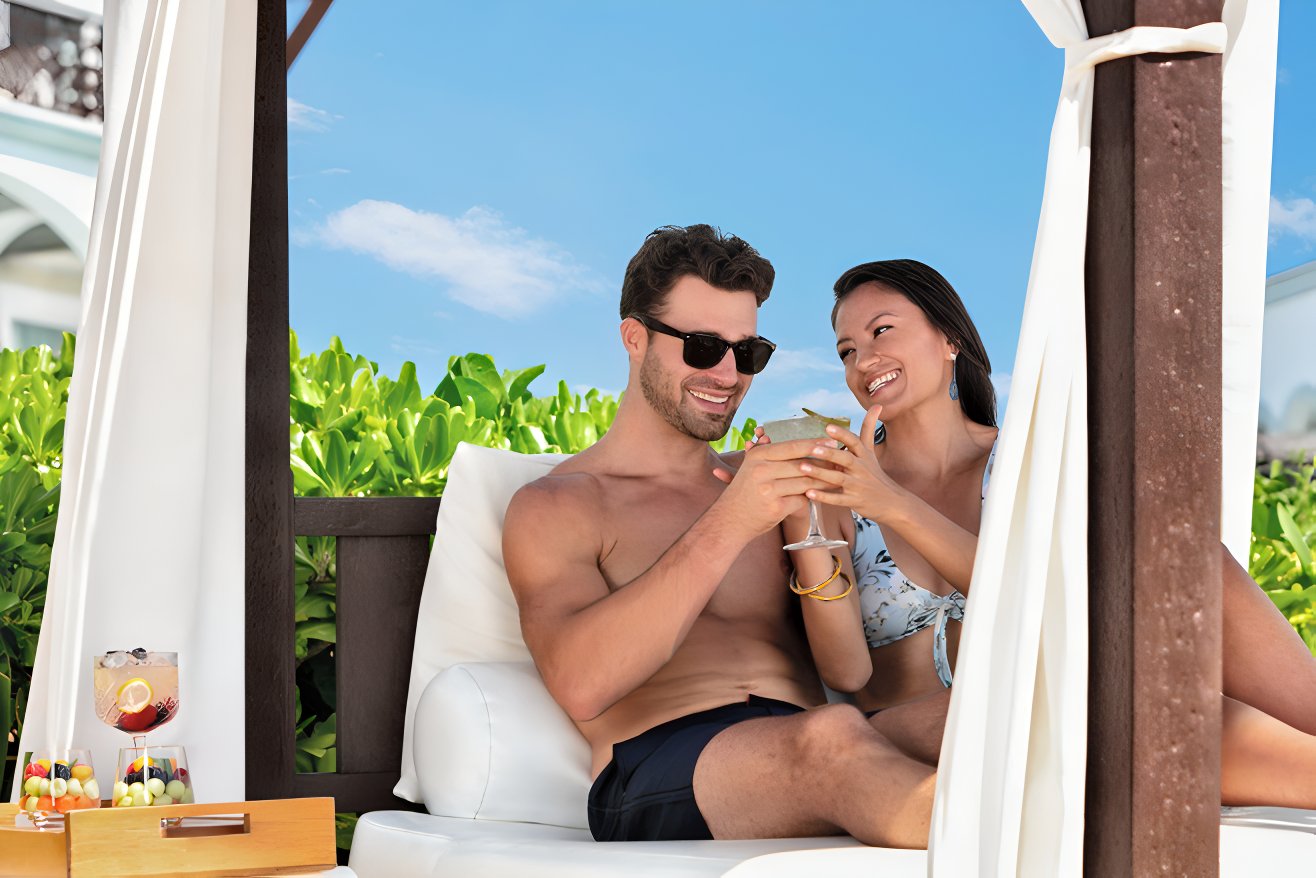 Beach wedding attire should be light-hearted and fun, but not too fun. The invitation might say "Beach Attire," but this doesn't mean you should go overboard. Ergo, please leave your swim trunks, bikinis, or graphic t-shirts in the suite.
Unless explicitly stated, avoid beachwear flip-flops or going barefoot. While this is a more casual occasion, this isn't a cookout or typical day at the beach.
Beach weddings are kind to those who dress comfortably. But that shouldn't stop you from pursuing formal gowns or tuxedos. No matter which style you choose, you have many options to choose from, all perfect for your dream sun-soaked ceremony. Whether you're slapping on a Margaritaville patterned shirt or a pastel sundress, don't forget a change of shoes for your swanky reception!
No matter what you choose to wear, the most important thing is to feel comfortable and confident. After all, you're there to celebrate the happy couple!
Additional tips:
If you're not sure what to wear, err on the side of caution and choose something more conservative.
If you're bringing a formal outfit, pack a pair of flats or sandals so you can change into something more comfortable for the reception.
Don't forget to pack sunscreen and sunglasses, no matter what the time of year.
And most importantly, have fun! This is a special day, so enjoy yourself and celebrate with your loved ones.
Need some beach wedding inspiration? Follow the button below to view how our Destify Couples dressed for their day of romance: