Destify couple Aaron and Bari's favorite part of their accommodation was the literal twenty steps they had to take from their room to the white sand, palm-fringed beach of Playacar, spending the quiet moments before dawn wrapped in hotel robes watching the blazing oranges and coral pinks rise over the ocean together.
These moments of bliss are what makes a destination wedding so special.
This article looks at our beautiful couple Aaron and Bari's wedding experience at the luxe Sandos Playacar resort, bringing you the lowdown from their love-filled day.
Playa del Carmen Weddings

Welcome to one of the most opulent Playa del Carmen oases on the Yucatán. Its distinctive setting, tucked away on a lengthy stretch of lovely, white sand beach, for a more private, small-scale beach wedding ceremony with breath-taking ocean views.

Sandos Playacar:

Read more

Venues: 3
Family Friendly
55 Minutes

Package Costs:

$

3,150

–

$

4,750
Discover the Rich Natural Wonders of the Yucatan Peninsula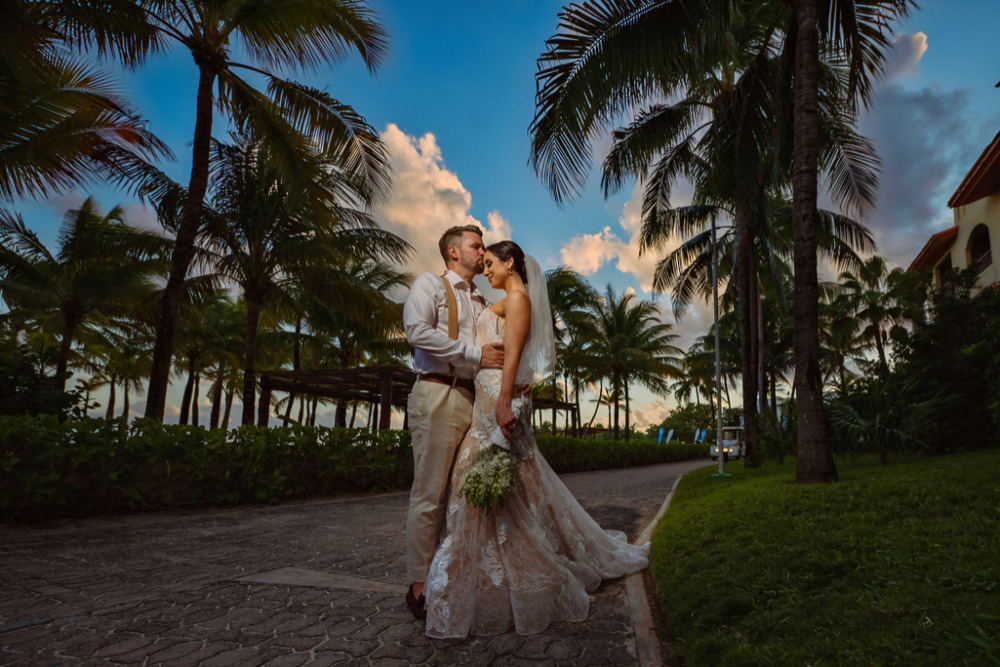 Aaron and Bari's wedding was held at the lush all-inclusive resort of Sandos Playacar. The resort is located in Mexico's majestic Yucatan peninsula, which is brimming with ancient Mayan ruins, world-class beaches, glistening oasis-like cenotes, and vibrant tropical forests.
Sandos Playacar is situated near the dreamy coastal town of Playa del Carmen. If you want to put sun, sea, and sand center stage on your big day, Sandos Playacar does just that with access to one of the region's idyllic beaches right on the resort's doorstep.
The resort is perfect for an intimate and romantic beach ceremony. With easy access from Cancun International Airport, the convenient location makes guest travel arrangements to and from the resort a breeze, and it offers the perfect jumping-off spot for exploring the wider Maya Riveria region that follows the Caribbean coastline from south of Cancun to Tulum.
Need more info on the Yucatan Peninsula? Lonely Planet has you covered, and if you want to check out more destination wedding venues in Mexico, we have some inspiration here.
Fall in Love with All-inclusive Luxury Living at Sandos Playacar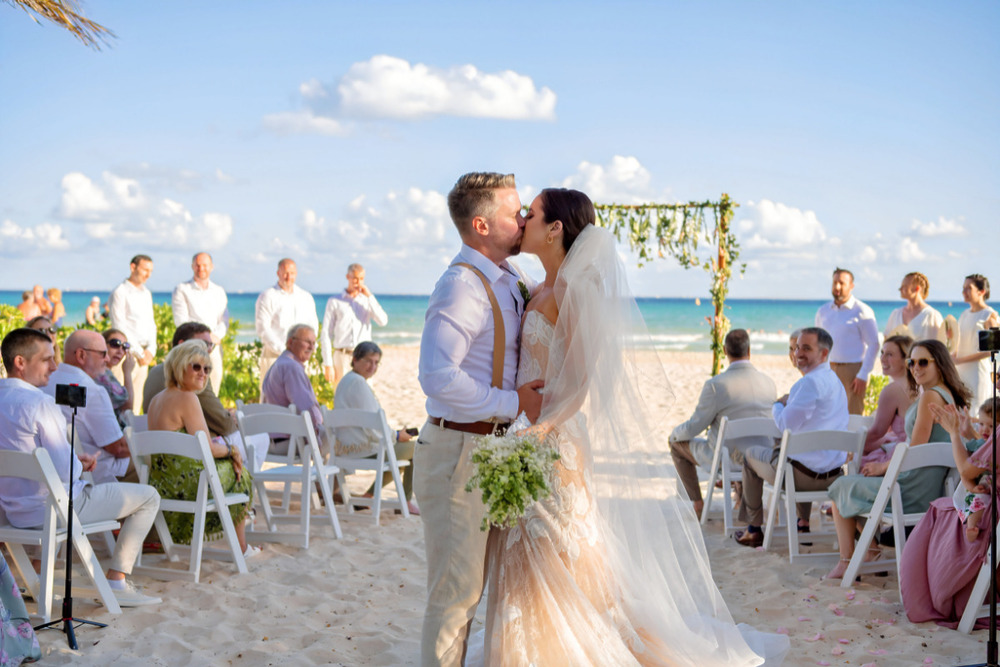 One of the highlights of a destination wedding is the ability to share the experience with your friends and family. Aaron and Bari appreciated the three full days they could spend with their guests over the event. The loved the opportunity to get to know each other's family and friends better and spend quality time together before and after the ceremony.
An all-inclusive resort is ideal for creating lasting memories with your nearest and dearest. Sandos Playacar has an incredible selection of activities and dining options in its all-inclusive package. Enjoy an excellent selection of bars and restaurants, which offer a diverse range of international cuisine, gourmet dining, beachfront snacks, and swim-up bars.
One of the highlights of a stay at Sandos Playacar is their incredible entertainment program. From spectacular nightly shows to a brand new water park that offers sweeping ocean views, kids and teen clubs, free bike rental, tennis courts, and a dynamic activities program featuring beach games and kayak tours. Whatever vacation style you are into, Sandos Playacar has something for everyone.
If you are part of a destination wedding package, expect extra little romantic touches from the team at Sandos. Aaron and Bari receive a delicious chocolate cake decorated with a sprinkle of rose petals and congratulations the day after the wedding. It is the little touches from the team at Sandos that make your stay so special.
Want to see how the other half do destination weddings? Check out Vogue's round-up of the most extravagant and enviable celebrity destination weddings.
Trust the Resorts Tried and Tested Wedding Coordinators to Create the Wedding of Your Dreams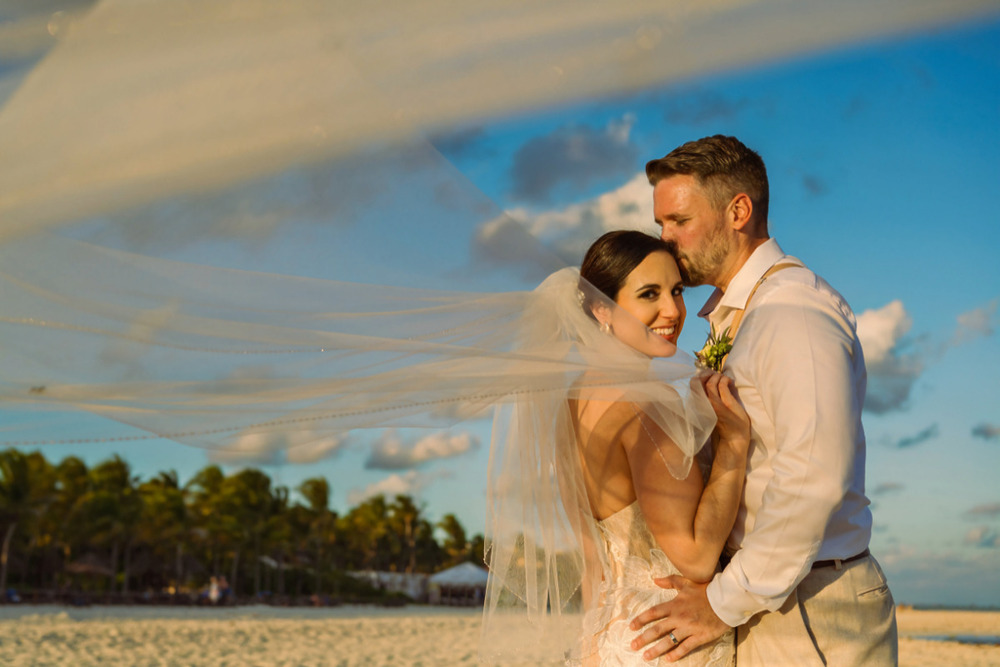 When asked if Bari and Aaron would have a destination wedding again, the answer was YES! 100 percent. They felt their destination wedding was less stressful and costly than a traditional wedding, with the bonus of an inbuilt vacation for everyone involved.
If you choose a destination wedding, you can be assured you will receive professional service from the resort's expert wedding team. With a personal wedding coordinator and planner at your disposal, your perfectly executed wedding will be seamless and stress-free from planning to execution.
Sandos Playacar Resort has created wedding events for large numbers of customers yet strives to give personalized service to each and every event. Their team's services add true value to a destination wedding package.
They are more than just wedding planners. They are expert communicators, problem solvers, and creative thinkers. Their expertise means they will cover issues you might not have considered, from rain plans to working with local vendors. Let the experts take care of the stress and create you a fairytale wedding that is nothing short of perfect.
In short, if you are considering a destination wedding, be like Aaron and Bari. Just do it! You won't regret it.