If 2023 is tomorrow morning in the destination wedding world, 2024 is just a couple of months away!
We're already securing 2023 dates and all-inclusive properties for our couples and their wedding guests.
While there are still a lot of resorts with availability, we're already looking ahead at 2024 destination weddings.
We're here to give you the inside scoop on the best resorts available for destination weddings in 2024!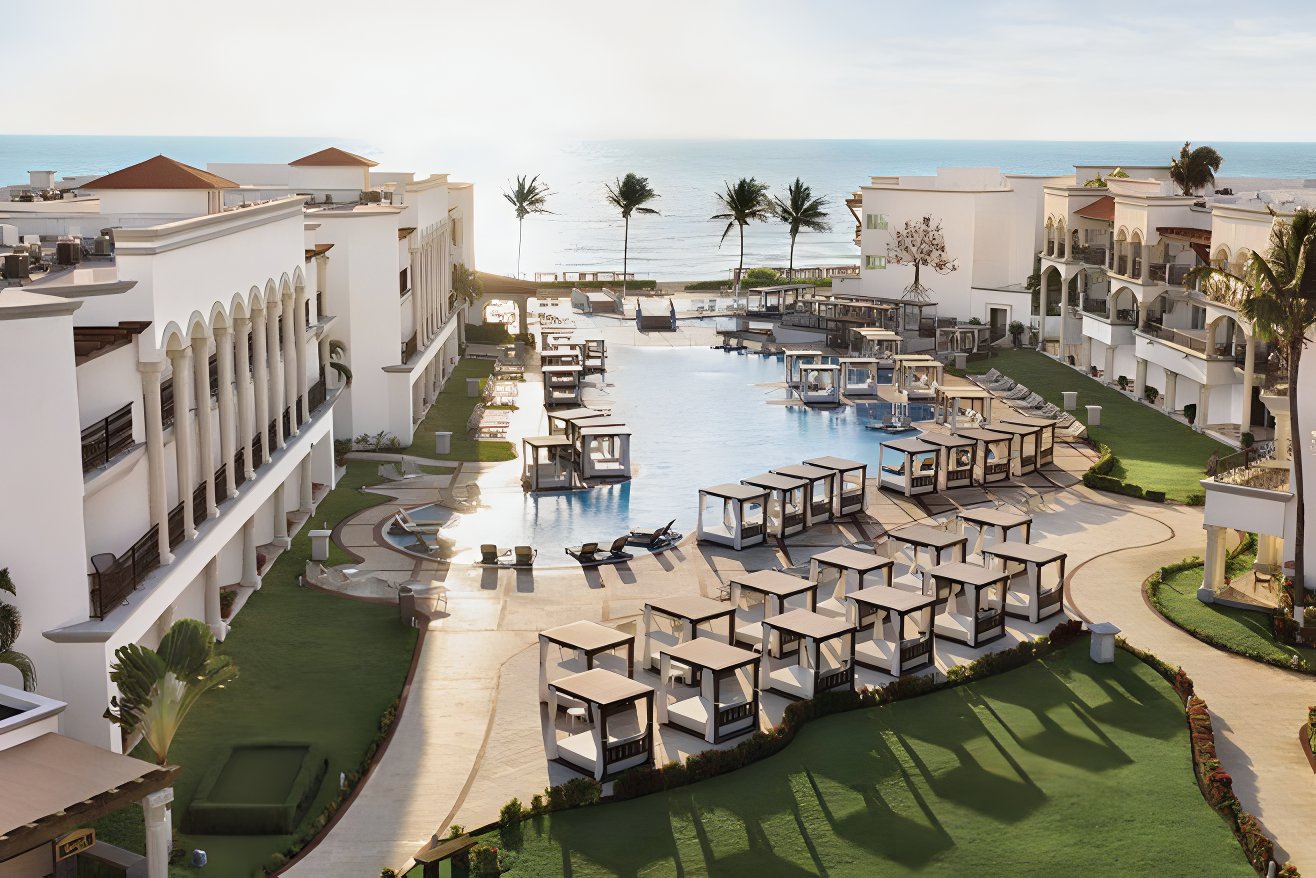 Brand new. All-inclusive. Adults-Only.
Need we go on? Ok, we will. 😉
Hilton Playa del Carmen is a sanctuary of stylish suites, gourmet restaurants, and white sand shorelines that are perfect for picturesque beach weddings.
This adults-only property has fantastic suites. These newly renovated rooms are exquisite, thanks to their glossy stone floors, private balconies, and floor-to-ceiling windows. They also come with jet tubs, 24-hour room service, daily stocked minibars, and tons of other features!
Beyond the suites, Hilton Playa del Carmen offers day-to-night fun for wedding couples and every member of their wedding party. Guests will find a state-of-the-art fitness center, oceanfront dining at gourmet restaurants, dance classes, cooking demos, live entertainment and music, and even a Tequileria.
As if all of this wasn't enough to cement this as a resort to look out for in 2024, it's also famous for its stylish wedding venues and affordable packages.
Their basic 'Intimate Elegance' package starts at $1,399. It provides amenities like room decor for the couple, a sound system for the wedding ceremony, a 25-minute massage for the wedding couple, and so much more.
Minimal expenses and maximum indulgence? It's no wonder that Hilton Playa del Carmen has been such a hit with our couples.
Resort Features:
24/7 room service
2 Pool
5 Bars
7 Restaurants
Private Balconies
Double Jetted Tubs
Zumba & Dance Classes
Wedding Date Availability Hilton Playa del Carmen
keyboard_arrow_leftPrevious
Nextkeyboard_arrow_right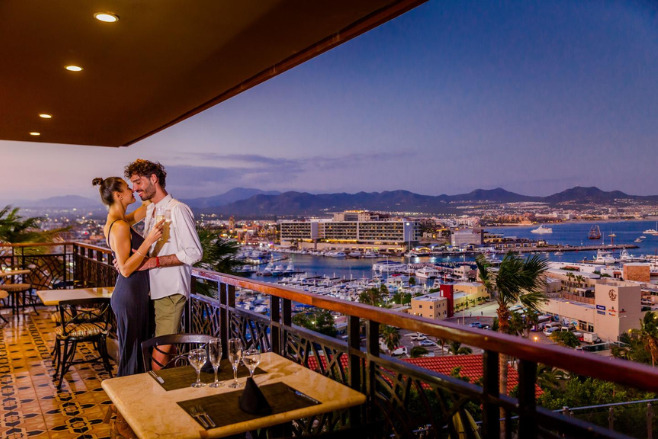 Sandos Finisterra Los Cabos provides some fantastic and cheap wedding packages to make your 2024 destination wedding memorable and affordable!
This incredibly famous Cabo San Lucas has consistently enchanted our couples and their wedding guests with its gorgeous surroundings and all-inclusive features.
With its gold sands, gourmet restaurants, vibrant nightlife at the nearby downtown Cabo San Lucas, and affordable wedding packages, Sandos Finisterra Los Cabos is already one of our superstar properties for destination weddings in 2023.
2024 is sure to see more destination weddings at Sandos Finisterra Los Cabos
This resort's most unique amenity is the outstanding suites in its Finisterra Section.
These contemporary and stylish suites are built directly into the cliffsides surrounding the resort property, creating a one-of-a-kind zero experience!
Mexico has never looked as good as it does from these suites' private balconies.
Resort Features:
24/7 room service
4 Pool
7 Bars
4 Restaurants
Sprawling and pristine beach setting with palapas.
Chic Finisterra Suites with standalone jetted tubs.
Spa, sauna and hydrotherapy area.
Modern fitness center with views, plus two tennis courts.
A short walk to the marina and downtown action.
Kids' and baby club.
Free Wi-Fi.
Wedding Date Availability Sandos Finisterra Los Cabos
keyboard_arrow_leftPrevious
Nextkeyboard_arrow_right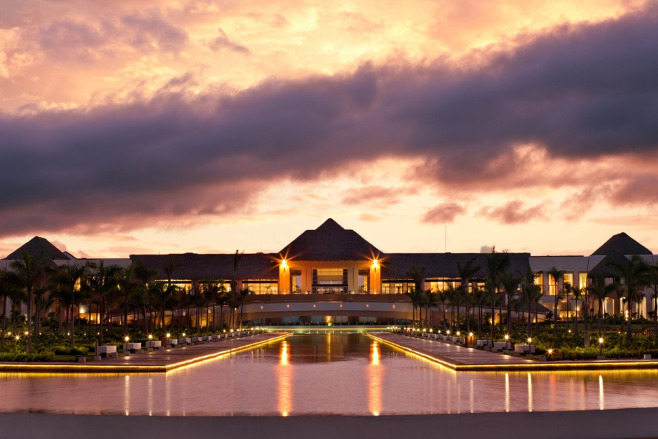 If your love language involves a shared rock n' roll obsession, look no further than Hard Rock Punta Cana for your 2024 destination wedding.
This remarkable Dominican Republic all-inclusive resort is decorated with melodious aesthetics and decor. It features instruments, musical symbols, and the legendary faces of rock n' roll legends like Bruce Springsteen, Axl Rose, and Chuck Berry.
And with the resort's distinctive Sound Of Your Stay® program, guests can rent vinyls, record players, and even guitars.
Beyond the tunes, our couples have raved about the nightly entertainment and theme parties, poolside service, and 9 gourmet restaurants, including the delicious submarine sandwich spot, The Split.
The all-inclusive resort symphony will keep playing well past 2023, so book your rocking 2024 destination wedding before it's completely booked!
Resort Features:
24/7 room service
7 Bars
10 Restaurants
15 Pools
All rooms come with flat-screen TVs, free Wi-Fi, liquor dispensers, whirlpool tubs, and balconies.
One of the nicest casinos in the area.
Hosts numerous concerts throughout the year.
Some pools with waterslides and lazy rivers.
Separate lobby for groups means check-in lines aren't exhausting like they are at most resorts.
Wedding Date Availability Hard Rock Punta Cana
keyboard_arrow_leftPrevious
Nextkeyboard_arrow_right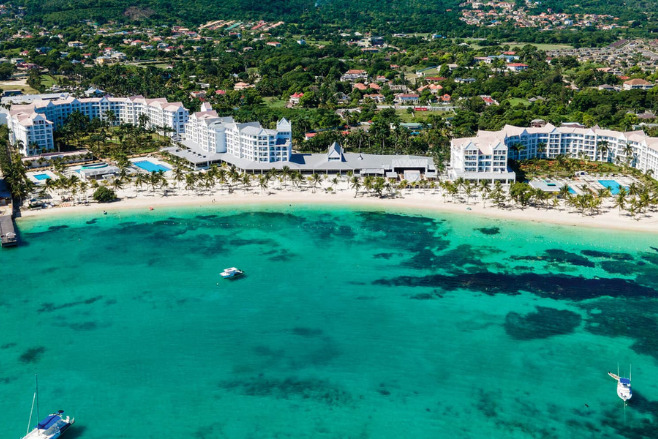 Riu resorts offer affordable wedding packages, all-inclusive properties, and gorgeous sights of the surrounding environment.
It's no wonder that Riu hotels resorts are some of our couples' favorites!
Riu Ocho Rios is one of our most popular Jamaica resorts. It gets the name 'Rios' from 'river,' which is totally appropriate —  Riu Ocho Rios is overflowing with luxury!
There are live entertainment options, chic restaurants, on-property waterslides, a kids and teens entertainment section, and so much more!
Riu Ocho Rios provides a series of wedding packages ranging from $1,499 to $7,999, making it one of our most flexible properties. If you're looking for an intimate, no-frills ceremony in paradise, you've come to the right place.
Or, if you want a luxurious, opulent wedding day with a 4-hour reception, private cocktail events with live music, complimentary spa services, and much more, Riu Ocho Rios also has you covered.
Riu Ocho Rios is already wildly popular for 2023 destination weddings, and 2024 is on track to be the same!
Resort Features:
24/7 room service
6 Bars
8 Restaurants
3 Pools
Beautiful beach, less crowded than at many all-inclusives
Free in-room mini-bar includes quality liquor and beer.
10-15 minutes ($5-$10 cab ride) to the attractions in Ocho Rios.
Wedding Date Availability Riu Ocho Rios
keyboard_arrow_leftPrevious
Nextkeyboard_arrow_right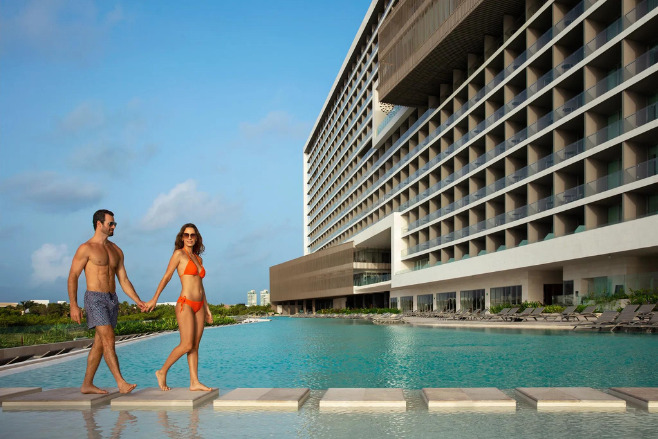 Dreams Vista is one of our favorite new all-inclusive resorts on the block.
Since opening its doors in July 2020, it's captivated hundreds of our destination wedding couples with its state-of-the-art facilities and breathtaking natural surroundings.
There's just so much to do at Dreams Vista. Between golfing at the manicured course, rock climbing, taking a dip at the waterpark, lounging in the rooftop pool, or catching a flick at the outdoor theater, family members and close friends of all ages will have plenty of fun at this grand all-inclusive.
You can do it all, or you can kick back, grab a cocktail and your sunglasses, and soak up the Caribbean sunshine.
Dreams Vista seems to be getting increasingly popular every year since its opening in 2020.
2023 is already a hot year for this beautiful Cancun property, so make sure you get in line for a 2024 destination wedding before it's too late!
Resort Features:
24/7 room service
5 Pool
6 Bars
9 Restaurants
Ping pong, Golf*, Climbing Wall, Billiards, Foosball, Casino Games, Board games, Catamarans*
Pool & Beach Wait Service
Explorer's Club For Kids ages 3-12
Core Zone Teens Club  for ages 13-17, hosting daily activities and exciting sports, video games, and mixers
Theme nights and beach parties, Live musical performances, Stage shows at the outdoor theater
Wedding Date Availability Dreams Vista
keyboard_arrow_leftPrevious
Nextkeyboard_arrow_right
Book Your Dream Wedding in 2024 Before It's Too Late Today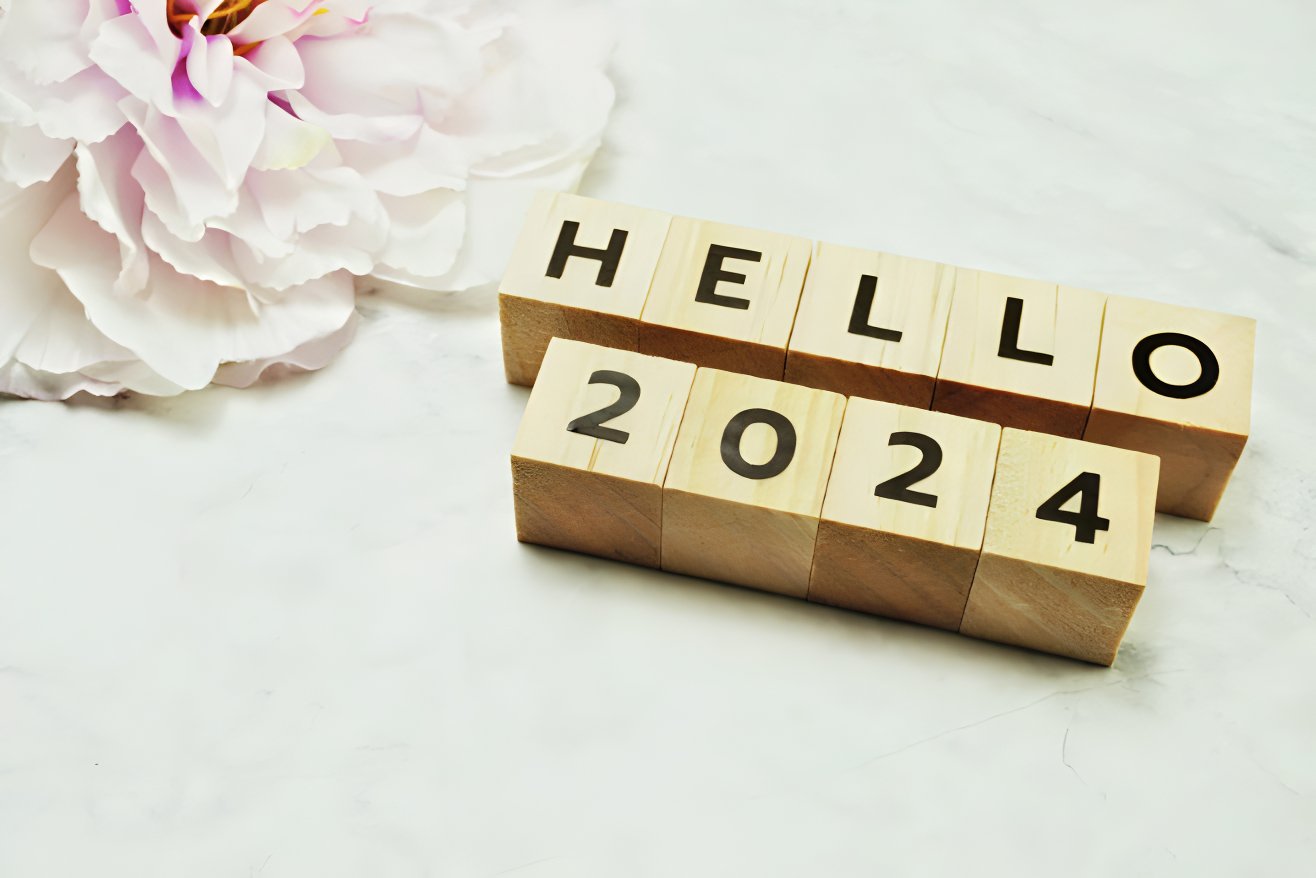 Ready to book one of the fantastic resorts available for 2024 destination weddings?
We're thrilled to hear it!
We are dedicated to simplifying the destination wedding process and sending couples to paradise!
Make your 2024 destination wedding dreams a reality and talk to one of our wedding experts today!