One of the best problems to have while planning a destination wedding is legitimately having too many stellar choices to narrow down. Garnering 24/7 tropical weather and perhaps the world's purest waters, the Caribbean Islands are stocked with heavenly wedding resorts that'll deliver the ceremony and wedding week of your dreams. Although the vetting process is quite difficult when settling on a precise oceanfront destination, we have curated a succinct list of our Top Caribbean Islands Wedding Resorts:
Royalton St. Lucia Weddings
St. Lucia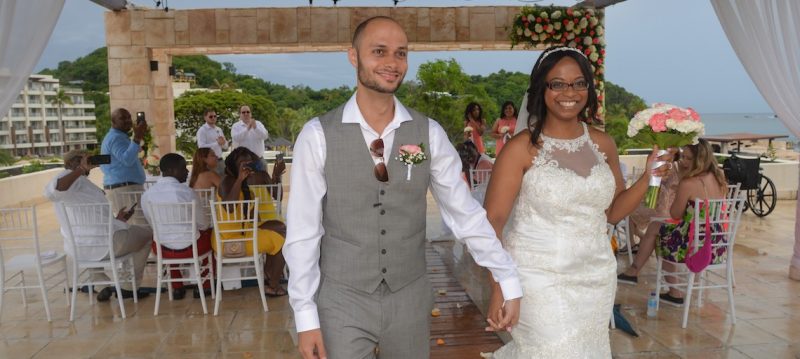 Royalton St. Lucia
Featuring newly renovated facilities and a stellar on-site wedding department, Royalton St. Lucia checks in as one of St. Lucia's premier wedding resorts. Situated along the glistening Caribbean Sea, a St. Lucia wedding delivers a variety of lavish venue options ranging from a flora-infused Garden Gazebo to an oceanfront Beach altar. From the exclusive Diamond Club with elevated benefits to the Kids Adventures Program, this Caribbean gem is designed for an unforgettable paradisal retreat for guests of all ages. Accompanying its secluded white sand beach, St. Lucia also includes an expansive array of infinity pools and restaurants that will fulfill your dream island wedding experience.
Melia Nassau Beach Resort Weddings
Nassau, Bahamas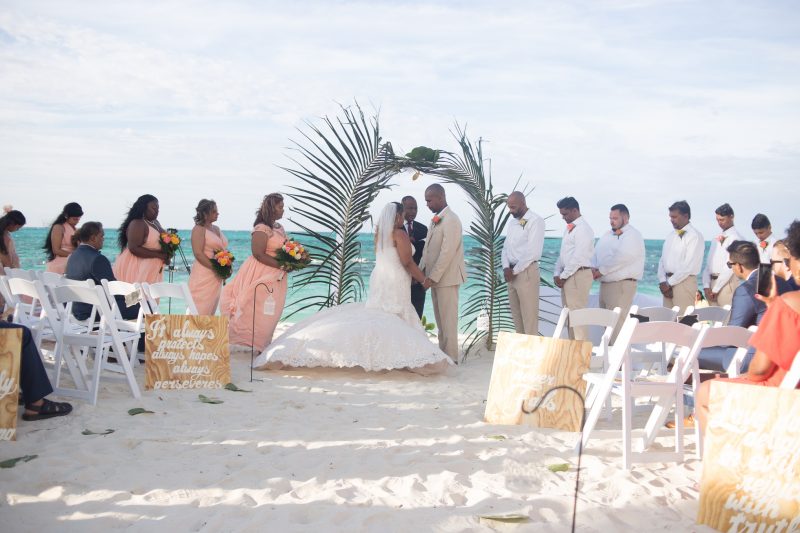 Melia Nassau Beach Resort
Maximize you and your guests' relaxation for your enchanting day of romance at the luxurious Melia Nassau Beach Resort. Prospering on a powdery white sand beach overlooking azure waters, a Melia Nassau Beach Resort wedding is idyllic for couples desiring an elegant, yet simple destination wedding. Garnering a set of affordable wedding packages and a diverse trio of venue options, the resort provides breathtaking backdrops and amenities with every ceremony. Additionally, the property boasts relaxation-accentuating heated oceanside pools and 2 hydromassage tubs perfect for a tranquil late afternoon swim.
Sonesta Maho Beach Weddings
St. Martin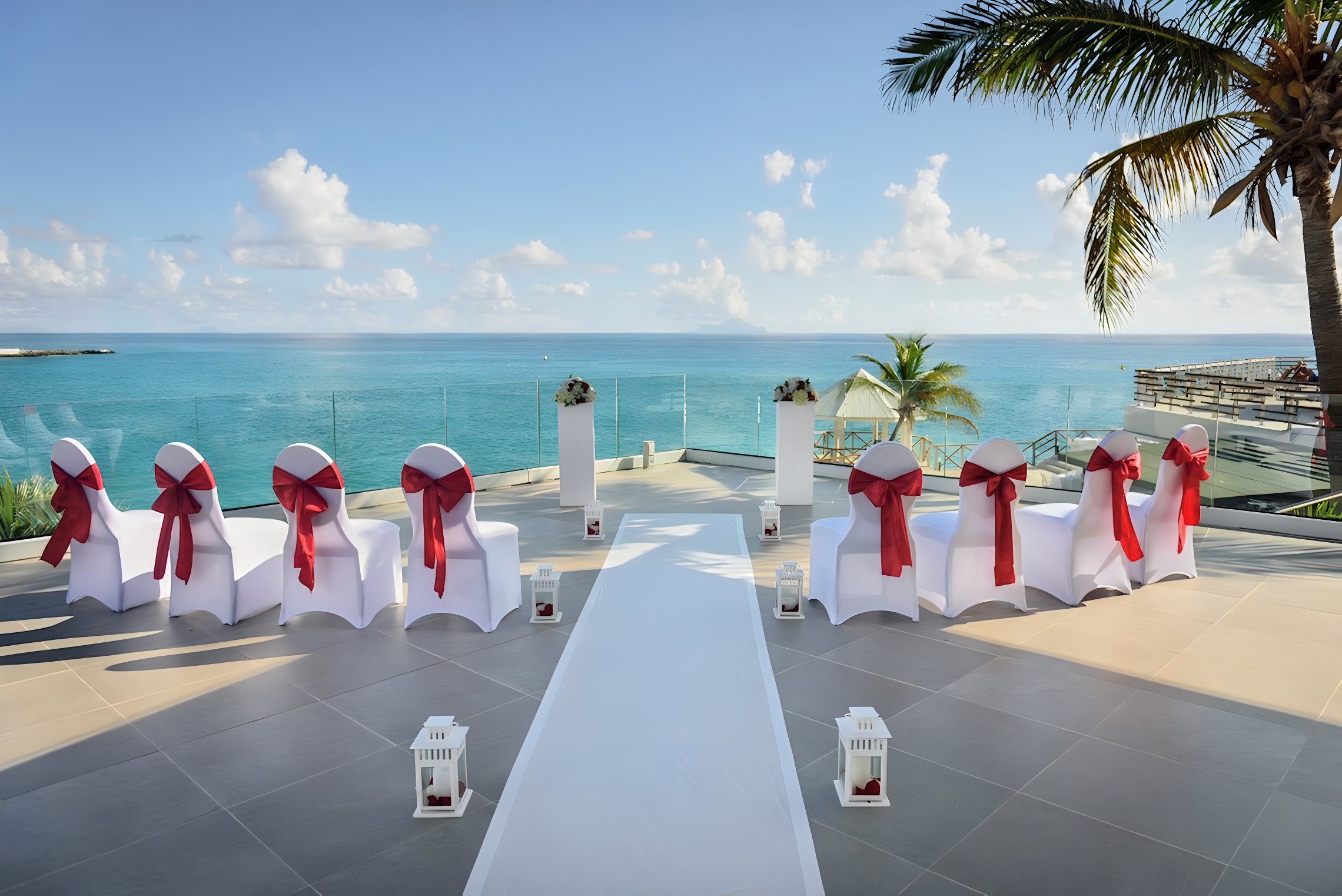 Sonesta Maho Beach
Seeking a picturesque Caribbean Island wedding resort capable of accommodating large wedding parties? Sonesta Maho Beach has the solution. Just a stone's throw away from the scintillating cerulean ocean and lively Simpson Bay nightlife, a Sonesta Maho Beach wedding guarantees both an elegant and dazzling wedding week. With ceremony spaces capable of hosting between 120 and 650 guests max, the resort consistently delivers a spectacular Caribbean stay for every guest. For travelers desiring an adrenaline-laden excursion, the resort is less than a mile away from iconic Maho Beach, world-famous for commercial flights that land directly above it.
RIU Palace Aruba Weddings
Aruba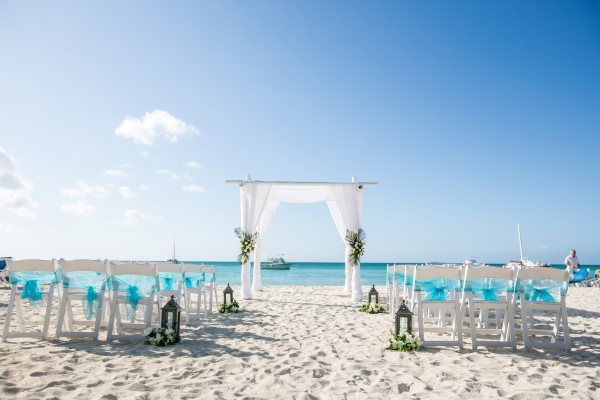 RIU Palace Aruba
One of our top Destify sellers, RIU Palace Aruba not only features stunning seascapes at its resplendent Palm Beach location but also offers a bevy of all-inclusive activities for wedding guests of all ages. Whether you're interacting with newly born turtles at a nearby sanctuary or trying your luck at the casino, you and your wedding party will relish in the seemingly endless budget-friendly excursions to round out your Aruba getaway. Offering 3 gorgeous wedding spaces capable of hosting 100 guests max each, a RIU Palace Aruba wedding will fulfill a ceremony that's both uniquely yours and forgiving of your budget.
Dreams Curacao Weddings
Curacao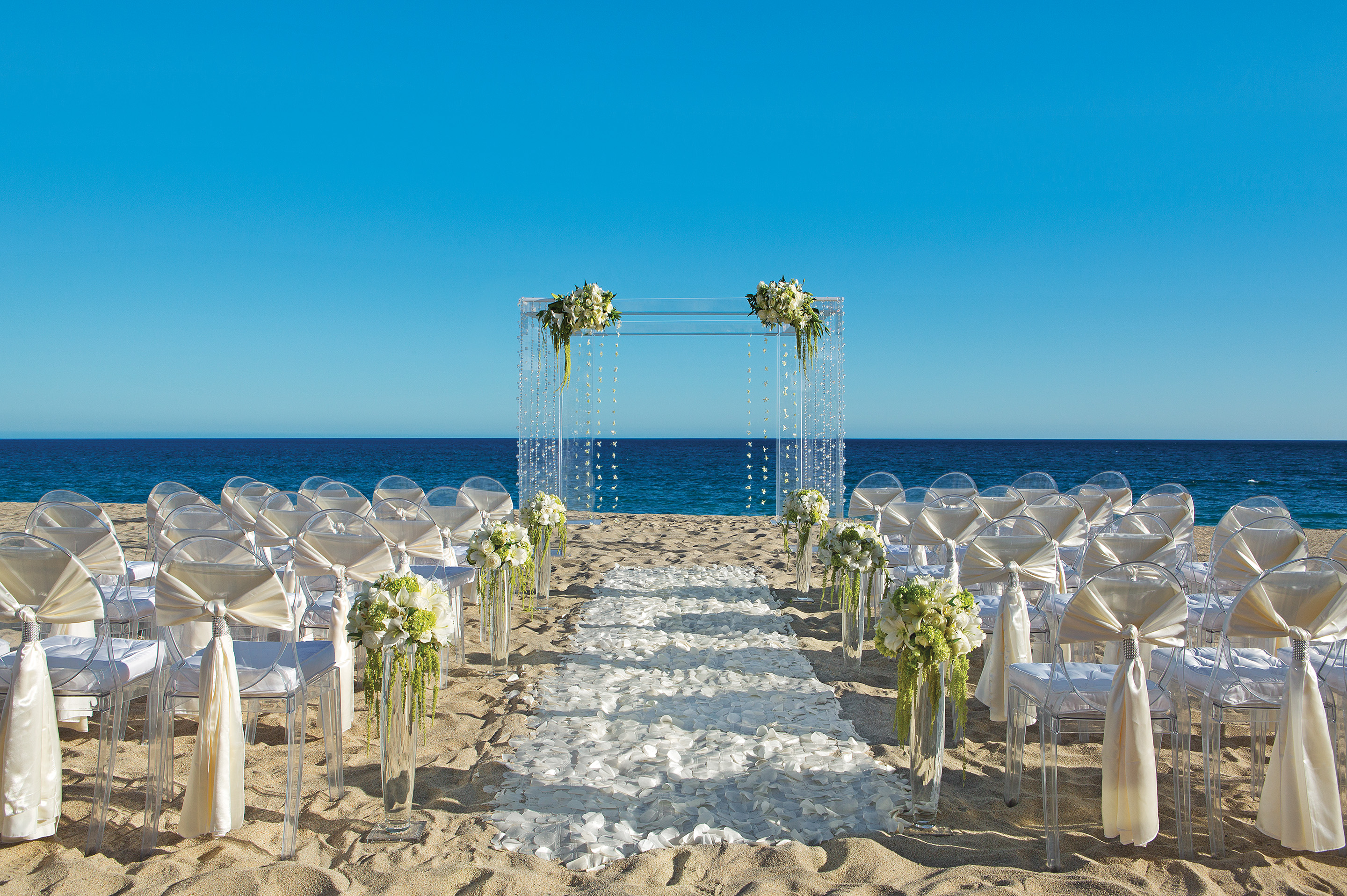 Dreams Curacao
Recently opening its doors to wedding reservations and other travelers, Dreams Curacao is devoted to delivering a truly special Caribbean destination wedding. Prospering on a stretch of golden sand beaches, a Dreams Curacao wedding aims to "avoid the cookie-cutter wedding," featuring unique ceremony locations ranging from a 400-guest accommodating 16th Century Dutch Colonial Fort to a lavish oceanfront stone platform. With a variety of customizable wedding packages available, the resort thrives as an idyllic paradisal haven for wedding parties desiring a truly exquisite ceremony and wedding week.
Consistently providing world-class destination wedding conditions year-round, the Caribbean Islands and their respective wedding resorts will guarantee a remarkably memorable destination wedding. Whether you're tying the knot in a flourishing garden venue or walking down the aisle just steps from the shimmering sea, this chain of islands should be one of your first choices when planning your day of romance.
Seeking more options for your dream Caribbean Islands destination wedding? Follow the button below and view more of our award-winning Caribbean Islands wedding resorts: